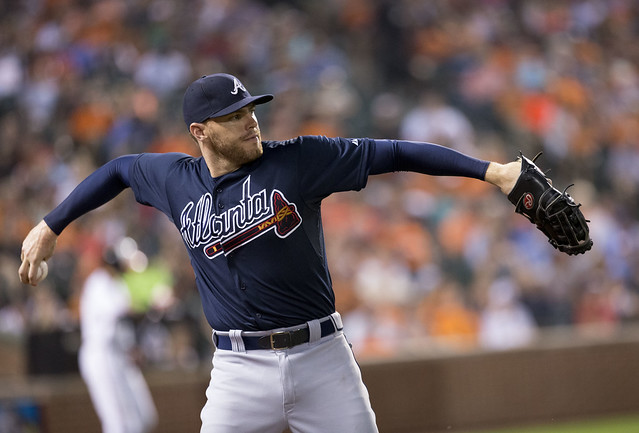 As is the annual tradition at FanGraphs, we're using a week around the All-Star Game — when the industry pauses to take a metaphorical breather — to take stock of the top-50 trade chips in the sport. For more context on exactly what we're trying to do here, see the Honorable Mentions post linked at the top of the page.
For this post and the three to follow, I'll present a graphic (by way of the wizard Sean Dolinar) breaking down each player's objective skill level (represented, in this case, by a five-year WAR projection from ZiPS), contract/team-control details, rank in last year's series, and then year-by-year details of age, WAR, and contract through the end of 2023, although a couple players have control beyond those five years, and some, you'll notice, show projections for fewer years to reflect when those players reach free agency. For those readers who are partial to spreadsheets rather than blocks of text, I'll also include all of the players we've ranked so far in grid format at the bottom of the post.
It should be noted that the ZiPS WAR forecasts influenced the rankings a bit. For players who were bunched together, it acted as an impartial tiebreaker of sorts, but the industry opinions I solicited drove the rankings.
With that said, let's get to the next 10 spots on this year's Trade Value list.
I get the impression that the average baseball fan might not realize that Max Kepler is good now, and may only have a vague awareness of him as the prospect from Germany who ended up being more than just a generic baseball player who hails from a country off baseball's beaten path. Now that we have a bigger sample of UZR and StatCast defensive metrics, we know that Kepler is a well above average defender. He's 11th in outs above average among all outfielders this year and his UZR in the last season and a half is +21.4 runs, making him tops amongst major league outfielders in that span. The tidbit everyone repeated when Kepler initially signed out of Germany at age 16 was that both of his parents were ballet dancers; to be the top outfield defender in baseball at 6-foot-4 and 205 pounds suggests Kepler may be light on his feet as well. He's having an offensive breakout in his age-26 season while also running a .258 BABIP, and he also signed a pretty team-friendly extension before the season.
I mentioned in Gary Sanchez's blurb that a couple of clubs had indicated that their metrics took a more positive view of Sanchez's framing than ours do. Another nugget to emerge from those conversations was that a couple of teams' internal projections for Jeff McNeil aren't as rosy as ZiPS. 5.5 years of control of an infielder who is on pace for a 3.6 WAR season and just entering his prime screams trade value, though. I could also play the Matt Olson game from yesterday's article and point out that McNeil has posted 5.4 WAR in 580 career PA, a mark that would have made him the best second baseman in baseball last year. McNeil was completely generic for the first five seasons of his pro career, then made some swing adjustments in 2018 and has been good ever since. It's a great story and he's a nice asset for a club to have; indeed, many teams tried to pry him away from the new Mets regime this offseason, hoping they wouldn't value him highly. Now McNeil seems like he'll be a building block for the franchise while making the league minimum and playing a Ben Zobrist-type role, though he'll be entering arbitration in his decline years.
Polanco and Kepler were roommates as they entered pro ball, then signed extensions on the same day, even doing some catalog work for a jeans and light jackets brand to commemorate being extension and press conference buddies. Polanco's deal has an extra option tacked on and fewer guaranteed dollars since his performance was less impressive pre-extension than Kepler's. But Polanco is also having a career year, on pace for his own 4.0 WAR season. There wasn't much industry consensus on which guy would be the preferred option if a club were forced to choose, and I'm sure I'll change my mind 20 times before these contracts are over. The Twins continue making shrewd moves, locking up young players to team-friendly deals through their age-31 seasons just before their performance jumps.
Senzel is another solid all-around position player with long-term control, and has the most upside of this group, with a track record of showing five above average tools (some scouts have tossed a 70 on his bat). He's also been injured the most of that group of players by far, with two sprained ankles, a migraine, and a foul tip off his eye this season, coming after a 2018 full of other issues, including two bouts of vertigo, a broken finger, and surgery for bone spurs in his elbow. He's a fill-in option at shortstop and at least average defensively at every other position besides catcher, so you can see both why he's at the top of this group and why he's the riskiest bet. Rival clubs are still in on Senzel and saw 2019 as possibly the last chance to acquire him before he's much higher on this list, but the Reds have never seemed interested in discussing him as a trade piece.
Freeman and the guy two spots higher up were tough to place among all the younger, controllable hitters, since they're better and more accomplished, but also offer less control at a higher price. As I mentioned in yesterday's Scherzer blurb, all things being equal, clubs would prefer that the WAR they're acquiring be concentrated in the fewest possible seasons, as quickly as possible. Freeman offers that option, while the four hitters behind him may all settle in as 2.5 to 3.0 annual WAR types, so as a GM, you'd be picking them at the expense of the next few seasons to get a couple of two-win seasons on the backend, when those players would have to sign another contract to even see those years anyway. And what if one of their frames blows up, or Kepler's defensive prowess regresses, or Polanco moves to second base, or Senzel is consumed by the Springfield Mystery Spot? Nothing is for sure, but teams don't want to get too cute and get caught just collecting controllable years like Pokémon cards. You do not have to catch 'em all.
Hoskins has taken a step forward this year while losing a year of control, so he's basically held serve in terms of trade value. He's still a R/R, first base-only type who's in his peak right now, and that profile traditionally doesn't age well. If his agent weren't Scott Boras, I'd suggest that a Twins-esque extension — buying a year of free agency and locking him up through his age-31 season — would make some sense for both sides. Regardless of how he ages, Hoskins is going to be a cheap, 3-4 WAR middle-of-the-order threat for at least the next couple years, albeit one whose arbitration figures could get gaudy with all those counting stats.
The executives I spoke with were a little hesitant to run Baez up the list last year after one season boasting good offensive production, because he did it with a 4.5% walk rate. Well here we are a year later, Baez is 26 and in his prime, and he's basically doing it again, but now with just 2.5 years of control left. For that short of a term, you don't need to worry about his performance cratering, but those I spoke with are still nervous about projecting Baez's hyper-aggressive approach remaining effective when the bat control and bat speed regress a bit. His free agency after the 2021 season will be interesting to watch, as I can't think of another player in recent memory with an approach like this who will demand nine figures. And before you say Gary Sheffield because they both had 80 bat speed, go look at Sheffield's strikeout rates.
I said Scherzer was the hardest player to place on this year's list, and that's true, but Ramirez was a pretty close second. He was the top trade asset in baseball at this point last year by a pretty wide margin. From 2017-2018, he was the third best player in the game by WAR, and the fourth best from 2016-2018. But in 2019, he's been pretty bad. Looking at his underlying stats, he's been fairly unlucky but he's also been a little worse by most of the major statistical indicators. Over the last 30 days, he's been much better and essentially as good as his expected stats on the year, so I would buy a solid bounce back the rest of the season, with the ZiPS projected season line of 2.7 WAR looking about right.
He may never clear 4.0 WAR again, but I'd expect four more cheap years in the 2.5 to 4.0 WAR range, with maybe one season a bit over 4.0, which is roughly what ZiPS has as well. The rough asset math here is 15 WAR for $31 million over the next 4.5 seasons, which is about $100 million in surplus value even factoring in the time-value of money. The fact that Ramirez is likely to put up just over five fewer wins this year compared to last and that his frame isn't exactly that of a traditional superstar makes it hard to believe that this season's performance is a total fluke (I don't think it is), but I wouldn't overreact and sell your shares just yet, either.
Like Baez, Alonso is an example of a player whose loud 2018 performance got him on our radar for this list, but we weren't quick to shoot him up until a 2019 performance proved it wasn't a fluke. Now here we are. Like Hoskins, Alonso is the dreaded R/R, first base-only profile, although Alonso has cleaned up his body a good bit over the last few years when it looked for a moment like he was more of a DH. I first saw Alonso in his high school days and still remember a game he had against Oscar Mercado when both were seniors. The scouts I was standing with pointed to the sophomore center fielder for Alonso's team and said that guy was the best prospect on the field. It was Kyle Tucker. Nobody thought the chubby third baseman with some bat control would turn into a plus-plus power monster capable of winning the Home Run Derby, but I suppose we're in the era of dynamic player development, so bully for the Polar Bear.
As referenced in the intro, a few executives I spoke with told me that the second major tier of players they target for trade, behind the elite bats with long-term control, is that of the potential aces who has enhanced value in the playoffs. Nola is at the back of that tier, as the walks have crept up a bit this season, he suffered an elbow strain in 2016 that shut him down for the season in July, and he signed an extension this past winter that means he'll only be cheap for a couple more seasons compared to some other ace candidates. He's proven he has the feel and secondary pitches to get by if his stuff diminishes, which he'll probably need, as his average velo seems likely to end up close to 90 mph by the end of this deal.
Kiley McDaniel has worked as an executive and scout, most recently for the Atlanta Braves, also for the New York Yankees, Baltimore Orioles and Pittsburgh Pirates. He's written for ESPN, Fox Sports and Baseball Prospectus. Follow him on twitter.