On Saturday, the Marlins and Twins pulled off a pre-deadline swap.
First, the trade:
Miami gets:
1B Lewin Diaz
Minnesota gets:
RHP Sergio Romo
RHP Chris Vallimont
Player to be Named Later
This deal's immediate big league relevance centers around 36-year-old Romo, who has had an incredible career for a reliever, especially one who throws as hard as he does. Romo's fastball has never averaged more than even 90 mph, topping out at 89.9 mph during his rookie year, while average relief fastballs now hum in at 93.6 mph. His 9.8 WAR ranks 15th among relievers since he debuted in 2008, and splitter wizard Koji Uehara is the only other soft-tosser ahead of him.
Most of our readers have probably seen enough of Romo over the last decade to know that he's been exceptional because of his ability to locate, and change the speed and shape of, his trademark slider. Hitters know that slider is coming — he's thrown it roughly 53% of the time during his career, second most to Carlos Marmol among all pitchers with 400 or more innings since Romo debuted — and yet Romo's surgical placement of the pitch just off the plate, equal parts enticing and unhittable, has had big league hitters flailing away at it across more than a decade now.
And of course, like any big leaguer who has stayed around for so long, Romo has made adjustments. He's worked more and more with a changeup over each of the past three seasons, now using it 16% of the time. It's tailing movement gives hitters, mostly lefties, a different look. Here are Romo's 2019 pitch locations split between left and right-handed hitters; you can see just how consistently he's been able to execute four-seamers and sliders away from righties, with two-seamers and changeups away from lefties.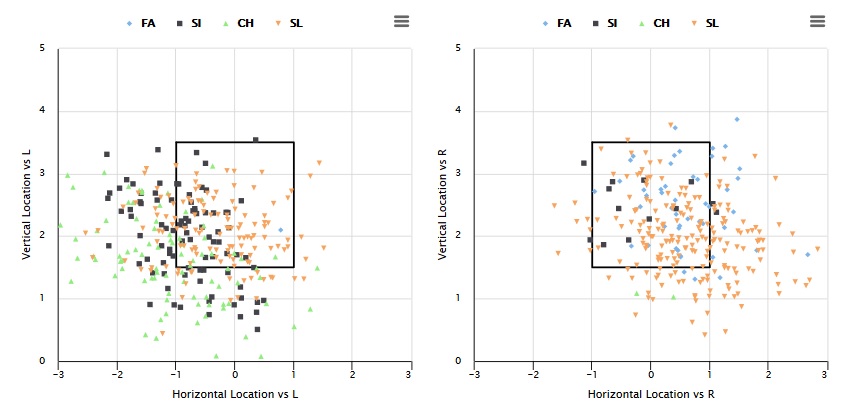 Romo will be a useful bullpen option for a contending Twins team for the rest of the summer and, probably, into the fall. His deal is up at the end of the year, making him a relief rental, maybe one Minnesota feels a little better about than that bucket's usual inhabitants because Romo has been such a constant for so long, and because he's considered a beloved teammate and clubhouse presence who also has a lot of high-stress postseason experience — 17 dominant innings as a high-leverage arm in '12 and '14, straddled by a couple bad ones on either side of those prime years — that most current Twins, especially the pitching staff, do not.
And so he cost the Twins 22-year-old Lewin Diaz, though the deal had to be sweetened with two other players (a PTBNL and righty Chris Vallimont, a vertical fastball movement sleeper whose full scouting report you can read here) for Minnesota to surrender him. Diaz was hitting a robust .294/.336/.553 across two levels (including a month at Double-A), a bounce back year after a scarily putrid 2018, during which he hit just .224/.255/.344.
As an amateur, Diaz was a big-bodied, power-hitting prospect, and he remained that way from the time he signed through his strong 2017 campaign at Low-A. Diaz was Rule 5 eligible after that season but was too raw to take and, realistically, be able to roster for the entire year, so teams passed. After that season, the Twins asked him to focus on his conditioning in the offseason, and Diaz dropped a lot of weight. In 2018 he was skinny, but his raw power was gone, his exit velos dropped, and he looked sluggish and tired to scouts. Again, now for performance issues, Diaz went unselected in the Rule 5.
Then came what appears to have been a more precise and effective physical conditioning plan and a huge start to 2019, not just on offense but on defense, too, as Diaz is more mobile in the field now than ever before, and has above-average hands and actions. More importantly, Diaz's power is back, and he has some hitting skills. He has good barrel accuracy on pitches down, his swing has natural lift (he only has a 33% ground ball rate over the last three years), and he doesn't often swing and miss at pitches within the zone. Aside from a propensity to swing over top of well-located breaking balls, the bane of many power-hitting lefties, Diaz once again has a strong offensive profile. It's a first base-only one, which makes the plate discipline aspect kind of scary, but Diaz has a shot to be an everyday hit/power combination.
This type of rollercoaster statistical performance and change to underlying data (such as exit velos and other measures teams have access to, but the public does not) strikes me as one of those things teams' projection models probably struggle to account for, as the context of Diaz's 2018, which probably hurt him in models, is important for understanding his 2018 downturn, as well as his enthusiastic if reckless response to the Twins request for him to be leaner.
The star of this deal is Miami's scouting department, on both the pro (which likely knew the background on Diaz) and amateur (which found Vallimont at a Division-II school in last years fifth round) side, even if Sergio Romo has a sizable impact on the postseason race. The Marlins flipped a rental reliever and recent fifth rounder for what might be a long term answer at first base.
We were low on Diaz before the trade, and needed to reassess where he fit among other minor leaguers as we moved him to Miami's list on THE BOARD. At age 22, we looked around college-aged first basemen to make apples-to-apples comparisons and settled in the 40+/45 FV area (Diaz definitely belongs beneath the 50 FV first basemen, like Andrew Vaughn) around names list Michael Busch and Michael Toglia, players drafted in this year's late first to early second round. We settled on a 40+ FV, rounding down for now because of the plate discipline aspect of the profile.
Eric Longenhagen is from Catasauqua, PA and currently lives in Tempe, AZ. He spent four years working for the Phillies Triple-A affiliate, two with Baseball Info Solutions and two contributing to prospect coverage at ESPN.com. Previous work can also be found at Sports On Earth, CrashburnAlley and Prospect Insider.