Dallas Keuchel wasn't supposed to still be on the market when the Winter Meetings commenced in December. He certainly wasn't supposed to still be there as the calendar turned to 2019, and it was completely unthinkable that he would still be available at the start of Spring Training. It is only through the dark alchemy of a ghoulish lack of shame and self-awareness on the part of team owners mixing with Keuchel's demands that he was still available after the conclusion of the Amateur Player Draft, but there he was, still waiting for a phone call from his agent, telling him a professional baseball franchise had made him a reasonable contract offer. That call finally came on June 7, when the Atlanta Braves signed Keuchel to a one-year, $13-million deal, which by that point was more of a three-and-a-half-month deal. At the very start of the free agency period, Kiley McDaniel predicted Keuchel would receive four years and $84 million on the open market. Instead, he couldn't even secure a multi-year commitment.
Keuchel wasn't the only player who endured this kind of unexpected wait. Former Red Sox closer Craig Kimbrel signed just one day before Keuchel, inking a three-year deal with the Chicago Cubs. Kimbrel's season has been a disaster so far, with the 31-year-old holding a 5.68 ERA and 6.63 FIP in 19 innings. Keuchel, on the other hand, hardly missed a beat. In 16 starts after getting a late start in Atlanta, Keuchel owns an ERA of 3.35, with a FIP of 4.39 and an xFIP of 3.87. He leads the majors with a 61.5% groundball rate (min. 90 IP), with second-place Dakota Hudson well behind him at 57.2%. Of those 16 starts, 13 have ended with Keuchel surrendering three earned runs or fewer. He was pretty reliable in his first few games of the season, but after a brief blow-up in Miami of all places, he's been totally lights-out.
In a 3.2-inning appearance against the Marlins on August 8, Keuchel allowed eight runs on 10 hits, including three homers. His ERA jumped from 3.86 to 4.83 that evening, and at the time, it seemed like it might be a sign of real danger for the 31-year-old southpaw and the rest of the Braves' pitching staff. While his ERA had been fairly solid coming into that appearance, his 4.74 FIP was still a distressing reminder of the kind of pitcher Keuchel was, and the risk he poses. He wasn't missing a lot of bats, with his K/9 sitting at just 6.75. Meanwhile, he had a BB/9 above 3.0 for what would have been the first time since 2012, and he was allowing a career-high HR/FB rate of 24%. Keuchel has consistently overcome low strikeout totals throughout his career thanks to excellent command, but suddenly, he was throwing strikes much less often than he used to (32% zone rate in 2019 vs. 38.6% for his career), and he was much easier to leave the yard against, even if the juiced ball has made preventing homers more difficult for everybody. That night in Miami could have altered Keuchel's entire season, and damaged his future earning potential even further.
But that isn't what happened. Keuchel has bounced back from getting torched in Miami to post his most dominant six-game run in years.
In his last six games, Keuchel has thrown 37 innings and allowed just four runs, giving him a 0.97 ERA and 3.05 FIP in that time span. He's allowed just one homer in that stretch, and zero in his last four appearances, while striking out 35 and walking 12. In other words, he's added nearly two full strikeouts per nine innings, while keeping his walk rate exactly where it was before this surge and eliminating homers.
That last part is of particular note. If there is a standout strength a Dallas Keuchel-type pitcher brings to the table, it is their ability to limit the long ball. Earlier this season, he was struggling to do that, with a much higher rate of fly balls leaving the yard than at any other point in his career. Then, over these past few starts, Keuchel has simply stopped allowing fly balls. He has a 67.1% groundball rate over his last six games that easily leads the majors, as does his 3.94 GB/FB ratio. He's absolutely getting better luck on his fly balls than he was at the start of the year, with a HR/FB rate of just 5.9%, but that number only matters so much if you won't allow opponents to elevate the ball to begin with. This season has seen Keuchel do that in ways he wasn't able to last year.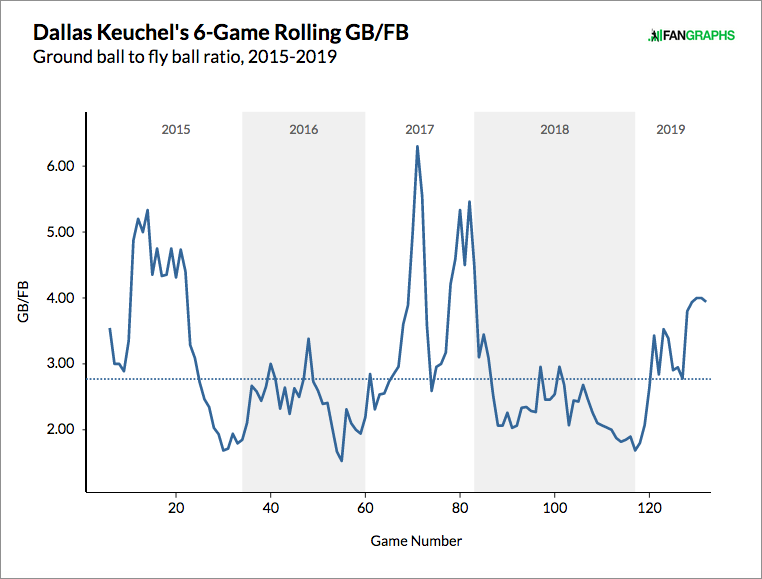 Keuchel's regained his groundball powers by trusting in the pitch that made him so difficult to square up in the first place: His sinker. Sinkers are continuously falling out of vogue across baseball, and for good reason, but some pitchers can still utilize them as real weapons, and Keuchel's sinker has traditionally been one of the best in the game. Last year, he began to back away from it, throwing the pitch just 41.1% of the time — his lowest rate since 2014 — in favor of mixing in more cutters and four-seamers. The results weren't ugly, but they hurt him at his strength — his groundball rate fell to its lowest point since his rookie season — while failing to fix a weakness. Despite throwing the more whiff-friendly fastballs, Keuchel posted his lowest strikeout rate in years.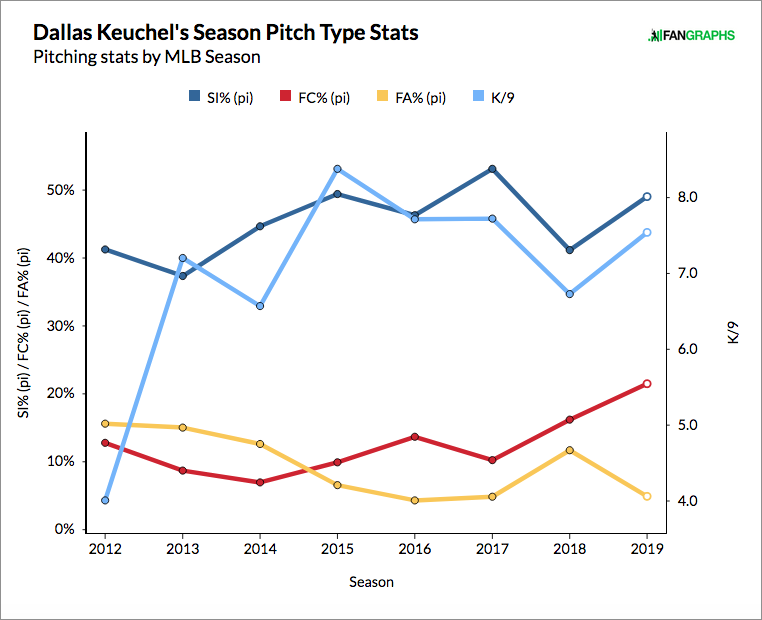 This season, Keuchel has found something closer to his best combination of fastballs, though he could still stand to do better. While he's rarely used his four-seamer, he's continued to raise his cutter usage, now throwing it 21.1% of the time. It's hard to see the purpose of that adjustment. Going by the results, the cutter has been Keuchel's worst-performing pitch by far, allowing a .409 wOBA to opponents in plate appearances ending with it. It also generates even fewer swings and misses than the sinker, and misses the strike zone more than either of his other fastballs. If you wanted to go by underlying contact data, the cutter still woefully underperforms the sinker, with a .379 xwOBA as opposed to the sinker's .326. His changeup and slider, meanwhile, are still the consistently strong offerings they've always been, allowing wOBAs of .267 and .251, respectively. Perhaps the cutter is doing something to establish the other pitches that I haven't seen, but it seems like focusing more on the sinker and his two breaking balls might allow Keuchel to perform even better.
I wrote last week about what another Braves lefty, Max Fried, had done to establish himself as a potentially lethal rotation arm in the postseason. With two more brilliant starts against NL East rivals since that story was published, I think it's fair to add Keuchel's name to an increasingly strong group of Braves starters going into the postseason. To be clear, it was probably never a question that Keuchel was going to be in Atlanta's postseason rotation, because he comes with so much playoff pitching experience. But a few weeks ago, the idea of facing Keuchel might not have inspired much fear in the hearts of potential opponents. The longer he continues this hot stretch, however, the more you begin to remember that this is a pitcher who won a Cy Young just four years ago, and has been very effective for a long time. Keuchel turning in a run of dominance like this shouldn't be that big of a surprise.
Even more intriguing than the question of how well Keuchel can perform for the Braves this October, however, is what all of this will mean for his fortunes in the months that follow. Because as good as he has looked over the past month, and as reliable as he has been throughout his season in Atlanta, his numbers still bear a strong resemblance to the 2018 season that preceded his long trudge through the last offseason. That isn't a bad thing — Keuchel turned in a damn fine 3.3-WAR season in 2018 — but it's difficult to know what a team might see in him this winter, now a year older, that they didn't see last winter. Perhaps the rebound in his groundball rate is enough to encourage someone to commit to him long-term, or maybe he'll turn in some kind of heroic October that lands him a Nathan Eovaldi-type contract. Whatever the reason, hopefully someone will be willing to meet Keuchel where he's worth. The Braves played a whole third of the season before making the decision to just go sign the guy who had been the best available pitcher on the market since December, and lo and behold, that pitcher has turned out to be pretty good. You just can't predict baseball, I guess.
Tony is a contributor for FanGraphs. He began writing for Red Reporter in 2016, and has also covered prep sports for the Times West Virginian and college sports for Ohio University's The Post. He can be found on Twitter at @_TonyWolfe_.