The 2018 Atlanta Braves finished their season 90-72, in first place in an NL East that saw just one other team — the Nationals, at 82-80 — finish above .500. That Braves team featured three hitters under the age of 25 with wOBAs above .320, a strong farm system, and middling pitching that could surely be remedied with an arm-heavy offseason haul. After a winter during which the Braves didn't add those arms, we gave them a 38% pre-season chance to make the playoffs — not an exceptional mark in a competitive division in which we gave three other teams better than that chance, but substantially improved from 2018's pre-season 3.2% shot. After 2018, expectations were raised for this season's summer in Atlanta.
One-quarter of the way through that 2019 season, sitting at 21-20 and three games behind the Phillies, it's not yet clear what kind of season the Braves now intend to have.
The offense, at least, has been there — for the most part. Off-season acquisitions Josh Donaldson and  Brian McCann, along with holdovers Nick Markakis, Freddie Freeman, and Ronald Acuña Jr., are all hitting well (the lowest wOBA among the group is Markakis's .362). Ozzie Albies and Dansby Swanson are hitting passably, which for Swanson is a major victory and for Albies is about par for the course (his .334 wOBA on the season to date is almost exactly in line with his .331 career mark). Johan Camargo and Ender Inciarte have fallen off a cliff.
The resultant 104 team wRC+ is ninth league-wide and an improvement on last year's 97 figure (15th). But Atlanta's top-third ordinal position betrays the fact that the Braves' overall offensive performance is as close to the 19th-ranked A's (94) than to the fourth-ranked Mariners (114), and is certainly not the kind of overwhelming force that can cover for poor pitching. And the Braves' pitching, while not abysmal, is also not good. More damningly for a front office that didn't add any major arms this offseason, it's not better than last year's crew.
As Ben Clemens noted last week, starters league-wide are improving relative to relievers. In Atlanta, where the Braves' starting depth chart ran at least seven men long to start the season before being shortened by injury, and where Sean Newcomb has recently come into a relief role after a disastrous turn as a starter, the pattern holds. Last year, Braves starters posted a 3.99 ERA and Atlanta relievers a 3.99. This year, both outfits are worse — by a fair margin — but the relief crew's regression has been particularly noticeable: their 4.87 FIP is the seventh-worst in the game, and a third of a run worse than the starters' 4.41 mark to date (18th).
If you're willing to be charitable to a front office (and, presumably, ownership group) that made "financial flexibility" the guiding star of their offseason, you might say that the Braves' decision not to sign Craig Kimbrel (or any other major relief arms) this winter was a savvy move in a world where all that good young pitching the team spent a half-decade stockpiling was on the cusp of reaching Cobb County. Some of it has worked out. Mike Soroka and Max Fried have been excellent, and Newcomb and (to a much lesser extent) Touki Toussaint have been effective relievers once put into that role. There were certainly enough good pitchers on the Braves' roster this offseason to squint and see a quality staff emerging from it.
But that hasn't really happened. Despite Luke Jackson's emergence as a strong option in the ninth, and Toussaint and Newcomb's mostly effective efforts to shore up the innings leading into it, the rest of the bullpen's performance has ranged from acceptable (Jacob Webb's 3.54 FIP) to ghastly (Shane Carle's 9.85). And it's not just outliers bringing the overall numbers down: Chad Sobotka, who has a 6.52 FIP, is among the team's leaders in relief innings pitched. Josh Tomlin, who has a 4.56 FIP and hasn't been effective since 2017, leads the team in that category.
The rotation, meanwhile, despite the best efforts of Soroka and Fried, has seen Kevin Gausman, Julio Teheran, and especially Mike Foltynewicz struggle with bouts of inconsistency or injury and consequent ineffectiveness. Foltynewicz's case is particularly worrying (a 6.88 FIP over three starts, in which he's allowed 15 runs), both because it stands in contrast to strong performances earlier in his career and because it comes along with a nearly 2 mph drop in fastball velocity, and equivalent (though mostly smaller) velocity drops on pitches across the board. That drop has sapped his ability to strike hitters out, even as it does not appear to have materially affected his walk rate: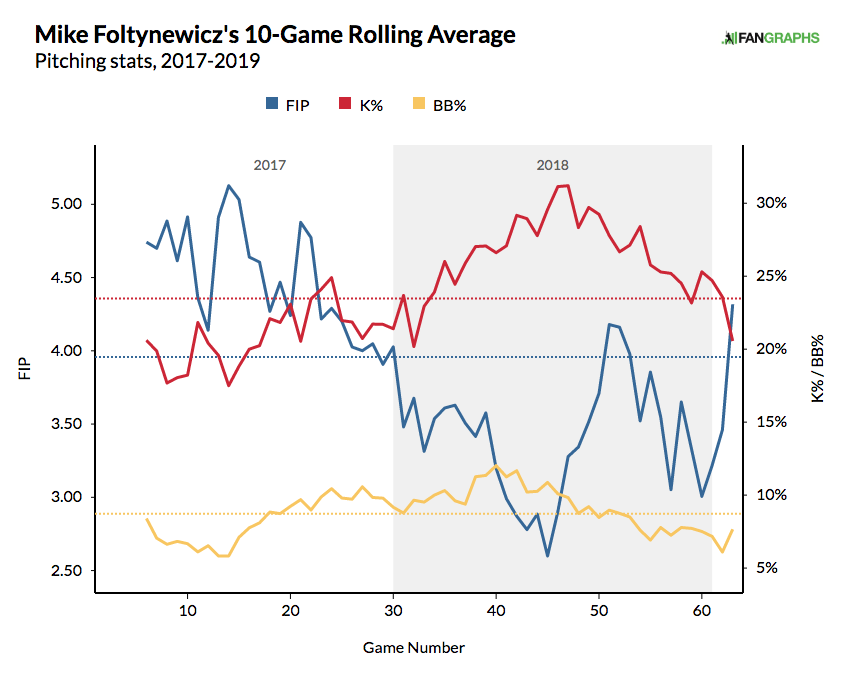 It's not a pretty chart, and exposes the degree to which Foltynewicz's recent success was built on top of his top-10 fastball velocity. Without that velocity, which began to slump in early August last season and has plummeted in the early going this year after an elbow injury limited him to just a few bullpen sessions and a substantially limited spring training, Foltynewicz simply can't generate the separation between his fastball and his off-speed pitches that he needs to be successful. So far in 2019, his stuff just isn't powerful enough to fool anybody. Gausman, too, was brought along slowly during spring training due to a shoulder injury, and Gausman, too, has been slowed by injury this season, leading to similar (if somewhat less dramatic) poor results.
So if a wait-and-see-what we have approach to pitching might have been justifiable coming into spring training — and even that is debatable — it's no longer nearly as justifiable today. Injuries have killed the depth that underlaid the Braves' inaction. What the Braves have now, in reality rather than in expectation, is a solid if not overwhelmingly consistent offense, inconsistent starting and relief pitching around a few bright spots, and only a three-game deficit in the division despite starting the first 41 games of the season just barely over .500. They also have that prized payroll flexibility so carefully hoarded in the offseason. If this isn't the time to go out and buy pitching, it's not really clear to me when is. Craig Kimbrel is still available. So is Dallas Keuchel, though he may admittedly carry a higher price than would be sensible for the Braves to pay.
For now, the Braves seem content to tinker around the edges of their roster and try to see if anything shakes loose. Last Friday, staring down the barrel of a four-game losing streak after a 10-inning walk-off loss in Arizona dropped Atlanta to 18-20 on the season, Snitker changed things up, moving Acuña Jr. from the cleanup spot to leadoff, Donaldson from second into the vacated fourth slot, and the struggling Swanson from purgatory somewhere near the bottom of the lineup into the two-hole. Acuña Jr. hit a 462-foot home run, and the Braves haven't lost since.
That's a nice story, but the offense isn't really the problem in Atlanta. Their pitching — particularly in relief — is what's holding them back, and it's teetering on the edge just as the Braves enter a stretch in which they're going to play the Cardinals, Brewers, and Nationals 11 times in 15 games. If the Braves' pen didn't play all that well in going 9-5 against the Marlins (who the Braves have played six times so far), the Rockies (five), and the Reds (three), I'm not sure it'll play out so well against the better teams to come. In short, the first quarter of Atlanta's season has given no indication that the pitching will work out on its own, even as there are a number of good arms to build around in-house already. Few other teams, at this point in the season, have so little of the story of their 2019 campaign down in ink. The Braves' front office still has a chance to determine the way their season will go. They should take it.
Rian Watt is a contributor to FanGraphs based in Seattle. His work has appeared at Vice, Baseball Prospectus, The Athletic, FiveThirtyEight, and some other places too. By day, he works with communities around the world to end homelessness.