Take one look at the numbers, and Yu Darvish is having a pretty rough 2019. A 5.40 ERA is bad enough, but he's actually outperforming his FIP, which sits at a grisly 6.49. While it's only eight starts, a small enough sample that I'd normally counsel patience, Cubs fans surely don't feel that way — 16 games into his Cubs career after an injury-shortened 2018, Darvish has compiled a 5.16 ERA (5.64 FIP) and been worth -0.1 fWAR. A closer look at Darvish, however, makes the picture far more muddled. Despite his undeniably rough start, silver linings abound in his underlying statistics.
The story with Darvish has to start with walks. No one would ever call him a control pitcher (he's had a walk rate higher than league average in five of his seven seasons), but he's veered from effectively wild to caricature this year. His 19.3% walk rate is not only first in baseball, it's first in baseball by a comical margin — among pitchers with 30 IP, he's as far ahead of second-place Brad Keller as Keller is ahead of 54th-place James Paxton. It's early in the season to start considering Darvish's place in history, but full-season walk rates like these haven't been seen since young Randy Johnson.
Let's leave aside the walks for a moment, though. Take those out of the picture, and you might struggle to differentiate Darvish's 2019 from the rest of his spectacular career. Here are Darvish's groundball/fly ball ratio and hard-hit rate for every year of his career.
Yu Darvish, Batted Ball Rates
| Year | GB/FB | Hard Hit % |
| --- | --- | --- |
| 2012 | 1.46 | 25.6 |
| 2013 | 1.08 | 30.5 |
| 2014 | 0.89 | 32.5 |
| 2016 | 1.01 | 30.0 |
| 2017 | 1.11 | 33.1 |
| 2018 | 0.95 | 27.4 |
| 2019 | 1.74 | 28.6 |
Darvish has not only amassed an average-ish hard-hit rate, he's getting grounders like he never has in his career. Those are hardly the numbers of a pitcher with a 5-handle ERA. What gives?
Well, one way to get your ERA up despite decent batted ball numbers is to walk everyone, and we know Darvish is doing that. Another way to run results worse than your top-level batted ball stats is to allow a ton of home runs, and he's doing that as well; his 29.6% HR/FB is second only to Dakota Hudson's 31%. Darvish has had homer-prone seasons before (Cubs fans surely remember last year's 17.5% HR/FB rate as an unwelcome harbinger of 2019), but nothing like this.
In a small sample, it's generally correct to assume outliers will regress to the mean, but with the advent of Statcast, we can do better. If some new aspect of Darvish's pitching is leading him to be extremely homer-prone, we'd expect to see it in his xwOBA allowed on contact — the expected value of balls opponents put in play based on their exit velocity and launch angle. Here are Darvish's wOBA and xwOBA allowed on contact every year since Statcast began tracking batted balls:
Yu Darvish's Results on Contact
| Year | wOBA | xwOBA |
| --- | --- | --- |
| 2016 | .366 | .344 |
| 2017 | .371 | .375 |
| 2018 | .406 | .385 |
| 2019 | .425 | .386 |
Now, Darvish is allowing better quality of contact than he did in his return from Tommy John surgery in 2016, but he's barely worse, in terms of expected damage done, than his cromulent 2017, when he ran a far more palatable 15.1% HR/FB. Even accounting for all the home run luck, Darvish's results on contact haven't been completely unplayable — Noah Syndergaard, Carlos Carrasco, and Corey Kluber have allowed higher wOBA's on contact this year.
If you'd prefer to look at his xwOBA on contact, Darvish does even better: Trevor Bauer, Patrick Corbin, Max Scherzer, Clayton Kershaw, Justin Verlander, and Gerrit Cole all have worse expected results on contact than Darvish. In 2019, of course, "expected" is a complicated term when it comes to batted balls, what with the seemingly livelier baseball and the all-time high HR/FB rate, but for all that, leaguewide xWOBA on contact is higher than wOBA on contact this year. While more fly balls are becoming home runs than ever, it appears that Darvish is getting disproportionately unlucky on that account.
Think of it that way, and Darvish's 2019 looks very different. The narrative of a pitcher who loses it isn't complex, and doesn't require a deep dive. Darvish was good, and then later he wasn't. His strikeout rate fell and his walk rate rose, and he started giving up home runs like a washed Rockies pitcher. Even his average fastball velocity is down, you might say — clearly he's just lost it. There are problems with all of those narratives, though, and not just the home run spike.
Let's look at the fastball point for a second, because it illustrates one of the dangers of early-season analysis. Take a look at Darvish's average fastball velocity each May of his career, as well as his full-season tallies:
Darvish's 4-Seam Fastball Velo
| Year | May (mph) | Full Season (mph) |
| --- | --- | --- |
| 2012 | 94.0 | 93.7 |
| 2013 | 94.5 | 93.6 |
| 2014 | 93.5 | 93.4 |
| 2016 | 96.7 | 94.9 |
| 2017 | 95.2 | 94.6 |
| 2018 | 95.2 | 94.8 |
| 2019 | 94.7 | 93.7 |
Now, maybe Darvish has lost a tick. His May velocity is as low as it's been since Tommy John surgery. It doesn't seem like an alarming drop, though, and his full-season numbers are dragged down by low velocities in March and April. It's too early to say much of anything about whether his fastball has changed.
When you strip out the batted ball results (unlucky noise) and the fastball decline (nonexistent), the Darvish story changes tone. It's not a story of a pitcher simultaneously getting worse at everything. Rather, what's happened here is that a top-line starter suddenly started walking the whole world with little decline in the rest of his observable results. Let's take a deep dive into his control, because it appears that that's the only thing to meaningfully change since Darvish's triumphant return in 2016 and effective 2017.
Look at most pitchers who suddenly start walking everyone while losing strikeouts, and you'll see poor swinging strike rates. The easiest way to walk more batters is to stop being able to throw a pitch by them for a strikeout — if the batter fouls enough balls off, you'll eventually miss out of the zone or let him put it in play, trading strikeouts for walks and hits. That isn't the case with Darvish, whose 12.3% swinging strike rate in 2019 is comfortably better than league average.
Indeed, when batters swing at pitches out of the strike zone, they're making contact at the lowest rate in Darvish's career. When he induces a bad swing, in other words, he finishes the job. What's causing the walks, then? Well, it's not rocket science, but Darvish has started throwing fewer pitches in the strike zone, and batters aren't playing along. Eight games into the 2019 season, he's almost never had such a zone-light stretch in his career.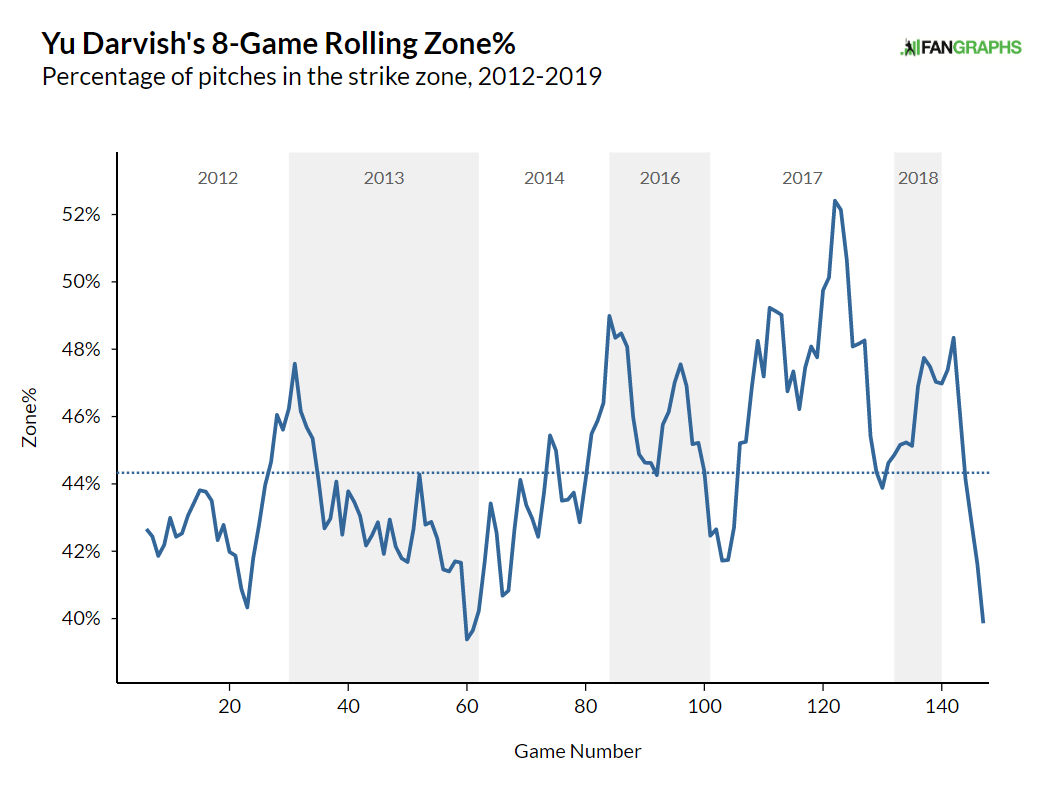 Even then, he might have gotten away with it, if it weren't for those meddling kids — err, batters — who have cut back on their out-of-zone swings in response to Darvish's wildness. He's not quite having a career-worst stretch when it comes to out-of-zone swing rate, but it's not far off.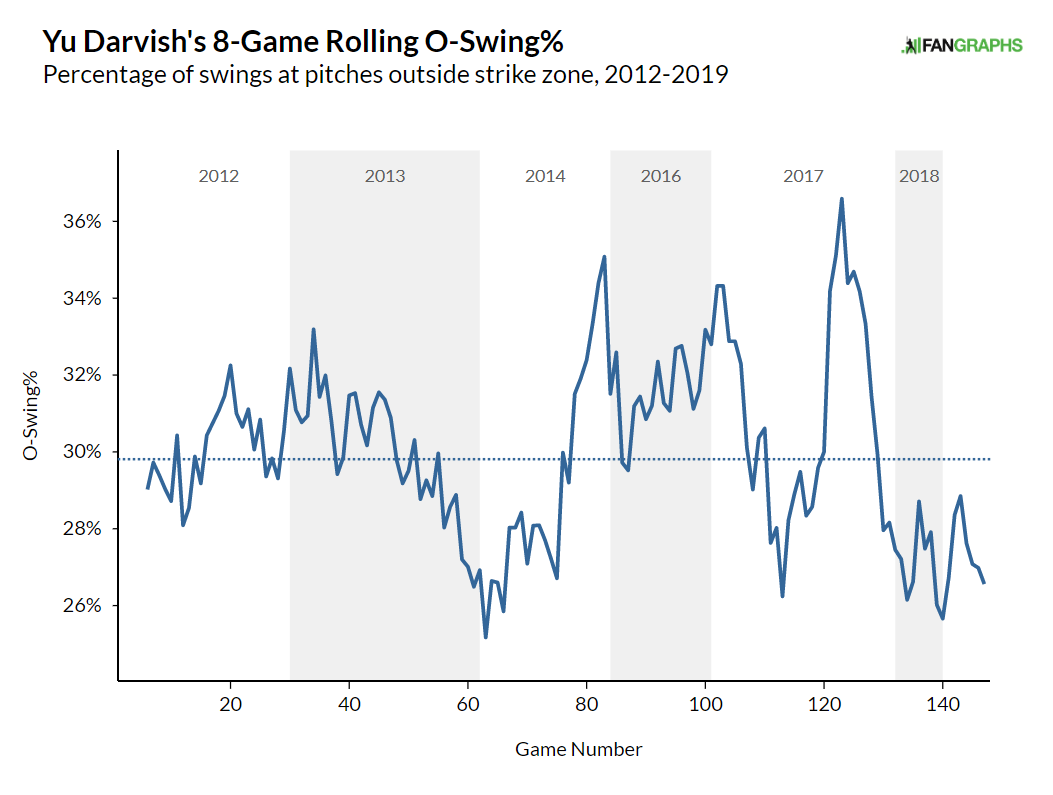 That wildness, and batters' increasing ability to lay off pitches outside the zone, starts from the first pitch of each at-bat. Darvish's first-strike percentage is as low as it's ever been, and his zone rate on 0-0 pitches isn't far off.
Yu Darvish, First Pitch Rates
| Year | Zone% | Strike% |
| --- | --- | --- |
| 2012 | 55.6% | 58.5% |
| 2013 | 47.3% | 57.3% |
| 2014 | 54.5% | 61.8% |
| 2016 | 51.9% | 58.2% |
| 2017 | 53.1% | 58.9% |
| 2018 | 52.5% | 55.6% |
| 2019 | 48.0% | 52.6% |
Now, many times the analysis would reach a satisfactory conclusion at about this point. The pitcher's stuff is every bit as good, he just started nibbling too much on 0-0 and that was that. Trim a few breaking balls and throw some fastballs in there on the first pitch, et voila, old Darvish. Just one problem, though — it doesn't appear to be a fastball problem.
Darvish's First Pitch Fastball Rate
| Year | FB% | FB% (ex-cutters) |
| --- | --- | --- |
| 2012 | 71.7% | 54.6% |
| 2013 | 69.4% | 46.6% |
| 2014 | 79.3% | 65.8% |
| 2016 | 71.6% | 60.6% |
| 2017 | 76.2% | 60.9% |
| 2018 | 78.5% | 62.4% |
| 2019 | 78.4% | 57.9% |
Throughout his career, Darvish has thrown a blend of two-seam, four-seam, and cut fastballs on the first pitch. He hasn't tinkered with the pitch mix all that much in the past two years. With the exception of trading a handful of sinkers for cutters, he's throwing the same pitches. He's just missing a little more than usual.
So, where does this all leave us? Darvish is throwing fewer strikes for some reason, and batters are swinging at his pitches less often, also for some reason. Despite all that, though, his stuff is getting as many swings and misses as ever. What should we expect for the balance of the year?
This isn't a satisfying conclusion, but I think there's no reason to panic with Darvish. Has his 2019 been terrible so far? Absolutely. It's come without a clear decline in skill, though — his pitches mostly all move the same, he's inducing whiffs as well as he ever has, and he's even getting grounders at a high rate for once. If he could just stop walking the world, the rest of his stats would fall into place.
Even when it comes to his command, there's reason to think that Darvish is getting unlucky. He doesn't throw strikes at an unfathomably low rate — 27 pitchers who have thrown at least 30 innings this year have a lower zone percentage, and 17 of those pitchers are getting fewer swinging strikes than Darvish. Twenty pitchers induce fewer swings on pitches out of the strike zone. If it weren't for the gaudy walk rate, you might never notice Darvish's underlying numbers.
Just as a quick mental check, I regressed swing rates, zone rate, and contact rate against 2018 K-BB rates. Darvish's numbers equate, per the regression, to a 17% K-BB rate. That's not quite his career 20% gap, but it's miles better than 2019's 6.4% and pretty close to Depth Charts' rest-of-season projection. A 17% K-BB, league-average results on contact, a fastball around 95 mph with an array of secondary pitches — that sounds like the Yu Darvish I've known for years.
Sometimes statistics are frustrating. I look at Yu Darvish's 2019 and I expect to find a signal buried there. He's been spectacularly bad! He's walked four or more batters in six of his eight starts. He's giving up home runs on a third of his fly balls. Something must have changed! Something must be new and predictive! In short, though, it hasn't. Yu Darvish, right now, doesn't look all that different from Yu Darvish before 2019, minus the eight starts of awful results. The world doesn't always cooperate with the brain's desire for an overarching conclusion. Sometimes a bad start is just a bad start.
Ben is a contributor to FanGraphs. A lifelong Cardinals fan, he got his start writing for Viva El Birdos. He can be found on Twitter @_Ben_Clemens.