Pitchers learn and develop different pitches, and they do so at varying stages of their lives. It might be a curveball in high school, a cutter in college, or a changeup in A-ball. Sometimes the addition or refinement is a natural progression — graduating from Pitching 101 to advanced course work — and often it's a matter of necessity. In order to get hitters out as the quality of competition improves, a pitcher needs to optimize his repertoire.
In this installment of the series, we'll hear from three pitchers — Jalen Beeks, Dallas Braden, and John Means— on how they learned and developed their changeups.
———
Jalen Beeks, Tampa Bay Rays
"I had a changeup in high school, but it wasn't very good. When I got to college, I changed the grip; I moved my pinky finger down. It's pretty much a circle change. I grip it hard and think about it almost like a fastball. I don't pronate. No one taught it to me. I just threw it one day and it worked. You have to tinker. You have to figure out what works for you.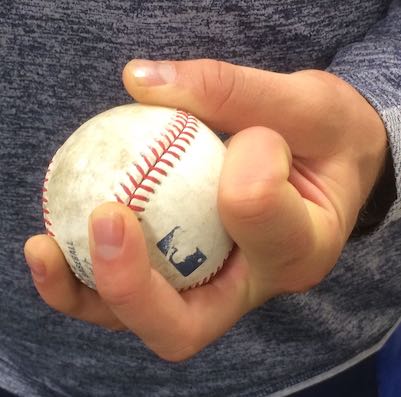 "It's gotten better over the last year. I think that's mainly from my mechanics having changed a little bit. I use my legs more, and have shortened my arm action. I'm not so tall on the mound now. I'm activating my legs more, by getting into more of a squat position. And like I said, I think fastball. I throw it as hard as I can. My average fastball is around 92 [mph] and my changeup is around 88.
"The movement is what makes it effective. It comes out on the same plane as my fastball for a long time, and then kind of drops off. The velo is similar enough that you can't re-adjust, per se. A lot of hitters are so good that they can recognize changeup and stay back and hit it. This one is close to the same speed, and either a heater or a changeup. If you don't see the spin, you basically have to guess which one.
"I don't know what the spin rate on it is, but I'm guessing it's higher than the average changeup. Frankly, I see the pitch pretty much as a sinker. It's most effective when I'm putting it down and away."
Dallas Braden, Oakland A's [broadcaster]
"In high school, I started with a palm ball. Part of that was arm issues. I'd had a difficult time repeating a certain slot, so I put the ball deeper into my hand and I started to raise my am slot a little. That became comfortable, believe it or not. That's kind of how my changeup was born, as a palm ball.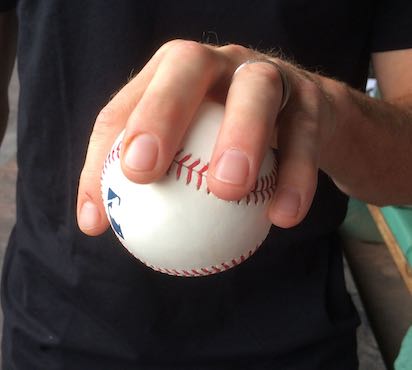 "I'd been trying to develop a feel for a three-finger fastball, to take some velocity off, and like I said, I had some arm issues. Throwing out of the same slot wasn't working — changing my slot with the same grip wasn't getting the results I wanted. So, I basically took the idea of trying to get a feel for the pitch out of the equation. I tucked it deep into my hand, and said, 'Let's go.'
"I remember taking note of an episode on ESPN, where Jamie Moyer was talking about not driving off of his back leg at times when utilizing the changeup. That helped him maintain arm speed, and hand speed, but still subtract velocity. That's something I did, too.
"Then I got to junior college. I started to move the baseball around in my hand. Changeup. Circle grip. This and that. One day during batting practice, I picked up a ball with an awkward grip, and threw it into the bucket. That ball took off almost like a right-handed slider. I said to myself, 'What. Was. That?'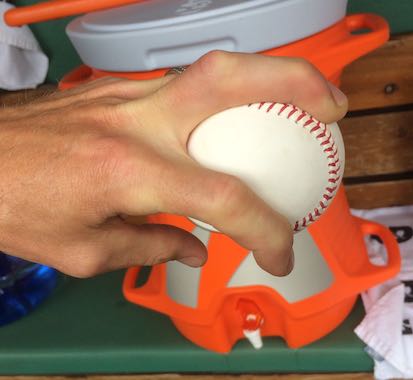 "I started to fiddle with that grip. That's where the screwball came from. So I had gone from a palm ball, to feeling a circle changeup, to having developed a screwball, in a very short amount of time. All of those things, as I'm sure you understand, take pronation. I learned very early that I was a pronator. I could stay inside the baseball with relative ease.
"I started to learn a lot of different things. I started to learn how to push and pull seams at the same time. Throw the front of the baseball. And I knew that the one pitch was a screwball, based on the effect I was getting. I knew the difference between a conventional changeup and this pitch that I was throwing. It had a certain movement profile to it.
"I threw it throughout my minor league career, and early on in the big leagues, but the organization felt like it may have led to some of the arm trouble I had experienced. We tried to make a conscious effort to steer away from it. But between you, me, and the wall, when you need a big pitch, you probably go back to your strength. Right?"
John Means, Baltimore Orioles
"It was a big pitch for me in college, but then I kind of changed the grip at the start of my pro career. I started trying to throw it more like my fastball. It was getting too hard, though. It ended up not being a huge pitch for me in the minor leagues.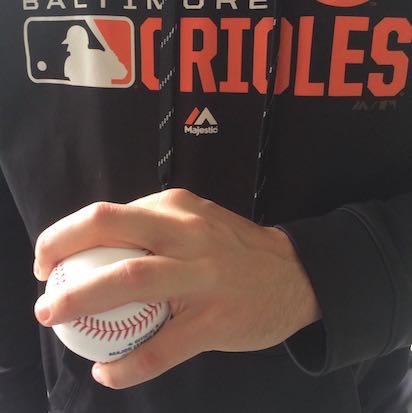 "In spring training this year, I worked with Chris Holt, our pitching coordinator. He's kind of like the changeup guru. We were working on trying to slow it down, slow it down. I've always been good at making it look like my fastball, with arm speed, and that sort of thing. Now that I've slowed it down, it's become more of a two-strike pitch. It used to be more of a 1-0, 1-1 sort of pitch. Now it's more of a 1-2 pitch.
"Last year, it was about 83-85 mph. Now it's 78-80, for the most part. I'm not getting more depth on it, or anything like that. Honestly, I don't get a whole lot of action on my changeup. Hitters just swing so far ahead of it that it doesn't really matter.
"Coming into this spring, my changeup actually had more spin rate than my fastball. It didn't make any sense. Last year it was around 2,300 [rpm], while my fastball was around 2,200. It was incredible. No one could figure it out. I guess it's because I would get behind it so much, trying to make it look like my four-seam fastball. My changeup is a four-seam.
"In college, I threw a two-seam changeup. It was very slow, kind of one of those Bugs Bunny changeups where you can swing twice before it gets to the plate. When I got to pro ball, I was told that it wouldn't work, because it was too slow. It didn't look enough like my fastball.
"I have the arm speed set, from having learned to throw it more like a fastball, so now that I've figured out how to slow it down, it's a lot better pitch for me. I have a looser grip now. I'd been kind of tucking it too far, and staying behind it too much. Now I'm trying to pronate it, and get on the edges of my fingers. I don't know what the spin rate is on it, but I assume it's lower, because I'm throwing it slower."
——
The 2018 installments of this series can be found here.
David Laurila grew up in Michigan's Upper Peninsula and now writes about baseball from his home in Cambridge, Mass. He authored the Prospectus Q&A series at Baseball Prospectus from December 2006-May 2011 before being claimed off waivers by FanGraphs. He can be followed on Twitter @DavidLaurilaQA.