Pitchers learn and develop different pitches, and they do so at varying stages of their lives. It might be a curveball in high school, a cutter in college, or a changeup in A-ball. Sometimes the addition or refinement is a natural progression — graduating from Pitching 101 to advanced course work — and often it's a matter of necessity. In order to get hitters out as the quality of competition improves, a pitcher needs to optimize his repertoire.
In this installment of the series, we'll hear from three former pitchers — Jason Frasor, Brandon Gomes, and Pete Walker — on how they learned and developed their versions of the split-finger fastball.
———
Jason Frasor, Toronto Blue Jays all-time leader in appearances
"I always called it a changeup, but I did split my fingers. If you saw it, you'd be like, 'Oh, he throws a splitter,' but the problem was, my hands are really small. I could never spread them really far. I came off three elbow surgeries, including two Tommy Johns, OK? So I just didn't know how to spin the ball anymore. All I had was a fastball.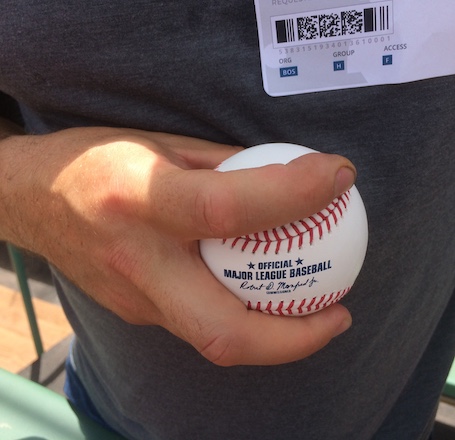 "One day, Bruce Walton — remember Bruce Walton? — was like, 'Try this.' He said to spread my fingers and throw it like a fastball. I practiced it for a little bit, then took it out to a game. And it was great. That was my rookie year, and for the rest of my career it was my secondary pitch.
"How deep I held the ball in my hand depended on the day. And the climate. If I was in Seattle, where it was cool — it was dry and cool — I usually had a great one. If I was in Texas, I was worried. The pitch would kind of just squirt out of my hand. Weather effected my changeup. Therefore, I'd maybe have a little pine tar in my hat.
"Sometimes I held the ball out a little farther, and could control it better. If I felt really good with it — I felt like I could get a good tumbling action — I would really get it deep. It would be more like a forkball. But again, it really depended on the weather. It was a feel thing, game to game.
"It really was a schizophrenic pitch for me. It was like, 'It feels good,' or 'It doesn't feel good.' Sometimes I was going to throw it and show it, but not get beat with it. Again, a lot of that was climate. Sometimes I would have a bad road trip and a good home stand. I just never knew, because I have smaller hands."
Brandon Gomes, Los Angeles Dodgers assistant GM
"Like a lot of guys, I had no feel for a changeup in high school. Too hard, not a whole lot of action. My freshman year at Tulane, I learned a split-finger from Chad Sutter, our pitching coach. He obviously had intimate knowledge of the pitch from his dad [Bruce Sutter]. He started going over different grips with me. It was, 'Here is how my dad taught it; this is kind of what you want to feel.'
"He used to describe it as almost hearing his thumb hit in the middle of his two fingers. It was like a snapping sound on release. That was a good cue for me to focus on keeping the wrist loose, and making sure I was keeping the ball out in front. That was kind of the genesis of it.
"I spent five years at Tulane, and Bruce came around a good amount. He would hang out during bullpens, and we would have discussions about it. I would pick his brain. It was his grip, but I had to modify it, because Bruce has enormous hands and I don't.
"The main thing was finding a comfort level with where my thumb was. That's something a lot of guys are going to base the comfort level of a grip on — where the thumb is placed — and they'll build the rest of the grip off of that. So it was finding a comfort level of my thumb on a seam, and then where I wanted to place my index finger on the ball. It was basically more of a two-seam grip, with part of my index finger on a seam, being able to feel that, pulling down.
"It was good to hear his thought process. Chad used to tell stories about how Bruce's fastball was his changeup, because he threw so many splits. Throughout my pro-ball career, that was probably more true than not. I didn't have a great fastball, so I was more splitty/slider than fastballs.
"I don't think that type of grip puts more pressure on your elbow than anything else. If you were digging it in, like a true forkball… potentially. That's an easy thing to point to when somebody gets hurt, but there are plenty of guys who don't throw splits that get hurt, as well."
Pete Walker, Toronto Blue Jays pitching coach
"Early on in my career I was a starter — this was in the minor leagues — and I always struggled with a straight change. I was just never consistent with it. I wasn't comfortable throwing it, and gave up too many hits. The Mets moved me to the bullpen and I became primarily fastball-slider. I was a hard thrower at that time.
"I was traded to the San Diego Padres. Coming back from shoulder surgery with that organization, I had lost a little bit on the fastball. At that point I decided I needed something more off-speed, something to control bat speed a little bit more. I went from four-seam-slider to more of a sinkerballer, and turned my slider into a cutter. This was in Colorado Springs, where I worked with Jim Wright. He also helped me develop a split-finger fastball.
"The split took maybe two or three weeks of development, then I broke it out in a game. Prior to that, I only had minimal major league time. After I developed the cutter and the split-finger fastball, I ended up getting almost five years of major league service with the Toronto Blue Jays.
"The biggest thing with the split was having my index finger on the seam. My middle finger was as far as I could get it on the ball — separated on the ball — and I pulled down with my index finger, and pushed with my thumb underneath the ball. The pitch had good downward and horizontal action away from a left-hander. It kind of acted like my sinker, but with more vertical drop, and obviously less speed.
"As far as teaching it, we've tried it with a few different players. No. 1, the player has to be receptive. And there has to be a need. I don't think it's a great pitch for younger pitchers. My feelings are that it's more for a pitcher who is maybe in his later years and is looking for an edge, looking for a way to survive and stay in the big leagues. Maybe even looking for a way to stay in the minor leagues.
"There have been some issues with it, with the elbow. Like the slider. The split… it depends on how you throw it. There have been some players over the years who have complained about it, and I know there have been some studies on it, saying it puts more pressure on the elbow. But it never bothered me."
David Laurila grew up in Michigan's Upper Peninsula and now writes about baseball from his home in Cambridge, Mass. He authored the Prospectus Q&A series at Baseball Prospectus from December 2006-May 2011 before being claimed off waivers by FanGraphs. He can be followed on Twitter @DavidLaurilaQA.