The following article is part of Jay Jaffe's ongoing look at the candidates on the BBWAA 2020 Hall of Fame ballot. For a detailed introduction to this year's ballot, and other candidates in the series, use the tool above; an introduction to JAWS can be found here. For a tentative schedule and a chance to fill out a Hall of Fame ballot for our crowdsourcing project, see here. All WAR figures refer to the Baseball-Reference version unless otherwise indicated.
It's "no such thing as a perfect ballot" season. As far back as 2013, my second year at SI.com, I've used that refrain to describe the difficulty of winnowing a nearly unmanageable backlog of plausible Hall of Fame candidates down to 10, the maximum allowed per voter. With an unprecedented flood of 20 players elected over the past six cycles, and just one obvious choice among the newcomers, the backlog has abated, which should make the process of voting easier. Nonetheless, with my annual exercise in filling out a virtual ballot comes an acknowledgement of the numerous subjective choices that go into even the most objective-minded ballots. As with so many other endeavors, perfection may be unattainable, but that's not to say it's not worth pursuing.
Despite the work I put into Hall of Fame research in general, and into my annual series in particular, I still don't have a vote, but after breaking down ballots for 19 election cycles — 17 since introducing the system that became JAWS, and nine since gaining admission to the BBWAA — I'm just one year away. At this time next year, I'll be explaining my actual ballot and reporting it to Ryan Thibodaux and the Tracker troupe. Whether filling out a virtual ballot or an actual one, my process is still the same. I perform this exercise to illustrate the hard choices a voter faces, and to do so by the ballot submission deadline (December 31). As always, I am guided by my JAWS system, but not enslaved by it, for there are considerations that a comparative Wins Above Replacement-based methodology — which can account for the widespread variations in scoring from era to era and ballpark to ballpark (producing the occasional double-take) — can't capture, including pennant race and postseason contributions, awards and honors, and historical importance. 
Over the past six weeks, I've analyzed the top 18 candidates on the ballot, the ones in serious consideration for those 10 precious spots (beyond the odd courtesy vote). I've begun my coverage of the 14 remaining "one-and-done" guys — none of whom has received a single vote from among the 57 published ballots thus far — and will continue the series into early January, as they're fun to write about without fixating upon how short of Hall standards they are. But now, it's time to fish or cut bait. 
Let's start with a look at the 20 candidates who are within 20 points of the JAWS standards at their given positions: 
Top 2020 Hall of Fame Candidates by JAWS Margin
SOURCE: Baseball-Reference
JAWS Margin = difference between individual player's JAWS and position standard. Yellow shading = meets standard at position.
Of that group, seven candidates exceed the JAWS standards — the average of the enshrined players — at their positions, the lowest total since the 2012 cycle, and half as many as we saw in 2014. Here, this is worth a picture: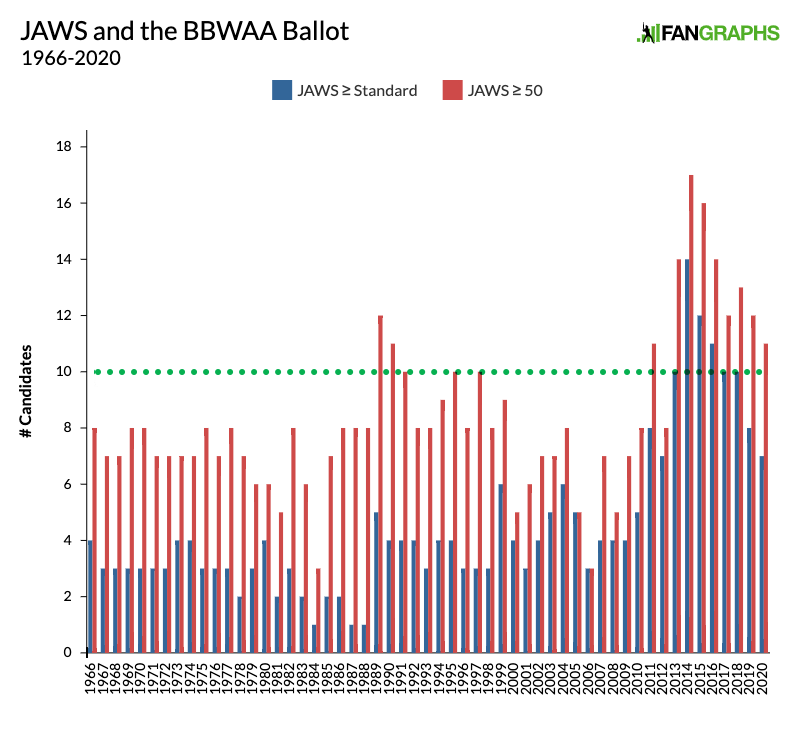 The blue bars represent the number of players on a given ballot who meet or exceed the JAWS standards at their positions. The red ones represent the number with a JAWS of at least 50 (or at least 40 for catchers, since the metric scales differently at that position) — a threshold that's more or less in the ballpark as far as wiggle room goes, at least in practice. Two years ago, the writers elected Vladimir Guerrero (50.3 JAWS) with 92.9% of the vote; to find a position player below those thresholds who was elected by the writers, one has to go back to Kirby Puckett (44.4) with 82.1% in 2001.
As you can see from the graph, both totals of candidates were at or above 10 from 2014-18, but the traffic has subsided. This year's ballot does have 11 candidates with at least 50 JAWS, a count that includes neither Sheffield (49.3) nor Billy Wagner (23.7); to an even greater degree than catchers, relievers are on a different scale as far as JAWS is concerned. 
Anyway, of this year's seven candidates who exceed the JAWS standards, four top the career WAR and peak WAR standards as well (down from six last year). Three more top the career and JAWS standards but not peak, while three others top only the peak standards. Those tallies are represented in the "Standards" column in the table above, with the yellow squares highlighting the particular standards met. Among those who don't meet any standards are three players I classify as "candidates of interest," namely Abreu, Sheffield, and Wagner — players who fall shy on JAWS but about whom I remain particularly open-minded, for reasons explained below.
Three others are candidates who have garnered support from other voters, but are along for the ride here as far as I'm concerned. If you want to know more about why Kent, Pettitte, and Vizquel don't make my cut, I've got a few thousand words to that effect with regards to each. Likewise with regards to newcomers Giambi and Lee, both of whom have been shut out in the voting thus far. Note the inclusion of Putz and Furcal within my first-cut threshold; for a reliever, that's still "nope, not even close at all" territory, and while it's not much closer for a shortstop, it's worth noting the comparatively minuscule gap between Vizquel and Furcal, despite the former playing 84% more games than the latter during their respective careers. 
Thus I begin with 13 candidates for a maximum of 10 slots, which isn't to say that I'm committed to using all 10, but that's my real starting point. We can then get the obvious out of the way: one spot is earmarked for Jeter. Regardless of the lousy defense, he was an exceptional hitter, particularly for the position, and an outstanding postseason performer who played a major role for five championship teams. I see no reason to get cute by excluding him for reasons of ballot management — in other words, to give a more marginal candidate a much-needed vote; this backlog isn't that unwieldy. What's more, I hope that last year's unanimous selection of Mariano Rivera is the start of a trend of so honoring the most blindingly obvious candidates, not just the better members of the Core Four. Even if it isn't, hey, Jeter's a Hall of Famer, and I'm happy to add my name to that particular petition.
Moving along, as I've said repeatedly throughout this series, when it comes to candidates connected to performance-enhancing drugs, I draw a line between those whose allegations date to the time when the game had no testing regimen or means of punishment (i.e., prior to 2004) and those that came afterwards. With no means of enforcing a paper ban, and with players flouting such a ban being rewarded left and right amid what was truly a complete institutional failure that implicated owners, the commissioner, and the players' union as well as the players, I simply don't think voters can apply a retroactive morality to say that a Bonds or a Clemens or a Sosa shouldn't be in the Hall on that basis alone. I've done enough research to believe that this is a reasonable place to start, but it must be acknowledged that there's no consensus within the electorate over how to handle the issue, and voters' views on the topic range from "performance only" to "hang 'em high at the first hint of suspicion." This issue alone is the biggest impediment to a perfect ballot; some of us, voter or bystander, will never agree on how to handle the problem.
But anyway, two spots on my ballot go to Bonds, the all-time home run leader, and Clemens, the best pitcher since World War II. As noted within my profiles of the gruesome twosome, the pair made big gains on the 2016 and '17 ballots and surpassed the 50% mark in the latter year, but have since seen their momentum slowed; last year, Clemens received 59.5%, Bonds 59.1%. With three years of eligibility remaining (including this one), they're not licked yet, but gaining five percentage points per year is hardly automatic. 
On that same basis, I have to cross Ramirez off my list. On a performance-only basis, he would get my vote, as he's one of the greatest hitters of all time; his 154 OPS+ ranks 20th among players with at least 7,000 PA. Right now, I can't get past the two failed tests, not when better players who never tested positive are being kept out over more nebulous PED allegations.
That leaves nine players for seven spots. Easily making the cut, with my lightning-round summaries of their cases, and links to their full profiles, are this pair:
Walker (10th among right fielders in JAWS, 54.6% in 2019): A legitimate five-tool player, Walker was outstanding at defense and base running as well as hitting. Even after adjusting for the time he spent at high altitude, he's tied for 43rd all-time in OPS+. His injury-shortened career has provoked some resistance among voters, but the electorate has come around to such a degree that he's gained nearly 43% over the past four cycles. If — and this is no small word — he can approximate last year's 20.5% jump, he'll join Tim Raines and Edgar Martinez among the recent, analytically-favored candidates who have gained entry in their 10th and final rounds on the BBWAA ballot. Currently polling at 86.4% on the published ballots, he's going to need every single vote he gets, but even if he falls short, his showing will be impossible for the Today's Game committee to ignore down the road.
Rolen (10th among third basemen in JAWS, 17.2% in 2019): An exceptional but under-appreciated two-way player, Rolen combined power and patience at the plate with some of the best glove work the hot corner has ever seen. Even in a career that contained numerous injuries and ended at age 37, he ranks third at the position both in fielding runs (+175) and in Gold Gloves (eight) and, depending upon your choice of metric, belongs among the top 10 or 20 hitters for the position as well. Particularly at an underrepresented spot — there are just 15 third basemen in the Hall, compared to 26 right fielders and 19 to 21 at every other position besides catcher — he merits enshrinement. His candidacy started slowly, but he's building momentum, currently polling at 42.4%.
That's five spots filled, with seven candidates still in play for the other five. Let's meet the contestants: 
Of this group, Helton gets first dibs on a spot. I'm sticking with Billy Wags, too, and I'm restoring Jones, a 2018 pick who got squeezed off last year. I'm ruling out Sosa, whom I have never included on a virtual ballot; at this point, I feel like a vote for him is a wasted one, as he's clearly going nowhere in this process. While Jones' percentage is in single digits, he's in just the third year of his candidacy.
That leaves Schilling, Sheffield, and Abreu for two spots. I've never voted for Shef, but he was a personal favorite, and his candidacy is showing signs of life (34.8% in the Tracker). If I include him, that brings the choice down to Schilling, who will eventually go in with or without my support (he's polling at 86.4%, albeit a softer 86.4% than Walker, on whom far more voters have flipped), and Abreu, who may fall off the ballot or be headed for Jones/Sosa hanging-by-a-thread territory (7.6% in the Tracker), albeit with even less of a hook than either of those two.
Sorry, Bobby. You'll have to stand in line behind Kenny Lofton, who fared better in JAWS and didn't make my cut in 2013.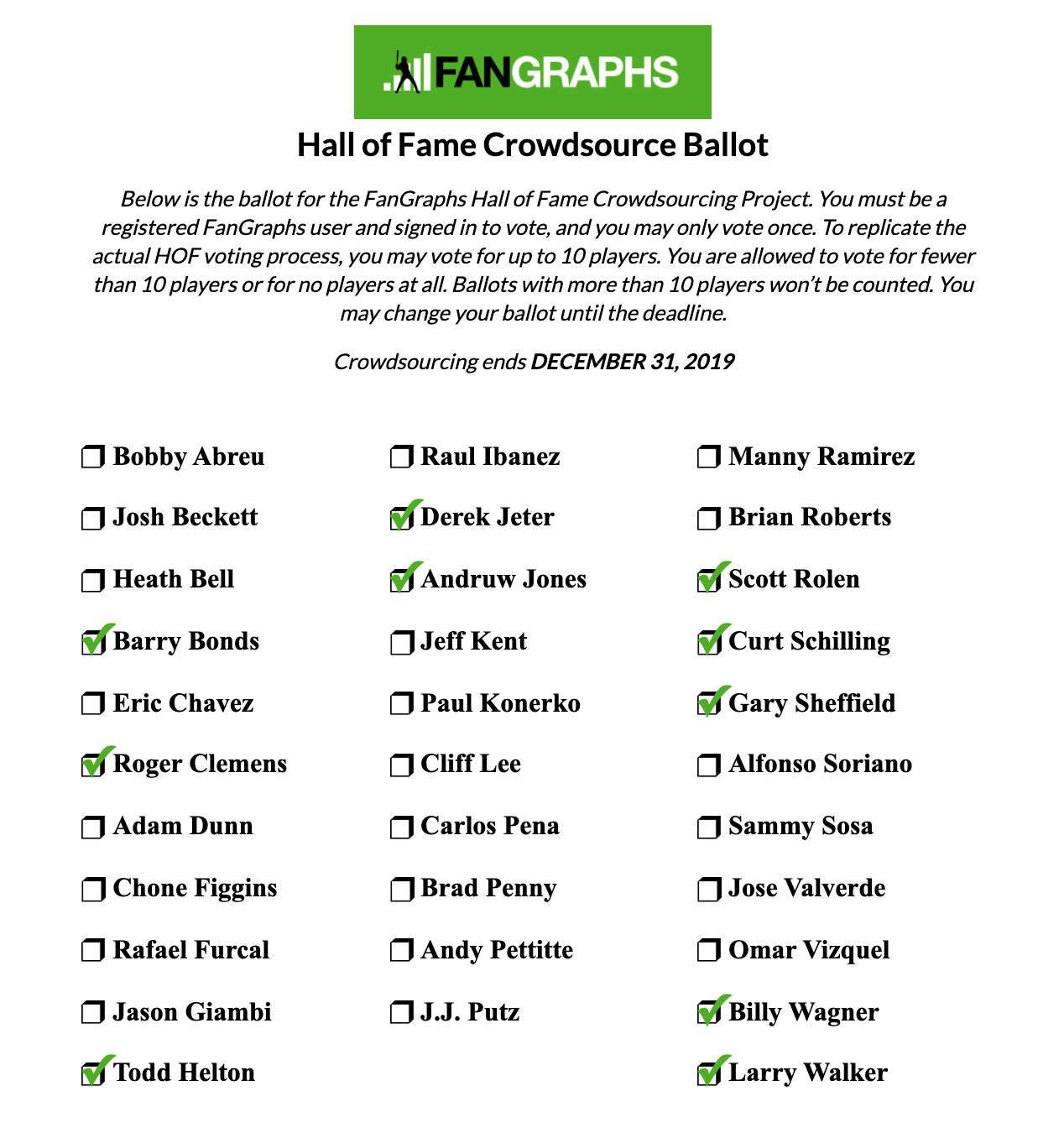 All told, having fewer automatic candidates, by JAWS or any other reckoning, leaves more room to play in the margins. I have my preferences and convictions about these players who don't fit into a WAR-based metric, and it's led me to this particular configuration. At the time I filed last year's virtual ballot, the Tracker had 135 published ballots, and just one matched mine, that of former Spink Award winner Tracy Ringolsby. This time around, four days earlier relative to the December 31 deadline, just 63 ballots are in and none of them matches mine. It's unique, but I certainly won't claim this one's perfect. Wait 'til next year!
Brooklyn-based Jay Jaffe is a senior writer for FanGraphs, the author of The Cooperstown Casebook (Thomas Dunne Books, 2017) and the creator of the JAWS (Jaffe WAR Score) metric for Hall of Fame analysis. He founded the Futility Infielder website (2001), was a columnist for Baseball Prospectus (2005-2012) and a contributing writer for Sports Illustrated (2012-2018). He has been a recurring guest on MLB Network and a member of the BBWAA since 2011. Follow him on Twitter @jay_jaffe.