Heading into spring training ahead of the 2018 season, there was a fair bit of optimism regarding Jorge Polanco despite a so-so 2017 campaign. He earned a starting job in 2017, but some early season struggles spiraled after a death in the family. He lost his starting position and heading into August, his 47 wRC+ was the worst in baseball among those players with at least 300 plate appearances. Polanco basically salvaged his season over those final two months by putting up a .317/.377/.553 slash line with 10 homers and a 145 wRC+ in 234 plate appearances. At 24 years old, he looked like he was building on his solid prospect status as part of a young Twins core expected to contend. An 80-game suspension for PEDs announced in spring 2018 robbed Polanco of the first half of games and the latter half of the season was rather uneventful, with a decent 110 wRC+ and 1.3 WAR. Through two months of the 2019 season, Polanco has been the best player on the team with the best record in baseball.
Jorge Polanco is hitting a robust .335/.405/.583 with a 160 wRC+ and a 2.6 WAR. That ranks eighth in all of baseball and is already half a win better than his preseason projections. After that decent half-season in 2018, it's fair to call this season's performance a big surprise, though it wouldn't be fair to say he's never done this before. Below you'll find Polanco's 50-game rolling wRC+ since the the 2016 season when he first got a real shot at playing time: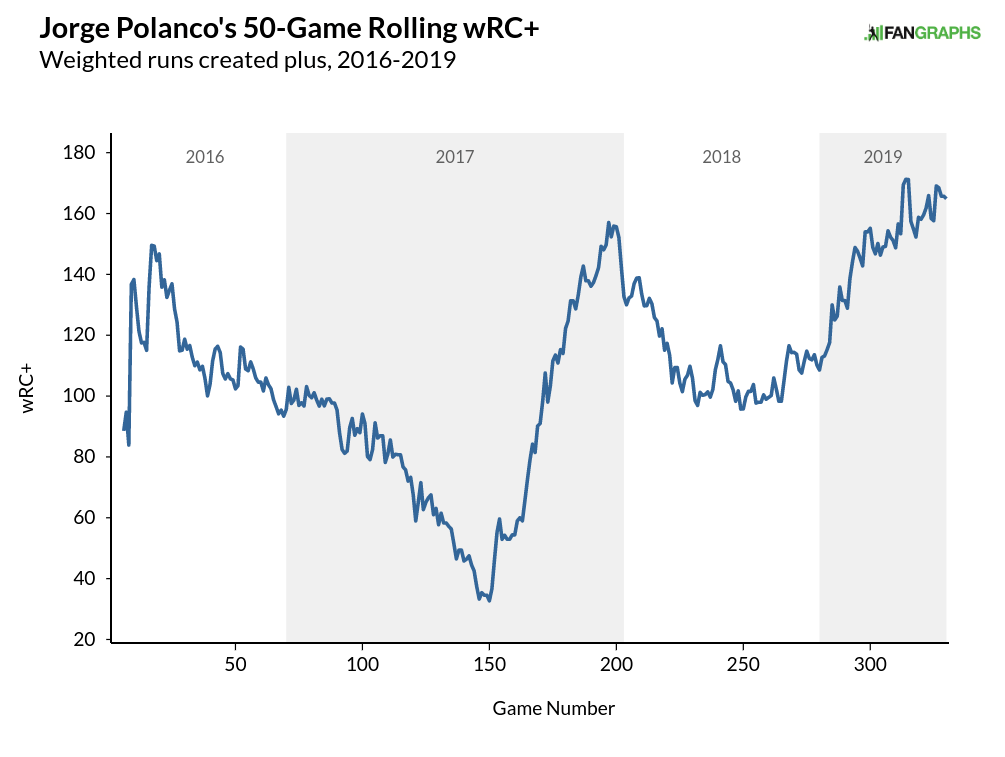 That end-of-seasons 2017 line and his 2019 statistics were accomplished in fairly similar fashion, as the table below shows.
Jorge Polanco, End-of-Season 2017 and 2019
| Date | ISO | BABIP | AVG | OBP | SLG | wRC+ | WAR |
| --- | --- | --- | --- | --- | --- | --- | --- |
| 8-9/17 | .238 | .333 | .316 | .377 | .553 | 145 | 2.3 |
| 4-5/19 | .248 | .366 | .335 | .405 | .583 | 160 | 2.6 |
Polanco has shown a little bit more power and has hit the ball harder in general, but what he is showing now, he has shown before. Those last two months of 2017 didn't have staying power, however, and there have to be similar concerns about Polanco's current production as well.
The analysis is made more difficult due to Polanco's switch-hitting, creating an even smaller sample to examine. Polanco has always hit better from his left side than his right, which is fortunate for him as there are a lot more right-handers to face than lefties. From the right side, Polanco swings at a lot of pitches and has drawn 17 walks in more than 400 major league plate appearances. His strikeout rate isn't horrible, but at 18% it is worse than from the left side. He also has below-average power from the right side, relying on balls finding holes to get on base and contribute offensively. Polanco's hitting from the left side is responsible for his great results this season, so it is better to focus our attention on his efforts against right-handed pitchers.
To get a sense of how Polanco has changed from last season, it's might help to understand who he was as a hitter then. The graphs below show three aspects of Polanco's game in 2018 against right-handers:
Where pitchers pitched to him.
Where Polanco swung
Where Polanco generated power

Like a lot of righties when facing lefties, pitchers tended to throw the ball low and away to Polanco. In contrast, Polanco tended to swing at pitches closer to the middle of the plate in the upper part of the strike zone. If Polanco can't do much with those pitches on the outer part of the plate, it doesn't make much sense to swing at them, as they won't lead to good outcomes. As the ISO graph shows, Polanco did more damage in 2018 from the middle of the plate in. Last year, 48 Polanco plate appearances ended on the outer third of the strike zone, including six strikeouts looking and two swinging. Here's where the 40 balls he made contact on went, per Baseball Savant: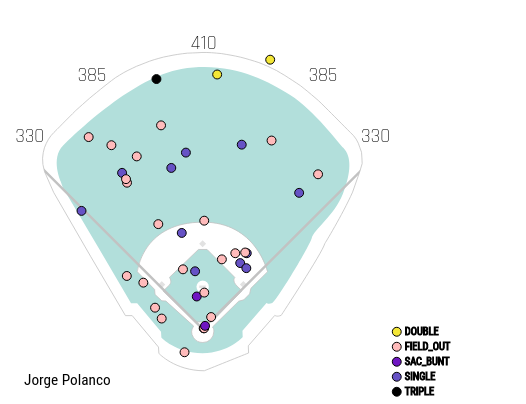 Polanco only pulled a single fly ball to right field and along with a couple of line drives and a groundball, that was the extent of the balls that made it to right. There are a few well-struck balls to center with a bunch of balls on the infield and a lot more sent the opposite way to left field. This shouldn't be that unusual, as hitters often take outside pitches the other way. Unfortunately for Polanco, taking the ball the other way didn't yield great results with too many outs and only a handful of singles. On pitches on the outer third of the plate, Polanco put up a .299 wOBA. Even when Polanco was doing well in 2017, his wOBA on outside pitches in the strike zone was a solid .350, but this year, Polanco has owned the outside third of the strike zone.
Here's the spray chart from this season on balls on the outer third of the plate when Polanco is hitting lefty: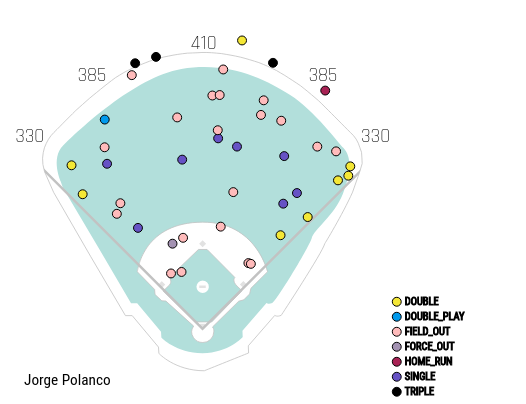 We see way more balls in the air and a ton more hit to right field. Polanco has struck out looking just twice on pitches on the outer third of the plate with two other swinging strikeouts. His wOBA on these pitches is .495.
As the heat map below shows, Polanco isn't getting pitched much differently than last season: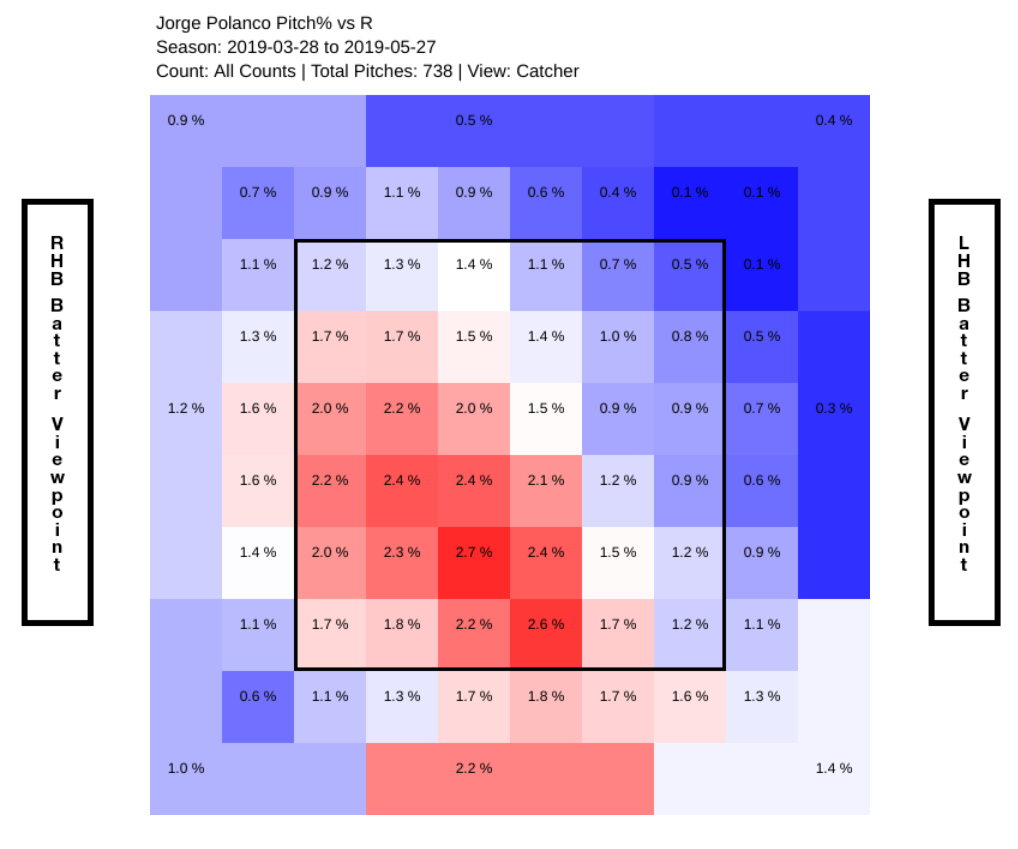 Polanco is offering at a lot more of those pitches out over the plate: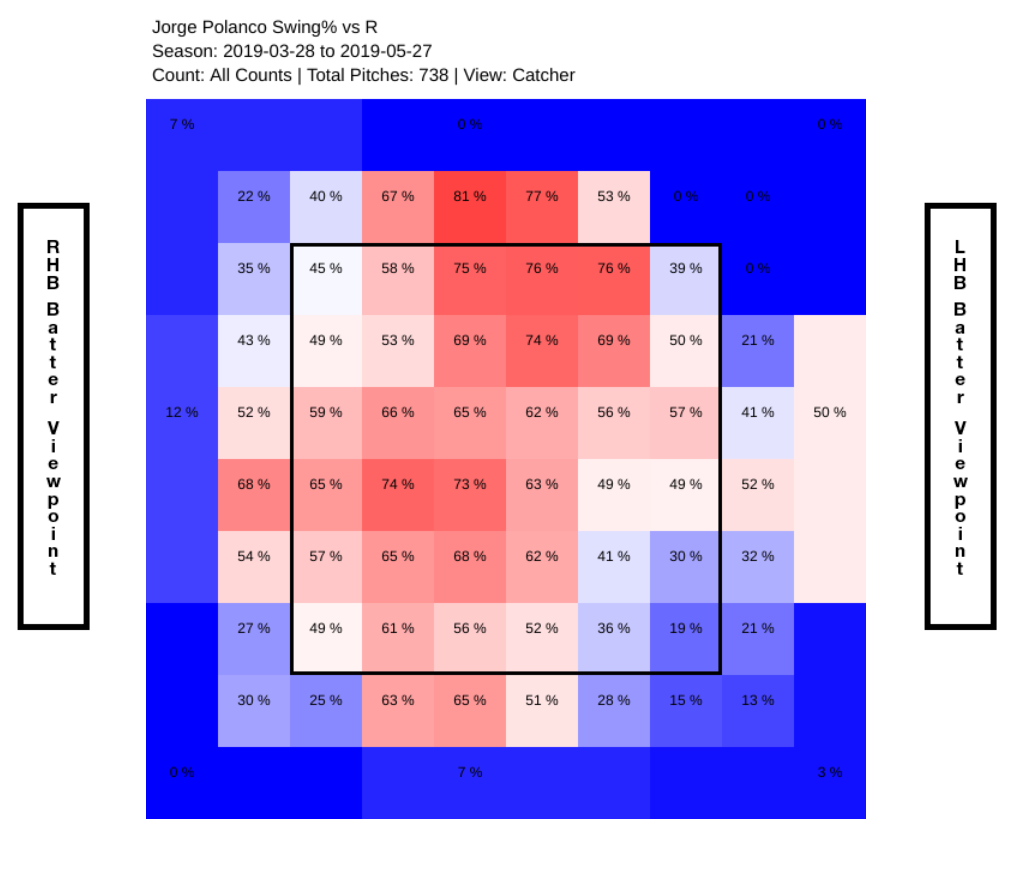 And as we might expect from the spray chart above, Polanco is hitting those pitches on the outer part of the plate for power: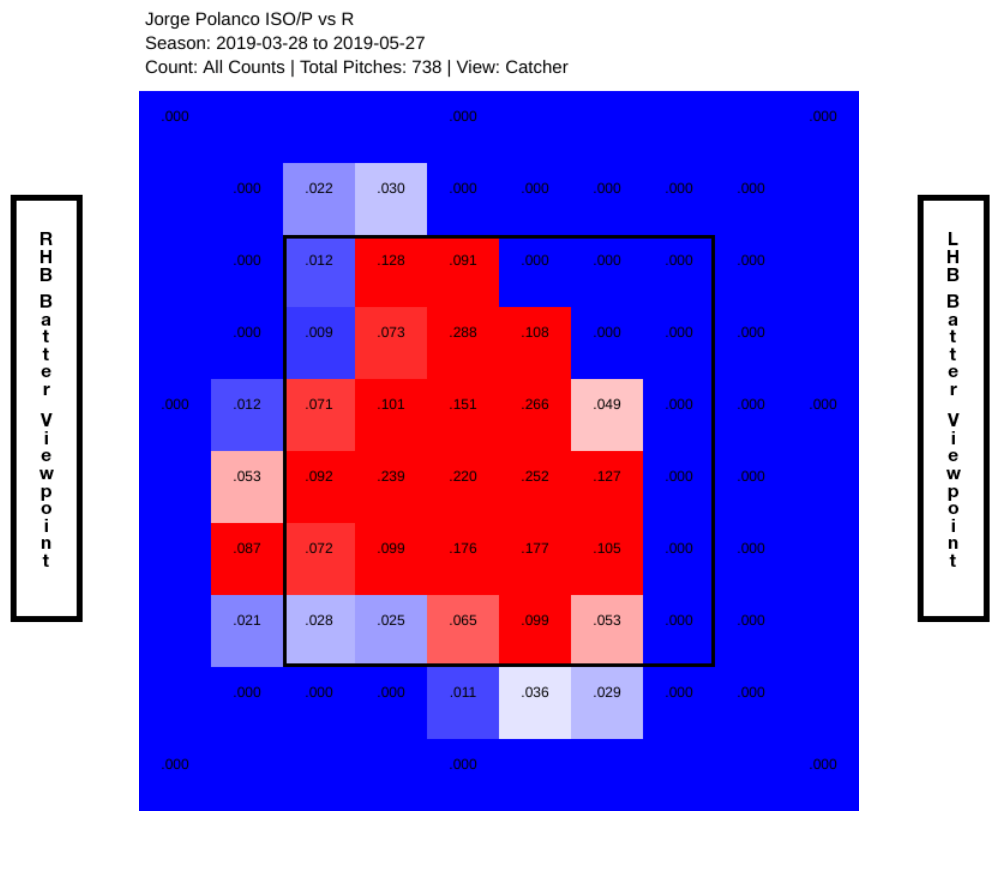 No left-handed player has had more plate appearances against righties end on pitches on the outer third than Polanco's 48, and of the 93 lefties with even 25 similar plate appearances, only eight batters have hit better than Polanco's .495 wOBA. Polanco probably won't continue to do that well on the outer corner of the plate. It's possible he's made himself more vulnerable to pitches on the inside part of the plate, but righties don't often pitch inside to lefties, which moots that weakness somewhat. Right now, he's getting out to those pitches he was previously taking for strikes or hitting weakly, and it's been the difference between the decent numbers he put up last year and the great ones he's put up so far this season. He's got quick hands, which should enable him to keep covering the plate, but there's always the danger of getting too aggressive out of the strike zone or pitchers successfully coming inside.
Polanco isn't likely to keep this up as the league adjusts to him, but if he can continue to lay off pitches outside the zone, his walk rate should stay high. A shortstop, even a defensively average to below-average one like Polanco, who can get walks at a double digit rate, strike out just 15% of the time, and hit for power is a star player. That's what Polanco is playing like right now, and it wouldn't be a surprise if this year, he makes the first of multiple All-Star appearances.
Craig Edwards can be found on twitter @craigjedwards.