Pitchers learn and develop different pitches, and they do so at varying stages of their lives. It might be a curveball in high school, a cutter in college, or a changeup in A-ball. Sometimes the addition or refinement is a natural progression — graduating from Pitching 101 to advanced course work — and often it's a matter of necessity. In order to get hitters out as the quality of competition improves, a pitcher needs to optimize his repertoire.
In this installment of the series, we'll hear from three pitchers — Jose Leclerc, Evan Marshall, and Tony Watson — on how they learned and developed their changeups.
———
Jose Leclerc, Texas Rangers
"I was around 10 years old when I started throwing it — 10 or 12 — and I thought it was a regular changeup. When I was playing Little League, nobody told me that it wasn't really a changeup. I just kept throwing it, kept throwing it, and when I signed my contract with the Rangers, the pitching coach told me, 'That's not a changeup.' I said, 'That's how I hold my changeup.' He said, 'No, that's a slider.' But I kept throwing it, kept throwing it, and it was good.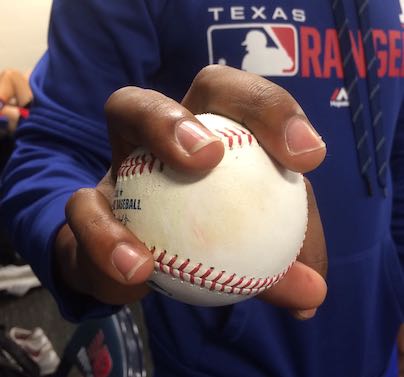 "It's a changeup grip, but I throw it like a football and it moves kind of like a slider. I don't know why. I've tried to show it to my compañeros — to my teammates — and they can't do it. Sam Dyson; he asked me to show it to him. A few others did, as well. Some of them could kind of throw it, but they couldn't command it like I do.
"I throw it the same now as when I was a kid. Everything is the same. It is better, though. I throw harder now, so there's more movement. But what it is … I call it a cut-change. It's just something natural that I have. I don't how I do it. For real."
Evan Marshall, Chicago White Sox
"Throwing changeups isn't really fun when you're a kid — it's all about throwing a nasty breaking ball — and that kind of stayed with me all the way through college, and even the minor leagues. I was fastball and breaking ball. I had a changeup, but I never threw it.
"When I made my major league debut, the first breaking ball I threw was flat. It was terrible. Miguel Montero was the catcher, and he started putting down changeups. While the pitch was foreign to me, I just started throwing them, and it was swing and miss, swing and miss. From that moment on, I've been a changeup guy. Probably one out of every three pitches I throw is a changeup.
"Montero hadn't caught me before. He knew I didn't throw many of them, but the coaching staff had told him I had a pretty good one, even though I didn't use it. So after that first breaking ball hung up there above the zone — it was a take — he started putting down changeups, and they had depth to them.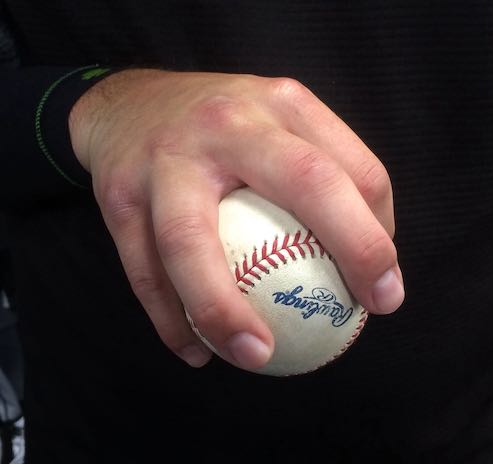 "It's a modified version of a circle. I kind of have a smaller hand, and the way I make the circle I get splitter action on it. Traditionally, you wouldn't throw many right-on-right changeups, but because of the action is more like a splitter, it plays to both sides. It's spinning at like a 230 axis — it's almost spinning sideways — so there's really no action on the ball to keep it from dropping; gravity does a lot of the work. It comes out spinning a lot like my two-seamer, so I try to tunnel them off each other.
"It's a firm changeup. This year, I'm averaging 94 [mph] on my fastball, and my changeup is anywhere from 87 to 89. It's not traditional in the sense of being notably slower. I mean, Lucas Giolito has something like 18 mph of difference between his fastball and his changeup. Mine probably just looks like a slower two-seamer, but because I get a lot movement, I'm able to generate swings and misses.
"I lost it for a little while. My mechanics changed a little bit, without me knowing, and I started to get a little bit of cut to it, because I was pulling left. Once I got that ship righted, the changeup was back."
Tony Watson, San Francisco Giants
"I was a fastball/breaking-ball guy in high school. Then I had shoulder surgery my freshman year of college, and my breaking ball didn't come back the way I hoped it would. As a result, I had to resort to a changeup. I started doing the fastball-changeup combo as a starter in college.
"Somebody basically gave me a ball and showed me a circle-change grip — 'put the circle on the logo' — and from there I fiddled around with finger positioning, and how deep to hold it. Over time, it developed into a good pitch for me.
"The grip has always stayed the same — how I feel it in the glove and what I'm going for initially — but depending on what I want to do with it, there will be little differences. I'll try to get it off the weakest fingers — the ring finger and the pinky — and I'll pronate, and roll it over more. I'll bury the thumb, I guess you could say. But the biggest thing is to just get it out front, because if it's elevated it's going to be a damage pitch.
"I'm never suffocating it deep. I've got long fingers, so I'm able to hold it in my fingertips. I feel that's a benefit for me, because I can throw it with the same arm speed and still get that whippy finish. All you're doing is trying to deceive the hitter's eyes by making it look like a fastball.
"My spin-rate is high for a changeup, which is rare. It's weird. But again, what I'm looking for is to make that thing look as much like my fastball as I can. I run the fastball away, and the separation of velo gets me some swings-and-misses and weak contact. That's the goal.
"In Pittsburgh, I was 75-80% fastballs and sinkers. Over there it was, 'We want the ball on the ground.' Here, I'm obviously throwing a lot more [changeups]. I think if you look league wide, people are going away from that more and more. This is just my version of adjusting, and switching my pitch usage."
——
The 2018 installments of this series can be found here.
David Laurila grew up in Michigan's Upper Peninsula and now writes about baseball from his home in Cambridge, Mass. He authored the Prospectus Q&A series at Baseball Prospectus from December 2006-May 2011 before being claimed off waivers by FanGraphs. He can be followed on Twitter @DavidLaurilaQA.