Entering Sunday's games, 30 pitchers since 1908 had thrown multiple no-hitters. The list is an impressive one, including names like Warren Spahn, Max Scherzer, Walter Johnson, and Randy Johnson. There are also some less exciting names on the list with Homer Bailey, Mike Fiers, and Jake Arrieta all accomplishing the same feat in recent seasons. Of those 30 players with at least two no-hitters since 1908, 27 of the 30 had thrown exactly two such games, including Justin Verlander. After a 14-strikeout, one-walk no-hitter on Sunday, Verlander joins Bob Feller, Cy Young, and Larry Corcoran in all of baseball history three no-hitters, sitting behind only Sandy Koufax (4) and Nolan Ryan (7).
All no-hitters are impressive, as navigating an entire game without allowing a hit is a feat unto itself and generally comes with an excellent defensive performance combined with a great outing from the pitcher. Verlander's no-hitter is one of the most impressive in recent history due to how little he relied on his teammates to complete the task. Only seven times before has a pitcher put up more than Verlander's 14 strikeouts in a no-hitter. Scherzer put up 17 in his October 2015 no-hitter and Ryan did the same back in 1973. Ryan also struck out 16 and 15 in other no-hitters, with Clayton Kershaw getting 15 Ks in 2014 while Warren Spahn and Don Wilson also reached 15 strikeouts in their performances. Verlander's 14 matches four others including Ryan, Koufax, Matt Cain, and Nap Rucker back in 1908. Cain, Koufax, and Rucker did not walk any batters, and the only other pitchers with at least 14 strikeouts and one walk or none were Scherzer and Kershaw.
Some no-hitters are marked by great defensive plays. This was not one of those games. There were only two hard-hit balls all game long by the Blue Jays, and both were ground balls. The first was a pulled grounder from Vladimir Guerrero Jr. that came off the bat at 98 mph.
According to Statcast, batted balls with that exit velocity and launch angle are hits 55% of the time. Vlad hit his ball right at a fielder and the play was made.
Billy McKinney also pulled a hard grounder, this one to the first-base side.
This one came off the bat at 103 mph, and based on exit velocity and launch angle, it is a hit 60% of the time. No other batted ball had an expected hit percentage above 12% against Verlander on Sunday. There were some infield files and pop fouls and mostly routine plays. To get a sense of how rare Verlander's performance was, I multiplied the expected out rate for each batted ball and found that based on exit velocity and launch angle, Verlander's chances of throwing a no-hitter were about one in eight. That might not seem absurdly high, but compared to recent no-hitters, the odds were strongly stacked in Verlander's favor. Here are Verlander's and the other five no-hitters since the start of the 2018 season.
Justin Verlander's No-Hitter Odds
| Pitcher | Date | % Chance of No Hits by xBA | Odds of No-Hitter |
| --- | --- | --- | --- |
| Justin Verlander | 9/1/2019 | 12.11% | 8 to 1 |
| HOU Combined | 8/3/2019 | 0.07% | 1350 to 1 |
| LAA Combined | 7/12/2019 | 0.02% | 4650 to 1 |
| Mike Fiers | 5/7/2019 | 0.52% | 192 to 1 |
| James Paxton | 5/28/2018 | 0.02% | 4004 to 1 |
| Sean Manaea | 4/21/2018 | 0.41% | 245 to 1 |
Based on Contact Quality of Balls in Play During No-Hitter
Verlander's odds were more than 20 times better than the next closest no-hitter. Generally, around 21% of batted balls will have an expected batting average greater than .600, but Verlander had zero in his no-hitter on Sunday. To provide a little bit more context, I looked at the one-hitters and two-hitters this season to provide some comparison. Verlander's odds still look far and away the best.
Justin Verlander's No-Hitter Odds
Based on Contact Quality of Balls in Play During 2019 game with two hits or less.
Sometimes pitchers can get a little help from umpires, but the game as a whole was called very well.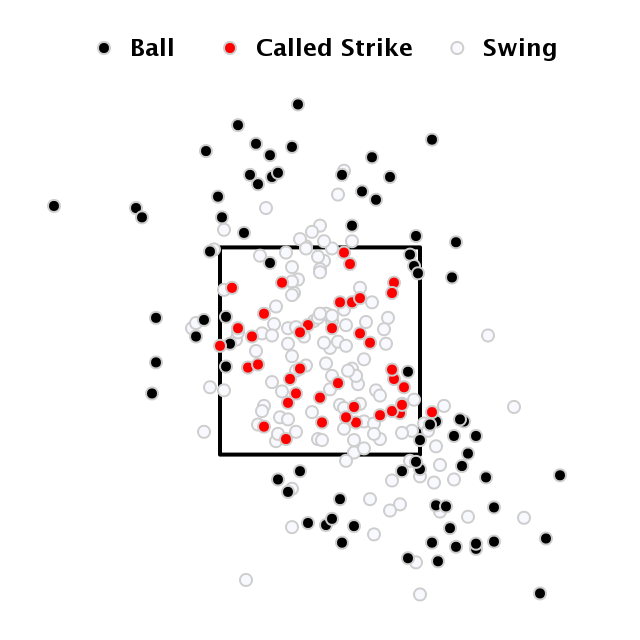 Verlander went heavy with his fastball all game long. Of his 120 pitches, 78 were fastballs, and he continued to challenge hitters up in the zone as the heatmap from the game shows.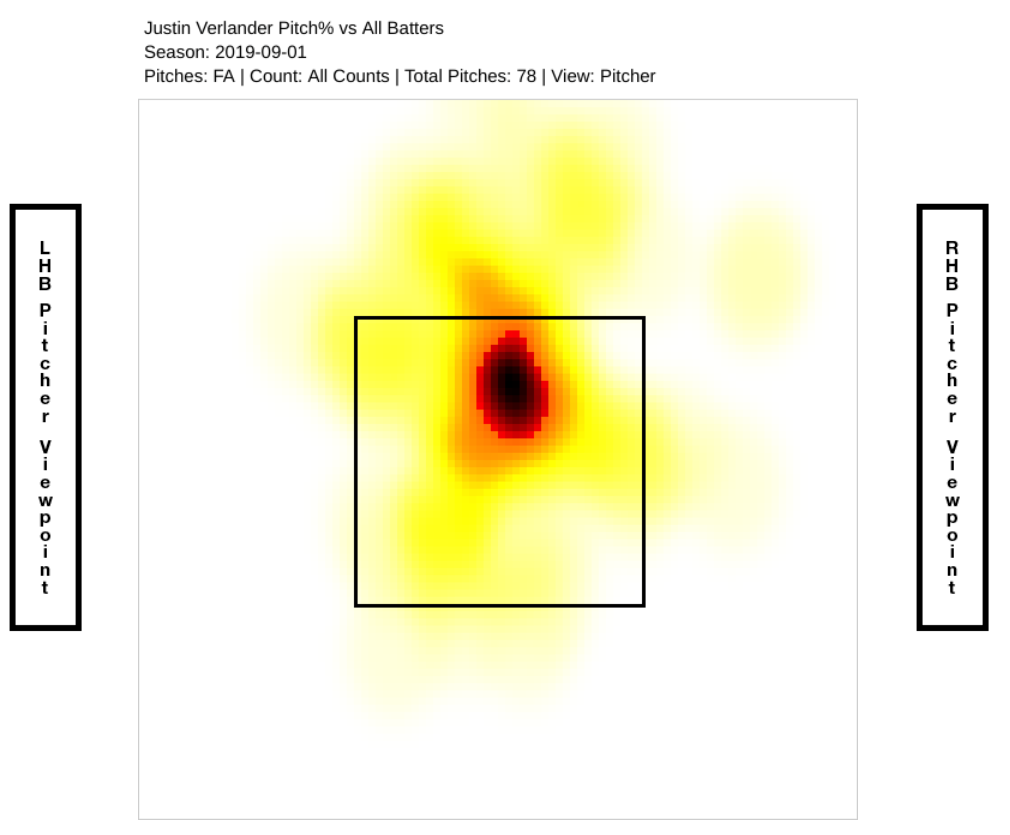 Of those 78 fastballs, Verlander got 15 swings and misses and seven strikeouts, with his slider responsible for another five strikeouts and the curve responsible for the remaining two. For those interested in hidden perfect games, with Verlander's one walk coming to the second batter of the contest, he's just one batter away from a hidden perfect game and 27 up and 27 down.
Verlander lowered his ERA to 2.56, with his unsightly 33 homers keeping his FIP at a merely very good 3.42 on the season. In the American League, Verlander's 5.2 WAR trails only Lance Lynn, Charlie Morton, and teammate Gerrit Cole. The 36-year-old righty's 35% strikeout rate would be a career high, with his 4.8% walk rate nearly matching last season's excellent 4.4% figure.
Verlander has been challenging hitters all season long, and nearly every time, he gets the better of the matchup. As Jay Jaffe noted in June, Verlander has dominated despite all the homers, and Sunday's start was just the eighth all season in which he didn't give up a long ball. Verlander not only avoided homers on Sunday, but he avoided nearly all hard contact in furthering his place in history. Sitting behind only Nolan Ryan and Sandy Koufax is an impressive place to be. A no-hitter is going to have some random bounces that help shape history, but in recent memory, no pitcher has deserved a no-hitter more than Justin Verlander did against the Blue Jays on Sunday night.
Craig Edwards can be found on twitter @craigjedwards.