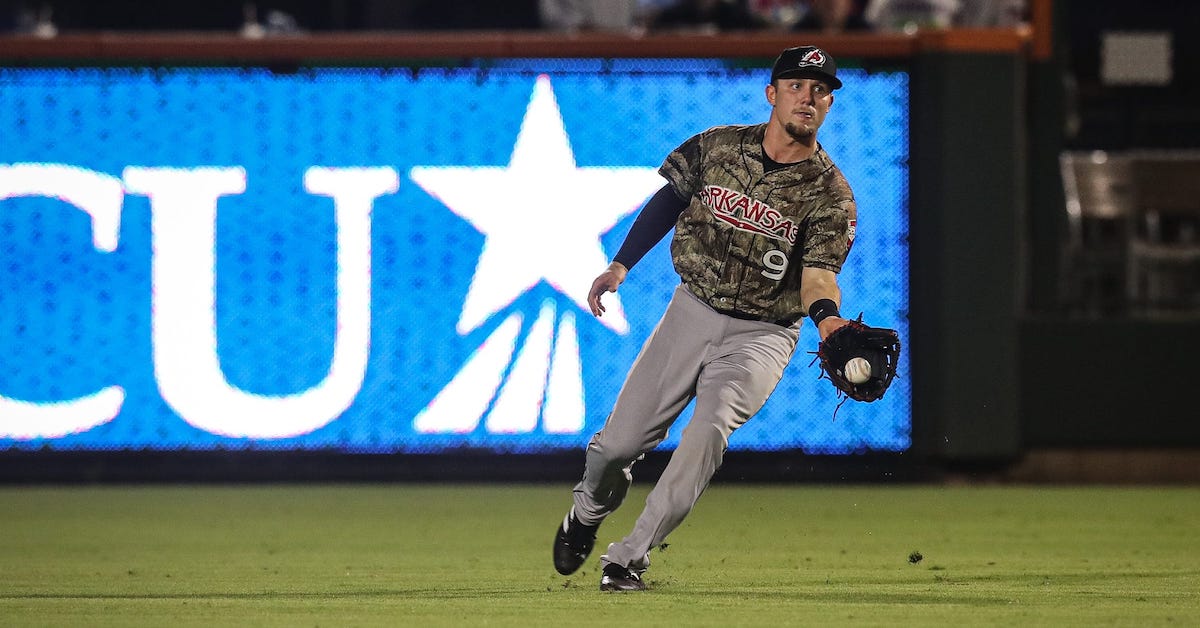 In a Seattle Mariners system that features a number of high-profile prospects, Zach DeLoach flies under the radar. His skill set suggests that he would. Selected in the second round of the 2020 draft out of Texas A&M University, the 23-year-old outfielder doesn't possess flashy tools. What he does possess is a well-rounded game that helped propel him to Double-A in his first full professional season. In 501 plate appearances split between High-A Everett and Double-A Arkansas, DeLoach slashed .277/.373/.468 with 14 home runs and a 126 wRC+.
DeLoach — back with Arkansas to begin the current campaign, and No. 24 on our newly released Mariners Top Prospects list — discussed his game during the Arizona Fall League season.
———
David Laurila: Let's start with your 2021 season. How satisfied were you with it?
Zach DeLoach: "On a scale of one to 10, probably about a six. Maybe a seven. I definitely have some things to work on, and being here in the Fall League is exposing some of the weak points I had throughout the season. It's really good that I was able to come here to participate, and to continue to grow as a player. I'll continue to get after it in the offseason."
Laurila: Were you asked to come here to work on something specific?
DeLoach: "Not necessarily. I think it's more my preference, what I feel I need as a hitter. One thing I want to do is keep working on things that I found to be a strength during the season. Obviously, there are also things I don't do as well that need to be improved on. This being my first pro season, I definitely learned things about myself as a hitter."
Laurila: What have you learned about how your swing works?
DeLoach: "From a mechanical standpoint… I try not to think about mechanics too much, especially while I'm out here playing. But from the mental side, I'm honing in on the fastball and trying to have adjustability. That's what I need to work on the most: the overall aspect of having adjustability at the plate."
Laurila: How does one go about doing that?
DeLoach: "Repetition. That, and obviously putting your body in a good position to hit. You can nitpick, or get as detailed as you want, but just being able to figure out why… because everyone is different. Right? I'm different than every other guy out here. So, it's really just finding what's best for you, and what do you feel confident doing."
Laurila: If I were to look at film of you from a year ago, and compare it to today, would I see the same setup and same swing?
DeLoach: "You would see a very similar setup. I wouldn't say you would see the exact same swing. Over time, with all the repetition… and we create habits. Whether those are good or bad, you're maybe going to create a little bit different swing. Everyone is trying to keep essentially the same swing, but over time it just doesn't happen that way; there might be little tweaks here and there. That said, I would say that, for the most part, you'd see a similar swing."
Laurila: What is your setup? And from there, what is your timing mechanism?
DeLoach: "I do a toe tap. Not a lot guys do a toe tap, but that's kind of my trigger when it comes to my swing. Essentially, I try to get to a good solid base. I wouldn't say it's too wide or too narrow. I'm just trying to get to a solid foundational base with my lower half, and from there, let the swing that I've worked on play in the game."
Laurila: How long have you had the toe tap?
DeLoach: "I implemented it my sophomore summer in the Cape Cod League. I got away from the leg kick that was giving me some inconsistency issues and went to a toe tap. That seemed to fit what I've been needing in my career."
Laurila: Was the change self-driven, or was it suggested by one of your coaches?
DeLoach: "It was a tip from one of my coaches, Brett Becker. He was my hitting coach on the Cape, playing with Falmouth."
Laurila: What kind of hitter are you? For instance, there are power hitters, contact hitters, there are guys who identify more as gap-to-gap…
DeLoach: "I don't want to put myself in a certain category. I want to be able to play the game all-around. I want to be a complete hitter. But when my timing is good, when everything is good, I just hit the ball hard. I don't try to force homers, so I wouldn't say I'm a straight power guy. I also wouldn't say I'm a straight contact guy. Wherever the pitch is, in my zone, I want to hit it hard. If I do that, good things will happen."
Laurila: Any final thoughts?
DeLoach; "A huge part to everyone's career that I think goes unnoticed is what happens behind closed doors. Most people don't see that. Everyone here is working hard to achieve that one dream, and that's getting to the major leagues. We're all in the same boat. We're all trying to get better, and you have to continually work hard to get better. More than anything, it's what happens behind closed doors that gets you where you want to go."
David Laurila grew up in Michigan's Upper Peninsula and now writes about baseball from his home in Cambridge, Mass. He authored the Prospectus Q&A series at Baseball Prospectus from December 2006-May 2011 before being claimed off waivers by FanGraphs. He can be followed on Twitter @DavidLaurilaQA.