While the Twins going home run-crazy in a world of home run-wackiness may have been the most significant early storyline for Minnesota, one of the team's other early bright spots was the emergence of Martín Pérez. I was extremely skeptical of the decision to bring him in given his history with the Rangers, and thought the Twins ought to have been more aggressive in signing top free agents after clearing Joe Mauer's salary.
In the early months of the season, my worries about Pérez seemed almost quaint. On May 23, at what I would call his high-water mark, the Twins outslugged the Angels, winning 16-7 and leaving Pérez with a 7-1 record and a 2.95 ERA. He was showing increased velocity. Pérez was never a big fastball pitcher, but his increased velocity from late 2018 — when he had an average velocity of at least 95 mph in four of his September relief appearances — continued in 2019 as a starter. But perhaps the most important factor in his early-season success was the development of his cut-fastball, a pitch he picked up on advice from his agent and with help from teammate Jake Odorizzi.
The proof of the pudding is in the eating and with his fancy new cutter, Pérez feasted on opposing batters in the late spring. Through the literal end of the season (June 20), Pérez threw 435 cutters, making it his most-used pitch, and held batters to a .164 BA and a .250 SLG. Against all other pitches, including his fastball, the league was hitting .301. 42% of his 74 strikeouts were thanks to his cutter. To put how well the cutter was performing in perspective, from 2007 on Mariano Rivera, who knows a bit about this pitch, had batters swing-and-miss on 10% of his cutters. Through mid-June, Pérez was at 15%.
Since then, his cutter whiff rate has dropped in half, to 7.5%. After allowing only 17 hits, five of which went for extra-bases, with the cutter through the first three months of the season, he's allowed 16 hits and five extra-base hits, including four homers, in the six weeks since: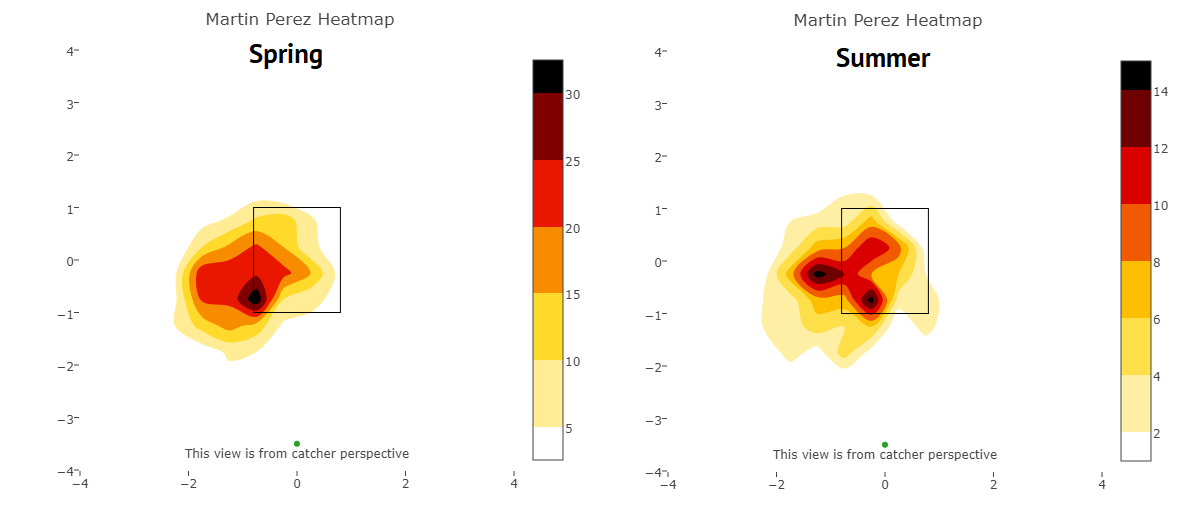 So what's the culprit? His cutter's horizontal movement has dropped by a half-inch since the early months, but that's not likely to be enough of a change to cause. However, the location might be. For the first few months of the season, when he was having his greatest period of success, Pérez was pounding right along the lower corner of the strike-zone and rarely straying into crushable territory. Now, it's a more inconsistent pitch:
Combine his cutter problems with continually decreasing velocity and hitting the zone less often overall, and Pérez's strikeout rate has also begun to fade from its early season highs, though it's still in the respectable zone overall: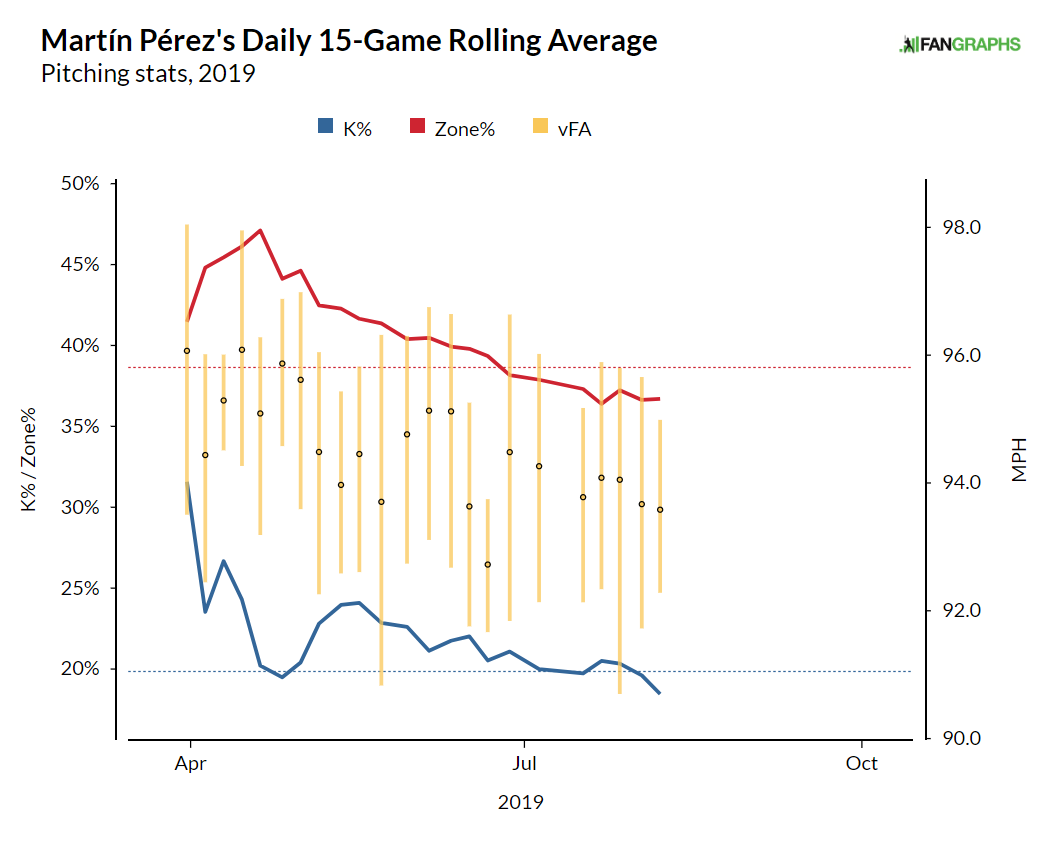 Despite averaging over 95 mph on his fastball early in the season, Pérez has lost velocity in each subsequent month, a troubling development both because velocity drops tend to predict difficult times ahead and because his high-80s cutter is no longer carrying the rest of his repertoire. Minnesota's starting pitching has crashed back to Earth recently, with a 5.55 ERA in August. And like another AL contender struggling with its starting pitching recently, the New York Yankees, the Twins were unable (or were unwilling) to add a rotation piece at the trade deadline .
It's possible that Pérez has worn down over the course of the season and would perhaps benefit from a stint in the bullpen. No, his workload hasn't been extreme and last year's elbow injury was to his non-throwing arm, but he's thrown a lot of pitches this year harder than he's been accustomed to in the past. He's also had quite large splits based on times through the order, with a jump of 136 points of OPS from first to second time through the order, more than twice the usual jump for a starting pitcher. It could be small sample size, but there are at least enough correlated facts to question.
Whatever's wrong with Pérez, the Twins ought to be motivated to find some kind of solution fast. At the start of the summer, the Twins projected to have a 93% chance of winning the division based on our Playoff Odds. Today, the Twins and Indians are tied atop the Central, and that Twins probability has dropped to 60%. With major August trades a thing of the past, Minnesota may regret only making a couple of bullpen additions at the deadline.
Dan Szymborski is a senior writer for FanGraphs and the developer of the ZiPS projection system. He was a writer for ESPN.com from 2010-2018, a regular guest on a number of radio shows and podcasts, and a voting BBWAA member. He also maintains a terrible Twitter account at @DSzymborski.