On July 25, Masahiro Tanaka allowed a career-high 12 runs in just three and a third innings. It was a sobering outing in a marquee matchup against the Red Sox, but it was also a catalyst for him to make a major change to one of his pitches. His splitter has been his signature pitch for almost his entire career, both in Japan and in the States, but it hasn't been nearly as effective this season. The ineffectiveness of his splitter has been a big reason why he's leaned so heavily on his fastball and slider, and it's been a constant source of frustration for him.
The source of his problems with the splitter is somewhat unexpected. Instead of a mechanical issue, it's been the ball itself that's caused his consternation. Tanaka discussed the issues he's had with his splitter with both James Wagner of the New York Times in an article dated August 5, and Lindsay Adler of The Athletic in an piece posted yesterday. Here's how he explained it to Wagner: "You grip the ball, and it feels a little bit different. And then when you're throwing with that difference in hand, obviously the movement of the ball becomes a little bit different, too."
The effect of the dragless ball on the explosion of offense seen in the major leagues and Triple-A has been widely studied. The baseball used in the majors was introduced in Triple-A for the first time this season and home run rates are skyrocketing. In a study published by The Athletic, Dr. Meredith Wills determined the biggest physical changes to the ball were lowered seams and leather smoothness, both contributing to there being less drag on the ball in flight. But the effects of the new ball on how pitchers grip and throw the ball hasn't been examined as closely. In Tanaka, we have a specific case study on one of the other unforeseen effects of the new ball.
For Tanaka, the new ball specifically affected the way his splitter come out of his hand, leading to a different shape to the pitch. This is how he explained it to Adler: "When I throw my splitter, my fingers are on the seams, so if the seams were higher, then naturally it'd give it traction. But when the seams are lower, then the ball kind of slips out and that's the big difference." Tanaka specifically mentioned that he wasn't getting as much depth with his splitter, leading to a pitch that looked more like a two-seam fastball than his regular diving split:
Masahiro Tanaka, splitter
| Year | MPH | H Mov | V Mov | Spin Rate | Whiff% | GB% | wOBA |
| --- | --- | --- | --- | --- | --- | --- | --- |
| 2014-2018 | 87.5 | -6.1 | 1.74 | 1534 | 36.4% | 66.3% | .238 |
| 2019 Pre-7/31 | 87.3 | -7.3 | 2.83 | 1580 | 17.3% | 65.7% | .320 |
| Difference | -0.2 | 1.3 | -1.1 | 46 | -19.1% | -0.7% | .082 |
Looking more closely at the pitch's characteristics, we see that not only did it not have as much depth, it was also moving horizontally an extra inch. The entire shape of the pitch was different. With less depth, batters simply weren't fooled by the pitch. The whiff rate on Tanaka's splitter dropped significantly, though he was still inducing groundball contact when they put it in play. The ineffectiveness of his splitter likely explains why his strikeout rate has fallen to a career-low this year.
Tanaka spent most of the season searching for a mechanical issue that was affecting the pitch to no avail. He and Yankees pitching coach Larry Rothschild had discussed taking a drastic step like changing his grip on the pitch before, but it wasn't until that ugly start in Boston that Tanaka truly hit rock bottom. In that start, he threw just four splitters, making up just 4.6% of his pitches thrown that day. That's by far the lowest rate of splitter usage in his American career. After that start, he decided to commit to learning and using a new grip on his splitter.
This is the grip Tanaka used on his splitter yesterday. He told Japanese reporters, "I made big adjustments" after allowing 12 ERs vs Boston. Tanaka had 3 bullpen sessions between starts, two more than usual, and told Japanese reporters he's "headed in the right direction " pic.twitter.com/imKQ1KNOob

— Jack Curry (@JackCurryYES) August 1, 2019
In his next start on July 31, he debuted his new and improved splitter grip. He threw 27 splitters against the Diamondbacks that night, 32.9% of his pitches, and earned six whiffs (a 35.3% whiff/swing rate). The pitch looks like it's back to normal: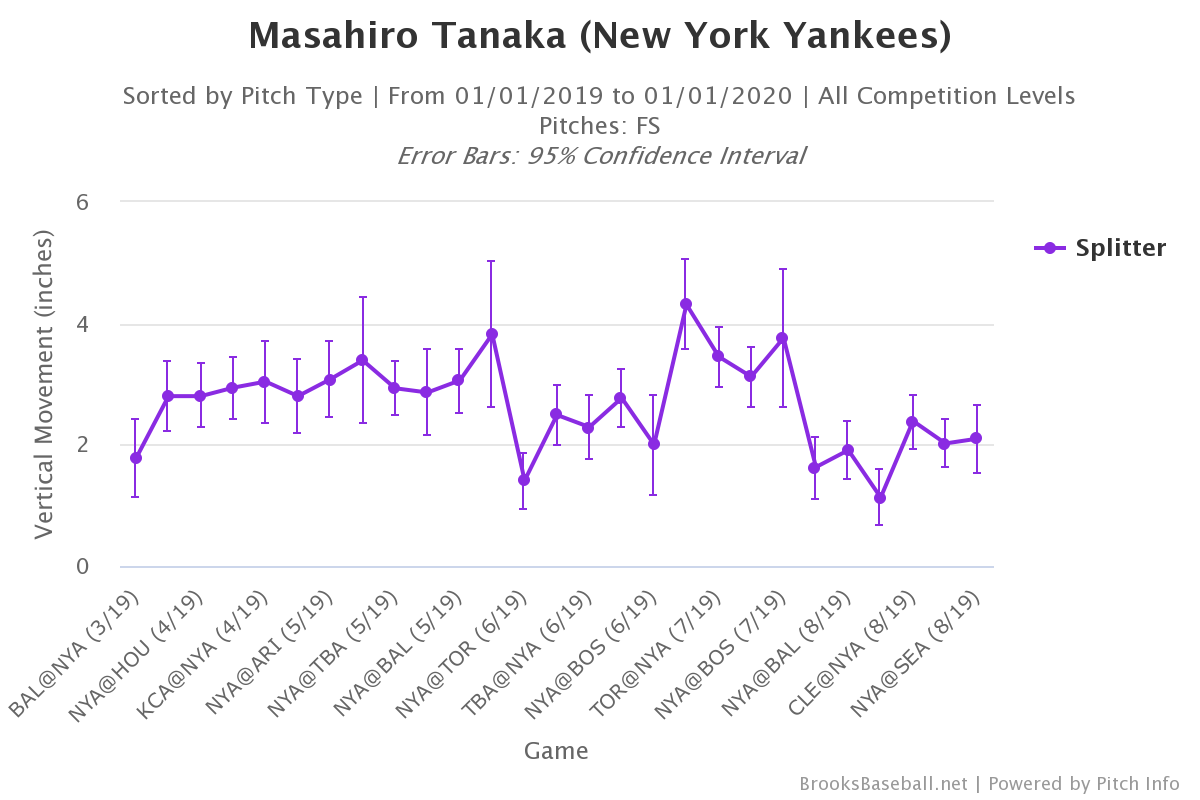 In the six games since introducing his new grip, his splitter's movement profile has lined up with his norms prior to this season.
Masahiro Tanaka, splitter
| Year | MPH | H Mov | V Mov | Spin Rate | Whiff% | GB% | wOBA |
| --- | --- | --- | --- | --- | --- | --- | --- |
| 2019 Pre-7/31 | 87.3 | -7.3 | 2.83 | 1580 | 17.3% | 65.7% | .320 |
| 2019 Post 7/31 | 86.8 | -6.5 | 1.89 | 1590 | 21.3% | 71.2% | .268 |
| Difference | -0.5 | -0.9 | 0.9 | 10 | 4.0% | 5.5% | -.052 |
Both the horizontal and vertical movement look like they're back to what they were. The spin rate on the new pitch is still rather high; the adjusted grip is likely causing that issue, though it may not be a problem if he's fixed the shape of the pitch.
Since the movement profile of his splitter was affected so much, it's likely much of the pitch's ineffectiveness earlier this season was a result of poor command. If Tanaka expected the pitch to drop an extra inch, then the location of those splitters likely caught too much of the strike zone. If we look at the pitch's heatmaps, that's exactly what we see.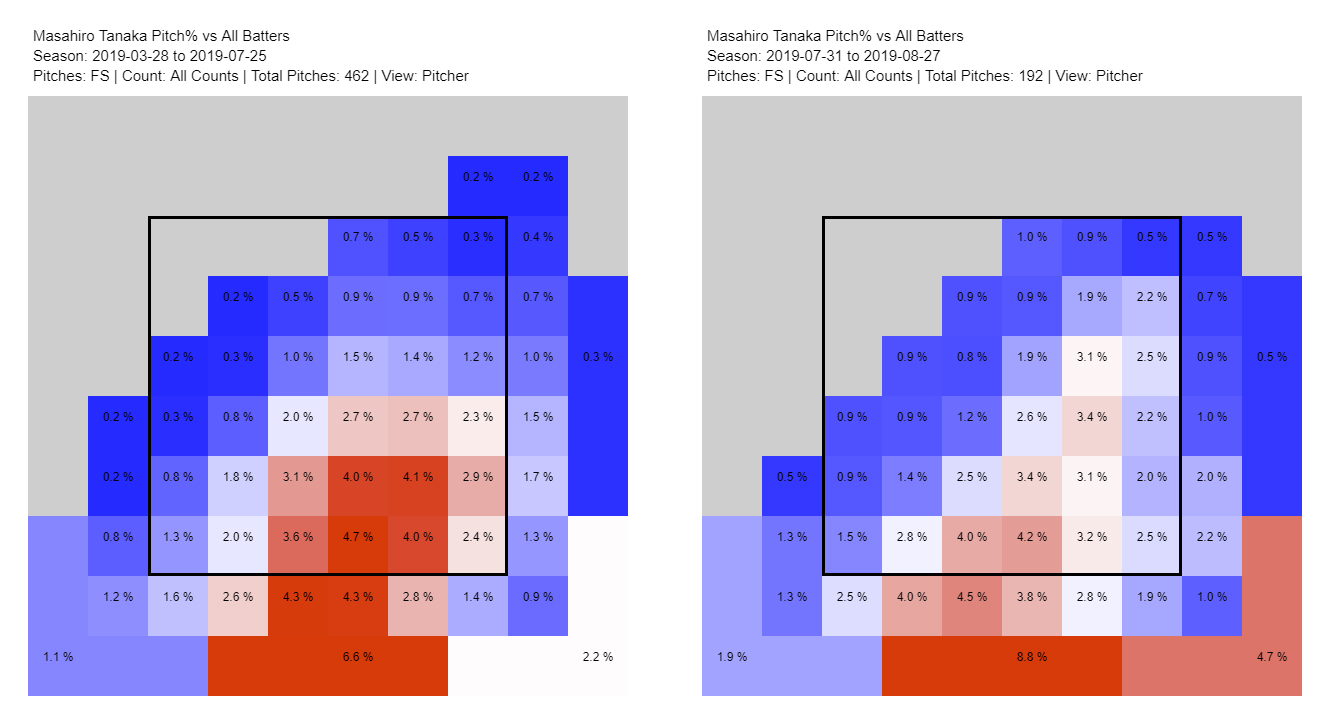 On the left, we see too many splitters sitting at the bottom of the strike zone rather than just below it where Tanaka wants it. But with the shape of the pitch restored, the command of his splitter has improved. That's helped him quickly regain confidence in his splitter. He's throwing the pitch 33.9% of the time now that he's adjusted the grip, up from his 25.7% usage rate from earlier this season.
From a results standpoint, his whiff rate hasn't yet rebounded, but opposing batters have struggled to square up the splitter like they were before. Prior to July 31, he had allowed a .207 ISO off the pitch, the highest mark of his career. Since making his adjustments, that mark has dropped to .085, much closer to his career norm.
As he continues to tinker and get comfortable with his new splitter grip, Tanaka should see his whiff rate on the pitch rebound. "I feel like it's getting better with each start. You've gotta kinda get used to it, but I feel it's progressing in the right direction," he told The Athletic. The biggest hurdle was committing to the new grip, but it'll likely be a work-in-progress for the rest of the season.
Jake Mailhot is a contributor to FanGraphs. A long-suffering Mariners fan, he also writes about them for Lookout Landing. Follow him on Twitter @jakemailhot.