A little over a decade ago, the soft-tossing lefty was all over the place. There was Barry Zito, Mark Buehrle, and Ted Lilly. Late-career Tom Glavine, Kenny Rogers, and Jamie Moyer were getting by on guile, too. Even Mark Redman and Chris Capuano were getting outs without much velocity. Looking around today's game, we have Jason Vargas trying to hang on and CC Sabathia declining with age, along with diminished velocity and stuff from Dallas Keuchel and Gio Gonzalez. The last four years have seen just three low-velocity left-handers put up three-win seasons, and the only pitcher with two such campaigns is Marco Gonzales, king of the soft-tossing lefties.
On June 2, Gonzales gave up 10 runs to the Angels on the heels of giving up eight runs to the Rangers. It ended a five-start stretch that saw him allow 30 runs in 24.2 innings. He struck just 15 batters and walked nine in that span. Still, due to a solid start to the year, his FIP stood at a decent 4.33 and his ERA was a little worse than average at 4.89. Since that game, roughly half a season of starts has passed and Gonzales has been one of the better pitchers in the game with an ERA and FIP both around 3.50 and his 2.3 WAR ranking 11th, just behind Justin Verlander and just ahead of Lucas Giolito. Gonzales isn't a great pitcher, but he's uniquely good, and this is the second straight season he's accomplished that feat.
There are only 10 qualified starting pitchers in the game who put up a three-win season last year (3.4 for Gonzales) and have already eclipsed that mark this season (3.5 for Gonzales). Verlander, Max Scherzer, Patrick Corbin, Jacob deGrom, Trevor Bauer, and Gerrit Cole are the easier guesses. Zack Wheeler, Jose Berrios, and German Marquez are also in there along with Gonzales. His 6.9 WAR ranks ahead of only Berrios in that group, but it is worth mentioning even lowering the bar to two 2.5-WAR seasons in a row only adds Jake Odorizzi, Charlie Morton, Zack Greinke, Aaron Nola, Jon Gray, Kyle Hendricks, and Kyle Gibson. We are still talking about a relatively small group.
What makes Gonzales interesting is his ability to get outs despite a relative lack of velocity. After averaging 90.1 mph on his fastballs a season ago, Gonzales is down even further this season to 88.9 mph on average. Among the 60 qualified pitchers throwing fastballs at least 20% of the time, only Hendricks and Mike Leake have slower fastballs. The graph below shows average fastball velocity and FIP- (lower is better) this season.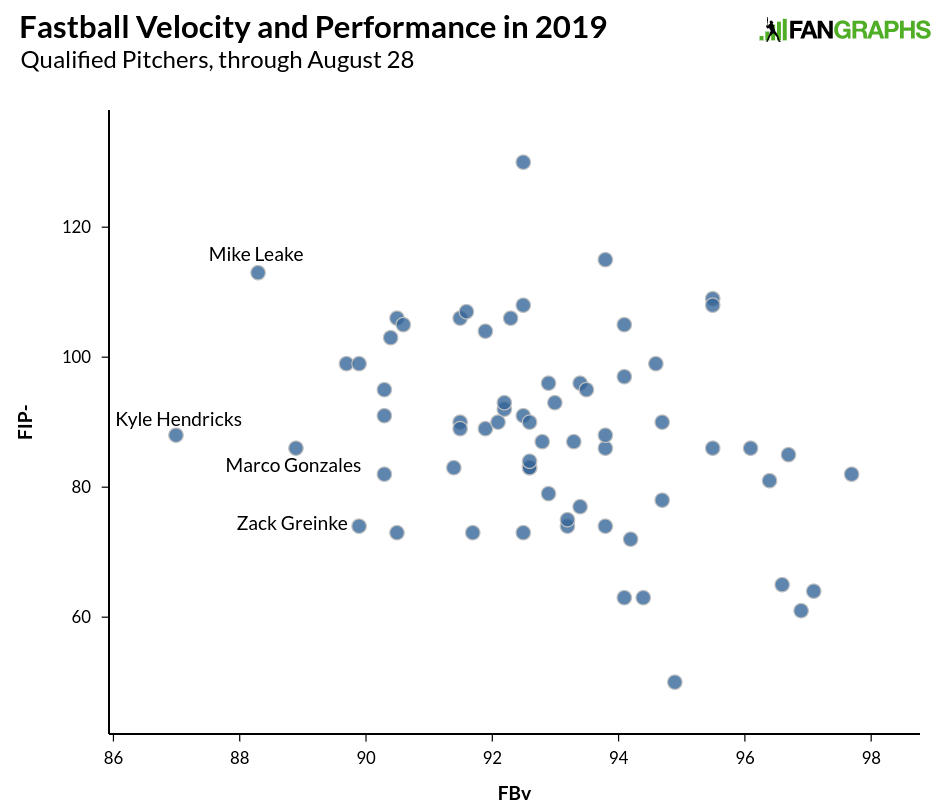 A pitcher doesn't have to throw really hard to be a successful starting pitcher, but it isn't a coincidence that most of the best pitchers have above-average fastballs and that everybody averaging over 96 mph is better than average. To succeed, Gonzales has one good pitch in his changeup (you can read about it here), which is chased out of the zone around 40% of the time and is his only pitch with a double-digit whiff percentage. It's also the only pitch he throws out of the strike zone with any frequency. He also uses a curve (which you can read about here), cutter, sinker, and depending on how you classify it, a four-seamer with equal regularity to keep hitters off balance.
He doesn't throw any pitches more than 25% of the time, with the changeup leading the way, and he has only had a single start all season in which a pitch was offered more than 40% of the time. He relies on called strikes to get ahead, as only Nola and Bauer have more called strikes on non-strikeout pitches, and only Shane Bieber jumps ahead when pitches with two strikes are included. He ranks 49th out of 67 qualified pitchers in strikeouts with 126, but he is 21st in called strike threes with 43.
Gonzales is effective but doesn't throw hard, so he's a crafty lefty by default. He's also the only one in baseball right now and one of the best of the last 20 years. To provide a comparison, I divided the seasons since 2002 into four groups (2002-2005, 2006-2010, 2011-2015, and 2016-2019) and looked at all qualified pitchers who used the fastball at least 30% of the time. I ended up with more than 1400 seasons. Within those groups, I determined an average fastball velocity, the standard deviation of the velocity among the groups, and looked at players at least one deviation slower than the mean. I had several hundred individual seasons, but I wanted to narrow it down to good seasons. The average FIP- among this group was 103, compared to 93 for the starters not trying to get away with slow fastballs. To look at good seasons only, I looked at players with a FIP- below 90, or roughly 10% better than league average.
In the last 18 years, there have only been 30 such seasons, with 19 coming in the first half (2002-2010) and just 11 over the past nine seasons. Of those performances, only 14 were completed by left-handed pitchers. I used an IQ-like score, with 15 points representing one standard deviation, and counted that score twice, with FIP counting once to create a kind of soft-tossing score. Here are those seasons.
The Most Soft-Tossingest Lefties Since 2002
We probably think of the typical crafty lefty as a veteran hanging on, but the ages above indicate that the good ones are getting it done early in their careers. Marco Gonzales is the only player to appear twice in the last decade, as he's had good seasons with low velocity two years in a row. Hendricks is certainly pitching well with even slower velocity from the right side, but Gonzales is on his own on the left carrying the mantle of Buehrle. Note that Gonzales' 89-mph fastball is essentially the same as Buehrle's 86.5-mph offering a decade ago, or Glavine's 85-mph fastball 14 years ago when compared to the pitching of the day. That 89-mph fastball might have been average 20 years ago, but it is one of the slowest in the game now, and Gonzales is using all of his pitches to perform well despite that low velocity.
Craig Edwards can be found on twitter @craigjedwards.