In April, Matthew Boyd gave up two homers. In May, five balls left the yard against the Tigers lefty. Last month, Boyd's breakout season slowed as he gave up 10 homers. As we enter July, Boyd has a solid 3.57 FIP and a 3.72 ERA, and has been worth 2.6 WAR, which ranks 17th among pitchers this season. Those are good numbers to be sure, but as June began, Boyd's ERA and FIP were both 2.85 and his 2.5 WAR ranked third for pitchers behind only Max Scherzer and Stephen Strasburg. Boyd's strikeouts and walks have been slightly better than they were earlier in the season; his BABIP is slightly higher and his LOB% is a little bit lower. But that doesn't explain his 5.90 ERA and 5.37 FIP. It's the home runs that are hurting Boyd, and with the trade deadline a month away, trying to determine whether they are randomly bunching across a few starts or the beginning of a trend is an important exercise for teams looking to reinforce their rotations.
As for how Boyd broke out in the first place, the answer is a bit easier to find — the work has already been done for us. Sung-Min Kim detailed Boyd's transformation earlier this season, showing how Boyd lowered his arm slot to gain spin on his fastball, and raised the location of the pitch. He also buried his slider more often, gained a consistency in his delivery, and basically eliminated the two-seamer. David Laurila also wrote on Boyd earlier this season, discussing his work with Driveline to create a better slider.
Boyd's season can be carved up any number of ways depending on how you might want to use (and abuse) arbitrary endpoints. If we took away the first three spectacular Boyd starts of the season, where he struck out 29 and walked six, his FIP is 4.09, his ERA is 3.95, and he's averaging nearly two homers every nine innings. If we look at just his first 10 starts, he's one of the best pitchers in baseball. He has five starts with 0 or 1 runs. He's only got two starts where his strikeouts don't at least equal his innings pitched. The only time he walked as many as three batters, he struck out 13 Yankees. If Boyd had evenly spaced out his 17 homers across his starts, we'd be discussing a moderate breakout. Instead, we have a massive breakout followed by concern.
Boyd's velocity isn't down. His pitch mix hasn't changed significantly during the year, though he's given up four homers on curves and changes, including three in June, despite throwing those pitches right around 10% of the time in 2019. While Boyd's success has been due to his improved fastball and slider, trying any other pitch has gotten him in trouble. Here's a rolling graph of the plate discipline numbers of batters facing him, as well as his FIP: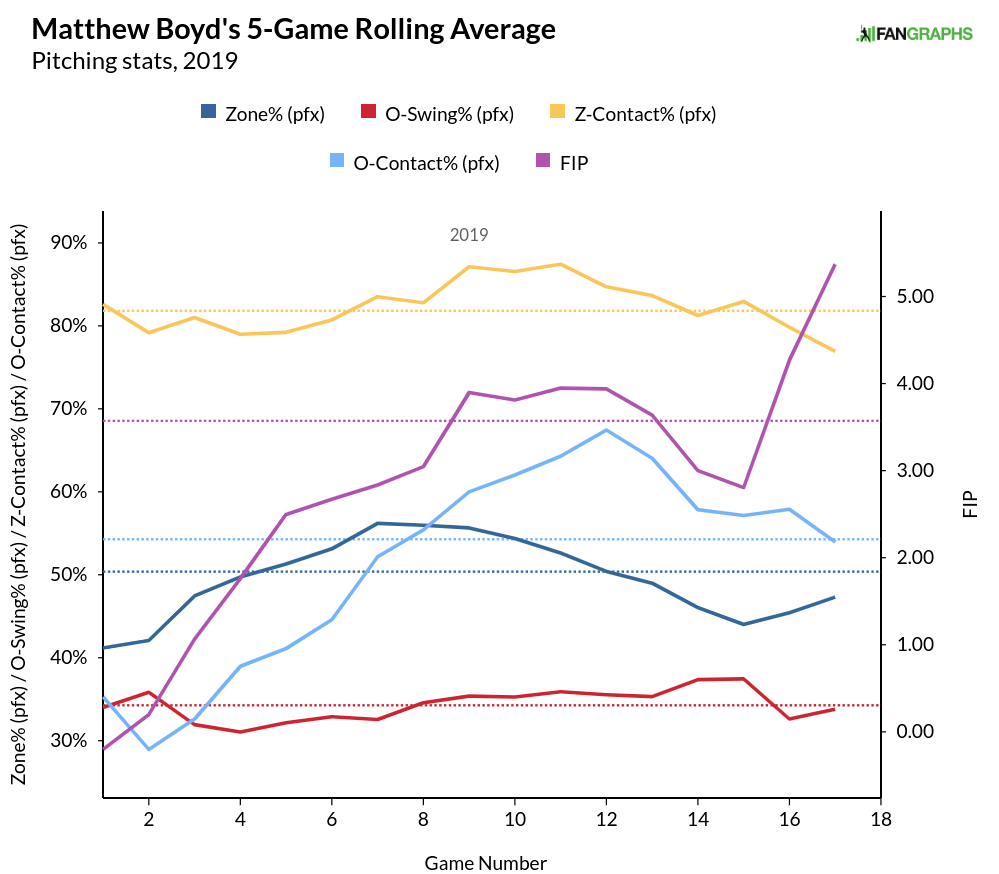 The chase rate on Boyd's pitches out of the zone has been fairly steady all year as seen by O-Swing%. Hitters have made more and more contact outside of the zone as the season has gone on, but that number has dropped over the last month as the homers (and FIP) have moved way up. Hitters have also been making less contact on swings in the zone of late despite there more pitches in the strike zone. It doesn't seem like a plate discipline issue.
What about batted balls? Here's Boyd's pull and fly ball numbers as they relate to his FIP: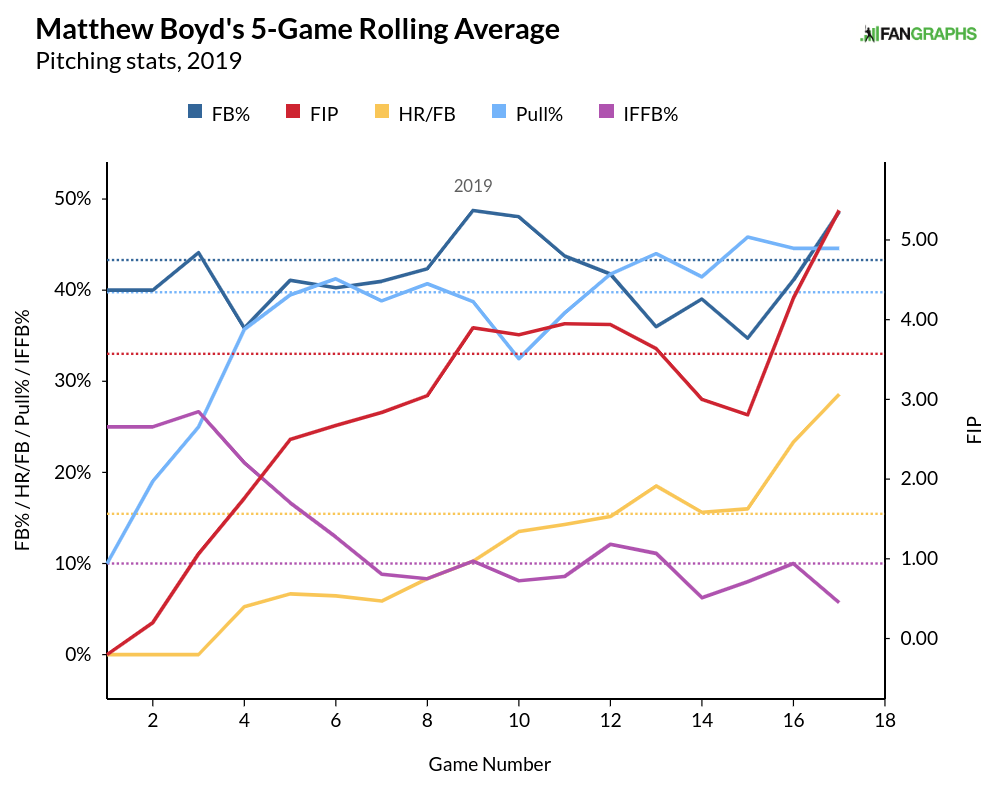 It looks like batters have been pulling the ball a little more as the season has gone on, while fly balls have gone up and infield flies have gone down. According to Statcast, Boyd's xwOBA was .275 in April and May; it has gone up 60 points in June. That might cause us to think that Boyd is generally a lot more hittable, but his xwOBA if we take the home runs out was .245 in April and May and .248 in June. It really is the homers at issue. This is what Boyd had to say about them before his last start against Texas:
"I made a few mistakes," said the current Tigers ace, who will make his next start against Texas on Wednesday night. "Obviously, you want to minimize the mistakes. Mistakes are magnified because they cost me runs, right? That's the way it happens sometimes and you build off that and understand why that happened."

…

Nothing out of the ordinary. There wasn't anything I needed to retool or build back up, so to speak," Boyd said of his preparation for Wednesday's start. "How I measure success isn't dictated in the box score. The goal is to win, obviously, I'm not naive to that. But there are so many things that are out of your control. … There's always things to get better at but in the grand scheme of things, there's nothing different I'm going through."
To a certain degree, he's right. There's nothing seriously wrong with what Boyd has been doing, but the homers are going to have to stop for him to go back to being an effective pitcher. It's not like he's giving up cheap shots; the average distance on a Boyd home run this season is 398 feet, right in line with the league average of 401 feet. Let's look at some of Boyd's home runs over the last month.
Here's one to Dansby Swanson:
The catcher is set up inside and up in the zone. Boyd missed away and around the belt, and Swanson took advantage. That's a mistake. Here's one to Mitch Garver:
Again, the catcher sets up inside and Boyd misses away, this time up. How about against lefty like Tyler Naquin?
Same deal. Here's one that's less egregious, but catches too much of the lower, inner portion of the zone to Jeff Mathis:
That's four of the 10 homers in the last month. Here's another from Nicky Lopez, which appears to be a fastball over the middle of the plate. But the game was in Omaha and ESPN lost the feed during that time.
We have three other homers during that time on pitches Boyd doesn't have a ton of confidence in, and then two homers off sliders that spun in the middle of the zone. That's the extent of Boyd's poor performance over the last month. It's possible that his command is getting a bit leaky. Compare the two heatmaps to righties with his fastball below. One is from April and May, while the other is from June: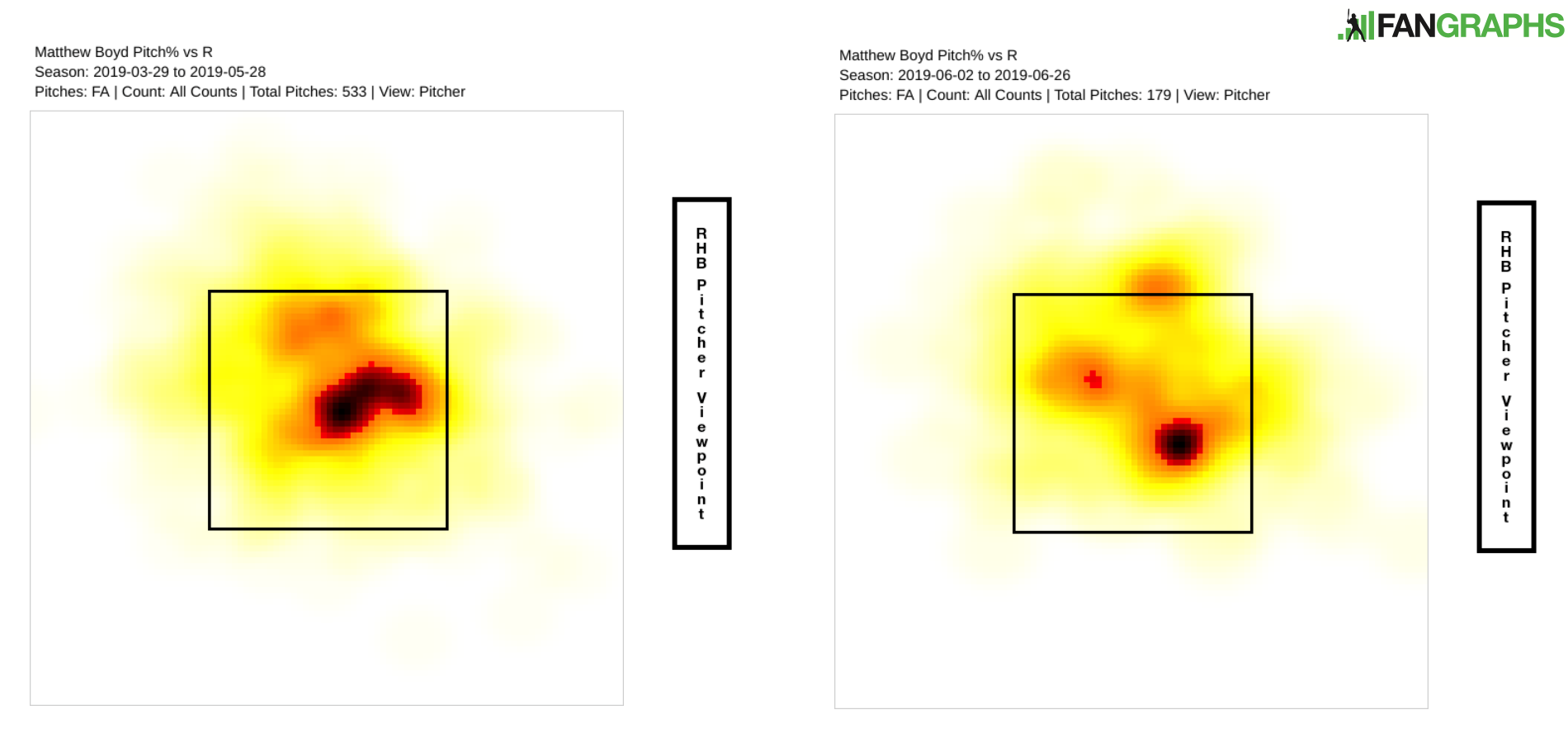 The fastball looks to be a little bit lower in the zone, with a larger segment of pitches left out over the plate. There is a similar trend with the slider: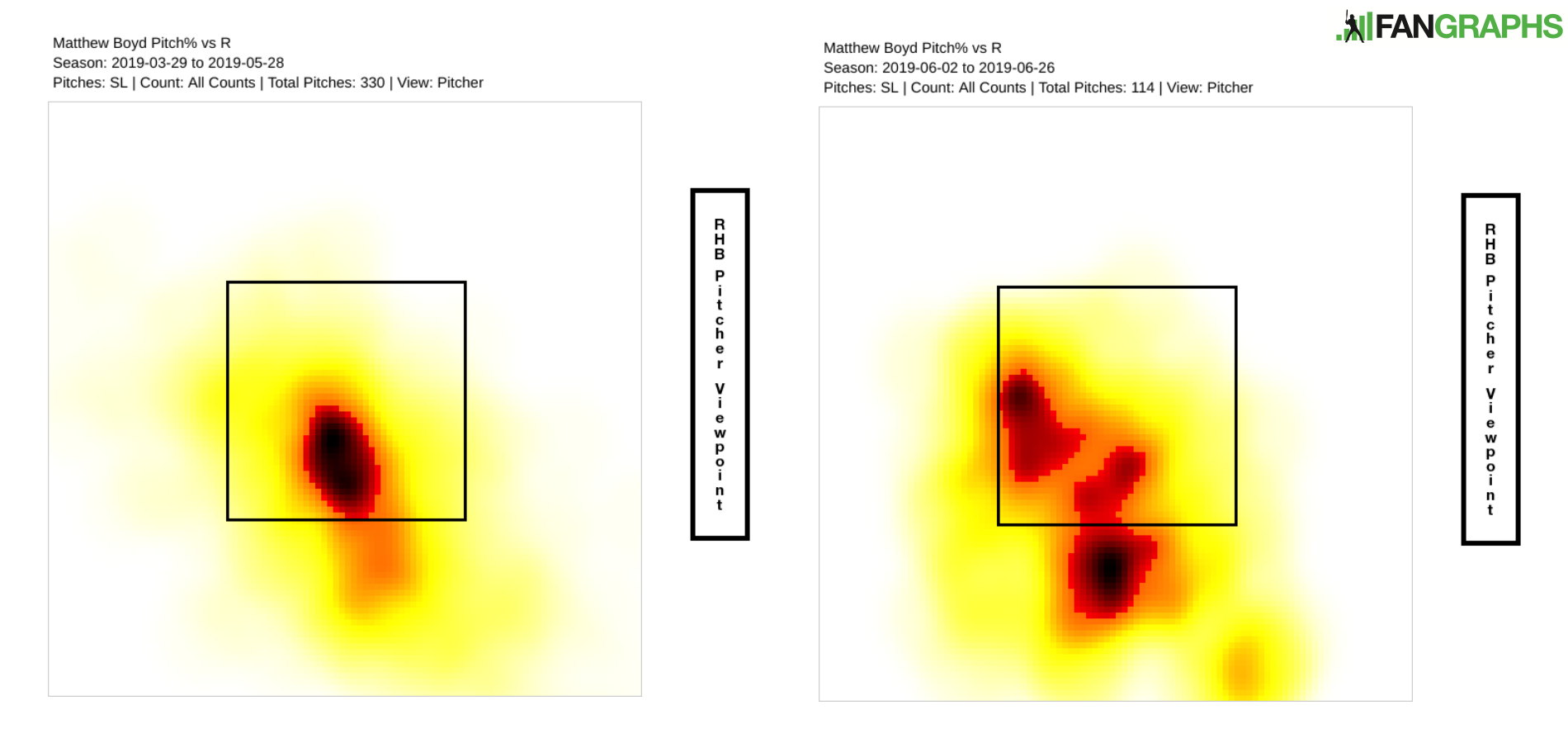 Perhaps Boyd is trying some backdoor sliders, which could explain the pitches on the outer half of the zone, but both recent homers were just hangers. Hitters are trying to attack Boyd, with his last eight homers coming on the first three pitches of a plate appearance. While Boyd is still effective with two very good pitches, the lack of variety leaves hitters with less to think about. Boyd might be able to survive with his mistakes with a wider arsenal that catches hitters off guard, but when he misses over the plate and there are only two possible pitch types, the mistakes seem more likely to be hit. It's certainly possible Boyd cleans things up and hits his spots, eliminating the only part of his game that is faltering given his good strikeout and walk numbers, but the lack of a third pitch is going to make it more difficult to fight through rough patches. Boyd's breakout is certainly real, but he might not be the ace he appeared to be in the first two months of the season.
Craig Edwards can be found on twitter @craigjedwards.