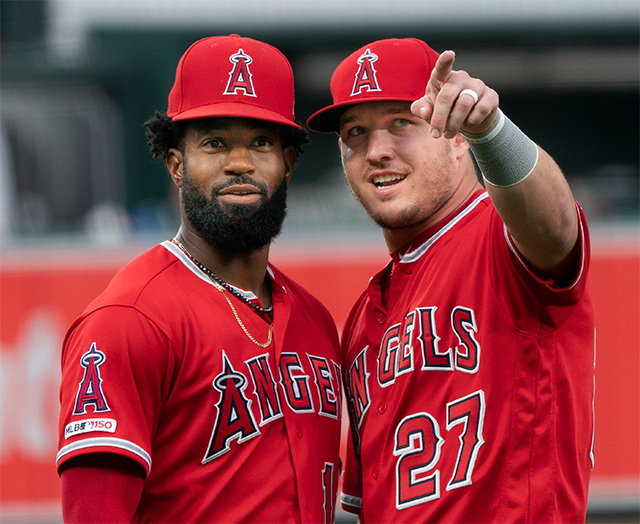 "Put all your eggs in one basket… the handle's going to break. Then all you've got is scrambled eggs." – Nora Roberts
For the Los Angeles Angels, 2019 looked a lot like most of the past decade. Despite starting off the roster with the best player they've ever had and probably the best player they ever will have in Mike Trout, Los Angeles finished below .500 for the fourth consecutive season.
In some ways, the Angels are baseball's least interesting team. The organization's 2002-2009 salad days are long in the past, and while these Angels are never spectacularly awful — 2019 was the club's first 90-loss season since 1999 — it's a team that's blandly assembled to create indifferent results. Being truly awful would have at least elicited a kind of macabre fascination. But these Los Angeles Angels appear to be a franchise focused on blithely existing.
The Setup
Thanks to the presence of Trout, the Angels essentially start off every baseball season with a three-win head start over any team in baseball. Beginning every year with a guy who puts up nine- or 10-win seasons like clockwork is an amazing boon for a franchise. Suddenly, the challenge of building a 90-win team is simply assembling a .500 team using the other 24 players on the roster. It's a bit like getting Gordon Ramsay for your elementary school's bake sale; if you can't sell cookies to your neighbors with the most famous chef in the world in your corner, you might want to double-check the recipe.
And it's not as if those 10 wins are collected at a price that cripples the budget. With an average salary under $36 million for the next dozen years, the Angels couldn't have gotten a better deal on Trout if he was bought in a shady marketplace after falling off a truck.
After a second consecutive 80-82 season, the Angels decided to flip the script and push forward by doing… not much. There's a scenario in which signing Jonathan Lucroy, Trevor Cahill, Justin Bour, and Matt Harvey makes a lot of sense, but these are the types of fill-in signings you make at the back of the roster when your team is already a serious contender. More than two-thirds of the position player WAR in 2018 came from two players: Trout and Andrelton Simmons.
Only one pitcher on the roster, Andrew Heaney, threw even 130 innings in 2018, and that was before the team found themselves needing to replace a whole pitcher's worth of innings as they prepared to go without what Garrett Richards, Matt Shoemaker, and Shohei Ohtani had put up the season prior. Tyler Skaggs and Jaime Barria looked like they'd be significant contributors in 2019, but even the best case scenario likely meant them only replacing the lost innings, not helping to add the 10 or more wins the Angels needed. And Harvey wasn't, even with the most optimistic view of his 2018, the type of pitcher you could at count on to give you 170 vaguely average innings in 2019.
Nor did the Angels show a serious inclination to reduce the playing time of Albert Pujols, coming off seasons of -0.2 and -2.0 WAR. Nothing reflects the fundamental problem with the team's mindset more than the complete lack of interest in moving on from Pujols. After two years of sub-replacement WAR, projections once again had Pujols at replacement-level in 2019. Paying $28 million or a player who is no longer major league caliber is obviously a situation teams would like to avoid. Playing that player is far worse, and unlike in the past, there was no obvious milestone excuse. And no, even in the era of baseball when RBIs were a valued stat, nobody ever actually paid attention to career RBI numbers.
Outside some shuffling of the tertiary talent on the team, the Angels entered 2019 with mostly the same group of players who went 80-82 in 2018.
The Projection
With 13.1 WAR projected from Trout and Simmons alone, the Angels would have been hard-pressed to enter 2019 with no hope of making the playoffs. ZiPS saw enough to project them to go 81-81, and given an American League which was projected to have almost no middle class, an 81-81 team had an upside scenario that could get them into serious contention. In ZiPS' official seasonal projections, the computer gave the Angels a 16.4% chance of making the playoffs. While in the end no team that actually made the playoffs had a projected probability less than Minnesota's 27.4%, you expect a team or two a year with those preseason chances to play October baseball.
The Results
The projections started unraveling literally the day they were released. Heaney, the team's best-projected pitcher and a long-time ZiPS favorite, was shut down the afternoon the final projected standings came out due to elbow problems. Heaney didn't make his season debut until May and suffered another injury, this time to his shoulder, that cost him another six weeks around midseason. His fastball was surprisingly effective, but like many pitchers in 2019, his performance became much more homeriffic than in the past. And unlike some pitchers with gaudy home run-allowed rates, ZiPS thinks that Heaney's 20 homers surrendered in under 100 innings were mostly deserved, thanks to a 3-mph uptick in exit velocity and a change in launch angle that left him as a heavy fly ball pitcher.
Mike Trout, of course, was Mike Trout, putting up another MVP-caliber season in a career that is already Cooperstown-worthy on peak performance alone. A late-season injury meant that MVP voters once again had a plausible alternative candidate to Trout, this time Alex Bregman of the Houston Astros. Once Trout was lost for the season in early September, the Angels served as a scrimmage partner for contenders in the final stretch, playing the final 18 games against teams either in the playoffs or fighting for their postseason lives. The team went 5-13 and failed to win a single series.
When cleared to return as a designated hitter, Ohtani demonstrated that while his .285/.361/.564, 151 wRC+ line in 2018 probably should not have been taken by anyone as his baseline expectation, he was still a legitimate contributor in an offense-only role. Perhaps it's for the best that he didn't repeat 2018; a DH hitting .286/.343/.505 with a 123 wRC+ is fine and dandy, but it's not the sort of performance that provides an additional incentive for the Angels to throw in the towel on Ohtani as a pitcher.
A few of the team's under-the-radar players did come through in a surprising way this season. Tommy La Stella, intended to be the team's utility guy, hit 16 home runs in the first half (previous career total: 10) before a foul ball off his shin robbed him off his first All-Star appearance and most of the rest of the season. Brian Goodwin wasn't a star, but he provided an OPS near .800 after being picked up for free from the Kansas City Royals, a team short on roster space after landing young phenom Lucas Duda.
Sadly, the story of the 2019 Angels, even when focusing on the exploits on the field, cannot be told without mentioning Tyler Skaggs. Just before his 28th birthday, Skaggs was found dead in his hotel room; it was later determined by autopsy to be an accidental death from a combination of alcohol, fentanyl, and oxycodone. In some respects, it's incredible that the Angels were able to finish the season at all. Given how closely players live to each other, and how much time they spend together most of the year, losing a teammate is a lot like losing a family member. My dad died when I was in my first year of college, and I didn't really feel like doing anything for weeks.
What Comes Next?
If the Angels go into the offseason attributing this season's results to tragedy and some back luck, the 2020 season may already be doomed. This is a franchise that has avoided making hard decisions, seemingly assuming that the roster is good enough to win on autopilot. Since signing Pujols in 2011 and Josh Hamilton to a five-year, $123-million contract after 2012, the team has only signed a single free agent to a deal worth $20 million (Zack Cozart). Even the Marlins, not exactly known for a desire to spend anything on anyone, ever, have made three such signings (Jarrod Saltalamacchia, Edinson Volquez, and Wei-Yin Chen) over that timeframe.
Even considering the money the team spent to extend Trout and Justin Upton, that's a stunningly passive record for a team allegedly in win-now mode, one without a farm system equipped to provide a constant flow of reinforcements. If the Angels aren't at least a finalist in the bidding for Anthony Rendon and Gerrit Cole (and arguably both), season ticket holders ought to get out the pitchforks like peasants in a 1930s monster movie. Signing, say, Ivan Nova and Todd Frazier and calling it an offseason while letting Pujols play another year of Angels Fantasy Camp will likely doom the club to another season of mediocrity.
There is some homegrown help on the way, something of a new experience for the Angels. Eighteenth on THE BOARD isn't exactly a dizzying height, but it's an enormous step up from where the Angels have been for years. Jo Adell is one baseball's elite prospects, and Brandon Marsh is extremely close to being a major league contributor in 2020. ZiPS has also been a big fan of Griffin Canning, even though he doesn't technically count as a prospect any longer.
The problem, of course, is that given roster's other deficiencies, those additions aren't enough to get the Los Angeles into the American League's top tier by themselves. Just eyeballing the Angels right now, without Adell and Marsh, they look like about a 78-win team based on their roster. The team's goal should be to add 15 wins to that projection this offseason. And by that I mean actual wins, not ones of the "what if Pujols had one last star season and all the pitchers somehow remain healthy for the first time" variety. Adding Joe Maddon is an excellent start, but you could assemble a manager-Voltron made up of Maddon, Earl Weaver, Bobby Cox, Sparky Anderson, John McGraw, and Connie Mack and still not add 15 wins to the team's bottom line.
The Absitively, Posilutely, Way-Too-Early ZiPS Projection – Jo Adell
Since I've been a bit of a downer about the Angels, let's do something fun and project Jo Adell. ZiPS doesn't even need to know Adell's tools to give him a top projection. How good is him? Due to him already surviving most of the minor-league gauntlet, his average career WAR projection is better than Wander Franco's.
ZiPS Projections – Jo Adell
| Year | BA | OBP | SLG | AB | R | H | 2B | 3B | HR | RBI | BB | SO | SB | OPS+ | DR | WAR |
| --- | --- | --- | --- | --- | --- | --- | --- | --- | --- | --- | --- | --- | --- | --- | --- | --- |
| 2020 | .273 | .322 | .440 | 562 | 68 | 150 | 30 | 2 | 21 | 71 | 39 | 179 | 11 | 104 | -2 | 2.7 |
| 2021 | .279 | .329 | .458 | 572 | 70 | 157 | 32 | 2 | 23 | 75 | 40 | 170 | 13 | 110 | -3 | 3.2 |
| 2022 | .283 | .343 | .490 | 575 | 75 | 163 | 34 | 2 | 27 | 82 | 45 | 174 | 13 | 122 | -3 | 4.1 |
| 2023 | .284 | .346 | .501 | 577 | 78 | 164 | 34 | 2 | 29 | 85 | 48 | 177 | 13 | 126 | -3 | 4.3 |
| 2024 | .280 | .345 | .490 | 575 | 77 | 161 | 33 | 2 | 28 | 83 | 50 | 180 | 13 | 123 | -4 | 4.1 |
| 2025 | .275 | .342 | .487 | 571 | 76 | 157 | 33 | 2 | 28 | 82 | 51 | 182 | 12 | 121 | -4 | 3.8 |
| 2026 | .272 | .340 | .486 | 562 | 75 | 153 | 32 | 2 | 28 | 81 | 51 | 182 | 12 | 120 | -5 | 3.7 |
While it doesn't look like Adell will be able to push Trout out of center field, his bat still plays in a corner. ZiPS doesn't see these homer totals as a hard ceiling and envisions Adell as having a real shot at being a 40-homer a season hitter.
Dan Szymborski is a senior writer for FanGraphs and the developer of the ZiPS projection system. He was a writer for ESPN.com from 2010-2018, a regular guest on a number of radio shows and podcasts, and a voting BBWAA member. He also maintains a terrible Twitter account at @DSzymborski.