Sunk costs are difficult for all of us. We might keep a gym membership longer than we should hoping to get some value out of it despite not going for months. We might finish a meal that was terrible from the start because we cooked it or paid for it. We finish movies and books we know we will not enjoy. Once some of our money or time has been spent, there is a pull to keep spending or wasting that time and potential enjoyment because we've already started. Sometimes, baseball teams are just like us. Once a big contract is handed out, teams feel compelled to continue to provide playing time past the point of utility or give a roster spot to a player whose play doesn't merit it. That's not always the case, though. Sometimes teams move on, and when they do, they end up with dead money on their payroll.
This is my fourth year tracking dead money on payrolls and while the amount fluctuated greatly from 2016 to 2017, going from under $150 million to $300 million, last year it was back around $200 million, and it remains the same this season. As to what counts as dead money, this is what I said in last year's post:
Dead money is generally any money a team is paying out to a player who no longer appears on their 40-man roster. There are three types of dead money:
Money paid to players who have been released. Those players are free to sign with other teams, but the team releasing the player still owes the money remaining on the contract.

Money paid to other teams as compensation for players who have been traded. Generally, we see teams cover a portion of a contract to receive a better return in trade.

Money paid to players who are still in the organization, but who have been removed from the 40-man roster. Any team could have claimed these players if they were willing to take on the contract, and the player probably could have elected fee agency, but then he would forfeit his right to the guaranteed money.
While Jacoby Ellsbury's salary sits on the Yankees payroll with no expected contribution, that money is only mostly dead. As far as which team has the most money this season, that honor, or dishonor, goes to the Los Angeles Dodgers. These numbers were compiled from Cot's Contracts.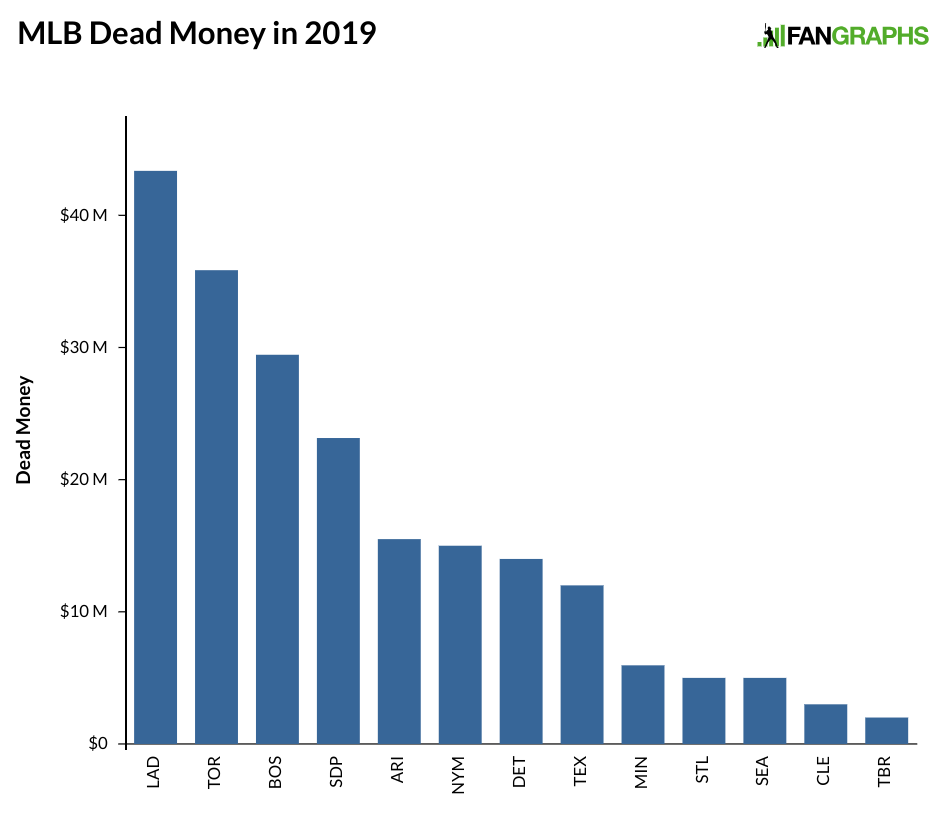 The Dodgers have been first or second on this list every year I've done this exercise, spending close to $140 million since 2016 on players not on their roster. This year's big expenditure comes in the form of Homer Bailey, who the team acquired from the Reds in order to move Matt Kemp's contract as well as acquire a few prospects in the deal that sent Yasiel Puig and Alex Wood to Cincinnati. The Blue Jays come in just behind the Dodgers as the team that decided to cut bait with the oft-injured Troy Tulowitzki as well as trade Russell Martin to the Dodgers. The moves by the Dodgers and Blue Jays illustrate contrasting styles when it comes to dead money on the roster. Los Angeles acquired Homer Bailey to drop him in a move designed to save tax space as they exchanged Kemp's bad contract. For the Blue Jays, who are not expected to compete for the division this season, giving playing time and roster spots to aging veterans doesn't help the club's future as those resources can be better utilized by providing meaningful experience to younger players. Nearly one-third of Toronto's payroll won't even be on the team and the club's on-field roster is set to make under $80 million this season.
Breaking the money down, here are the players who have been released by their teams.
Player
Released Players on the Payroll
In Prince Fielder's case, the Tigers are paying some of his salary and a discount for insurance proceeds has been taken. It would be useful to do the same with David Wright, though those numbers are a bit more murky. We know that Wright restructured his contract with some deferrals so that he will make $9 million this year. It's possible that insurance proceeds, estimated at $12 million by Ken Davidoff over the next two seasons might mean the Mets aren't actually paying any money to Wright this season. The Padres essentially bought a draft pick by taking on some of Phil Hughes' salary last year, while also taking on Olivera, who they immediately released, allowed them to get out from under Matt Kemp's money.
As for trades, here are the players for whom teams are paying some or all of their salaries this season. There are a few repeat names from the list above.
Traded Players Still on the Payroll
| Player | Old Team | New Team | Money Sent for 2019 |
| --- | --- | --- | --- |
| Russell Martin | Blue Jays | Dodgers | $16.4 M |
| Matt Kemp | Dodgers | Padres and Reds | $10.5 M |
| Justin Verlander | Tigers | Astros | $8 M |
| Prince Fielder | Tigers | Rangers | $6 M |
| Phil Hughes | Twins | Padres | $5.95 M |
| Robinson Cano | Mariners | Mets | $5 M |
| Mike Leake | Cardinals | Mariners | $5 M |
| Jedd Gyorko | Padres | Cardinals | $5 M |
| Hector Olivera | Dodgers | Braves | $4.66 M |
| Edwin Encarnacion | Indians | Mariners | $3 M |
| Evan Longoria | Rays | Giants | $2 M |
| Clayton Richard | Padres | Blue Jays | $1.5 M |
Most of these deals are pretty straightforward, with the old team offsetting some salary to get a deal done or receive a better prospect return. The Edwin Encarnacion situation is a bit complicated. Cleveland and Seattle swapped Carlos Santana and Encarnacion with Seattle actually sending a couple million dollars to Cleveland for this season and $4 million next year. That was not the entirety of the deal; Tampa Bay sent $5 million to Seattle as part of the deal with Cleveland that sent Jake Bauers to the Indians for Yandy Diaz and Cole Sulser. It's fair to think of that $5 million as shipped through Cleveland, which is how Encarnacion ends up with $3 million from Cleveland this season.
There are just a few more players with payroll qualifying for dead money.
Players Off the Roster Still on the Payroll
We have multiple, big contracts for Cuban players who haven't quite worked out. Tomas' deal couldn't even be made under the current rules, while Castillo suffers, in part, because adding him back on the roster would result in more competitive balance tax payments. Tomas didn't make enough contact despite swinging a lot. Castillo has played well in the minors though still wouldn't be a starter for Boston even if they did bring him up to the majors. Sierra is still in the Dodgers' system and could be a reliever at some point.
Having a bunch of money on the payroll devoted to players who won't contribute to the MLB team isn't a great situation to consider; most of the decisions made above were done to help teams reach some goal, now or in the future. Teams have finite roster space and using that space on players who can contribute is better than using it on a player just because they have an expensive contract. Sometimes teams save money in the present, but have a bigger cost later on. While teams have gotten more frugal about long-term deals, we haven't yet seen the amount of dead money on MLB rosters decrease significantly.
Craig Edwards can be found on twitter @craigjedwards.