How much major league teams are willing to spend on player salaries in any given year can be a bit murky. Teams don't want to show their hand and lose negotiating power with free agents, though we can usually figure out their number by the end of spring when the money has been spent. How much every team is likely to spend is more opaque. We know that, generally speaking, teams are making boatloads, but while the revenue across the sport has increased over the last few years, it hasn't resulted in increased payrolls. Every team has lots of money — the budget constraints we hear front office types reference are, more often than not, self-imposed rather than the result of empty coffers — but some will spend more than others. Trying to pin down what teams will spend in 2020 at this point in the winter is difficult, but we can use last year's payroll numbers as a guide to get a rough idea of what each is likely to do, and thus gauge which ones will commit to payroll increases and which are likely to embrace thrift.
To answer those questions, we can look to the contracts coming off the books at the end of 2019, but that number can be misleading. Raises to players with long-term contracts, as well as increased pay in arbitration can bite into some of the departed money. Let's start with how much money every team has committed for 2020 as of right now, using estimates for arbitration figures and minimum salaried players. (All the data can be found in the Payroll section on our RosterResource pages.)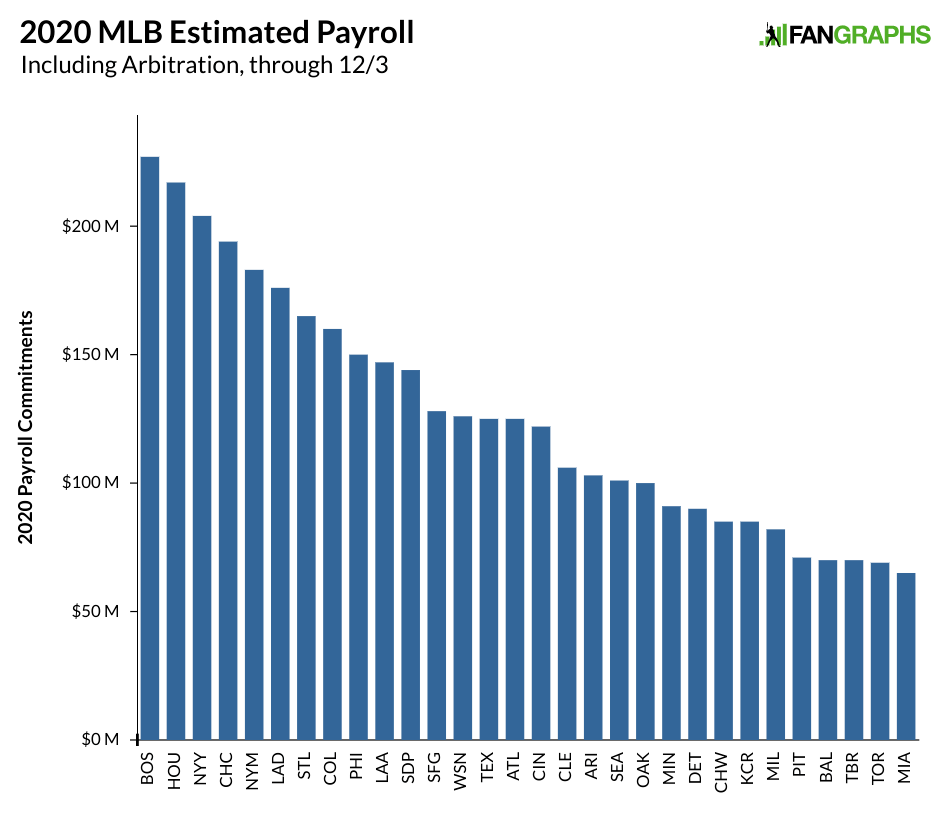 The Red Sox sit at the top with $227 million in estimated commitments for next season. The figures above represent what teams are spending this year on salaries; they are not the team payroll figures used for calculating the competitive balance tax, which can vary some, and include an extra $15 million or so for player benefits. (The competitive balance tax amount can be lowered through long-term deals that have a lower average annual value or, in the Red Sox case, by taking advantage of the Rusney Castillo loophole for players who were removed from the 40-man roster prior to the current CBA.) If we add all these figures up, we come to about $3.8 billion in player salaries for next year, without counting the close to half a billion dollars that gets added in for player benefits.
Last year, payroll came in $440 million higher than the current 2020 commitments, at just over $4.2 billion. There are about 60 unsigned free agents who received crowdsourced projections; the AAV on those contracts is roughly $540 million. If the remaining free agents sign for the amounts predicted, we'll see about a 2% increase in payroll after two years of flat payrolls. If the remaining free agents are discounted by 20%, we will end up right where we started last season. Early returns for free agents have been good — about 19% higher than expected in AAV — but that's with just 10 of those 73 free agents having signed.
If we were to break down where that $440 million in payroll room comes from by team, it would look like this: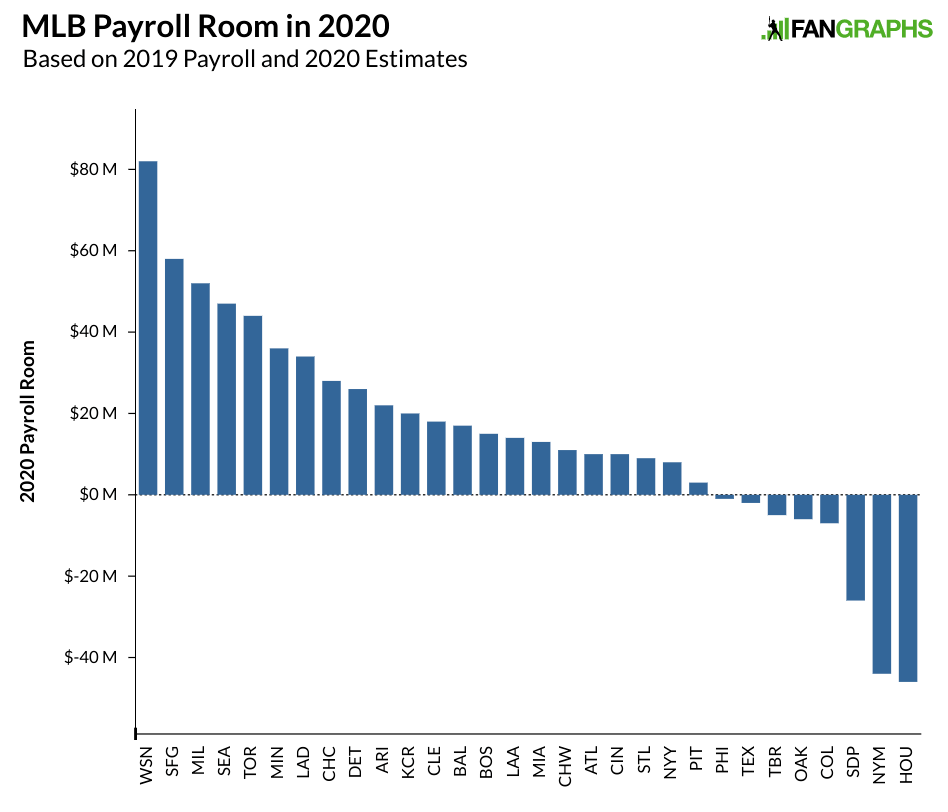 The Nationals have a ton of money to spend coming off a World Series victory, and if they are going to get back to the playoffs, they will need to. If the team wanted, they could bring back both Anthony Rendon and Stephen Strasburg and because they stayed under the competitive balance tax amount last season, the penalties for going over next year are lessened. A big spend by the Nationals seems likely, though it won't do much to change spending overall given where they were last year. The second team on the list doesn't figure to get anywhere close to where they were a year ago. The Giants signaled that next year would be a non-competitive one when they non-tendered Kevin Pillar. Madison Bumgarner is a free agent, and the rest of the core is another year older without much in the way of young players to take over.
The Brewers are in an interesting spot. They raised payroll in 2019 but with Yasmani Grandal gone along with a handful of other, lesser contributors, the team's payroll is considerably lower than it was a year ago. It certainly looks like they have the flexibility to be active in the free agent market or take on salaries from team's trying to pare back payroll. The Mariners seem unlikely to spend much, and it isn't clear if the Blue Jays are going to try to get back in the mix for 2020. The Dodgers are about $25 million – $30 million below the competitive balance tax threshold and so seem likely to at least get back up to that level, while the Twins are likely to fill the holes in their rotation externally. Arizona has some flexibility. The Tigers, Royals, Orioles, and Marlins seem unlikely to do much this offseason. Even after adding Jonathan Villar and Jesús Aguilar, the Marlins are still below last year's payroll; they sit at around $65 million. We know the Red Sox are trying to cut payroll further. Teams that claim they can't spend money have made headlines more than the teams that can, as Craig Goldstein recently noted:
— Craig Goldstein (@cdgoldstein) December 2, 2019
So which teams are actually going to increase payroll? If we start with those that have higher existing commitments now than they did a year ago, we know the Astros will, as long-term deals for Justin Verlander and José Altuve, along with arbitration increases for George Springer, Roberto Osuna, and Carlos Correa and the trade for Zack Greinke will necessarily increase the budget. The club's payroll is already at $217 million for next season; based on the tweet above, it doesn't sound like they will be spending much more. The Mets payroll will be bigger, though half of the increase above might eventually go back to the club in the form of insurance for Yoenis Céspedes. In any event, it doesn't sound like they will be doing anymore spending this winter.
The Padres generated a ton of excitement last winter with the Manny Machado signing, and saw 230,000 more fans take in a game at Petco despite a last place finish. They've already made multiple moves this offseason, trading with the Brewers and A's and signing of Drew Pomeranz, but it seems unlikely the team is finished as they try to make a push for the playoffs. We know Colorado and Oakland don't plan to spend any more.
The Angels along with Texas and Philadelphia are good candidates to spend more. The Angels haven't spent as much lately, but seem primed to join the Gerrit Cole bidding war and finally put together a decent rotation to help out Mike Trout. Philadelphia made a splash in the free agent waters last season with several significant additions, the most significant of which was Bryce Harper, and were rewarded with half a million more fans. While the season ended in disappointing fashion, the team's payroll is still below the levels we saw a decade ago and they should have considerably more room to spend. That Rangers' payroll is also way down from their historical spending and their move into a new ballpark makes it likely the team will try to capture the excitement surrounding that event by fielding a with a better roster than we've seen the past few seasons.
The Reds are still projected below last year's payroll, but moves like the Mike Moustakas signing would seem to indicate their intent to exceed last year's mark in an attempt to take a sleeping NL Central. The White Sox have already made one free agent signing in Yasmani Grandal, and seemed primed for more as they attempt to complement their young core. The Braves should move up at least a little bit as they endeavor to replace Josh Donaldson and add to the rotation. The Yankees' spending is still low compared to what they have sustained historically, so they should be expected to spend more as well.
Overall, many of the teams with payroll flexibility based on last year's spending seem unlikely to get back up to previous their levels. Teams like the Red Sox, Orioles, Royals, and Indians might actually cut payroll further by dealing players with substantial salaries. To get back to last year's aggregate player salaries figures, it certainly looks like the Nationals, Brewers, Twins, Dodgers, Angels, White Sox, Braves, Reds, Yankees, Phillies, and Rangers will have to do some damage in free agency. Too many teams are making news for not wanting to spend. It might be posturing, but it does little to bring excitement to their fan bases. As we saw in Philadelphia, Cincinnati, and San Diego last season, an exciting offseason does more to get fans in the seats than talk of financial flexibility or efficiency, and that, much like winning, seems like it ought to be the goal of every franchise.
Craig Edwards can be found on twitter @craigjedwards.