Pete Alonso, it should first be said, really isn't a great defender. The Mets were quick to let everyone know this throughout 2018, when they didn't call him up early in the year, when he won Defensive Player of the Month for the Mets' Triple-A affiliate in July, and when they didn't make him a September call-up in a completely lost season for the big league club. Seventeen games into his major league career, however, I can say one thing with certainty: I don't care that he's supposedly bad at defense. Alonso's plate appearances are turning into appointment viewing, because he flat-out crushes the ball. I'm not talking garden-variety "boy, that large man can hit," either. Alonso might not have the best strike-zone recognition, or the best general plate discipline, but when he makes contact, he's doing damage like almost no one else in baseball.
If you want to understand how truly incredible Alonso's start has been, you need to look past the WAR leaderboards. Heck, you need to look past the wRC+ leaderboards — like I said, his plate discipline is a work in progress. Alonso has a near-200 wRC+ with a 31% strikeout rate — the three players at the top of the wRC+ leaderboard check in at 11.5%, 8.6%, and 15.0%, respectively. No, the magic really starts when Alonso puts the ball in play, and I do mean magic. Take a look at the top 10 players in baseball in terms of barrels (a Statcast designation that basically means a ball that is tremendously likely to be an extra-base hit) per batted ball:
Barrels/Batted Ball (min. 25 BB)
| Player | Barrels/Batted Ball |
| --- | --- |
| Pete Alonso | 31.6% |
| Gary Sanchez | 31.3% |
| Joey Gallo | 29.6% |
| Mike Trout | 29.0% |
| Christian Walker | 25.0% |
| J.D. Davis | 23.3% |
| Franmil Reyes | 23.1% |
| Anthony Rendon | 22.9% |
| Willson Contreras | 21.4% |
| Jay Bruce | 21.1% |
Think of it this way: about a third of the time that Alonso puts the ball in play, he's hitting an absolute rocket. Just being on this list, let alone at the top of it, tells us something. This isn't a list of guys who have lucked into some game power. It's not a list you can get on just by taking some walks, like a wRC+ leaderboard — Alex Bregman might have had a nice 2018 at the plate, but it's hard to fake hitting the ball this hard and this optimally (Bregman ended 76th in barrels per batted ball last year). This isn't just home run power, either, though it's certainly that — Alonso has six homers already, including a 118.3-mph, 454-foot missile off of Jonny Venters that had SunTrust Park looking like a water hazard at the Masters: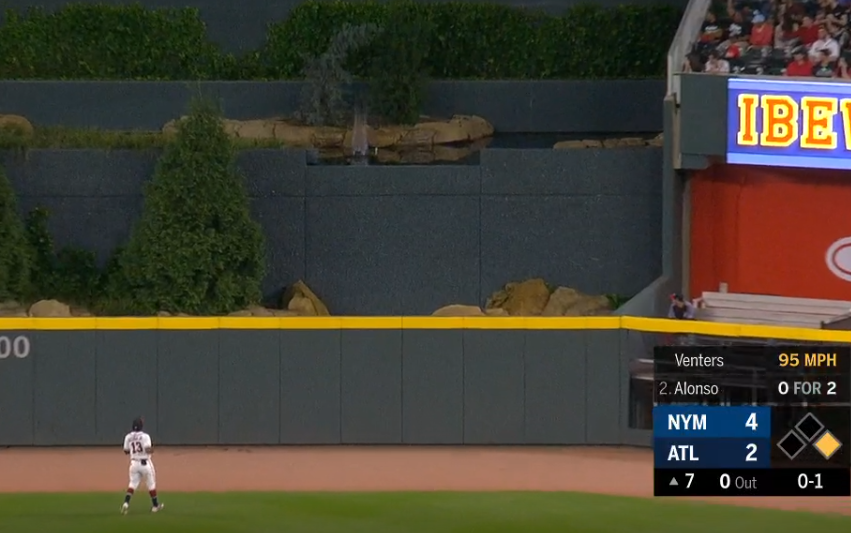 Merely looking at barrels doesn't describe just how well Alonso is hitting the ball. Even his outrageous rate of barrels, after all, only covers about a third of the time he puts the ball in play. That undersells what Alonso is doing, because even when he doesn't absolutely destroy the ball, he's hitting the ball hard and at dangerous launch angles. When I look for players who are striking the ball with authority, I like to exclude ground balls from the calculation. Then I look at the average exit velocity they're producing. Why exclude the ground balls? Well, a 115-mph rocket on a hop to shortstop might get you a single (or not — fielders are great these days!), but it's hard to generate extra-base power on the ground. If you want to know who has a swing that will produce extra-base hits, look to the air:
2019 Air Exit Velocity (min 25 balls)
| Name | EV (mph) |
| --- | --- |
| Cody Bellinger | 99.3 |
| Franmil Reyes | 98.1 |
| Pete Alonso | 97.6 |
| Yoan Moncada | 97.4 |
| Gary Sanchez | 97.1 |
| J.D. Martinez | 96.9 |
| Anthony Rendon | 96 |
| Paul Goldschmidt | 95.5 |
| Joc Pederson | 95.5 |
| Trey Mancini | 95.2 |
Cody Bellinger is having a great season so far, no doubt, and Franmil Reyes has undeniable pop, but there's Alonso again, smashing baseballs into the stratosphere.
If you merely looked at Alonso's batting line, you might be inclined to forecast some regression. He has a .424 BABIP, after all, and the highest BABIP since World War II (minimum 400 PA) is Reggie Jefferson's .408 in 1996. I'm not here to tell you Alonso won't regress — he probably will! I will say, though, that he's deserved that BABIP so far. By looking at Statcast's xBA statistic, which calculates the probability of a hit based on launch angle and exit velocity, and limiting it to only balls in play, we can calculate an xBABIP for everyone in baseball. It's not perfect, but it's a proxy for what you might expect someone's BABIP to be if you stripped out the fielding luck part of it. This is an article about Pete Alonso, so you probably knew he'd do well, but jeez:
2019 xBABIP (min. 25 BIP)
| Name | xBABIP |
| --- | --- |
| Aaron Judge | 0.455 |
| Nick Markakis | 0.446 |
| Domingo Santana | 0.442 |
| J.D. Davis | 0.441 |
| Niko Goodrum | 0.440 |
| Migeul Cabrera | 0.439 |
| Pete Alonso | 0.424 |
| Cody Bellinger | 0.424 |
| Jordy Mercer | 0.421 |
| Tyler Naquin | 0.417 |
Now, there are more luck-based components to BABIP other than just where the fielders are standing, but this isn't some Wee Willie Keeler "hit 'em where they ain't"-style BABIP — Tim Anderson and his .500 BABIP with a .365 xBABIP can't say the same. While Alonso's BABIP is sure to come down as the season goes along, it hasn't been a product of fluky hits so far. He isn't directing ground-ball singles through gaps in the defense — he's directing line drives through outfields.
When I mention line drives, I'm not doing it out of some idle authorial reference to a well-struck ball. I'm doing it because Alonso hits line drives, and lots of them. He's hit an above-average amount this year, a probably-not-sustainable 28.2%. That home run off of Venters that turned center field into a golf course? That was a line drive, struck at a 17.7-degree launch angle. He also avoids ground balls like the plague, a skill he's always had but has kicked into overdrive this season.
Another test I like to use to look for hitters maximizing their contact is to check for how frequently they avoid bad batted ball types. An infield pop-up, for example, is basically as good as a strikeout. A ground ball isn't nearly that bad, but league-wide wOBA on ground balls is .225 in 2019. Fly balls check in at .474, and line drives are at a mouth-watering .662. If you want to look for the hitters who are putting the ball in play in a useful way, then it's best to look at the percentage of good batted ball types they generate (line drives plus fly balls minus infield fly balls), and Alonso doesn't disappoint here either:
2019 Good Contact %
| Player | Good Contact % |
| --- | --- |
| Jay Bruce | 83.4% |
| Jorge Polanco | 76.7% |
| Matt Carpenter | 74.5% |
| Pete Alonso | 74.4% |
| Christin Stewart | 73.7% |
| Michael Conforto | 72.0% |
| Xander Bogaerts | 70.8% |
| Jeimer Candelario | 70.8% |
| Cody Bellinger | 70.7% |
| Niko Goodrum | 69.7% |
This table and the exit velocity on balls in the air from earlier in the article encapsulate what's great about Alonso. He's one of the best in baseball at putting the ball in the air without popping up. He's also one of the best in baseball at hitting balls in the air extremely hard. Those things go together as well as you'd expect. Alonso also has the fifth-highest xwOBA on contact in baseball this year, behind noted extremely large humans Joey Gallo, Gary Sanchez, Aaron Judge, and Cody Bellinger. That would be impressive for anybody, but it's particularly impressive for a rookie who's faced Max Scherzer, Patrick Corbin, and Stephen Strasburg twice each in his first seventeen games.
At this point, you should have no doubt that Pete Alonso hits the ball phenomenally hard when he hits it. Thus far in his career, that "when he hits it" looks to be the only thing holding him back. Alonso's raw strikeout and walk numbers aren't pretty (31% strikeouts and only 12.7% walks is not a good look). Per an equivalence formula I outlined last year, Alonso would need to produce contact 10% better than league average just to be a league-average hitter overall. He's vastly outstripping that so far, but it's still a bad base to start from.
It's early in the season to trust strikeout and walk rates. Even if you look at more granular data, however, Alonso has some work to do. So far this year, he's swung at 32.3% of pitches outside of the strike zone versus a league average of 29.1%. At the same time, he's only swung at 63.9% of pitches in the zone, where league average is 66.8%. This combination of swinging more frequently than average at balls and less frequently than average at strikes is, as you might assume, bad.
Not only that, but Alonso makes less contact than league average when he swings — 71% against an average of 75.7%. Among qualified batters last year, only four batters met those three criteria, and they combined to average 25% strikeouts and 8.4% walks. While there are some encouraging names there (Giancarlo Stanton feels like an apt comparison), it's definitely not a place you want to be. The mere fact that so few batters combined these traits (four out of 140 who qualified) suggests that it's hard to get enough playing time to qualify when hitting like that.
The two parts of this article are the Pete Alonso experience in a nutshell. The quality of contact isn't the question — when Alonso hits something, it goes a long way. The question is always going to be whether he can make enough contact to tap into his tremendous raw power. The early returns are promising, but they're also confusing. Alonso can hit — not that there were many questions about that before — but he's been a pure manifestation of 80-grade power this year. He's also struck out 30% of the time, which is, you know, not great.
Will the strikeouts hold him back? Will he be the next Joey Gallo, comic-book strong but held back by a video-game strikeout rate? Only time will tell. There's good news on one front, however. Despite his defensive shortcomings and the handicap of playing first base, Alonso has put up 1 WAR already. He's the Mets' most valuable player by both fWAR and bWAR. It looks like the defense wasn't bad enough to hold him back from the majors after all.
Ben is a contributor to FanGraphs. A lifelong Cardinals fan, he got his start writing for Viva El Birdos. He can be found on Twitter @_Ben_Clemens.