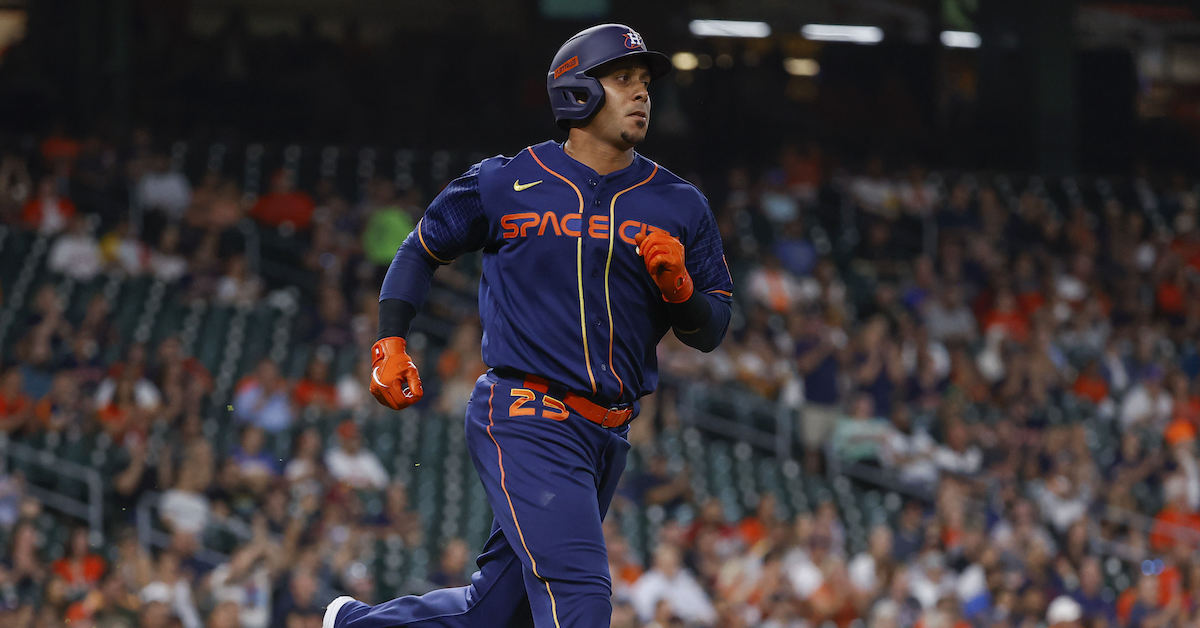 Who is the most underrated player in the game? The question isn't an easy one, and that's especially true for the combatants themselves. Asked for their opinions, a handful of players I approached in recent weeks figuratively threw up their hands. Of the 12 who did come up with names, a majority had to chew on the question before providing an answer. Almost to a man, the initial response was some form of, "Man, that's tough."
I posed the question with one ground rule. Players were allowed to name a current teammate, but only if they also named someone from another team. I also offered leeway on "most." If choosing just one was too challenging, they could simply give an example of a player they consider to be underrated.
The answers, all procured at Fenway Park, are as follows.
———
Jose Altuve, Houston Astros
"I'll say Kyle Tucker. I think he's one of the top-five best players in the league. He doesn't get enough credit. For me, he's an MVP type of player. I think he's going to win multiple MVPs in his career.
"A guy on another team… give me a minute. I'll say Javier Báez. People obviously give him some credit, but I think he is way better than what a lot of people think. What he brings to the team, to the league, to the fans… he's fun to watch. He's got power. He hits. He plays defense. He does everything. I would pay for a ticket to watch him."
——
Jason Castro, Houston Astros
"This guy right here, Michael Brantley. If you look at the body of work he's put together over the course of his career, how consistent a hitter he's been… I know he's been an All-Star five times, but he's not a guy that really gets talked about all that much — not on the national level — for how good he's been, and for how long.
"Another guy — an ex-teammate who is with the Colorado Rockies this year — is a guy I was very impressed with. I played against him for a number of years when he was in Anaheim, then I was a teammate with him for a year in Minnesota. That's C.J. Cron. He's a little bit under the radar. He's had some injury things in the past, and he's kind of bounced around, but he put together a great year last year. He's off to another good start this year."
——
Austin Davis, Boston Red Sox
"I'll go with Bryan Reynolds. That's the loophole [to not going with a current teammate]. He's a former teammate. He can hit. He can field. The amount of diving plays, and the balls he gets to in the outfield, is crazy. He's also got pop and doesn't really chase outside the zone all that much. I mean, he was an All-Star last year, so he has gotten some publicity, but it's different when you're playing in Pittsburgh versus New York. Another thing is that he's a steady-Eddie guy who just comes to the field every day. He's not going to find every camera that's out there.
"As far as current teammates, Bogey [Xander Bogaerts]. I knew his name, I knew he was an All-Star, but before I came here, I didn't appreciate how dominant he was. That's statistically, and there's also how he is in the clubhouse, and the intangibles that go toward being a great player. He does all of it."
——
David Fletcher, Los Angeles Angels
"I'll go with José Ramírez. I mean, he's one of the best hitters I've ever seen. He can play defense. He can run. Power. Doesn't strike out. He's the complete package. He gets some notoriety, but not enough in my opinion. The market might contribute to that a little bit.
"As far as our team, I'd say Jared Walsh, just because of what he's done the last couple of years. He's quietly put up some really good numbers."
——
Kendall Graveman, Chicago White Sox
"Michael Brantley. I don't know if you can say he's underrated — everyone knows he's a good player — but at the same time, he doesn't get the notoriety because he's probably not hitting 400-foot home runs. I think he's the best 'professional' I've been around. And for somebody to hit as well as he does, for as long as he has — especially in today's game — and not search for more power, just be really true to who he is… and there's also the impact he makes on the outfielders on his team. That, to me, makes a player underrated. The intangibles — being a professional and helping teammates — are something you can't put a number on. From being inside different clubhouses, that's something I view as underrated."
——
Dallas Keuchel, Chicago White Sox
"Thinking about our own team — where we're at, and where we've been so far — I'd say Dylan Cease. On other teams… I'd say Mike Trout is underrated. For one, he's coming off an injury. Two, he's playing with a two-way player who everybody goo-goo and ga-gas about. I'll say this about Clayton Kershaw as well: When you do it for so long, people kind of get bored. It just becomes ho-hum. Guys like that also don't struggle enough for you to talk about them in that sense. They just keep doing their thing. It becomes, 'We can't just talk about Mike Trout every week of the season, so let's talk about somebody else.' Same for Kershaw."
——
Aaron Loup, Los Angeles Angels
"Not that he flies under the radar — people know who he is — but I don't think he gets the love that a lot of guys get. That's [Xander] Bogaerts. The guy plays great defense. He hits .300, around .300, over .300, every year. To me, he's a great ballplayer. I played against him in Toronto, and then when I was with Tampa, so I've gotten to see him a lot. Like I said, guys know him, but I don't feel like he gets the respect he deserves — at least not as much as other, more high-profile shortstops around the league.
"A guy I'll throw out there from my own team — which might be a crazy thing to say — is Mike Trout. Getting to see him play every day, with what he does, he might be underrated. It's to the point that he's been around so long, and you've seen it so much, that you kind of come to expect it every day."
——
AJ Pollock, Chicago White Sox
"It's hard to say any one guy, but Merrill Kelly is underrated. I've said it for a couple of years. He's sneaky nasty. Everything is better than you think. He's obviously off to a good start this year. He's just a pitcher. There's no one thing in his stuff that jumps out, like, 'Oh, his fastball.' It's just that his stuff is better than you think, and he pitches with all of his pitches. He's sneaky good. And there's also the market. He's in Arizona. They know who he is there — he's been throwing the ball well for them for a couple years — but [nationally], he's pretty unknown."
——
Trevor Story, Boston Red Sox
"He's kind of fresh in my mind, because we're playing against [the Astros], but Michael Brantley. He's so steady, and such a reliable offensive player. I'd say he's one of the guys who is underrated. Another guy — and I know he gets a lot of love, but I don't think he gets enough — is Trea Turner. He has a special skill set that you don't really see. He does it all. There's also Ryan McMahon. Being around him a lot, he's one of those guys that plays really good defense, is very versatile, and hits for power. He plays both sides of the ball really well."
——
Justin Verlander, Houston Astros
"l'll go with Marcus Semien. He's not off to a good start, but it's been a month and a half. Based on what he's done the last few years, he's somebody that gets overlooked a lot. He's been one of the best hitters in baseball. I also have to give him a ton of credit for all the work he put into becoming a good defender. I remember his early days, when he had a lot of errors. When we were [playing] in Oakland, I would see how hard he was working on his defense. He'd be out there grinding it at 2 PM on his defense, working to turn himself into a good defender. And if you look at his offensive numbers the last few years, he's been elite. It seems like a lot of people just haven't been paying attention. They should."
——
Jared Walsh, Los Angeles Angels
"José Ramírez. Not amongst these guys — not the players — but in terms of the average fan, I'm not really sure if everybody knows José Ramírez. But bar none, he's the most underrated player in baseball. I mean, he can hit a bullet. I've watched his video for the last four years, and it doesn't matter if you throw 91 or 99 [mph] — he's going to catch it out front, and he's going to beat you pull-side in the air. His ability to be short and quick to the ball… and it seems like he walks a lot. I don't think he strikes out a lot. He plays good defense. He drives in runs. Unbelievable. He's both sides of the plate, but he's probably my favorite lefty hitter to watch."
——
Garrett Whitlock, Boston Red Sox
"I'd say it's guys like Chris Taylor and Kiké Hernández who can play multiple positions and fill multiple roles. When it comes to underrated, I think that's… if you play a regular position, people probably know who you are. I don't know if people [in Boston] know who Chris Taylor is. I know that they know who Kiké is. I guess it depends on your definition of underrated. But guys who stick around the big leagues for 10-plus years because they can play different positions, and they go out there and grind, are usually underrated."
David Laurila grew up in Michigan's Upper Peninsula and now writes about baseball from his home in Cambridge, Mass. He authored the Prospectus Q&A series at Baseball Prospectus from December 2006-May 2011 before being claimed off waivers by FanGraphs. He can be followed on Twitter @DavidLaurilaQA.