Ronald Acuña Jr., with 34 home runs, 28 stolen bases, and six weeks left in the season, has a chance to become the fifth player to join Major League Baseball's 40-40 Club. If Acuña's membership application is approved by feats of baseballing, he'll join an exclusive fraternity of Jose Canseco, Alex Rodriguez, Barry Bonds, and Alfonso Soriano. Okay, mostly elite.
As someone who apparently became a "veteran" baseball analyst at some point, I'm not always sure if the game has changed or if I have. When I was a kid, there'd be talk of 20-20 clubs, 30 HR/100 RBI guys, and scores of home run milestones. But you don't hear about these baseball clubs as often as you used to. Has fandom changed this much or have I become jaded about these kinds of statistically interesting accomplishments? Or is that some of the older markers for performance, such as the 400 Homer Club, have become less exclusive institutions to join than a sandwich shop that give you a 10th sub free after buying nine?
The 40-40 Club, on the other hand, still excites me. Part of it could be that Jose Canseco's charge on his way to becoming the founding member of this fraternity in 1988 was still very early in my Serious Baseball Fandom phase. I've loved watching baseball from the age of three, but it wasn't until a few years later I really became a serious fan of the game, aided by my grandfather getting me a subscription to Sports Illustrated in 1986, a bit before my eighth birthday. While I watched the 1983-1985 World Series games, the 1986 World Series was the first one where I really followed every pitch, watching to the end even on school nights. I can still remember Tim Teufel's error as much as Bill Buckner's more famous one, and am able to exactly replicate Marty Barrett's closed stance and Sid Fernandez's three-quarters delivery.
So why has my interest in the 40-40 Club persisted? For one thing, it has pretty limited membership. We're unlikely ever to see even a half-dozen players join unless the game really changes. It rewards different skills, as there's a lot less overlap between sluggers and base-stealers than say, 30 home run hitters and 100 RBI guys. Indeed, the 40-40 Club is inoculated against changes in the game to a degree, with the home run rate and stolen base rate tending to go in separate directions: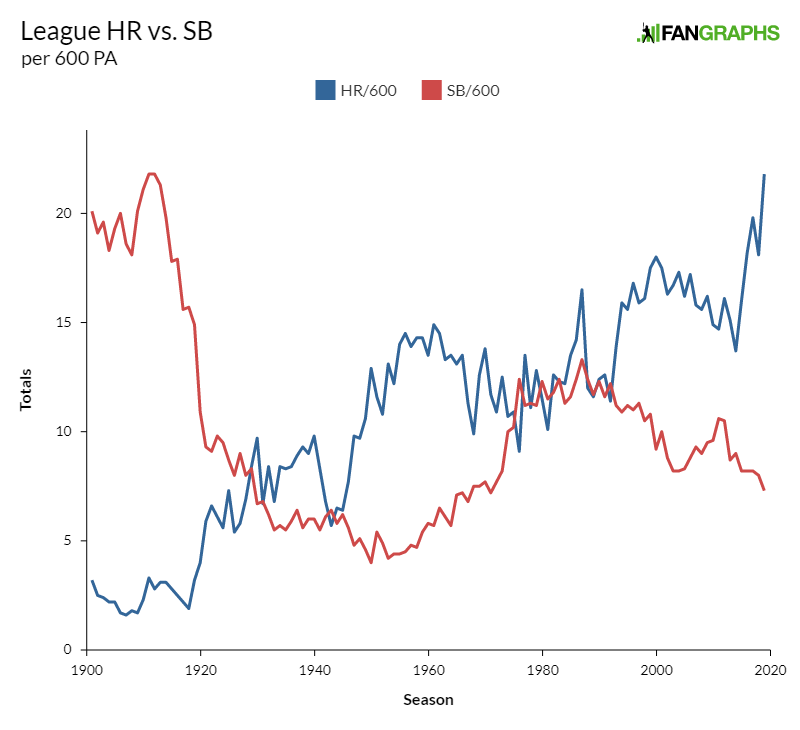 That home runs and stolen bases move in a contrary fashion is hardly surprising. When homers are plentiful, runs tend to be cheaper, meaning that a single base loses value while avoiding an out becomes more valuable. So it's not a shocker that the 1950s featured very few stolen bases and that, during the times since then when power has sagged, basestealing has thrived to a degree. This has resulted in Bill James's Power-Speed Number (which is simply the harmonic mean between stolen bases and home runs) staying relatively stable as a result. Since the end of the dead-ball era, the league's range (per 600 PA) for PSN has been between 6.0 and 14.7. In the last 40 years, it's been even higher, never dipping below 10; the peak of 14.7 was in 1987, the original Year of the Homer, which came at a time when stolen bases were at a recent peak.
So, can Acuña make the 40-40 Club? The home run part looks to be relatively easy, with ZiPS projecting him to add another nine homers this season, enough to get him to a 69% chance of hitting that threshold. Stolen bases are a little trickier; ZiPS only projects him to finish with 35, with a 14% chance to steal 40. From an extra-statistical point-of-view, this probability may be on the low side. For one, stolen base chances are largely a choice by management, not an accident of happenstance, and the Braves have made a conscious decision to be more aggressive at letting Acuña run, with 18 stolen base attempts in 30 games compared to only 16 in the 90 games before the All-Star break. I've modeled this kind of management decision before; ZiPS will take away less playing time than expected based on performance from hitters when their career hit totals near 3000 or home runs near 400/500/600. But to guess exactly what the probability is in a situation like this is probably a fool's errand. It's just…higher.
Acuña would be the youngest player in the 40-40 Club, which gives him the best opportunity to do it again. Theoretically, he could even do it multiple times. Over the next 10 years, which will likely contain all of his peak stolen-base seasons, ZiPS projects Acuña to have 7.8 seasons of 40 homers and 2.2 seasons of at least 40 stolen bases. Chances are, whenever he happens to steal 40 bases, there's a good likelihood of him hitting 40 homers as well. Since the projections compare him to other young players with an elite combination of power and speed (Acuña's top ZiPS offensive comps as of this moment are Frank Robinson, Ken Griffey Jr., Ben Chapman, Andruw Jones, Jose Canseco, Orlando Cepeda, and Ellis Burks), the projections have hopefully properly baked into the cake the fact that teams frequently dial back on the number of stolen base attempts their best offensive players take.
Even if Acuña never joins the 40-40 Club, he has a great shot to become one of the game's elites when it comes to combination of power and speed. ZiPS currently projects Acuña to finish with the sixth-best Power/Speed number in baseball history. And the list of players he would join is a mighty impressive one:
| Rank | Name | HR | SB | Power/Speed |
| --- | --- | --- | --- | --- |
| 1 | Barry Bonds | 762 | 514 | 614 |
| 2 | Rickey Henderson | 297 | 1406 | 490 |
| 3 | Mike Trout | 656 | 358 | 463 |
| 4 | Willie Mays | 660 | 338 | 447 |
| 5 | Alex Rodriguez | 696 | 329 | 447 |
| 6 | Ronald Acuña | 552 | 371 | 444 |
| 7 | Joe Morgan | 268 | 689 | 386 |
| 8 | Bobby Bonds | 332 | 460 | 386 |
| 9 | Andre Dawson | 438 | 314 | 366 |
| 10 | Hank Aaron | 755 | 240 | 364 |
| 11 | Carlos Beltran | 435 | 312 | 363 |
| 12 | Craig Biggio | 291 | 414 | 342 |
| 13 | Alfonso Soriano | 412 | 289 | 340 |
| 14 | Mookie Betts | 351 | 329 | 339 |
| 15 | Sammy Sosa | 609 | 234 | 338 |
| 16 | Gary Sheffield | 509 | 253 | 338 |
| 17 | Bobby Abreu | 288 | 400 | 335 |
| 18 | Reggie Jackson | 563 | 228 | 325 |
| 19 | Paul Molitor | 234 | 504 | 320 |
| 20 | Francisco Lindor | 392 | 262 | 314 |
We're living in a time blessed with phenoms, the type who come into the game at a very young age and dominate their peers, players like Mike Trout, Francisco Lindor, Manny Machado, Juan Soto, and so on. That list includes Ronald Acuña. And when it comes to phenoms, we don't wonder what they can do, but instead question if there's anything they can't. Multiple 40-40 seasons? Joining Bonds in the 400/400 and 500/500 clubs? Becoming the first member of the 50/50 Club? All of these things are possibilities, as are feats we might not even consider before Acuña achieves them.
Dan Szymborski is a senior writer for FanGraphs and the developer of the ZiPS projection system. He was a writer for ESPN.com from 2010-2018, a regular guest on a number of radio shows and podcasts, and a voting BBWAA member. He also maintains a terrible Twitter account at @DSzymborski.