Fernando Tatis Jr. has been one of the most exciting players in baseball this year. I get giddy when he does things like this:
Or like this:
Despite that, I haven't written about Tatis. It's not that he wasn't interesting enough. To paraphrase Taylor Swift, he should take it as a compliment that I've been writing about everyone in the league but him. I simply couldn't find an angle that I felt captured what's so awesome about Tatis. I still don't have that angle, but I don't care anymore. Fernando Tatis Jr. is the best, and it pains me that he's day-to-day with a back injury right now. Let's talk about him, because no day should go by without a Tatis highlight.
Any discussion of Tatis has to start with the Padres calling him up to start the year. We baseball fans have become jaded when it comes to prospect promotions. Keep Kris Bryant or Vlad Jr. down to work on their defense enough times and we get the message — the Super 2/full year cutoff is more important than a few weeks of plate appearances. The Padres upended that expected pattern, however, with both Tatis and Chris Paddack. Other than a quick trip to the minors for Paddack, which I was maybe a little too worried about, they've been in the majors all year.
While Paddack has been fun, Tatis has been breathtaking. He's slugged (and blooped and sprinted) his way to 3.7 WAR this year despite missing more than a month dealing with a hamstring strain. Even in a phenomenal year for rookies, that puts him in a statistical dead heat with Pete Alonso (3.8 WAR) for the best season of the bunch. If you prefer DRS over UZR, Tatis fares even better — he's at 4.2 WAR by Baseball-Reference's formulation of the statistic, better than Alonso and only slightly behind Mike Soroka, whose 2.6 RA/9 gives him 4.4 RA9-WAR.
In addition to the pure value, Tatis seems to have every imaginable signature play. He leaps to impossible heights to snare line drives. He scores from second on sacrifice flies. He's batting .300, a sure crowd-pleaser. He steals bases with wild abandon and slugs home runs in a way that shouldn't be possible for someone so wiry, even in 2019. He's a lock to compile a 20/20 season, and he has an outside shot at 30/30 if he has a strong finish. Rookie wall? He has a 130 wRC+ since the All Star break, doing his best to keep the Padres afloat while Manny Machado and Eric Hosmer struggle.
Tatis's blend of speed and power is an aesthetic delight. It's also, even in this day and age of dynamic power production from every spot on the diamond, exceedingly rare. Just to show you how rare it is to be great at both of these skills, here's a list of all the players who are in the top 25 in both wRC+ and in baserunning runs per plate appearance:
Double Trouble: Top 25 in wRC+ and BsR
| Player | wRC+ | wRC+ Rank | BsR/600 PA | BsR Rank |
| --- | --- | --- | --- | --- |
| Mike Trout | 184 | 2 | 6.6 | 13 |
Oh. In every article, there's a hidden Mike Trout article, I suppose. Still, Tatis is great! The list gets slightly longer if we lessen the requirements to being top-50, though it's still pretty exclusive:
Double Trouble- Top 50 in wRC+ and BsR
It's no coincidence that these are some of the most exciting players in all of baseball to watch, and then also Eric Sogard for some reason. Steals are fun. Offense is fun. Baserunning derring-do is fun. Tatis has all of that in spades, and he does it with elán. What's not to love?
Of course, it's never that easy. Despite Tatis's prodigious talent, there are still some question marks — none all that serious compared to the all-caps-in-bright-colors skills he's shown off, but question marks all the same. For one, there's the defense. Kiley McDaniel and Eric Longenhagen saw Tatis as a 50 fielder (60 arm) with room to improve to his future value coming into the year. The cannon arm has been on display, as Tatis has made countless strong throws on the run to nab batters.
Despite that, Tatis has graded out below-average overall on advanced defensive metrics. He's been the third-worst regular shortstop per UZR, merely below average by DRS. FanGraphs' Def metric has him as one of only three regular shortstops, along with Tim Anderson and Trea Turner, to provide negative defensive value relative to average even after accounting for positional adjustments.
Watch the highlight reels of his defense, and it's hard to understand. The arm and instincts make him look like a young Andrelton Simmons out there. Below average? Come on! In fact, all that negative defensive value is coming from something you won't see on highlight reels: errors. UZR breaks out its defensive value into double play runs, range runs, and error runs. Tatis is near-average in his range and double play runs, but third-worst in baseball in error runs.
That might sound bad, but luckily, I don't think it matters. First, we're still talking about a crazy-small sample here. Tatis has played 731.1 innings at shortstop this year, a drop in the bucket when it comes to defensive metric stabilization. Second, Tatis's errors have almost all been throwing errors (14 of 18). I'd be a little more worried if he were having trouble fielding cleanly or making transfers, but someone with his arm can afford to take an extra beat here and there, or take a little off the throws. I'm confident he'll adjust — he's a freakishly good athlete, after all, and still only 20 years old. In short, I say ignore the defensive metrics — Tatis will be fine at short.
There's also the matter of strikeouts. Tatis strikes out a lot. Not a lot for a shortstop, or a lot for someone of his pedigree — a lot period. His 29.6% strikeout rate is fifth-highest in baseball, and his 15.7% swinging strike rate is seventh-highest. This isn't a new thing, either — he's run strikeout rates between 23% and 30% at every level of the minors. The culprit is clear — out-of-zone contact rate. Tatis has league-average plate discipline when it comes to swinging at the right pitches, and he makes decent contact in the zone. He also has the third-lowest contact rate on out-of-zone pitches in baseball.
As ways to run a high strikeout rate go, missing pitches outside the zone is the best of all worlds. It has its downsides, to be sure: Tatis strikes out 57% of the time he faces a two-strike count this year. The company that places him in is worrisome:
Highest K% After 2 Strikes
On the other hand, missing pitches outside the strike zone has an advantage: you can't put into play what you don't make contact with. Batters have produced a .296 wOBA when putting the ball in play on pitches outside of the zone, as compared to a scintillating .408 on pitches in the zone. Missing pitches out of the zone outright rather than fouling them off or dinking them into play gives Tatis a contact-quality advantage. That contact quality, in turn, helps support his stellar results on contact.
We've reached the part of a Fernando Tatis Jr. article where the conversation turns to BABIP and sustainability. It's inevitable — we're in mid-August, and the dude is still BABIP'ing .410. That's a ludicrously high number, and it's not new. After starting off slowly, he's been above .400 for the vast majority of the year (this graph is his BABIP at the end of each game this year):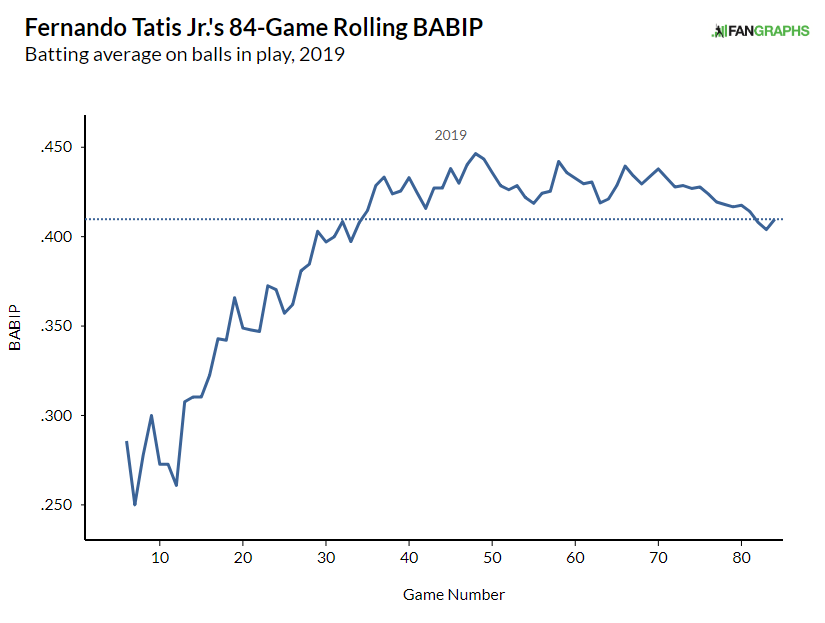 Search long and wide, and you still won't find a satisfactory explanation. That aforementioned contact quality? Baseball Savant accounts for that and pegs him for a .338 xBABIP, above average but not game-breaking. His blazing speed? Savant folds in sprint speed on grounders already, and just to drive the point home, BABIP-xBABIP is more or less uncorrelated (.04 r-squared) to sprint speed. Is Tatis a master of going the other way against the shift? His pull rate on grounders is right around league average, and he's gone the opposite way on grounders less often when shifted than when played straight up.
Honestly, though — who cares? No one came into the year thinking Tatis would run a 149 wRC+, and he absolutely doesn't need to keep up that level of production to be a star. That would be the highest career wRC+ by any shortstop ever — let's pump the brakes on declaring him that good that quickly. We can be far more reasonable and still see greatness.
Let's pretend, just for a minute, that Tatis hadn't put up these crazy results on balls in play. Let's give him no credit for the dynamism, for the blazing speed and preternatural instincts, and just give him credit for his exit velocities and launch angles. Using xwOBA, we arrive at a .345 "deserved" wOBA for Tatis this season. Given his home park, that works out to a roughly 115 wRC+. But if we're stripping away some of Tatis's unsustainable small-sample good luck, we'll need to do the same with the bad luck. Let's remove his bad defense and make him an average shortstop.
Lowering his offense from a 149 wRC+ to 115 does serious damage to his overall production — it lops roughly 20 runs off of his value. The defense gets only five of those runs back. That's a setback, to be sure — in our hypothetical luck-neutral world, Tatis has only been a 2.3-WAR player so far this year. These assumptions are way too simplistic — there's some signal to be gleaned from the fact that Tatis has outperformed his underlying batted balls by so much. But even ignoring it, he's been a 2.3-WAR player in 372 plate appearances at age 20. Pro-rate that out to a full season, and it's a 3.7-WAR season, one of the top 25 age-20 seasons since 1900.
Fernando Tatis Jr. is amazing. He's so amazing, in fact, that he's basically two great players in one. Focus on the loud contact and GIF-able plays, the instantly evident love of baseball, and the sheer joy of watching him play, and he's undoubtedly a star. Ignore all that though, and even strip out his BABIP, the one overriding statistical thing people know about Tatis, and he's still one of the best young players of all time.
It's easy to look at Tatis's BABIP and tell yourself to completely ignore his statistics. A .400 BABIP is unsustainable, after all, so just call this season a fluke and move on. To me, that just makes it more impressive that he's still so much of a standout after controlling for it. Stop calling Tatis a BABIP creation, because it's simply not true. He's great, and he's so great that with a 34-point decrease in his wRC+, he'd still stand out historically. Oh, and he can also do this:
What a delight.
Ben is a contributor to FanGraphs. A lifelong Cardinals fan, he got his start writing for Viva El Birdos. He can be found on Twitter @_Ben_Clemens.