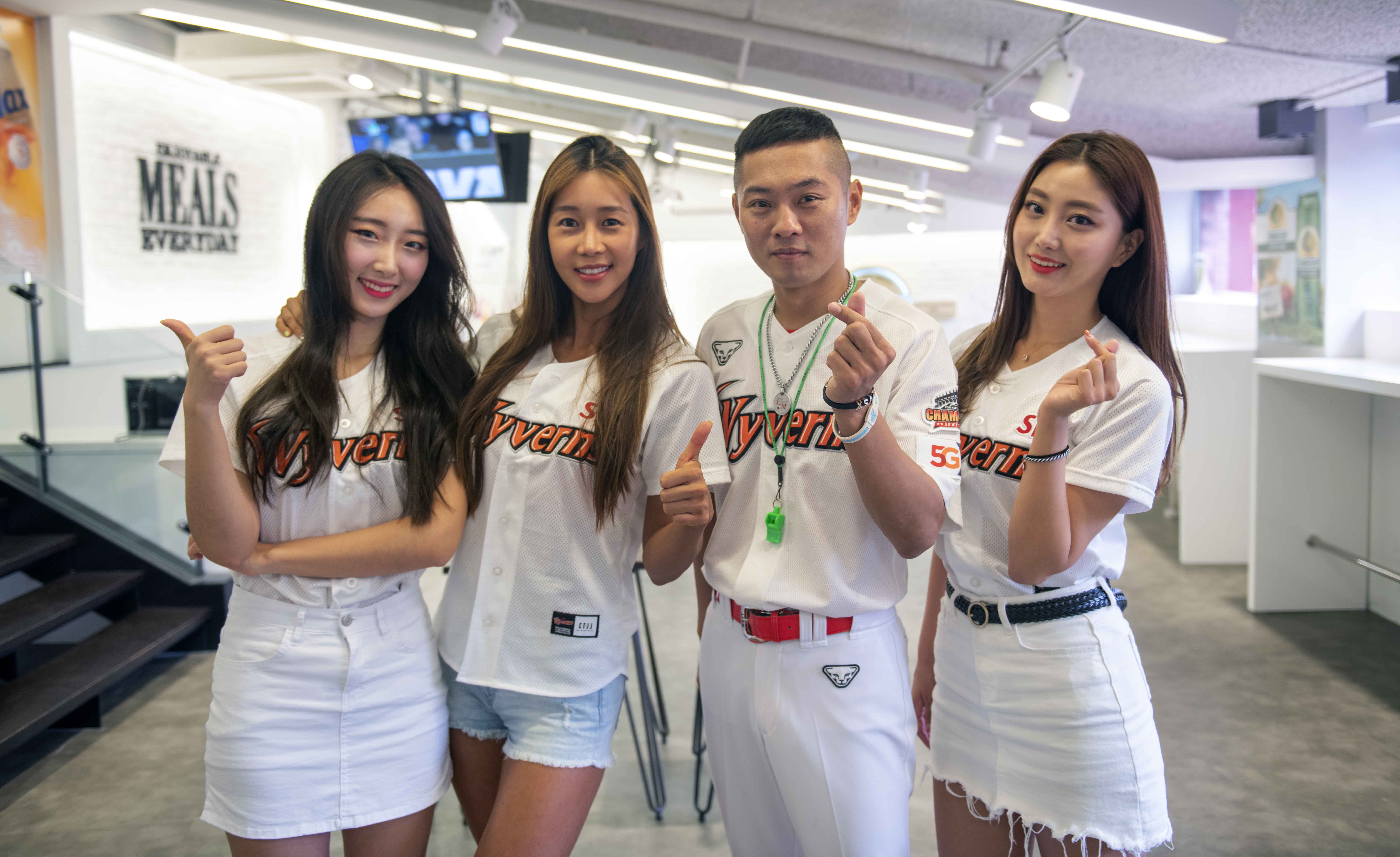 In an interview with Great Big Story, Kerry Maher, a Youngsan University professor and Lotte Giants superfan, described the difference between Major League Baseball and the Korea Baseball Organization (KBO) fan atmospheres like this: "To me, MLB is like an opera and the Lotte Giants in the Sajik [Stadium] is rock 'n' roll." For those who have experienced sitting in the stands of both leagues' ballparks, it probably seems like an apt comparison.
If you've followed my work, you're likely aware of the KBO's cheering culture. As I wrote when I interviewed several foreign-born players currently playing in the KBO, the league's fan experience can strike those who aren't from Korea as somewhat unusual compared to the quieter crowds of MLB. For starters, each KBO team has their own cheermaster and cheerleaders. Last week, I went over to the Incheon SK Munhak Stadium to talk to the SK Wyverns' cheermaster and three of their cheerleaders.
Cheermaster Jeong Young-Seok started his cheering career with his Baek-Ho cheer team at Yongin University. Since turning pro in 2006, he's cheered at baseball, basketball, and volleyball games. He started with the Wyverns in 2014, making this is his sixth season with the organization.
Cheerleader Bae Soo-Hyun is the true veteran of the KBO cheerleaders. She started her Wyverns career in 2003, making herself one of the mainstays of the organization. She was influenced by watching cheerleaders from the past as well as her father, who was a big baseball fan and would carry her on his shoulders to games. 34-years-old, Bae has remarked that she would like to continue her cheerleading career into her 40s. Bae is also an accomplished bodybuilder, having won multiple contests, such as the 2015 IFBB Korea Grand Prix Bikini Open.
As a theater major at her university, Yun Yoanna's ambitions were directed toward the stage. However, an older friend from school kept trying to convincing Yun to join her as a cheerleader. While looking for jobs following graduation, Yun decided to take her friend's advice and apply. Yun was a cheerleader for the NC Dinos from 2015 to 2018 and was a new addition to the Wyverns' cheering squad for the 2019 season.
Lee Da-Yeon was also an aspiring actress before getting into cheerleading. One of her friends saw her struggling and suggested that she try out to be a baseball cheerleader, saying that she would do well at it. Since she applied, Lee has been a cheerleader for the Nexen Heroes (2016), LG Twins (2017), and SK Wyverns (2018-present). Lee also runs a YouTube channel, where she talks about various aspects of cheerleading, as well as an AfreecaTV (Korean live stream outlet) channel.
The cheermaster and cheerleaders' duties are, at least in their words, simple. "For fans, it's to give them joy and diversion," Jeong says. "And for players, it's to give them cheers to strengthen them."
The cheermaster, as the title suggests, is the maestro on the stage. He has the microphone and a whistle to communicate with the fans. For cheerleaders, it's more of a movement-oriented business. "For [the cheermaster], he has the role of being the fans' leader," says Bae. "Our job, as cheerleaders, is to coordinate with him by showing certain movements that feel close to his lead. It is also our job to make the overall atmosphere fun and active. Everything is to ensure that positive energy flows around even when the team is losing. We try to connect the fans to our players."
A lot of the cheering involves songs. In the KBO, every hitter gets his own cheer song for his at-bats. It is a part of the cheermaster's duty to create those tunes. In general, the arrangements are based on songs that have mainstream appeal. For instance, they use "The Edge of Glory" by Lady Gaga for LG Twins catcher Yoo Gang-Nam, and "Eat You Up" by Angie Gold for Kiwoom Heroes infielder Kim Ha-Seong.
"We would use their arrangements so fans could recognize and sing right way," Jeong says. However, in recent years, copyright regulations on cheer songs have tightened, which has forced the clubs to seek alternatives. Sometimes they write their own songs, or use tunes from composers who passed away more than 70 years ago, in compliance with copyright law; sometimes they go through a meticulous copyright process.
What is more important to the cheermasters, however, is the players' approval. Jeong says players "cherish their own cheer songs and feel a lot of pride in them."
"We try to create songs based on that particular player's characteristics."
The songs, cheer routines, and dance moves all come together with a lot of practice. Cheerleaders not only practice in groups, but also work individually to ensure they've memorized and learned every move correctly.
"It has to be an ample amount of practice," Yun says, "because our job, by nature, is very visually oriented. If I don't execute moves perfectly, it can get embarrassing. For me, I practice a lot by myself in order to not embarrass myself."
"In a way, you can see it like a K-Pop idol group practice," Bae adds. "They consume a massive amount of practice before getting on stage. It's the same for us."
Because the cheering squads are generally quite close to the fans at ballgames, communication becomes important. Before the games, they greet their fans at the gates, and they sponsor some fans for on-field events prior to the first pitch. Some days, the Wyverns host postgame shows after the games. On Fridays, for instance, they do "Bulgeum Nights." Cheerleaders participate in a special dance concert on stage, with a club-like atmosphere. On Saturdays, they host firework festivals, which is popular among families and couples.
"If the game is on Children's Day [May 5th], we try to arrange diversions for kids," Jeong says. "For me, I put on special makeup to entertain them. This year, I dressed up as the Thunderman. There were other days where I've worn ghost makeup."
After the games are over, the squad bids farewell to fans. "Whey they head home," Bae says, "we say goodbye with a thankful mind. We high-five them, take photos with them."
The cheerleaders use a variety of means to communicate with fans. "When it comes to indirect communication," Yun says, "it is usually through social media. Fans upload a lot of our photos on Instagram." The cheerleaders say they reciprocate the online attention. "Sometimes we press 'like,' comment our thanks, et cetera. We tend to be active on social media to communicate with them."
It's worth noting that cheerleading was once a fairly unusual vocation. Cheerleader Bae Soo-Hyun recalls that when the crowd started to take photos of their performance, she "didn't know how to feel about it." However, as the job became recognized as a staple of fan culture, they started to perceive it in a more positive light.
"The fans developed better overall manners as well," Jeong adds.
"It's like how fans photograph us like how some photograph our players," Yun says. "It's kind of like being a K-Pop performer."
As much as it is their job to pick up the crowd regardless of the circumstance, cheermasters and cheerleaders are only human. When asked about their most memorable games, they did not hesitate to mention the 2018 KBO postseason, when the SK Wyverns beat the then-Nexen Heroes in a playoff series before topping the Doosan Bears for their fourth Korean Series title. While the championship meant the world to the players, it also left a lasting impression on the cheer squad.
"Until the end of the Korean Series, our team created, and persevered through, a lot of dramatic moments," Jeong recalls. "I got to experience my first Korean Series championship as the team's cheermaster, and I honestly did not know how gratifying it would be. A lot of fans came to see us, whether it'd be a home or away game. I was very touched by it all."
Lee Da-Yeon, who performed at the winner-take-all Game Five of the playoff series versus the Heroes, says it was a night that she will never forget. In one of the most dramatic games in KBO history, the Wyverns blew a five-run lead in the ninth inning and allowed a go-ahead run in the 10th. But they came back in the bottom of the frame with back-to-back, game-tying and walk-off homers to advance to the Korean Series. "I just went on the ground and started sobbing," Lee says. "The games full of drama and go-ahead runs are the most enjoyable ones to work at. They are electrifying and full of catharsis."
"The games where you feel that the team is so close and you can't let go are the best," Yun adds. "You feel that the game is totally in your head and mind. How would the players on the field feel in those moments?"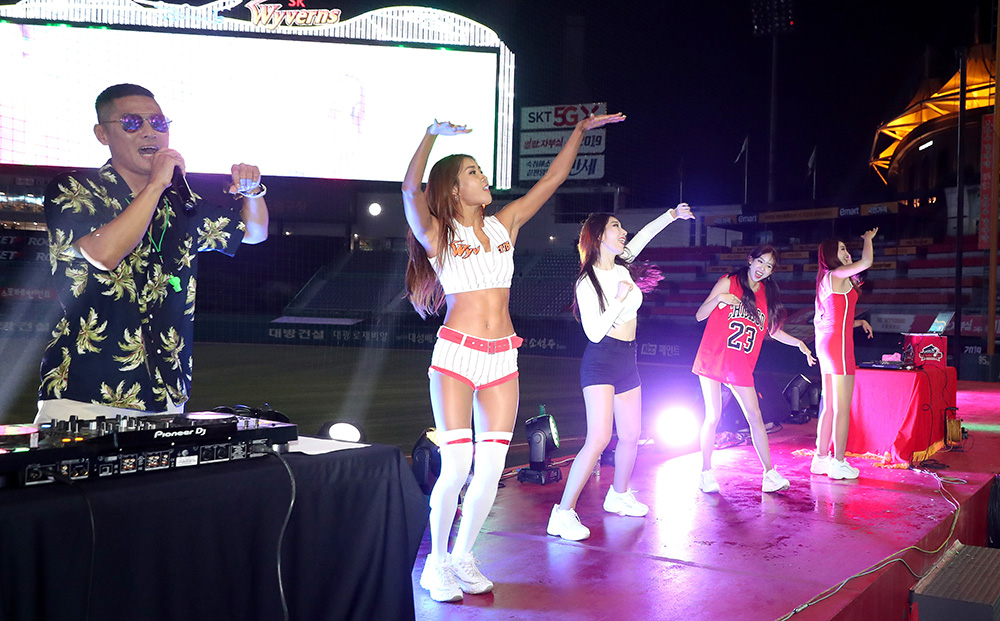 The cheer culture in the KBO caters to the work-hard-play-hard mentality of the Korean people. It has become quite ingrained in the sport to the point that you can't imagine an MLB-like atmosphere in KBO games. "Wouldn't it be less fun overall?" asks Jeong. "There's not a lot of places in the world that cheer like us. Here, there are people who come to watch baseball and there are those who come to de-stress."
"There may be cheering cultures and cheermasters in other baseball leagues," Jeong says, "but the job, here in Korea, is much more methodical and professional. We try to show a better performance to our fans, and we want to get their attention to create a more passionate cheering culture in the stands. We can't just stand still. We have to learn all the time and create ideas."
Lee also had a message for American baseball fans who might be interested in checking out the KBO. "We Koreans like to have fun. Whether you're on a vacation or on a trip to Korea, come over to Incheon SK Munhak Stadium. We're not far from the Incheon International Airport. If you come over, watch some baseball, and cheer with us. It would be a very fun way to spend your time."
Jeong says, "If you come to Korea, we'll cheer for you." Bae added, "You really have to come over and feel it firsthand. It's really fun."
Sung-Min Kim writes for River Ave. Blues, and has written for MLB.com, The Washington Post, Baseball America and VICE Sports. Besides baseball writing, he is also passionate about photojournalism and radio broadcasting. Follow him on Twitter @sung_minkim.