After 11 offseasons of organizing and updating the depth charts at Roster Resource (formerly known as MLBDepthCharts), this will be my first at FanGraphs. In case you're not familiar with how I cover the offseason, here's a rundown of how the depth charts and payroll pages work.
These features are now in offseason mode, meaning that all free agents have been removed from their 2019 teams and a projected Opening Day 26-man roster is displayed. As roster moves occur and news is reported, these projections will be updated almost immediately and announced on my Twitter account.
If you find yourself scratching your head about a particular projection — the World Champion Nationals, for example, begin with Jake Noll and Wilmer Difo as their starting first and second baseman, respectively — it's very likely because you've discovered a team need. If you disagree with a projection, we might just have differing opinions. It's also possible that I'm overlooking something and would greatly appreciate hearing your opinion on the matter. Twitter is the easiest way to make a suggestion or report an error.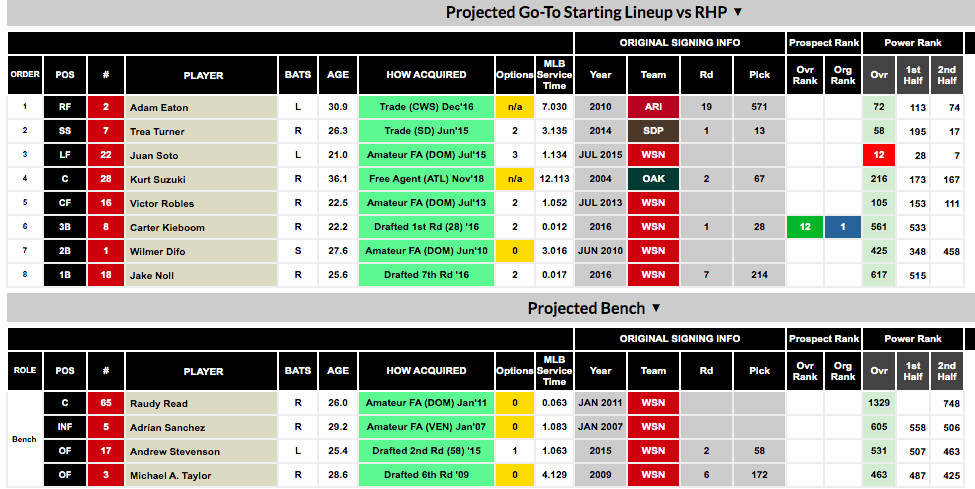 It's important to note that these are Opening Day roster projections. Once we incorporate 2020 stats projections in the depth charts, you will notice that certain players listed in the Minor League section are expected to play an integral role for the upcoming season.
Since offseason moves do not become official right away, I use my best judgement to decide when a free agent signing or trade will be reflected on the site. There have been a few occasions over the years when I have had to "undo" a reported move (i.e. Dexter Fowler agreed to a contract with the Orioles on February 23, 2016 before re-signing with Cubs on February 25, 2016 ). For the most part, a roster move will be reflected on a depth chart once enough credible reporters have confirmed it to consider it a done deal.
Options remaining, major league service time, and Rule 5 eligibility have all been updated through the 2019 season. These are unofficial and based on my own count. Certain players can be granted a fourth option, which is usually not widely reported.
If a player has "R5" in the "Options or R5 status" column, they are eligible for next month's Rule 5 draft. Players not on the 40-man roster who show that they have options remaining because of previous major league experience are also eligible for the Rule 5 draft. Teams have until November 20 to add players to their 40-man roster, which would protect those players who are eligible from the Rule 5 draft.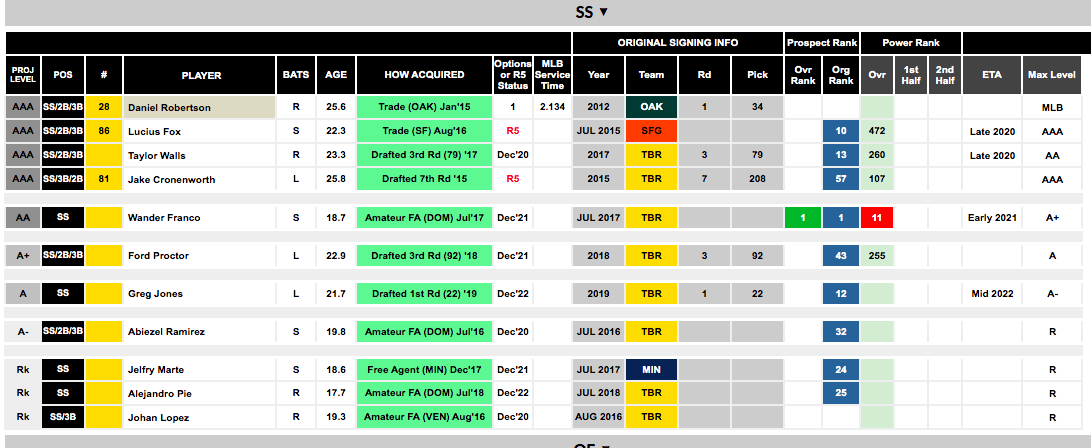 Below the 26-man roster projection is the "Minor Leaguers You Should Know" section, sorted by primary position. The purpose of this section is to identify players who are moving up the ladder toward the major leagues. Once I determine that a player is no longer making progress, I remove them from the list. Here is an overview of the criteria I use to determine whether a players is notable enough to be included.
Players are automatically included if they meet any of the following criteria:
On the 40-man roster
Non-Roster Invitee (not on 40-man roster; invited to major league camp during 2020 Spring Training)
Invited to the 2019 Arizona Fall League (while AFL participants are not always top prospects, players chosen by their organization are typically in the upper minors and expected to reach the majors within a year or two).
Top 30 prospect in the organization, per the most recent rankings from FanGraphs
Drafted in the first 10 rounds of 2019 Amateur Draft
Players are also included if they've met some combination of the following criteria:
Productive 2019 season:

Typically a .700+ OPS or better for position players; could be slightly lower for catchers, second basemen, shortstops and center fielders if speed, on-base ability, and/or defense are strong attributes.
Typically a sub-4.00 ERA with average BB/9 rate (4.0 and under) and above-average K/9 rate (8.0 and over), with the caveat that relievers in the low minors must do significantly better to be recognized.

If a player did not meet the criteria based on statistical production, other factors such as ceiling, position, age, and level are taken into account.
Payroll pages are explained in depth here. During the offseason, the salary breakdown for a new contract is spread evenly as an "estimated salary" until official numbers are reported. Estimated salaries are displayed in italics. Projected salaries for arbitration-eligible players, courtesy of MLB Trade Rumors, are displayed in italics with a light green background.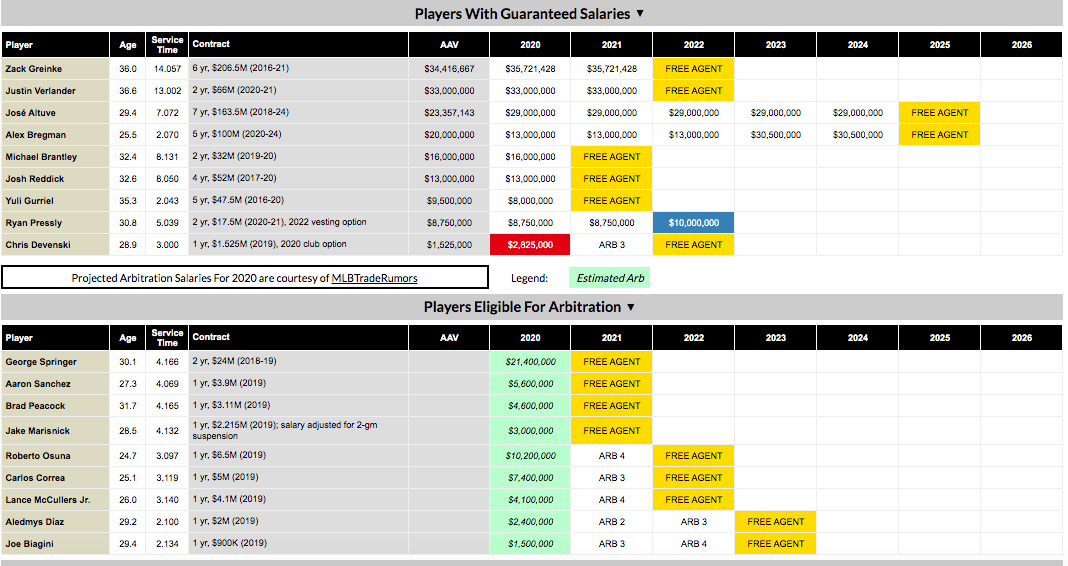 We'll be adding 2020 projections to the depth charts in the near future. Feel free to let us know what other information you'd like see while viewing the depth charts in the comments below.