Back in July, we launched the RosterResource depth charts, the first of several features moving over to FanGraphs. Today, we have added RosterResource's payroll pages.
As is the case with the depth charts, these are a near-replica of the RosterResource version. The loading time is faster, however, and player names link to the corresponding FanGraphs player page.  These can currently be accessed by clicking on "Payroll" at the top of the RosterResource pages and then clicking on the team.
Here is most of what you can learn by visiting a RosterResource payroll page.
Player Info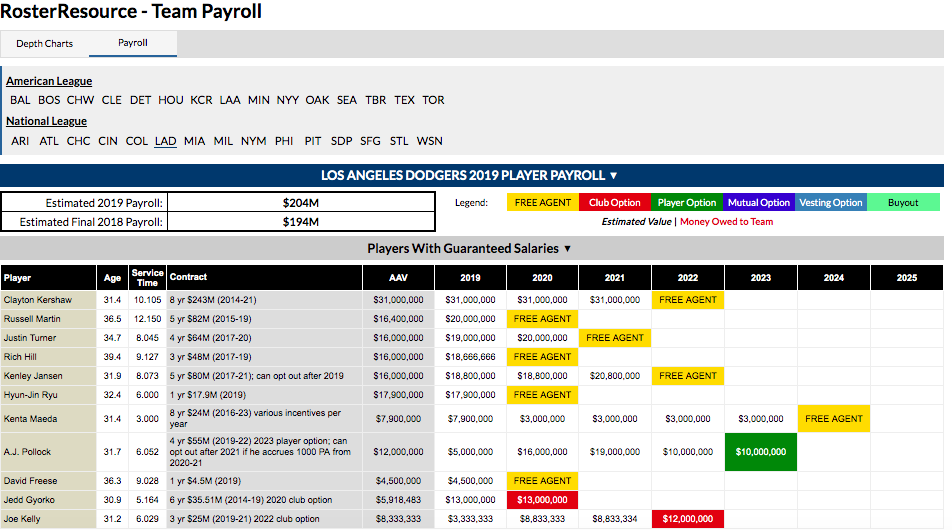 Contract details (years, total, options, and opt-outs)
Year-by-year salary breakdown
Major league Service Time (updated at the conclusion of each season)
Arbitration eligibility and Free Agency years
AAV (average annual value of contract)
Team Info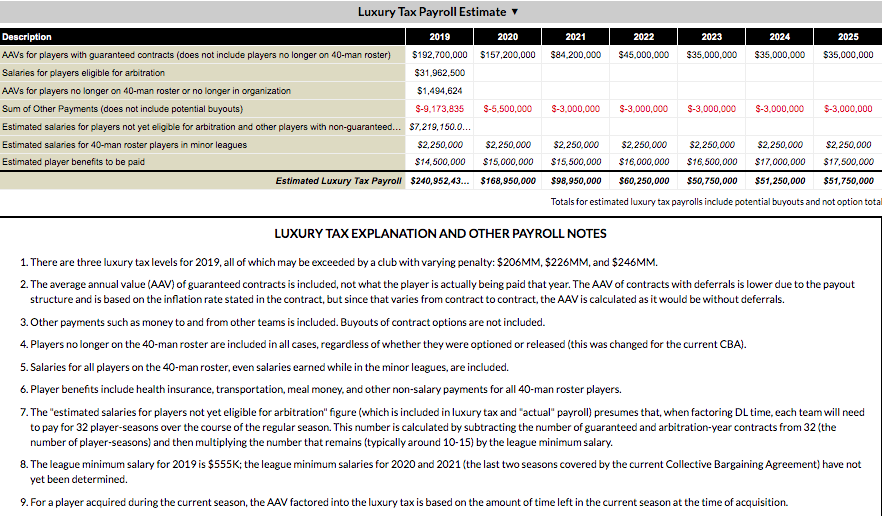 Estimated Payroll for each year that includes at least one guaranteed contract.
Estimated Payroll at the end of previous season.
Estimated Luxury Tax Payroll.
Dollars due to players no longer with organization.
Dollars owed by another team.
Players included on each payroll page are separated into three sections:
Players With Guaranteed Salaries
Players Eligible For Arbitration
Notable Players Not Yet Eligible For Arbitration
The Notable Players Not Yet Eligible For Arbitration group has simple criteria: that the player is likely in the major leagues for good, and won't have their service time interrupted by a demotion to the minor leagues. Players will be added or removed during the season, however, if a situation changes.

For players without a guaranteed contract, we display an estimated salary during the offseason until they have officially agreed to terms. For free agent signings, the annual salary will be broken down evenly across the years of the deal until official numbers are reported. For example, a two-year, $20MM contract will be displayed as $10 million in 2020 and $10 million in 2021. We will update it once the official breakdown is reported. All estimated values will be displayed in italics.
The payroll pages will be updated immediately following the 2019 season to reflect the 2020 through 2026 seasons. If you find anything that's incorrect, or something that's not working, please let us know in the comments.