Pitchers learn and develop different pitches, and they do so at varying stages of their lives. It might be a curveball in high school, a cutter in college, or a changeup in A-ball. Sometimes the addition or refinement is a natural progression — graduating from Pitching 101 to advanced course work — and often it's a matter of necessity. In order to get hitters out as the quality of competition improves, a pitcher needs to optimize his repertoire.
In this installment of the series, we'll hear from three pitchers —Ryan Pressly, Trent Thornton, and Justin Verlander — on how they learned and developed their curveballs.
———
Ryan Pressly, Houston Astros
"I started throwing a curveball when I was around 14-15 years old. Steve Busby was my pitching coach growing up — the guy played in the big leagues for a long time and threw a couple of no-hitters — and he taught me his curveball. He told me I could only throw it with him during our pitching lessons. Once I got to eighth grade, or freshman year, is when I started throwing it in games.
"How my curveball works is kind of just a natural thing. My spin rate… I mean, I know why my spin rate increased. You hear all of this stuff about the Astros, but it's not nearly the case. My spin rate increased because my velocity started increasing. I tore my lat in 2015, and when I came back my velocity kept going up. As the velocity goes up on your curveball, the spin rate is going to go up as well. I've also been throwing it more and more, and getting consistent with it. That's a big reason it has gotten better.
"For me, it's really all about throwing it off my fastball. If I've got good fastball feel coming out of my hand — a good release point — I'll feel my curveball coming out the same. Obviously, you're not going to throw a curveball [with the same hand placement], but if you have a good, consistent release point with your fastball, you're going to have it with your curveball. At least I do."
Trent Thornton, Toronto Blue Jays
"I started throwing a curveball in middle school, but then more in high school. The Astros drafted me specifically because I could spin the ball. I had good spin rates on my fastball, curveball, and slider. They helped me utilize that, and set pitches up to where it would benefit me most, but I've kind of always just naturally been able to do it.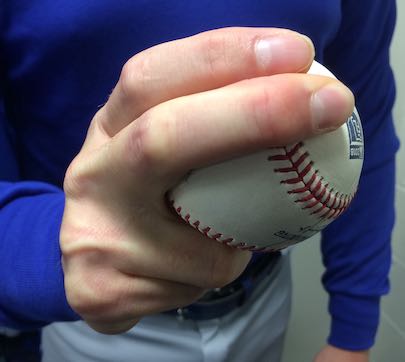 "I have a little bit different grip than most people. I hook my finger, kind of on the side. It's like a two-seam fastball… I'm on the side, but even more. I'm hooking my finger and thinking the whole time that I want to bring my thumb over the center of the plate. Like, if my thumb was pointing straight up, I'm throwing the ball and letting my wrist do all of the work. I try to snap it as hard as I possibly can. I try to create as much spin as I can, going straight at them and straight down. I don't want any pop in it at all. Even if I'm throwing it 0-0, I want it to look like a fastball until the last second, then drop.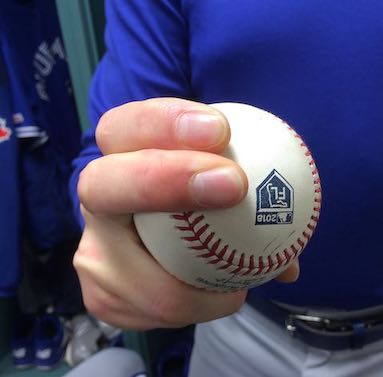 "Bigger breaking balls look cooler. They're sexier. But I want later break. If a hitter is seeing fastball and at the last second it's gone, that's a swing-and-miss every time. Those big breakers can fool people some of the time, mostly with the speed differential, but if it's in the zone longer, they're going to have a better chance to hit it. So I try to rip my curveball as hard as I can. I try to have it 'boom boom.'
"I tweaked the grip in my second full season of pro ball. I was playing in Lancaster, California where it's really windy and the elevation is different. The air is thinner, so I wasn't getting as much break. I'm thinking I have to do something more to get break, and that's when I started flipping it a little bit more, getting off that seam. I kind of did that on my own. I've always tinkered with different grips, and that's something I came across that worked for me. I took it and ran with it.
"I learned how high my spin rate is back when I was with the Astros. They sit you down with the data. They were like, 'Hey, man. You have one of the higher-spinning curveballs in all of baseball.' At first I didn't know if that meant good or bad. But they were like, 'Hey, man. Just keep ripping it, because it's going to play to your advantage.' That told me it's good."
Justin Verlander, Houston Astros
"It was maybe late middle school, or early high school, that I started throwing a curveball. I was always kind of cautious of it. My first pitching coach had me throw it [in a casting motion], rolling it out of my hand and trying to drop it in a bucket. I think the coach's name was Bob Smith. He was the one who taught me the curveball I used until I got to the big leagues. Then it changed.
"I'd thrown a knuckle curve. My pointer finger was all the way tucked, flush with the ball. But then, the big-league balls were so hard that I got a blister. I had to adapt. I had to change, so I went to a traditional curveball grip. This was kind of in the middle of the season, in 2006. And it was really bad. I had to pretty much rely on my fastball and changeup until I was able to get a feel for it.
"How different was the spin and the shape [compared to the knuckle curve]? I don't know. We didn't have stuff to measure that back then. I do know that I didn't have much feel for it at first. I'd never thrown it like that. Once I did get a feel for it, it was just as good. I think the shape was generally the same.
"I've never changed how I release my curveball, although I have messed around with my hand placement on the ball. Once I started throwing my slider… I don't want to have the same grip for the slider and the curveball, because I don't want them to blend. What I did was basically switch to the opposite side of the horseshoe for my curveball.
"I switched my slider grip to the same side as my curveball in '15 or '16, so that's when I flip-flopped my curveball. I couldn't put a finger on exactly when it was, though. I change my grips pretty often. I'm always messing around with stuff. You have to change and adapt. I mean, we have so much technology now. We have immediate feedback on what we're trying to do. It's like, why wouldn't I try to make a pitch better?
"Again, I'm not afraid to mess around with it. I'll change grips in-season. I've changed grips in the middle of a game. My fastball always stays the same — I try to keep that consistent — but I'll do it with my slider and my curveball. My changeup. My off-speed."
——
The 2018 installments of this series can be found here.
David Laurila grew up in Michigan's Upper Peninsula and now writes about baseball from his home in Cambridge, Mass. He authored the Prospectus Q&A series at Baseball Prospectus from December 2006-May 2011 before being claimed off waivers by FanGraphs. He can be followed on Twitter @DavidLaurilaQA.