Freeze baseball at the end of last year, and Josh Bell fit into an ignominious archetype. A former top prospect, he'd fallen into the power-light first base role previously occupied by the likes of James Loney and Sean Casey. The good power vibes from a homer-happy 2017 (26 dingers, .211 ISO) had faded after his slap-hitting 2018 (12 home runs and a .150 ISO). FanGraphs' Depth Charts projections penciled him in for a .172 ISO and a wRC+ around 113 — roughly average offensive production for a first baseman.
If that projection was surprising, it was only because Bell looks the part of a slugger. At 6-foot-4 and 235 pounds, he's an imposing presence at the plate. His minor league numbers had never showed great thump — his best showing was a credible .173 ISO with 14 homers in 2016. After that 2016 season, Eric Longenhagen graded him as having 50 game power — dead average, with the chance to improve to a 55 eventually. Bell's frame always carried the promise of greater power numbers, but neither scouts nor projection systems thought it was a likely outcome.
That's all well and good, but uh, have you seen Josh Bell's 2019? He's recorded a ludicrous .364 ISO, fifth-best in the majors. He already has 14 home runs and 14 doubles (and, perplexingly, two triples), besting last year's home run output in only 188 plate appearances. This prodigious power, along with a .366 BABIP, has propelled him to a 185 wRC+, third-best in baseball. The power that was promised by Bell's physical gifts has finally come in, and it's come in all at once.
When someone puts up a line like Bell's (an ISO that looks like a BABIP, a season-long wRC+ higher than any previous month of his career), my natural inclination as an analyst is to look for flukes. Maybe he's hitting an unsustainable number of line drives, or 75% of his fly balls are turning into home runs. Perhaps he's faced abysmal pitching in hitters' parks. Surely any of those explanations is more likely than a sudden, real power spike that dwarfs his previous career.
Indeed, Bell's HR/FB% is a lofty 29.8%. That probably sounds fluky to you, given that the major league average, even in these home run-crazy times, is around 14%. To that, I would merely say: Have you seen Josh Bell's home runs? Most batters can sneak a well-hit ball out of the park. But Bell isn't hitting home runs that tickle the top of the fence on their way over. Of his 14 home runs, 11 have been hit more than 400 feet. Take a look at where his second-shortest (yes, second shortest) home run landed.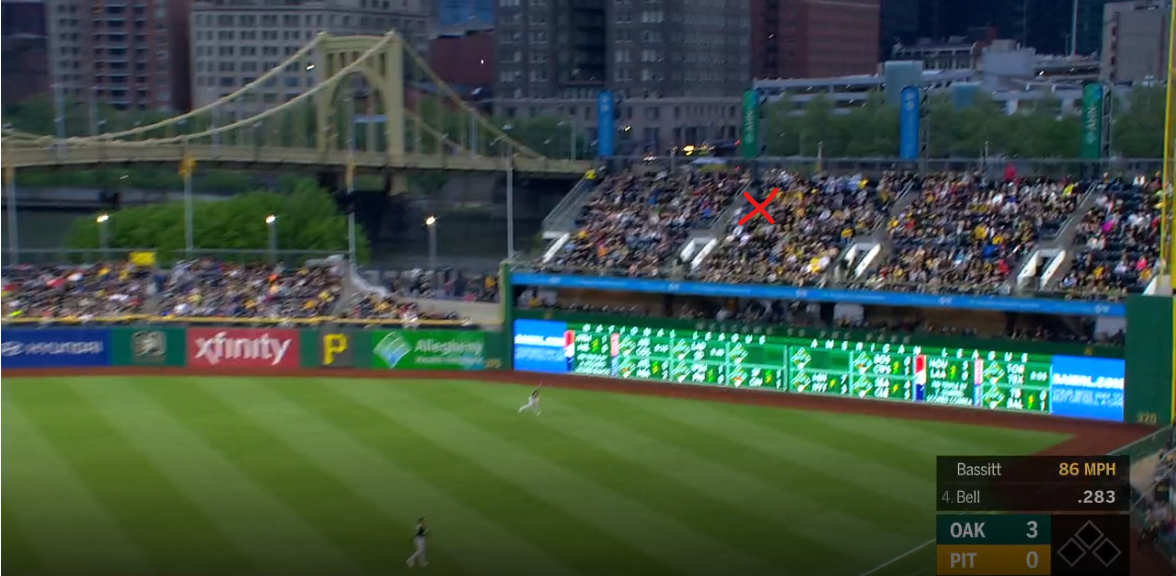 X marks the spot, and if you can ignore my shaky penmanship, it's immediately apparent that Bell isn't hitting cheapies. Statcast confirms that Bell is obliterating the ball — of the 154 players with five or more home runs this year, his home runs have the 13th-highest expected slugging percentage. In other words, these balls are home runs basically all the time.
What has Bell done to achieve these lofty power numbers? There's a common thread that across many batter breakouts these days, one Craig Edwards has written about on a near-daily basis this year. Batters who decrease their out-of-zone swing rates prosper. Stop swinging at garbage, start drawing walks and swatting dingers. As neat and tidy of an explanation as that would be, though, that's not Josh Bell's deal. Swing at fewer pitches out of the zone? Bell is swinging at more. Take more walks? Bell is drawing them less often this year. Cut down on strikeouts to force pitchers to challenge you in the zone? Bell's swinging strike rate and strikeout rate are both career highs.
Alright then, it's not a plate discipline story. Maybe it's a fly ball revolution story! Those are everyone's favorite. Is a swing change that unlocked Bell's innate power the takeaway here? Well, that depends on what you mean by a swing change.
Bell's lefty swing (10 of his 14 home runs are from the left side of the plate, and that's what I'll be focusing on for this analysis) has always been a mess. Don't take my word for it, though. Here's Longenhagen again in his scouting report on Bell:
"Bell hit well as a lefty despite extremely inconsistent footwork, striding closed and getting his foot down early at times and employing a big, slow leg kick at others. These changes appeared game to game, swing-to-swing and clearly screwed with Bell's timing, which led to some pretty ugly hacks, but Bell's prodigious physical talent allowed him to succeed in spite of this."
Maybe you are a visual learner. Maybe "inconsistent footwork" doesn't paint a mental picture for you. You're in luck. Here's Bell in 2018.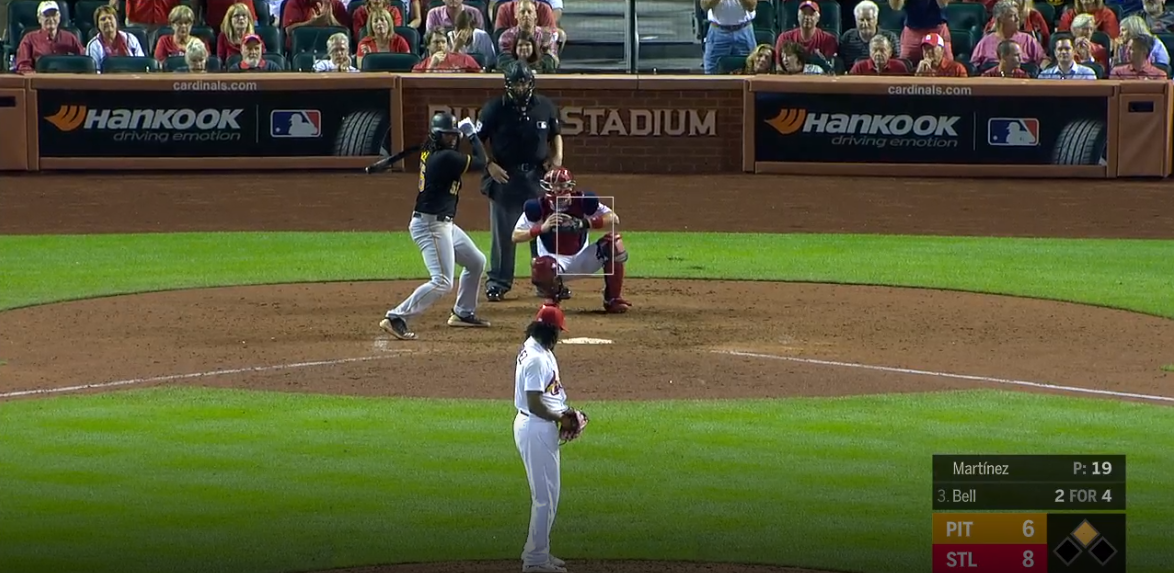 Here's Bell, also in 2018.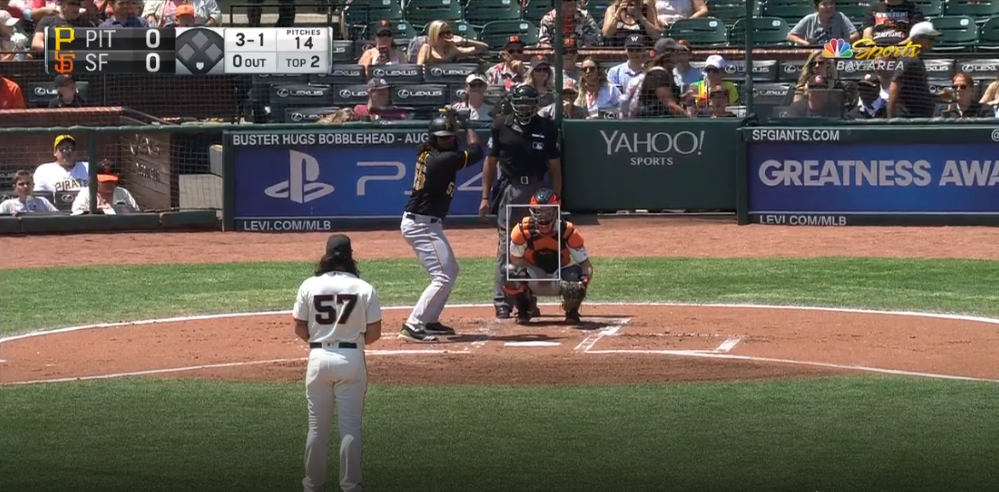 Not convinced yet? Here's a variation on that second stance — different bat angle, different front foot placement, same Josh Bell.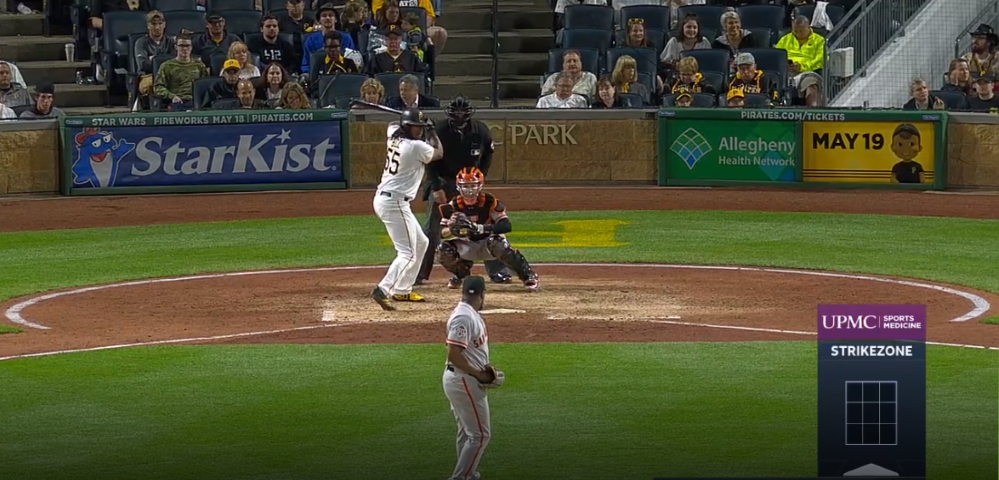 All three of those pitches ended in extra-base hits, but Bell's mechanics seemed invented on the spot from day to day. Even within a stance, Bell's mechanics were widely variable. Watch his hands before a double off of Jack Flaherty.
Goodness gracious. Bell was mostly able to make this work (he had a 112 wRC+ last year, after all), but with such complex timing mechanisms, he wasn't always making the kind of contact he wanted. This mechanical inconsistency led to a lot of mis-timed swings, and that led to a lot of grounders — Bell had a career 50% groundball rate as a left-handed batter after the 2018 season.
Bell made finding a consistent batting stance a priority in the offseason, and it shows. Here's Bell before a pitch this April.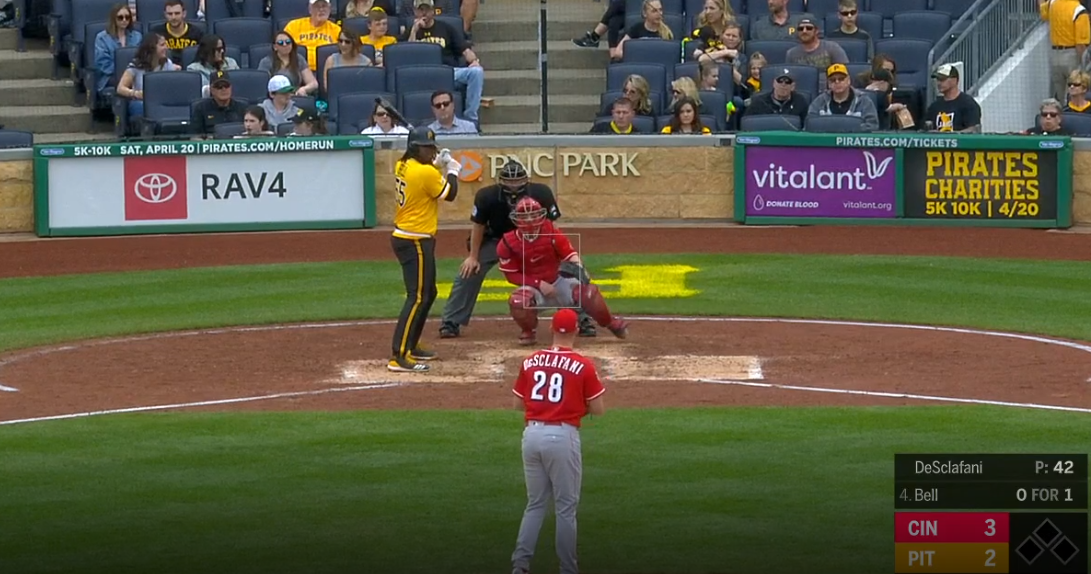 The thing is, that could be Bell before a pitch at any point this year. He's stuck with one stance for all of 2019. This version of Josh Bell is mechanically much simpler. Take a look at his hands on the same pitch, a pitch he hit a monumental 474 feet.
There's no twitchy timing mechanism, no need to find the correct hand load point before starting to swing. It's quiet and simple, and Bell knows it. "There's not a lot of redirection with my movements when I'm synced up," he told Ron Biertempfel when discussing his hot start.
The results speak for themselves. Bell has dropped his lefty groundball rate from more than 50% to 37%. He's increased his hard contact rate (again lefty) from 33.6% to 53.3%. He's been a barrel monster so far this year — per Baseball Savant, he racked up 20 barrels as a lefty last year, or 6.7% of his batted balls. He has 18 already this year, or 20%. His average exit velocity on fly balls and line drives is up from 94.2 mph to 98.8 mph. In other words, the new Josh Bell is a fearsome slugger.
Not much else has changed, because a consistent stance and swing seemed to be all Bell needed to unlock his inner Judge. He's swinging a little more this year — swinging more at fastballs, breaking balls, and offspeed pitches alike. He's swinging more in the zone, and he's swinging a bit more out of the zone. He hasn't even really changed his attack zones — he likes pitches high in the zone, same as always. The main difference has just been topped groundballs turning into towering home runs, which is a nice switch to make.
Don't tell yourself that Bell has feasted on weak competition, either. That's an easy narrative to believe if you don't look at it too closely — Bell plays in the NL Central, which means frequent dates with the Cardinals, Cubs, and Brewers. All three of those teams, the Cardinals in particular, have had pitching issues at various points this year. There's just one problem with this narrative — it's not true.
To test this flimsy supposition, I looked at every pitcher Bell had faced this year and calculated their wOBA, both before and after stripping out Bell's plate appearances against them. I then weighted these wOBA's by the number of times he's faced each pitcher. The results? Bell has faced pitchers who have compiled a .316 wOBA this year, essentially equal to league-average. Remove Bell from the equation, and those pitchers look even better — a .308 wOBA. In short, he hasn't benefited from an easy slate of pitching. If anything, his opponents have been a hair better than average. So much for that angle.
It's been a tough few years to be a Pirates fan. The Longenhagen scouting report I quoted comes from FanGraphs' 2017 prospect list. Bell was fourth on that list, behind power arm Mitch Keller and Archerian compatriots Austin Meadows and Tyler Glasnow. If watching those two light up the AL East hasn't been tough enough, the Pirates have had to contend with owner Bob Nutting's parsimony and two straight fourth-place finishes in the competitive NL Central. So far this season, however, Pirates fans have a new star to cheer. Now, it's early yet. Bell hasn't had time to have a slump and question his mechanics — his worst 10-game stretch still amounted to a 125 wRC+. At some point this year, he'll struggle. That's the nature of baseball's interminable season, of doing an incredibly difficult task six days a week for months on end. When that happens, look to his batting stance. For now, though, Bell has calmed himself down and started crushing baseballs to all fields. If he can maintain his gains, he'll have given the Pirates a fearsome bat in the middle of the order for the foreseeable future. Josh Bell cleaned up his mechanics, and now, the world is his oyster. Long may he reign.
Ben is a contributor to FanGraphs. A lifelong Cardinals fan, he got his start writing for Viva El Birdos. He can be found on Twitter @_Ben_Clemens.