Over the last decade, hitters have been fighting a losing battle against incredibly talented pitchers who throw at higher velocities with even more effective offspeed and breaking pitches. Faced with the increase in talent and velocity on the pitching side, position players have done their best to adapt. The emphasis on launch angle, so as to hit balls harder and farther to get an extra base hit, is a fight against hitters' inability to take the ball the other way or string together rallies, which are increasingly blunted by the strikeouts. Hitting an 89 mph fastball on the outer edge of the plate to the opposite field is a strategy that might work well. Unfortunately, those 89 mph fastballs aren't as prevalent as 89 mph sliders that dart away from the outside corner and the fastballs that are routinely in the mid-90s. Hitters are continuously adapting to changes in pitching in order to be successful, and this season, they are getting better by not swinging.
Hitters tend to get some blame for their role in there being fewer balls in play, what with the proliferation of strikeouts and homers and three true outcome players who seek walks and power and have a willingness to swing and miss, but much of what hitters do is simply react to what pitchers do. The increase in strikeouts over the years isn't due to hitters actively choosing to strike out, but to pitchers who have gotten much better at striking hitters out. When I looked at the issue last season, the rise in strikeouts was due to primarily two factors: the increase in the number of pitches at 95 mph or greater, and the increase in the use of non-fastballs to get hitters out. It's hard to catch up to velocity, and it's really hard to lay off breaking and offspeed pitches. This season, pitchers are still throwing hard, and as Ben Clemens demonstrated, they are throwing even fewer fastballs.
To go along with the increased use of non-fastballs is an accompanying decrease in pitches in the strike zone. The graph below shows the number of fastballs and non-fastballs in the strike zone over the past few years.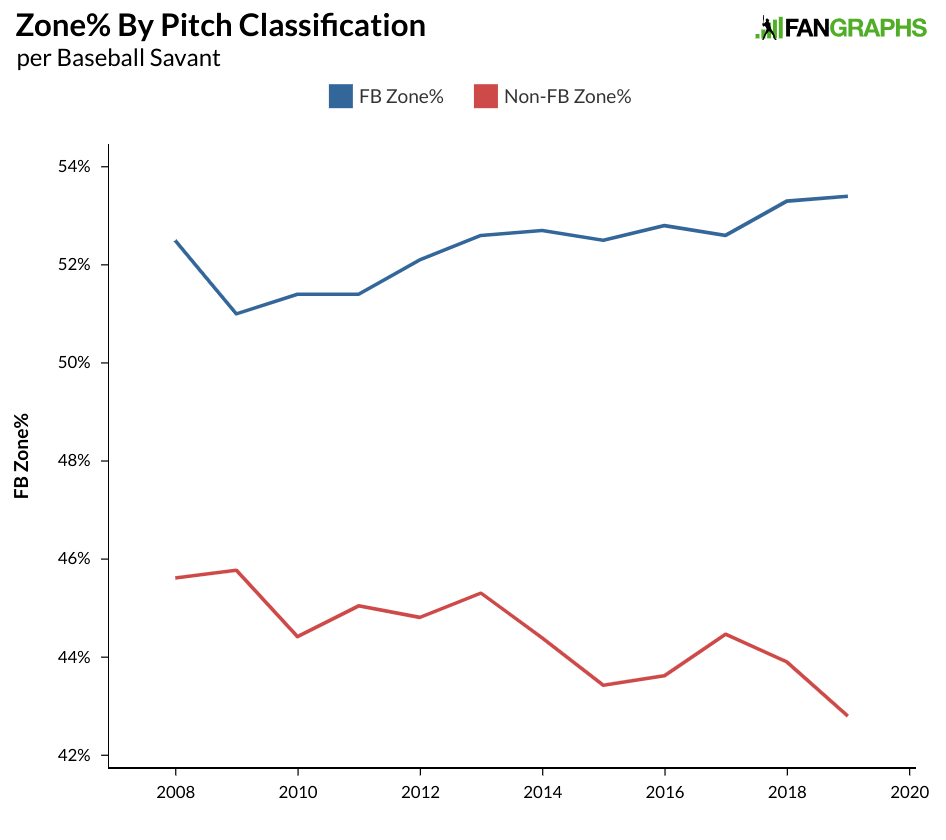 Given that the number of fastballs has decreased, it should come as no surprise that the number of pitches in the strike zone has decreased as well. It hasn't mattered for pitchers that they have moved more pitches out of the strike zone, as hitters increased the number of pitches they swung at. That number stabilized over the last half decade at around 30%, but for the first time in a while, hitters seem to have meaningfully decreased their number of swings on pitches outside the strike zone.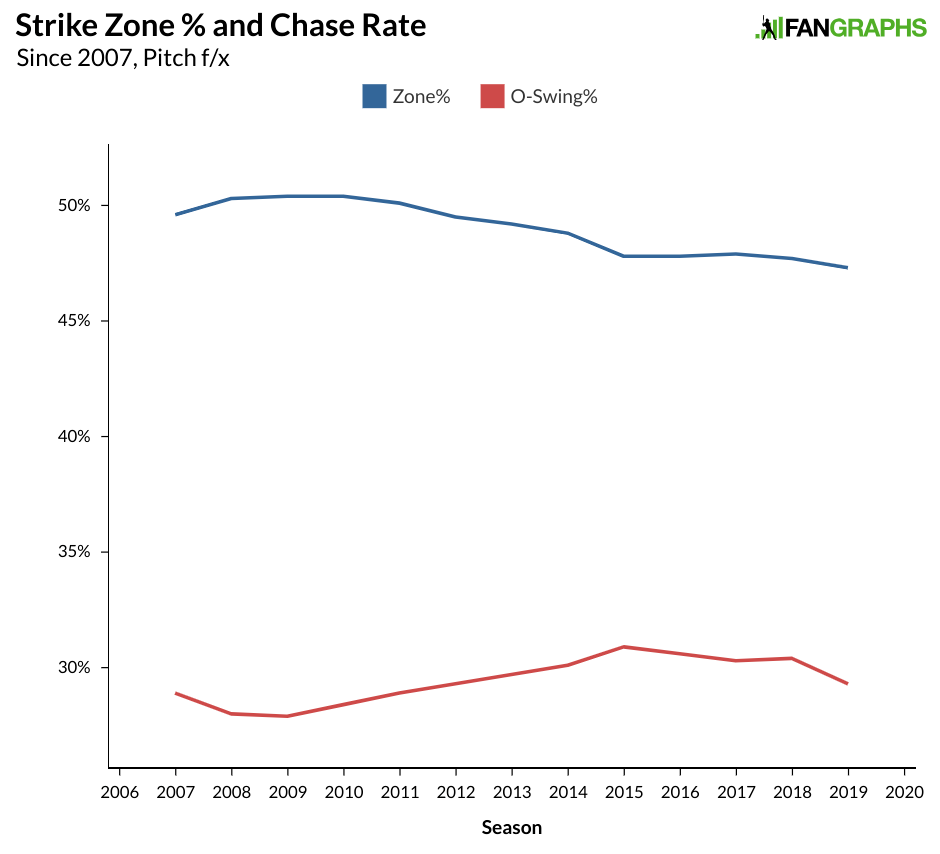 When hitters chase fewer pitches, we see more walks, which is what has happened in this season's early going, with the league posting a 9.2% walk rate after staying at 8.5% the last two years. Strikeouts are up a bit, too, but the league's .176 ISO is about 15 points higher than last season and 20 points higher than in April of last year. Some of that increased power could be due to the weather being better this season. Some of it could be more changes to the baseball, which is decreasing drag and helping balls out of the park. Some of the changes are likely due to hitters getting better and adapting to the way pitchers are throwing to them.
Players are pulling the ball and getting the ball in the air more than they have in the past, which is leading to better results. The graph below shows groundball percentage and pull percentage.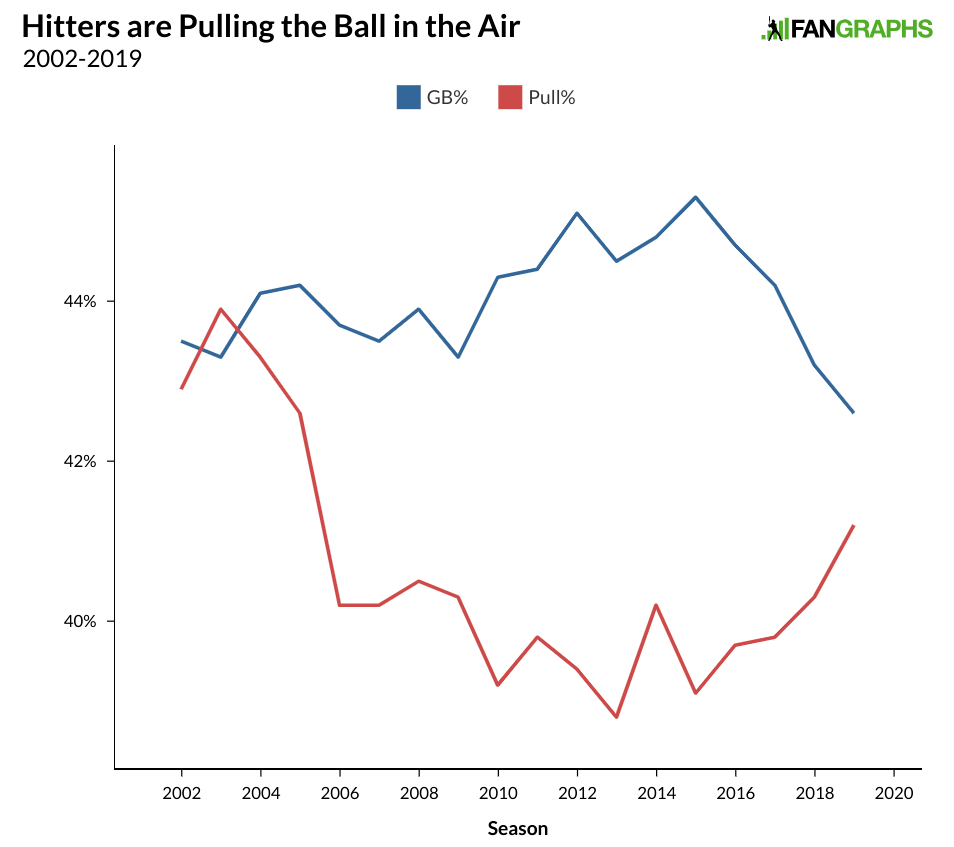 We haven't seen numbers like this in more than a decade, and the result so far this season is more homers and a higher ISO than we've ever seen. As to how hitters are going about this transformation, they are no longer increasing their chase rate on offspeed and breaking pitches out of the zone despite seeing more pitches there. As a result, hitters are swinging at fewer bad pitches they can't handle and swinging at a greater relative percentage of pitches they can handle, particularly fastballs in the strike zone. Despite not swinging at some of those breaking and offspeed offerings outside the zone, hitters haven't done any better against those pitches when they make contact. They aren't doing any better when they make contact on breaking and offspeed offerings in the zone, either. Where hitters are making gains is on the fastball, particularly fastballs in the zone. The table below splits pitches into four types and two time periods: fastballs and non-fastballs in and out of the zone, and 2016-2018 compared to this season.
Hitters are Crushing Fastballs in the Zone
| | wOBA on Contact 2019 | wOBA on Contact 2016-2018 | Change |
| --- | --- | --- | --- |
| Non FB OOZ | .277 | .275 | .002 |
| Non FB Zone | .380 | .382 | -.002 |
| FB OOZ | .316 | .308 | .008 |
| FB Zone | .420 | .397 | .023 |
| TOTAL | .379 | .370 | .009 |
SOURCE: Baseball Savant
Maybe some of the changes are due to the ball, but hitters aren't seeing the same gains when they make contact on breaking and offspeed pitches as they do when they hit fastballs in the zone, which happen to be some of the best pitches to hit. Further, we can see that this appears to be a change in skill when we compare hitter performances when they don't make contact. Below is the same table as above except it shows only performance on walks and strikeouts. It shows what is happening on these pitches in and out of the zone when a player is taking or whiffing.
Hitters are Taking Breaking Pitches Better
| | wOBA on BB/K in 2019 | wOBA on BB/K 2016-2018 | |
| --- | --- | --- | --- |
| Non FB OOZ | .176 | .157 | .019 |
| Non FB Zone | .016 | .170 | -.001 |
| FB OOZ | .409 | .405 | .004 |
| FB Zone | .045 | .048 | -.003 |
| TOTAL | .189 | .185 | .004 |
SOURCE: Baseball Savant
Hitters are still bad on breaking pitches out of the zone, but they are a lot less bad than they used to be with little to no change elsewhere. It's possible hitters are doing a better job identifying those breaking pitches out of the zone. They might simply be waiting for a fastball to hit in the strike zone and swinging hard — the whiff rate on fastballs in the strike zone has continued to go up, including this season. Hitters are swinging and missing on more pitches than they ever have before and that has meant strikeouts continue to rise, but they've stopped the bleeding when it comes to chasing offspeed pitches outside the zone as they see more and more of those pitches. The result has been more walks and more power, which has counteracted some of the gains pitchers have been making over the last few years.
None of these developments will put more balls in play unless pitchers start pitching in the zone more. The talent level on the pitching side has forced hitters to take an all-or-nothing approach and think harder about fishing for a walk. No rule banning the shift or requiring a three-batter minimum is going to put a significant number more balls in play. The talent on the pitching side would need to be thinned by a fair amount to decrease the strikeouts that have forced hitters into more extreme approaches. When it comes to pitching versus hitting, batters are beginning to adjust to try and level the playing field. It's meant more offense, but not more action.
Craig Edwards can be found on twitter @craigjedwards.