In 2014, George Springer received an April callup to the majors and for half a season, he was Houston's second-best player, with Jose Altuve leading the way. In 2015, Springer was on his way to a very good season when he fractured his wrist. Despite playing in just 102 games, he put up nearly four wins, about half a win shy of Altuve's total. In 2016, Springer put up a very good five-win campaign, but he was bested not just by Altuve, but by rising shortstop Carlos Correa. The trio finished in the same order the following season, but last season, Alex Bregman jumped to the front of the pack, followed by a five-win season from Altuve, and a disappointing three-win year from Springer. Entering this season, Springer looked like the fourth-best position player on the Astros, but thus far, he's been the fourth-best position player in baseball and tops in the American League.
Springer hasn't exactly languished in the shadows of his star teammates, but his best seasons haven't been nearly as good as their's have been, and at 29 years old, he's the same age as Altuve, four years older than Bregman, and five years Correa's senior. Despite his relatively lesser status on the Astros, Springer's 19 wins since the start of the 2015 season rank 21st in baseball, just ahead of Anthony Rizzo, J.D. Martinez, Andrelton Simmons, Charlie Blackmon, Giancarlo Stanton, and Correa. His 117 homers ranks 20th, just ahead of Kris Bryant and Freddie Freeman. Since the start of the 2016 season, his 15 wins are 15th among position players and his 101 homers is 12th in the sport. Looking at Springer's numbers over multiple years helps to shape a greater appreciation for him, but it also glosses over a disappointing 2018 season.
Last season, Springer looked a lot like the player he'd been earlier in his career, with a walk rate around 10% and a strikeout rate twice that. His batted ball profile in terms of groundballs, fly balls and balls pulled looked the same. He had roughly the same number of doubles as in previous years. The problems for Springer came because the ball just wan't flying out of the park. His 22 home runs constituted a big drop after hitting 63 the previous two seasons, and his .169 ISO was close to average. He just wasn't hitting the ball as hard, with an average exit velocity on fly balls that was down to 92.6 mph from 94.4 mph in 2017, per Baseball Savant. In 2017, his average fly ball went 338 feet; it was down to 329 feet last season.
Springer did have a few different maladies affecting various parts of his body last season. But thinking that his prime had spanned his age-25 to age-27 seasons, with him experiencing an in-progress decline as he neared 30, wouldn't have been unreasonable heading into this season. But that decline hasn't proven to be true, as Springer might be headed toward the best season of his career. Springer's 16 homers are already two-thirds of the way to last season's total; his 187 wRC+ and 2.7 WAR lead the American League and are ahead of Mike Trout. Based on his exit velocity, he's hitting the ball harder than ever and his average fly ball distance would also be the longest of his career. His 35% HR/FB percentage is likely to come down, but Springer isn't cashing in on a bunch of cheap homers. Among the 137 players with at least five home runs, his xwOBA on those homers ranks 31st. Similarly, his average fly ball distance on home runs is 407 feet, which also ranks in the top-third of players with at least five homers. Even his inside-the-park homers go far.
Springer has always had a good sense of the strike zone, but he's taking his game to a different level this season. The graph below shows every player's O-Swing% and Z-Swing% on the season.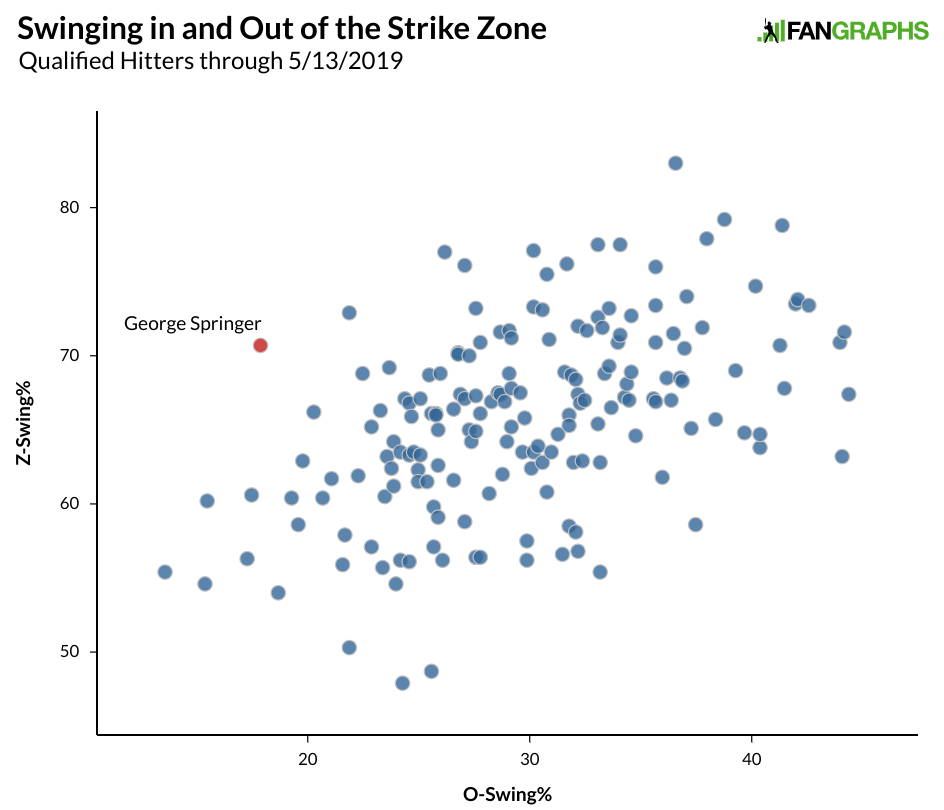 There's nobody really close to what Springer is doing right now. In table form, here are the biggest differences between swinging in the zone and taking away from it.
Combining Patience and Aggression
| Name | Team | PA | Z-Swing% | O-Swing% | Difference |
| --- | --- | --- | --- | --- | --- |
| George Springer | Astros | 190 | 70.7% | 17.9% | 52.8% |
| Kris Bryant | Cubs | 170 | 72.9% | 21.9% | 51.0% |
| Freddie Freeman | Braves | 181 | 77.0% | 26.2% | 50.8% |
| Luke Voit | Yankees | 171 | 76.1% | 27.1% | 49.0% |
| Brandon Lowe | Rays | 144 | 77.1% | 30.2% | 46.9% |
| Franmil Reyes | Padres | 138 | 83.0% | 36.6% | 46.4% |
| Justin Turner | Dodgers | 168 | 68.8% | 22.5% | 46.3% |
| Juan Soto | Nationals | 132 | 66.2% | 20.3% | 45.9% |
| Corey Seager | Dodgers | 164 | 73.2% | 27.6% | 45.6% |
| Kole Calhoun | Angels | 168 | 69.2% | 23.7% | 45.5% |
| Tommy Pham | Rays | 174 | 60.2% | 15.5% | 44.7% |
| Khris Davis | Athletics | 156 | 75.5% | 30.8% | 44.7% |
| J.D. Martinez | Red Sox | 173 | 76.2% | 31.7% | 44.5% |
On fastballs, the difference is even greater. Springer has seen 146 four-seam fastballs outside of the zone this season and he has swung at just 11 offerings. Of the 168 four-seam fastballs he's seen in the zone, he's swung 122 times and done a ton of damage. Sixty-five of Springer's 195 plate appearances this season has ended on a four-seam fastball. He's had more walks (13) than strikeouts (12), with as many extra base hits as singles (10) and a 252 wRC+. Springer is also crushing sliders, curves, and two-seamers with a little trouble getting results on cutters and changeups, a reversal of his career numbers, as he has typically struggled with sliders and done better with a cutter or change.
With such a small sample, it's impossible to pinpoint a reason for Springer's improved approach, particularly on the slider, but it does appear that Springer has shortened his leg kick a bit, which might help him better prepare for a pitch. Here's Springer last season whiffing on a Shawn Kelley slider right down the middle.
Now here's a similar slider from Trevor Bauer this season.
Springer's toe touches the ground in about half the time after the release of the pitch compared to last year. He has been more aggressive on first pitches this season, swinging at 38% of initial offerings compared to 30% the last few seasons. He's ended up in more 0-1 counts as a result, but it has yet to hurt him as he's hit really well when behind in the count.
In addition to approach, there's some reason to believe Springer is just healthier this year than he has been. His sprint speed is up over where it was a year ago, he's legging out homers that don't leave the yard with ease, and he's stolen bases on four out of five opportunities after going 20 for 41 over the previous three years.
The projections still see Alex Bregman and Carlos Correa ahead of Springer in terms of WAR the rest of the way, but Jose Altuve's struggles and injury have allowed Springer to move past the Astros' second baseman. With 2.7 WAR already, Springer looks like he is headed to a six-win campaign and the best season of his career. He would be headed for free agency if Houston hadn't kept him in the minors for a few weeks to start the 2014 season after he turned down a seven-year, $23 million contract, though he's already earned more than that over the first six seasons of his career and might earn that much alone in his final year of arbitration eligibility next season. It isn't the same as free agency, but Springer's bet on himself has likely doubled his earnings over what would have been the seven years in that proposed deal.
Alex Bregman is having another great year for the Astros, and Carlos Correa has appeared to rebound from a tough 2018 season, but halfway through May, neither player has been Houston's best. That honor goes to George Springer, who is currently leading the AL in WAR. Mike Trout is likely to catch him and get separation at some point, but Springer is having a great season so far, and it's likely to be the best year of his already good career.
Craig Edwards can be found on twitter @craigjedwards.