The Giants don't project to be a good baseball team in 2019. That doesn't mean they won't be a good baseball team in 2019, but the odds are against them. They're unlikely to be as good as the Dodgers. They're unlikely to be as good as the Rockies. They might've been passed by the Padres, and they might still be worse than the Diamondbacks. With a farm system that's in similarly mediocre shape, something had to change, and indeed, the Giants are now under new management. Farhan Zaidi and the rest of his front office are in the process of figuring out their next steps.
Some form of rebuild or step back seems inevitable. And the player who's drawn the most public attention is Madison Bumgarner, on account of his having become a household name. Bumgarner could be traded, but then again, there are certain incentives pushing the Giants to giving him a few months to build up his value. It would also be difficult for Zaidi to make dealing Bumgarner one of his first major decisions. Something that could and should happen sooner is a trade of Tony Watson, and/or a trade of Will Smith. Both of them are veteran lefty relievers. I'm here to advocate for Smith. He's the one any contender should want to get.
Nothing against Watson, of course. He's pretty good, himself, and his contract is affordable. But for one thing, where Watson is presently 33, Smith is presently 29. And while Watson isn't guaranteed all that much, his contract contains 2019 incentives, and a 2020 player option that Watson would pick up if he were injured or bad. Smith is in his final year of arbitration, and he's expected to earn a salary just over $4 million. Smith comes with greater cost certainty, to go with his youth. And, right — he's very good at pitching.
Let's start with a table, courtesy of Baseball Savant. Based on Statcast information, here are the lowest expected wOBAs against, since 2015, given a minimum of 500 batters faced:
Lowest xwOBA, 2015 – 2018
| Pitcher | PA | xwOBA |
| --- | --- | --- |
| Kenley Jansen | 997 | 0.220 |
| Andrew Miller | 918 | 0.231 |
| Sean Doolittle | 570 | 0.235 |
| Aroldis Chapman | 920 | 0.237 |
| Edwin Diaz | 773 | 0.239 |
| Zach Britton | 838 | 0.241 |
| Will Smith | 637 | 0.244 |
| Dellin Betances | 1162 | 0.246 |
| Clayton Kershaw | 2764 | 0.247 |
| Pat Neshek | 744 | 0.249 |
SOURCE: Baseball Savant
Minimum 500 plate appearances.
Smith's in seventh place, out of almost 500 pitchers. The 33-year-old Miller recently got $25 million as a free agent, with a vesting option. The 31-year-old Britton recently got $39 million as a free agent. Neither Miller nor Britton is coming off an especially outstanding season. So let's now look at something for just 2018. Given a new minimum of 200 batters faced, here's every pitcher's xwOBA and actual wOBA, with Smith highlighted in yellow: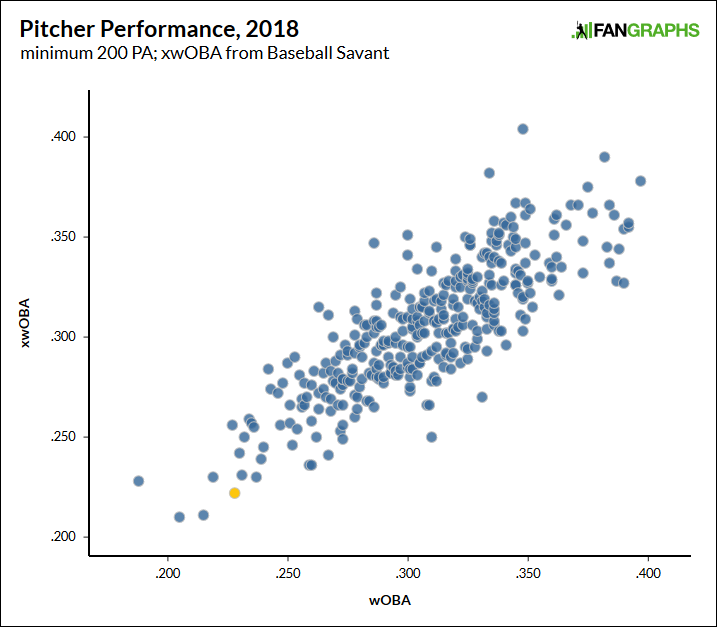 Pretty far down near the lower-left corner. Smith just ranked third in xwOBA, and he ranked sixth in actual wOBA. In 2018, pitching in relief for the Giants, Will Smith was terrific. And it's important to observe that it's not as if he's just some new pop-up reliever. Smith has pitched like that before. He didn't reach a new level — he returned to a previous one.
Smith was good in 2014. Then he got better in 2015. In 2016, he had to deal with a tear in his knee, and in 2017, he was sidelined by Tommy John surgery. But as the following table shows, Smith got all the way back, and then some. He's returned to being the pitcher he was before his body pulled the rug out from underneath itself.
Will Smith vs. Himself
| Year | IP | ERA- | FIP- | xFIP- | K% | BB% | O-Swing% | Contact% | Zone% | xwOBA |
| --- | --- | --- | --- | --- | --- | --- | --- | --- | --- | --- |
| 2015 | 63.1 | 68 | 62 | 71 | 35% | 9% | 36% | 67% | 45% | 0.242 |
| 2018 | 53.0 | 65 | 53 | 68 | 34% | 7% | 38% | 70% | 52% | 0.222 |
There's no decline there to be seen, and Smith actually just threw a higher rate of strikes. He didn't have trouble pitching on back-to-back days, and his arsenal was almost identical. The following images come from Texas Leaguers, and they show Smith's velocities and spin angles. It's 2015 on the left, and 2018 on the right.

What you see in there is that Smith is a three-pitch pitcher. He has a four-seam fastball he throws in the low- to mid-90s, he has a slider he throws in the low-80s, and he has a curveball he throws in the high-70s. The curveball is something Smith has liked to use early in the count, or when the count has been even. The slider is more of the putaway pitch. Here's a late-season three-pitch sequence to Wil Myers, where Smith showed off all of his weapons. A first-pitch curve at 76:
An 0-and-1 fastball at 92:
And an 0-and-2 slider at 81:
Smith didn't just put together an entire season of nothing but three-pitch strikeouts, but that's an accurate distillation of how he works. Against Myers, relative to the early curveball, the late slider was faster by five ticks. It also had less drop by a couple of inches. There are a lot of relievers out there who throw a fastball and a slider. Smith comes with an extra change of pace, and it makes him like a one-inning version of Patrick Corbin.
Lefty pitching is forever in demand, and last season, against 72 lefties, Smith finished with 30 strikeouts and only one walk. Yet he's not a lefty specialist, as he held righties to a slugging percentage of .298, with 30% strikeouts. Side by side, Smith has an awful lot in common with Brad Hand, and around last summer's trade deadline, Hand was the centerpiece of a trade that returned a top prospect. Yes, that was the middle of the year. Yes, that trade also included Adam Cimber. And yes, Hand is under team control through 2021. The situations aren't identical. But any team in the hunt should want a reliever like Smith, and he's clearly one of the very most valuable players on the present Giants roster. He might even return more than Bumgarner would, at least at the moment.
The Giants were probably waiting to see what would happen with Britton and Miller. The time to make a trade is nigh, and the Angels are one team that's been closely linked. They would make all kinds of sense. So would the Red Sox. So would just about anyone. Yes, there are other lefties available for less. Yes, you can argue that a great lefty is more of a luxury than a necessity. But for anyone looking for a southpaw, Smith's about as good as it gets. With the injuries behind him, he's again what he already was.
Jeff made Lookout Landing a thing, but he does not still write there about the Mariners. He does write here, sometimes about the Mariners, but usually not.