Some of you might not realize that, if you hover over the search bar up there, you'll see which player pages have recently been the most popular. Let's give it a spin, shall we?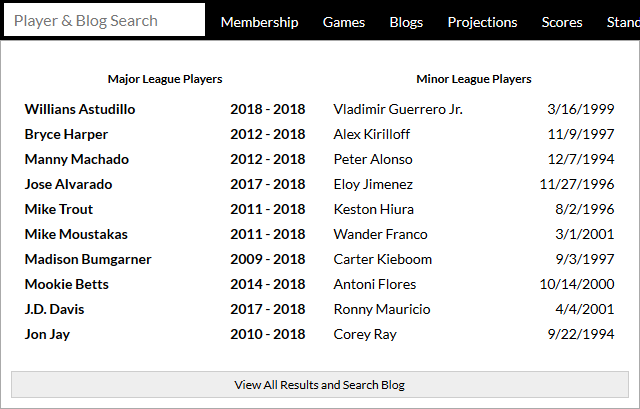 Willians Astudillo. Between Astudillo and Vlad, I don't know which has been more popular, but I strongly suspect it's the former, and it's definitely the former among major-league players. People have been losing their minds over Astudillo of late. Now, I did write about him last week. Playing winter ball down in Venezuela, Astudillo has performed like a deserving MVP candidate. But also, there's a clip that's been making the rounds. Willians Astudillo hit a home run.
Willians Astudillo may have broken every single one of baseball's unwritten rules on one home run ? pic.twitter.com/LD6e73C1Eh

— ESPN (@espn) January 9, 2019
Much has been made of Astudillo's behavior. Within the span of a couple of seconds, you've got the Adrian Beltre follow-through: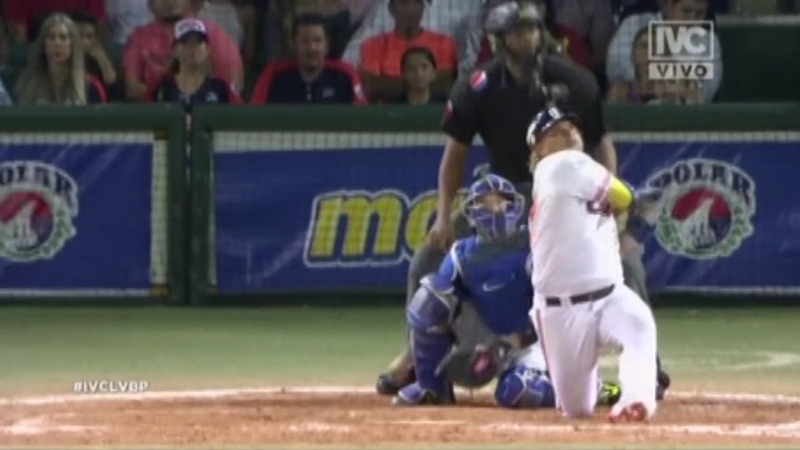 The kneel and stare: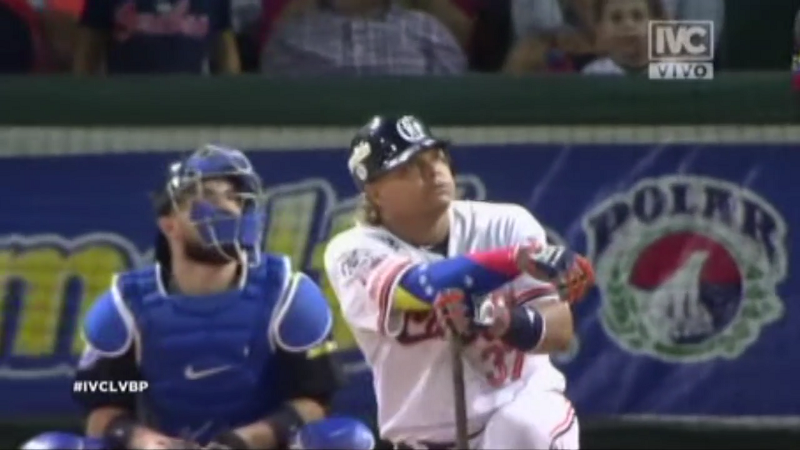 And the celebration at his own dugout: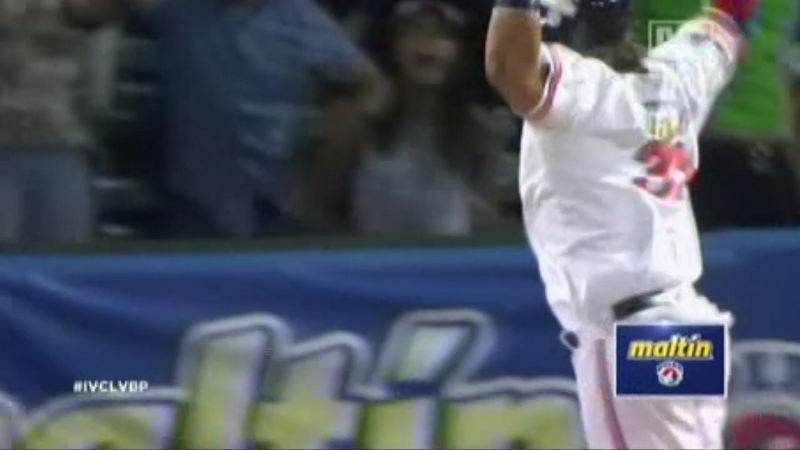 Astudillo pimped that thing. Astudillo pimped that home run like few home runs have ever been pimped. Many people have looked upon him favorably for that, while there's also been the usual, predictable group of people who think he deserves a fastball to the ribs, if not worse. I should hope we're moving beyond this debate — it's inconceivable to me that anyone would prefer a brand of baseball played without passion. But anyway, I want to at least lay out some context. Why did Astudillo respond like he did? Because he didn't hit just any home run.
That's a playoff home run. The Venezuelan winter league has entered the playoffs. That's a playoff home run, in Game 5 of a best-of-seven series between Astudillo's Caribes de Anzoátegui and Navegantes del Magallanes. Astudillo's team lost the first two games, before rallying to win the next two. The home run up there snapped a 1-1 tie in the bottom of the eighth. Astudillo went deep against big-league pitcher Deolis Guerra, after Guerra had gotten the first two batters out. The game ended 2-1, and Game 6 of the series is tomorrow. After posting a big regular season, Astudillo has gone 8-for-20 in the playoffs. He has one home run and, of course, zero strikeouts.
It's a good time to be Willians Astudillo. It's a good time to be searching for Willians Astudillo content. And because Astudillo has gotten so popular, he's been on the mind of our Alex Chamberlain. Alex pitched a topic to me. Full credit to him for the idea. I'll blockquote the heart of the matter:
ok, here goes: willians astudillo is our best and final hope for breaking dimaggio's hit streak record
There's no need to dig too deep. No one is going to break Joe DiMaggio's hit-streak record. But who, right now, might actually have the best odds? The best odds that are still impossible, since a 56-game hitting streak is essentially impossible. (Slightly less impossible than a 57-game hitting streak.) If you know anything about Astudillo, you know that he just about never strikes out. That's the first statistical trait that ever made him so charming. But, related to that, Astudillo also seldom walks. Here's a table of Steamer projections for 2019, among players who are expected to get at least a pinch of major-league service:
2019, Projected
| Player | AB/PA% |
| --- | --- |
| Hanser Alberto | 94.8% |
| Dawel Lugo | 94.3% |
| Willians Astudillo | 94.2% |
| Yonathan Daza | 94.0% |
| Ronny Rodriguez | 94.0% |
| Josh Fuentes | 93.8% |
| Dustin Fowler | 93.8% |
| Tim Anderson | 93.8% |
| Dee Gordon | 93.8% |
| Victor Reyes | 93.8% |
For expected big-league players.
AB/PA% is a weird thing to look at, but it makes sense when you're worried about a hitting streak, because key to any hitting streak is maximizing at-bats. A walk doesn't do you any good. A hit-by-pitch doesn't do you any good. If you bat four times, and go 0-for-1 with three walks, any existing hitting streak is over. This is something Astudillo has going for him. This is presumably what Chamberlain had in mind. What's critical, then, isn't so much batting average as it is hits per plate appearance. Here are the big-league leaders over the past three years:
2016 – 2018
| Player | H/PA% |
| --- | --- |
| Jose Altuve | 29.8% |
| Daniel Murphy | 29.6% |
| Jean Segura | 28.3% |
| Charlie Blackmon | 28.2% |
| DJ LeMahieu | 27.8% |
| J.D. Martinez | 27.7% |
| Wilson Ramos | 27.3% |
| Yuli Gurriel | 27.3% |
| Michael Brantley | 27.3% |
| Eduardo Nunez | 27.2% |
Minimum 1,000 plate appearances.
There are some top candidates right there. The higher one's rate of hits per plate appearance, the higher one's odds of an extended hitting streak. But then, for this prompt, we're not trying to look backward. We're trying to look forward. Full ZiPS hitter projections don't yet exist, but we do have all the Steamer data. Here are the highest projected rates of hits per plate appearance:
2019, Projected
| Player | H/PA% |
| --- | --- |
| Yonathan Daza | 28.3% |
| Daniel Murphy | 27.8% |
| Willians Astudillo | 27.3% |
| Vladimir Guerrero Jr. | 27.3% |
| Josh Fuentes | 27.2% |
| Jose Altuve | 27.0% |
| Eloy Jimenez | 26.8% |
| Eduardo Nunez | 26.7% |
| Yuli Gurriel | 26.5% |
| Raimel Tapia | 26.3% |
Daza is a…curious leader, but he rarely walks, and he's posted high averages in the lower minors. At the same time, he's played only a half-season in Double-A, so you'd be forgiven if you didn't think 2019 will be his year. Behind Daza, we have Murphy. Murphy makes sense because he's a line-drive, contact hitter, and, like Daza, he'll play in Colorado, where hit rates are inflated. And then, after Murphy, there's Astudillo. Astudillo is basically tied here with Vlad. I should note that, in his time in Triple-A, Astudillo's rate of hits per plate appearance has been 27.6%, which is awfully similar. Astudillo doesn't have speed, but he has that relentless ability to hit the ball *somewhere* almost every time. It makes a hitless game pretty unlikely, at least if Astudillo were to start, and every hitting streak starts with one. The more likely a player is to turn any given plate appearance into a hit, the more likely that player is to have a long hitting streak.
It's a little more complicated than that, even ignoring one's place in the batting order. For example, if someone bats four times and draws four walks, any existing hitting streak is still alive. The same goes for a pinch-hit appearance that leads to a walk. The hitting streak would continue. But we've covered what's most important. On a per-PA basis, Astudillo projects as a premier hit machine. ZiPS is more bearish, putting Astudillo's H/PA% for 2019 at 26.5%. Yet that would still be one of the very highest rates. I think that we've answered the question.
No one in 2019 is likely to threaten Joe DiMaggio's all-time-record hitting streak. The chances are far too slim. Yet they can still be individually calculated, and if one were to go through the math, one of the five or ten leading candidates to make an attempt would be Willians Astudillo. He might not have Jose Altuve's speed, and he might not have Daniel Murphy's home-field favorability. But he does have the incredible bat control. The biggest question might just be how often he plays.
Jeff made Lookout Landing a thing, but he does not still write there about the Mariners. He does write here, sometimes about the Mariners, but usually not.