In 2016, the Reds' rotation ranked last in the majors in WAR. The next year, they improved, sliding all the way up to 29th. This past season, they wound up in 26th, and over the combined three-year sample, we find the Reds in 30th place out of 30 teams, nearly a full six WAR behind the next-worst White Sox. It hasn't been for lack of talent; it's been for lack of execution, for lack of development. The Reds, at some point, decided they weren't going to take it anymore. Earlier in this offseason, the rotation added Alex Wood. Earlier in this offseason, the rotation added Tanner Roark. And now we have a holiday three-team exchange, bringing just another starting arm to Cincinnati.
Reds
GET:
LOSE:

Supplemental draft pick (No. 36)
Yankees
GET:

Supplemental draft pick (No. 36)

LOSE:

Sonny Gray
Reiver Sanmartin
Mariners
Wood is going into his contract season. The same is true of Roark. The same is also true of outfield acquisition Yasiel Puig. The same is true of Matt Kemp. The same was true of Gray, but as a part of this trade, Gray and the Reds have agreed on a three-year extension, beginning in 2020 and worth $30.5 million. There's a $12-million club option for 2023, and there are various salary escalators involved. The Reds are paying a high price here, but at least they're doing it for a long-term player. And from the Yankees' perspective, they knew it was going to get here eventually. Playing in New York, Gray just couldn't succeed. Now it's the Reds' turn to work with the same puzzle pieces.
There's an important lesson to learn here about leverage. Here's Brian Cashman, talking about Sonny Gray last October:
"It hasn't worked out thus far," Cashman said after a long sigh about Gray, who has been a bust in the Bronx after the Yankees acquired him at the trade deadline in 2017. "I think he's extremely talented. I think that we'll enter the winter, unfortunately, open-minded to a relocation. I think to maximize his abilities, it would more likely be best somewhere else, but it comes down to the final decision of price in terms of trade acquisition of matching up with somebody. If we match up, then I think it's probably best to try this somewhere else."
The Yankees broadcast to the world their intention of trading Gray away. They made no secret of their belief Gray just wasn't a good fit. It's been suggested this crippled the Yankees' leverage in negotiations, because would-be trade partners understood the Yankees didn't want to keep Gray on the roster. But — and this is Negotiating 101 — leverage isn't about what a player might mean to his current team. It's about what a player might mean to somebody else. It's about market demand for the player in question. Everyone knew the Yankees were going to trade Gray, but at that point, the suitors were left to compete with one another. The Yankees' own evaluation of Gray was almost irrelevant. As was reported, Gray drew interest from anywhere between five and ten clubs, many of them looking at Gray as an immediate upgrade.
So the Yankees didn't hurt themselves. They just needed at least two teams to get in the mix. The Yankees originally got Long, who is a real prospect. They swapped him for Stowers, who is also a real prospect. And they're getting what's currently the 36th overall draft pick next June, and that pick will turn into a real prospect. The past two years, Gray and Roark have both posted a K-BB% of 13%. Gray has allowed an expected wOBA of .317; Roark has allowed an expected wOBA of .315. Roark, as a contract-year player, was swapped for reliever prospect Tanner Rainey. The Yankees did better than Tanner Rainey.
But let's look at this from the Cincinnati side. There is a question of philosophy here. Granted, this looks different now that Gray has inked an extension. The Reds didn't just invest in another one-year player. But what we've seen from the Reds is a certain amount of aggressiveness. They've made a series of win-now decisions, despite being probably the fourth-best team in their own division. There's some chance they might even be fifth. At the start of December, Kiley McDaniel and Eric Longenhagen posted their Reds prospect list. The No. 7 prospect is gone. The No. 8 prospect is gone. The No. 13 prospect is gone. And also gone now is that supplemental first-round draft pick.
The best prospects do remain. And the major-league roster is increasingly talented. This is just somewhat surprising timing for a push. Even with today's better roster, the Reds still look like an NL Central underdog. I'm sure at least part of the thinking here is that the losing has gotten old. And, well, the losing has gotten old. You like to see a team that's trying harder. You can't say the Reds aren't trying to drum up fan-base interest. Just recognize this isn't all happening without a cost. The Reds have subtracted from their future to beef up the present, at a time when the present odds are still long. With Gray, at least, they might mold him into a better version of himself.
Here's a portrait of Sonny Gray from the past two seasons: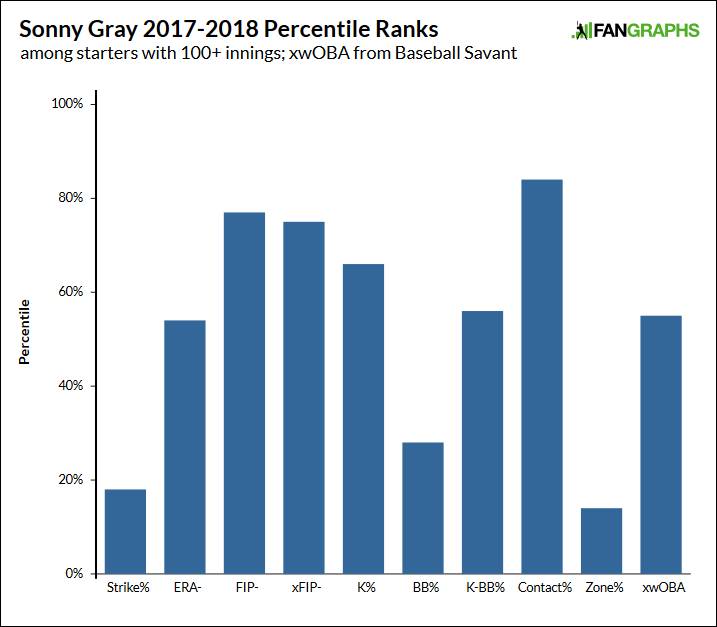 What's immediately clear is that Gray hasn't thrown enough strikes. He has missed bats, and he has gotten grounders, so overall he's profiled as something like a low No. 2, or a high No. 3. But, of course, there's more to Gray than this. When he first came up, he looked like the ace of the A's. Then he was traded to the Yankees. This past season did not go well — half of the time. Sonny Gray just couldn't pitch in New York.
Whenever someone cites lopsided home/road splits, I'm inclined to ignore them as noise. I'm still not entirely sure what to do about Gray. But, at FanGraphs, we have splits going back to 2002. Since 2002, there have been 2,206 pitcher-seasons with at least 50 innings at home, and at least 50 innings on the road. Here are the biggest home-field disadvantages, according to K-BB% and FIP:
Home-Field Disadvantage, 2002 – 2018
Minimum 50 innings both home and away.
Gray from last year also looks the worst by xFIP, which shouldn't come as a surprise, but I didn't want to make the table any bigger. We've seen players struggle before in certain ballparks, but Gray's 2018 was something else entirely. Working in Yankee Stadium, he simply fell apart.
I think it means something that the Yankees apparently arrived at the same conclusion. I also think it's important to understand you can't just extrapolate Gray's road numbers, were he to wear a different uniform. In a sense, Matt Harvey was a similar kind of gamble last season, when the Reds took him from the Mets. Pitching in Cincinnati, Harvey definitely improved, but he still wasn't anything great. With Sonny Gray, after last year, there are no sure things.
Fueling the Reds' optimism is that Gray was better outside of New York. Fueling the Reds' optimism is that Gray still gets his fastball into the mid-90s, and he still throws that high-spin breaking ball. And fueling the Reds' optimism is that now Gray is reunited with his college pitching coach, Derek Johnson. The two have a good relationship, and Johnson was able to help mold Gray into a first-round draft pick, way back when. On the other hand, that was way back when. It's like the White Sox trying to lure Manny Machado with Jon Jay and Yonder Alonso. The hard work is going to be Gray's to do.
If he finds what he's lost in Cincinnati, this move will be a successful one. He'll be part of an actual big-league rotation, attempting to pitch the Reds back into relevance. You can forgive me for still being somewhat skeptical. It was just last offseason the Cubs thought they were rescuing Tyler Chatwood from Colorado. Gray threw the same pitches with the Yankees, and he couldn't find consistency. In terms of pitcher and player development, the Yankees have a better track record than the recent Reds do. The whole problem has been that the Reds have struggled to turn out their pitchers. And if Gray had some sort of New York-related psychological block, who's to say that wouldn't manifest now in some other form?
It's a roll of the dice, absolutely, but at least Gray won't tie up all that much future payroll. His extension is more or less what the Rangers gave to Lance Lynn. One might prefer to see the Reds give more chances to the young starter candidates they've already had in-house, but there are going to be starts available. There always are. Rotations are almost never five guys.
I should note that, in addition to Gray, the Reds are picking up Sanmartin. Sanmartin isn't a great prospect, but he is an *interesting* prospect, being a 22-year-old southpaw who's just barely gotten up to Double-A. Not only has Sanmartin generated grounders while consistently retiring opposing lefties — this past year, out of 1,830 pitchers in the minors with at least 50 innings, Sanmartin finished with the fourth-lowest walk rate. He's a strike machine with a broadening repertoire, although it's still likely that, if he has a big-league future, he's working in relief.
As far as Shed Long is concerned, again, you can read about him in that December Reds prospect list. Long is a 23-year-old converted catcher who's still trying to get better at second base, and given that he's listed at 5'8, you wouldn't expect Long's swing to possess the thunder that it does. He's stronger than his slugging percentage would suggest, and he also runs well, last year nabbing 19 bases. There's a decent chance that Long will have to switch positions one day to the outfield, but for now, he becomes a rare Mariners middle-infield prospect. The Long-for-Stowers swap expanded this from a two-team trade to a three-team trade, and I think the Mariners part was motivated by 40-man roster concerns.
Long is now a member of the Mariners' 40-man roster. But Stowers doesn't yet have to be on the Yankees' 40-man roster. In other words, the Yankees are adding a prospect without having to bump somebody else from the 40-man. While Kiley and Eric see Stowers as the slightly inferior prospect here, Stowers is also still 21, and there's value in his not having to be rostered. Stowers was a second-round pick in the last draft, and he had a successful pro debut in the low minors. He swings from the right side and plays center field, and could well have a future as a regular. The current evaluation is that he's more of a hitter than a slugger. If he can stay in the middle of the grass, that'll play on a regular basis.
This has gone on incredibly long. To try to just summarize it in a paragraph: The Reds are trying to push into contention. Toward that end, they've committed to a pitcher coming off a roller-coaster season. The Yankees shared with the world that they didn't think Gray could pitch in New York, but that didn't hurt their leverage in talks, because other suitors still saw the same upside. The Reds are hoping they can tap into it, yet it's far from a sure thing, and they've borrowed from their future to place this bet. Maybe Gray, along with Joey Votto and Luis Castillo and Eugenio Suarez and the others, will keep the Reds relevant into August and September. That would validate the direction they've steered. The Yankees ultimately made a pretty easy decision. So did the Mariners. The Reds are taking the big risk. And as we all know, fortune favors the bold, some of the time.
Jeff made Lookout Landing a thing, but he does not still write there about the Mariners. He does write here, sometimes about the Mariners, but usually not.