Hu? The name took me back, and even more than a decade later, accounted for a substantial percentage of what I knew about Taiwanese players in the professional ranks. Circa 2008, Chin-Lung Hu was considered a Top 100 prospect by both Baseball America (no. 55) and Baseball Prospectus (no. 32), and the third-best prospect on the Dodgers behind Clayton Kershaw, who panned out, and Andy LaRoche, who did not. I'd written about him a couple of times for the Baseball Prospectus annuals, noting that his acrobatic fielding conjured up comparisons to Omar Vizquel and forecast for future Gold Gloves as well as the bat speed to hit .300 at the major league level. A dozen years later, here he was, halfway around the globe and fresh off a milestone and a bit of history: his 1,000th hit in the Taiwan-based Chinese Professional Baseball League — due to the COVID-19 pandemic, the only professional baseball league currently playing its regular season, albeit to empty ballparks — and with the fewest games played (704) to reach that mark to boot.
Alas, I had actually missed the momentous knock, but caught up with it on Twitter a short while after via the Eleven Sports Taiwan account, which was streaming an English-language broadcast of Saturday's game between the Rakuten Monkeys and the Fubon Guardians (Hu's team). The Guardians had been on the short end of a 12-2 rout in the eighth inning when Hu, who had gone 0-for-4 in pursuit of hit number 1,000, singled just to the right of second base, plating a run.
NO.1000 HIT for #HuChinLung #???
He is a former @MLB @Dodgers player #Hu become the fastest to reach this goal in #CPBL history @fubonguardians pic.twitter.com/OEQczSBv31

— ELEVEN SPORTS TAIWAN (@ElevenSportsTW) April 18, 2020
An inning and maybe 45 minutes later — shortly after 9:30 AM in Brooklyn, where I had my 3 1/2-year-old daughter in my lap as we peered at a foreign but recognizable version of the national pastime — the announcers were still talking about Hu's hit, because he was up again in what was now a 12-5 game. With men on first and second and two outs, he grounded into a potential game-ending double play, but the second baseman's throw had pulled the shortstop well off the bag, and Hu beat the throw to first. The Guardians' manager actually challenged the call via instant replay but was denied. The inning continued, and the game eventually ended 12-9, still a win for the undefeated (4-0) Monkeys.
My appetite had been whetted, to say the least.
…
As I noted on Friday, in a piece more focused on the Korea Baseball Organization's effort to start its exhibition season, the CPBL began its regular season — the 31st in its history — on April 11. Taiwan, an island state of 23 million that is claimed by the People's Republic of China, has fewer than 400 confirmed cases of COVID-19, with just six deaths according to the Johns Hopkins COVID-19 dashboard — all thanks to an aggressive governmental response to the outbreak founded in the country's 2003 experience in combatting the SARS outbreak.
The CPBL now consists of five teams, though one, the Wei Chuan Dragons — a reboot of a franchise active from 1990-99 — is playing in its minor league this year and will join the other four teams next year. Here's what last year's standings looked like, along with a bit of history:
2019 Chinese Professional Baseball League Standings
| Team | City | W1 | L1 | T1 | PCT1 | GB1 | W2 | LT | T2 | PCT2 | GB2 | Champ |
| --- | --- | --- | --- | --- | --- | --- | --- | --- | --- | --- | --- | --- |
| Lamigo Monkeys | Taoyuan City | 35 | 24 | 1 | .593 | – | 28 | 31 | 1 | .475 | 7.5 | 7 |
| Fubon Guardians | New Taipei City | 31 | 27 | 2 | .534 | 3.5 | 32 | 28 | 0 | .533 | 4 | 3 |
| CTBC Brothers | Taichung City | 26 | 32 | 2 | .448 | 8.5 | 36 | 24 | 0 | .600 | – | 7 |
| Uni-President Lions | Tainan City | 25 | 34 | 1 | .424 | 10 | 23 | 36 | 1 | .390 | 13 | 9 |
SOURCE: cpblstats.com
W1, L1 etc., refer to first-half records and standings, W2, L2 etc., to second-half records and standings.
The league had six teams as recently as 2008, but a game-fixing scandal — not its first, alas — thinned the ranks. As in the KBO and Nippon Professional Baseball, teams are named not for the cities in which they play but for the corporations that own them. The Monkeys, winners of six of the past eight Taiwan Series, were acquired by Tokyo-based Rakuten Inc. last September, making them the first foreign-owned team in league history. The Brothers were officially the Brother Elephants until December 2013, when ownership changed, though they still retain the pachyderm mascot. The Guardians were formerly the EDA Rhinos, who notably employed Manny Ramirez for a few months in 2013 before the slugger got homesick and opted for a stateside comeback attempt; Fubon bought the team in November 2016.
The CPBL is a hitter-friendly league, with teams averaging upwards of five runs per game. In 2019, the league averaged 5.47 runs and 1.07 homers per game, on a cumulative .288/.348/.439 batting line. The designated hitter is universal, and as with the KBO and the NPB, ties are declared after 12 innings. The CPBL season is split into two 60-game halves. Both half-season champions qualify for the playoffs, but from there it gets a little complicated. The CPBL Stats Twitter account (@GOCPBL) — the top resource for English-language information on the league, backed by an informative website that provides basic background as well as considerable insight and advanced batting stats such as wRC+ — explained to me that there are three possible playoff scenarios:
If each half-season is won by two different teams, then those two teams will play in a best-of-seven Taiwan Series.
If the same teams won both half seasons, then they will move on to Taiwan Series with a one-win advantage. The other spot will be determined by a best-of-five series between the second- and third-best teams in overall standings (winning percentage).
If a team has the best overall win percentage, but did not win either half season, then they will play a best-of-five series against the half-season winner with the lowest win percentage.
In 2019, with the Monkeys winning the first half and the Brothers the second half, the first scenario applied, even though the Guardians actually tied the Monkeys in overall winning percentage (.534, 63-55-2), one game ahead of the Brothers (62-56-2). "Long story short, the Guardians got shafted by the rule," wrote CPBL Stats. In the ensuing Taiwan Series, the Monkeys beat the Brothers four games to one to claim their third straight title and sixth in the past eight years. It was the fifth time in that span that the Brothers wound up as the bridesmaids, four of those against the Monkeys; they haven't won since 2010, when they were still the Brother Elephants.
Like the KBO, the CPBL employs foreign-born players; as of this season, teams are limited to four such players, up from three in years past, though only three can be on the 26-man "first team" (its major league team) and only two can be on the field at once. Via CPBL Stats site's must-read guide to the 2020 season, among the foreign-born players on current rosters are names like Ryan Feierabend (Uni-Lions, and recently of both the KBO and the Blue Jays), Radhames Liz (Monkeys), Ariel Miranda (Brothers), Justin Nicolino (Monkeys), Josh Roenicke (Uni-Lions), Esmil Rogers (Brothers), and Henry Sosa (Guardians). According to the site, foreign-born players with at least Triple-A experience generally make $18,000 to $25,000 USD per month, not including incentives, but salaries can go higher, with Miranda making upwards of $600,000 and Sosa somewhere between $500,000 and $600,000 — something not far from the major league minimum but well above a minor league salary. "New foreign players tend to get a 3-month to half-season deal," wrote CPBL Stats. "For those that are returning to CPBL, they might receive half-season to a full-year contract or even a multi-year deal."
…
As for the now-36-year-old Hu, he began his stateside professional career in 2003, one of the team's three Taiwanese signings to make the majors, along with pitcher Hung-Chi Kuo (who at times pitched brilliantly for the Dodgers) and outfielder Chin-Feng Chen (who went just 2-for-22 in parts of four seasons). He posted batting averages above .300 in four of his first five professional seasons while showing good pitch recognition and plate coverage if only modest power, though his arm strength, range, and sure hands made him a standout defender. After wining MVP honors in the 2007 All-Star Futures Game and faring well in a second-half promotion to Triple-A Las Vegas, he was called up by the Dodgers when rosters expanded, and debuted on September 1 that year as a late-inning replacement for Rafael Furcal. He homered off the Padres' Brett Tomko on September 11 for his first major league hit and two weeks later hit another homer of the Rockies' Ubaldo Jimenez; in all, he batted .241/.241/.517 in 31 PA that month.
Such was the optimism that Hu cracked the prospect lists and was considered the heir apparent to Furcal, who had one more season before free agency. Hu opened the 2008 season with the Dodgers, filling in at both middle infield positions until Furcal went down with a back injury that required season-ending surgery. Unfortunately, he simply couldn't hit major league pitching; he was sent back to Las Vegas in early June after a grim .159/.224/.206 showing while the team turned to Angel Berroa and even Nomar Garciaparra (his first shortstop action since 2005). He went 4-for-9 in very limited duty upon returning in September, but never got another sustained shot with either the Dodgers, who gave him just 31 plate appearances over the next two seasons, or the Mets, for whom he started just twice in 22 appearances in the first six weeks of 2011. He hit just .176/.225/.259 (20 wRC+) with -1.1 WAR in 214 major league plate appearances, the last of which still stands as the highest from among the 16 Taiwanese players to crack the majors (11 of them pitchers, most notably Chien-Ming Wang and Wei-Yin Chen).
After spending part of 2011 in the Australian Baseball League and 2012 in the independent Atlantic League, Hu returned to Taiwan, where he joined the Rhinos. Since then, he's hit a cumulative .356/.395/.506 for the Rhinos and Guardians, winning batting titles in 2014 (.350/.390/.458) and '15 (.383/.428/.558), with a career high of 16 homers in the latter season; twice he's posted batting averages in the .370s but lost out on titles, once to Lamigo's Po-Jung Wang, who put up video game numbers in 2016 (.414/.473/.689 with 29 homers) and '17 (.407/.476/.700 with 31 homers). Judging by the fielding data at Baseball-Reference, Hu has mainly served as a designated hitter since coming home, though in the past three years he's made a total of 81 appearances in the outfield, and is currently listed as an outfielder on the Guardians' roster.
…
Intrigued by my first sustained glimpse of the CPBL and the hook of Hu, I tuned into Eleven Sports' Twitter stream of Sunday's game between the Monkeys and the Guardians (2-2) at the 20,000-seat Taoyuan International Baseball Stadium, albeit time-shifted to my own convenience; Taiwan is 12 hours ahead of the Eastern time zone, and I'm in no position to get up at 5 AM to watch it live; a day juggling work and child care responsibilities is long and daunting enough without extra sleep deprivation. Using CPBL Stats' guide to decoding the Chinese-language schedule and running pages through Google Translate, I managed to decode the starting pitcher matchup: Sosa versus Wei-Jun Weng.
?| 2020/4/19 1700(GMT+8) #LIVE Pro-baseball game here in #Taiwan on ELEVEN SPORTS. Watch here for the 2020 #CPBL regular season #FubonGuardians vs #RakutenMonkeys@fubonguardians @RakutenMonkeys#ForTheFans #ELEVENSPORTS in ENGLISH!!! https://t.co/4Xel49L9vH

— ELEVEN SPORTS TAIWAN (@ElevenSportsTW) April 18, 2020
While the CPBL has a league-wide streaming package that can be purchased for $35 USD, those games are broadcast in Mandarin. The Eleven Sports stream was part of a five-game experiment of English-language broadcasts brought about by the league suddenly having the international baseball stage to itself due to the pandemic, one that drew nearly five million baseball-starved viewers.
In the booth for the games were an inexperienced but thoroughly endearing pair, Wayne Scott McNeil and Richard Wang. As I learned through a worthwhile profile by The Athletic's Marc Carig, the 40-year-old McNeil is a Nova Scotia native who's been in Taiwan for several years; his day job is at a publishing house. The 48-year-old Wang, who studied architecture at the Wentworth Institute of Technology in Boston, is a CPBL broadcaster whose previous work had been entirely in Mandarin. "Good morning, good afternoon, and good evening to everyone watching the game with us," they greeted viewers several times in Sunday's broadcast, acknowledging their sudden worldwide audience.
I settled in to watch the game while attempting to write about it, a challenge that proved daunting given the dearth of English in the tiny Twitter window onscreen. Names are a challenge, not just because of the Chinese placement of surnames first (so the familiar Chin-Lung Hu becomes Hu Chin-Lung), but because the bare-bones resources that I have — CBPL's English-language rosters, Baseball-Reference's pages, and the names on the backs of the Guardians' splendid powder-blue jerseys — don't match up with the transliterations shown onscreen via the lineups, to say nothing of the frequency of certain surnames: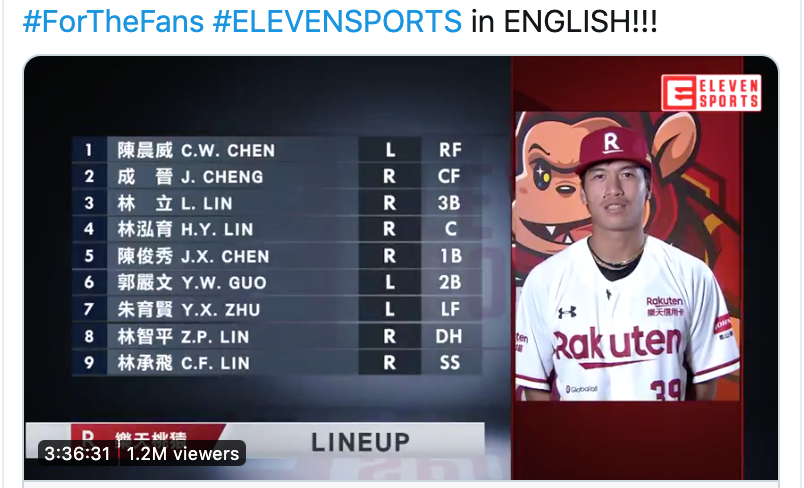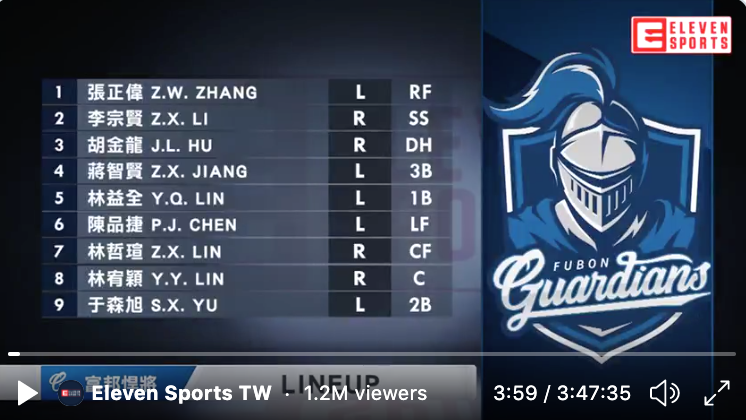 That's seven Lins and three Chens out of 20 players on the field, a challenge for a newly-arrived Western viewer to untangle, let alone cover with even the slightest air of authority. At times watching the broadcast, I felt like I was seven or eight years old again, in a ballpark for the first time and overwhelmed by the amount of information to take in beyond the most basic rules. The game's familiar contours offered some reassurance, though the lack of the 21st century handholds, such as live boxscores and Gameday pitch logs, made me feel as though I was working without a net.
The 34-year-old Sosa, this particular game's only foreign player, is a native of the Dominican Republic who had a brief flicker of major league experience, making 10 starts for the 2011 Astros. After that, he spent a few years bouncing between South Korea and the United States; following a stint at the Dodgers' Triple-A affiliate in 2014, he spent the remainder of that season and all of the next four with the Nexen Heroes and LG Twins. He began the 2019 season with the Guardians and dominated (8-2, 1.56 ERA, 2.95 FIP, 26.1% strikeout rate) to the point that the KBO's SK Wyverns purchased his services for the remainder of the season, though he rejoined the Guardians in December. "He was crowned as the best import player in the history of the CPBL," noted Wang as he warmed up. Though he can reputedly dial his fastball into the mid-90s, a report on last year's stint in the KBO noted that he was second in that league in average fastball velo at 149.5 kph (that's 92.9 mph), but I rarely saw him or his opposite number, the rail-thin 21-year-old Weng break 145 (90 mph). Struggling to stay afloat with the action on the field, I'm in no position to give a true scouting report.
Anyway, following along with the action, in the bottom of the first, after Monkeys third baseman Li Lin smacked an 0-2 pitch into the right-center gap to send a runner to third, the cameras show the surreal sight of two female cheerleaders performing a routine to a dozen or so cardboard cutouts whose likenesses include masks:
The cutouts are a common sight throughout the league, as are noise-making robots who help to add to the often-frenetic atmosphere that's missing from the nearly-empty stadium. Even with no in-person audience, the cheerleading persists throughout the game. Even while appreciating that the cheerleading is a staple of baseball throughout its Asian leagues, under the circumstances, the sight is strange, to say the least.
The Monkeys eventually scored the run when Chun-Hsiu Chen smoked a low-90s fastball up the middle and past Sosa, putting them up 1-0. There were more cheerleaders between innings, visible on the stadium displays, and then when Guardians third baseman Chih-Hsien Chiang came to bat, Wang and McNeil mentioned that he slugged .740 in 2016. Intrigued, I looked it up on Baseball-Reference, where they show him with a .402/.450/.738 line, with 30 homers in just 88 games for the Brothers; I'm in no position to debate anyone's accuracy here, just marveling not only at the numbers but the fact that of that suite, only the slugging percentage led the league.
McNeil and Wang are easy enough to follow along with if you're not obsessively flipping between the English-language rosters of the two teams on CPBL Stats on just about every play. McNeil called out the proverbial "good piece of hitting," as the Guardians' Che-Hsuan Lin singled in the game-tying run by fighting off an inside pitch. Lin played nine games for the 2012 Red Sox, and in 2013-14 tried pitching in the Astros' and Rangers' organizations, but since coming back to Taiwan in 2013, he's been an outfielder and designated hitter.
In the bottom of the second, I discovered Monkeys left fielder Yu-Hsien Chu, who's already hit five home runs through the season's first four games, tying the league's record for the most homers in a week. Sosa struck him out chasing a low sinker, but I soon learned that he's the reigning MVP, having hit .347/.394/.605 (154 wRC+) with 30 homers and 105 RBI last year.
In the top of the fourth, the Guardians loaded the bases with one out thanks in part to a sloppy glove flip by the shortstop on a potential double-play ball; the transfer turned into some combination of an alley-oop and an eephus, taking forever to drop. The Monkeys escaped thanks in part to a great play — one of several in the game by both teams, worthy of GIFs that I couldn't make in time — on a grounder by Lin Li, backhanding the ball as he crossed the foul line and throwing home off his back foot, in time to get the force at the plate. Weng then somehow froze Sen-Hsu Yu with a 90ish fastball down the middle to end the threat.
With two outs in the bottom of the fourth, Sosa fell behind 3-0 to Yen-Wen Kuo. After some jawing involving the Monkeys' manager (Hao-Ju Tseng) and the Guardians' catcher (Yu-Ying Lin), apparently harkening back to an argument over a bat — whether it was league-certified or not — in the third inning, Sosa plunked Kuo in the butt, and benches cleared:
2020 4/19 CPBL #FubonGuardians vs #RakutenMonkeys #ForTheFans #CPBL pic.twitter.com/x9ZusXE2p5

— ELEVEN SPORTS TAIWAN (@ElevenSportsTW) April 19, 2020
"For our international viewers, you need to understand that this never really happens in the CPBL," said an excited McNeil. "It's usually a very conservative league. They don't even argue balls and strikes or outs very often. For this to happen right now — can I say it's quite exciting?"
Despite the fracas, Sosa was not ejected, but the Monkeys did get their revenge. In the fifth, DH Chih-Ping Lin roped a double into the left field corner, then took third on a balk, that after a terrible bunt attempt that was popped up foul. He couldn't score when with one out Chiang speared a high chopper at third base, but finally came home when Chin Cheng lined one up the middle. The Monkeys added another in the seventh, Sosa's final inning of work, when the inning's leadoff hitter, Yu-Hsien Chu, beat out a slow roller to shortstop, then yielded to a pinch-runner who took second on a well-placed sacrifice bunt. On Sosa's 100th pitch, pinch-hitter Chien-Fu Liao then crushed a double off the center field wall, 400 feet away.
Sosa finished having allowed seven hits over seven innings, striking out four without a walk. Weng was even stingier, scattering just three hits over seven innings while striking out five while walking just two. I'll admit that with my word count well above the two hurlers' pitch counts — to say nothing of my clock for the domestic tradeoff of child care duties — I was forced to forgo the final two frames (I knew the scoring was done).
Nonetheless, I came away from my viewing experience with my appetite for baseball more than a little fulfilled. With MLB probably months away from any attempt to start its season — without widespread testing, it's a pipe dream — we baseball-starved fans and writers will have to look to the CPBL and the KBO for our fixes, meeting the games on the terms of foreign-language broadcasts while hoping that the promise of much larger international audiences than they could previously conceive of offer an incentive to increase their levels of amenities to accommodate English-language viewers. At the end of the day, though, it's still baseball, and at a time when so much of the world is barren of the usual pleasures, you take what you can get, and for a few hours, this was plenty.
Brooklyn-based Jay Jaffe is a senior writer for FanGraphs, the author of The Cooperstown Casebook (Thomas Dunne Books, 2017) and the creator of the JAWS (Jaffe WAR Score) metric for Hall of Fame analysis. He founded the Futility Infielder website (2001), was a columnist for Baseball Prospectus (2005-2012) and a contributing writer for Sports Illustrated (2012-2018). He has been a recurring guest on MLB Network and a member of the BBWAA since 2011. Follow him on Twitter @jay_jaffe.