Here's the lowdown on Tyler Rogers: A 6-foot-5 right-hander from Littleton, Colorado, he's the twin brother of a left-hander closer, he made his MLB debut this past August, and he's a submariner. Moreover, he kills a lot of worms. The 1.02 ERA that Rogers put up in 17 games out of the San Francisco Giants bullpen was augmented with a 69.4% ground ball rate.
Unlike his traditional-arm-slot sibling, he's not a power pitcher. Taylor Rogers — fittingly, a Minnesota Twin — features a 95-mph fastball and an 83-mph slider. Tyler features an 82-mph sinker and a 73-mph slider. The latter pitch, which the atypical hurler throws roughly a third of the time, is atypical in itself.
"I call it a slider, but it's almost a curveball," Rogers said in September. "I kind of curl it like people do when they throw a curveball overhand. It's the same thing, I'm just bent over doing it. So yeah, basically it's just a normal curveball grip that I throw from underneath."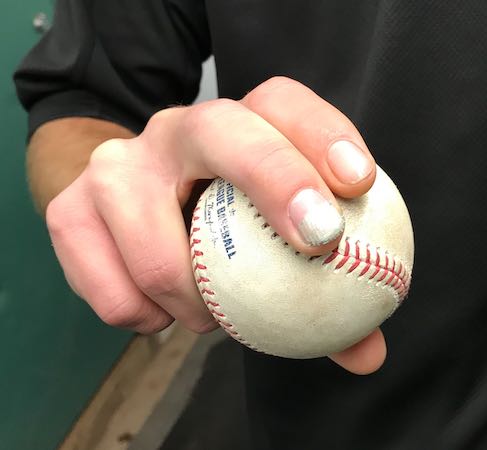 Rogers began dropping down his freshman year of junior college. He did so at the suggestion of a coach, and from there progressively got lower and lower. The transformation to an actual submarine-style delivery came after the Giants took him in the 10th round of the 2013 draft. Irony being what it is, the genesis of the more-extreme verticality was horizontal in nature.
"All throughout college I would stand on the very first base side of the rubber," Rogers explained. "I had my hands up by my chin when I came set, and I was more of a fade guy. And I was higher. When I got to pro ball, they moved me to the third base side of the rubber to help me get the ball more glove side. When you move on the rubber it's only like 10 inches, but it feels like it's two feet. Really, it's my spine angle that got lower, not so much my arm slot. From the third base side of the rubber, it's almost impossible to get the ball over there without being lower."
The difficulty of throwing a quality changeup from underneath is a challenge he's yet to conquer. It's not as though he hasn't tried.
"Changeups are weird and Im not a velocity guy to begin with," said Rogers. "It is what it is. A lot of guys with good changeups are real 'turn it over' guys — they're pronating guys — but I'm more of a… I'm not much of a pronating guy. I think more 'spin,' I guess you could say."
What have bullpen coach Matt Herges, and the team's pitching analytics guys, had to say about his attempts to develop a useable third pitch?
"They're in the same boat as me," responded Rogers. "Honestly, this is all new to everybody because of how low I am. They ask me what I like, and let me try things. I've found that no seams is good. Taking the legs out of the delivery. But I'm still searching for something that really works. To this point I haven't thrown a changeup in a game. Maybe a few in the minors, but not up here."
Even with the limited repertoire, San Francisco's since-retired manager thinks highly of the low-slot righty. He wasn't ready to offer a specific comp when asked for one — I volunteered Dan Quisenberry or Chad Bradford — but Bruce Bochy was bullish on Rogers's ability to hunt outs.
"Those guys are similar in how they got the sink, and they had the slider that kind of rises a little bit, but I can't say there's one in particular that he really reminds me of," said Bochy. "I just like him because he throws strikes — quality strikes — and he gets ground balls. Guys that get outs are valuable. You look at the 82-83 and go, 'How's he going to do it up here?' Well, you see him doing it. He's unique. You don't see [submariners] much anymore — the game is more geared to power now — but what he does works up here."
———
Per Baseball Almanac, ten sets of twins have played in MLB. Along with Tyler and Taylor Rogers, the group includes Jose and Ozzie Canseco, Stan and Stew Cliburn, Marshall and Mike Edwards, Ray and Roy Grimes, Bill and George Hunter, Bubber and Claude Jonnard, Damon and Ryan Minor, Eddie and Johnny O'Brien, Joe and Red Shannon.
———
A handful of Sundays ago this column led with Luke Carlin describing what it was like to catch Greg Maddux and Trevor Hoffman, specifically how their unique characteristics made each experience an education of its own. Left on the cutting room floor were the following quotes:
"Everybody always talks about Trevor's changeup, but his ability to command is what allowed him to be so good," said Carlin. "Being able to locate his fastball set up his changeup, which was obviously very good. He had a very good plan. Trevor knew what he wanted to do, and how he wanted to do it."
———
RANDOM HITTER-PITCHER MATCHUPS
Simmy Murch went 0 for 3 against Howie Camnitz.
Fritz Mollwitz went 0 for 5 against Ben Tincup.
Harry Fritz went 1 for 9 against Gene Krapp.
Otis Clymer went 1 for 3 against Biff Schlitzer.
Skippy Roberge went 1 for 13 against Whit Wyatt.
———
In a recent conversation with Michael Girsch, the St. Louis GM told me that his club shifted more often this season than in years past. He did include a qualifier. "We're not a dramatic shifting team," Girsch said. "We were probably still in the bottom five in the league."
Indeed they were. Per Baseball Savant, the 939 shifts St. Louis employed were the fifth fewest in the NL, and the sixth fewest overall. Last year they shifted just 272 times, the fewest of any team outside of the Angels.
———
Sticking with the Cardinals, I asked Assistant GM/Director of Scouting Randy Flores which player in the system stood out for having made major strides this season. He went with Tommy Edman, who made his MLB debut on June 8 and went on to slash .304/.350/.500 in 349 plate appearances.
"He was a sixth-round draft pick out of Stanford who'd never been on any of the big prospect lists," Flores said of the 24-year-old infielder. "He's someone who's just continued to get better. Player Development did a great job of giving him an opportunity at multiple spots on the field, and he's gotten stronger, both physically and with his arm strength. He's now a major contributor to the big league team."
As for a player whose performance came exclusively down on the farm, Flores wasn't biting on that one.
"It's almost like your children," demurred the pitcher-turned-executive. "I don't want to name one for fear of neglecting another."
———
Minnesota's Derek Falvey was willing to answer a similar question. Asked which Twins minor leaguer impressed while flying under the radar, the Executive VP/Chief Baseball Officer named 21-yeear-old right-hander Jhoan Duran.
"He maybe hasn't flown entirely under the radar, but [Duran] is a guy who has continued to impress and get better as a starting pitcher," said Falvey. "What we saw from him in the last few weeks of the season in Double-A… he had one game where he threw seven innings, had a no-hitter going, and ended up punching out 13. He's got really good command of his fastball, knows how to use it now, and he's been developing his secondary pitches. Jhoan Duran is definitely somebody we're excited about."
Notably, Duran wasn't the only farm hand missing bats. As pointed out in my recent Twins post mortem, Minnesota's minor league pitchers — this throughout all levels — logged the second-highest K rate in professional baseball. Given the dearth of strikeouts that had dogged the organization for years, Falvey and the fan base alike have plenty of reasons to smile at this latest development.
I asked the personable exec if strikeouts are priority throughout the system, or simply a byproduct of the team's newly-installed approach to pitching.
"I think a strikeout is a result of a pitcher's plan, and approach," Falvey told me. "It's not necessarily something you're seeking from Pitch One, but if you get to two strikes and know what you can do to get a swing-and-miss more frequently, you're better off. No damage can be done on a strikeout. So they're valuable, and it's a matter of each individual pitcher understanding how he gets his strikeouts. Some guys might get strikeouts on fastballs with good top-of-the-zone characteristics, and for other guys it might be with a breaking ball."
———
LEFTOVER NLCS NOTES
* In NLCS Game 3, Washington's Kurt Suzuki became the first catcher to start 0-for-17 (or worse) in a postseason since the Senators' Muddy Ruel started the 1924 World Series 0-for-18 (per @EvanBoydStats).
* The 1924 Senators are the only Washington-based team to win a World Series. Walter Johnson was the pitcher of record in Game Seven's 4-3, 12-inning win. Six days earlier —there were no off days in the series — Johnson was the losing pitcher in Game One's 4-3, 12-inning defeat. Also notable in the Senators' 1924 season is the fact that they had a record of 24-26 on June 16. They finished the campaign 92-62.
* The Expos lost the deciding game of the 1981 NLCS to the Dodgers on a ninth inning home run by Rick Monday. Montreal had last ups, but stranded the potential tying run at second in the bottom half. No other team in the franchise's 51-year history had reached the NLCS prior to the Nationals doing so this year.
———
Tanner Rainey got his feet wet last September, appearing in eight games out of the bullpen for the Cincinnati Reds. It didn't go well. The hard-throwing right-hander walked 12 and gave up 13 hits in seven innings. He also allowed 19 runs, which sent him into the offseason with a 24.43 ERA.
Acquired by the Nationals in December, in exchange for Tanner Roark, Rainey appeared in 52 games with the NL champs and logged a 3.91 ERA over 48-and-a-third innings. Thanks in part to a heater that averaged 98 MPH, the 26-year-old Alabama native recorded 74 strikeouts.
What a difference a year makes.
———
Justin Turner is reportedly open to a position change, were the Dodgers to acquire free-agent-to-be third baseman Anthony Rendon. Five-plus years ago, his change of venue had a profound impact on two franchises. Turner almost ended up in Boston, not Los Angeles.
As The Boston Globe's Alex Speier chronicled in his book Homegrown, the Red Sox were close to inking Turner to a minor-league deal in January 2014, only to have the Dodgers swoop in with a big-league offer that he accepted. Then-Boston GM Ben Cherington later called LA's eleventh-hour coup, "A killer."
The deal Turner inked in 2014 was for $1M, and since joining the Dodgers he's earned just north of $50M while accumulating 25.3 WAR. In November 2014, Boston signed third baseman Pablo Sandoval to a five-year, $95 M contract. The Kung Fu Panda was subsequently released in July 2017, his WAR total with the Red Sox south of zero.
———
Especially interesting in this article by The New York Post's Andrew Marchand is the fact that the Dodgers didn't allow ESPN analysts Jessica Mendoza and David Ross in the clubhouse during media availability before games. Each "had to preset any interviews, because the Dodgers wanted to monitor the access of broadcasters working for other front offices." Mendoza is an adviser with Mets, while Ross has a similar role with the Cubs.
——
The Fukuoka SoftBank Hawks have captured the first two games of the Japan Series, beating the Yomiuri Giants 7-2 on Saturday, then hanging on for a 6-3 win earlier today. The Hawks are going for their third straight title, while the Giants have 22 overall, the most in NPB.
———
LINKS YOU'LL LIKE
At La Vida Baseball, Johnny Flores, Jr. wrote about how the reggaeton song "Calma" is serving as a unifying soundtrack for the NL champion Nationals.
The Seattle Mariners are now the only team never to have reached the World Series, and Tim Booth profiled their plight at AP Sports.
Wade Miley had MLB's best Adjusted Contact Score this season, and Tony Blengino wrote about it for Forbes.
Baseball has changed a lot since DC's last World Series, and Sarah Langs explained how at MLB.com.
A controversial MLB proposal would eliminate 42 minor league teams. JJ Cooper has the story at Baseball America.
Over at The Undefeated, John Florio and Ouisie Shapiro chronicled how Raquel Ferreira — now the highest-ranking woman in baseball — has broken through a glass ceiling.
———
RANDOM FACTS AND STATS
The New York Yankees have had 27 consecutive winning seasons, the longest current streak in MLB. The St. Louis Cardinals have the second-longest streak, with 12 consecutive winning seasons.
The Houston Astros and Washington Nationals share a spring training facility in West Palm Beach, Florida.
Washington Nationals batters had 30 bunt hits this year, the most in the majors. Atlanta Braves batters had four bunt hits this year, the fewest in the majors.
CC Sabathia had 25 hits in 121 career at bats. He went 6 for 19, and hit two of his three home runs, against the Cincinnati Reds.
The first of Sandy Koufax's eight World Series appearance was out of the bullpen in a game the Dodgers lost 11-0. Overall, Koufax went 4-3 with a 0.95 in the Fall Classic.
Philadelphia Athletics right-hander Jack Coombs fashioned three complete-game wins, over a six-day stretch, in the 1910 World Series. Coombs conquered the Chicago Cubs on October 18th, 20th, and again on the 23rd.
On this date in 2004, the Boston Red Sox bested the New York Yankees 10-3 in ALCS Game 7, completing their historic comeback from three games down. Derek Lowe — pitching on two days rest, no less — allowed just one hit, and one run, over the first six innings. Johnny Damon homered twice.
Charlie Williams became the first black umpire to work the plate in a World Series game on this date in 1993. It was an eventful affair. The Toronto Blue Jays topped the Philadelphia Phillies by a count of 15 to 14.
Richie Ashburn had a .378 slugging percentage over 15 big-league seasons. The Phillies' legend led the NL in batting average twice, hits three times, walks four times, and OBP four times. Ashburn also had league-leading seasons in triples (twice) and stolen bases.
Nick Altrock pitched twice for the White Sox in the 1906 World Series, each time matching up against Cubs Hall of Famer Mordecai "Three Finger" Brown. The first of the southpaw's complete-game efforts was a 2-1 win, the second a 1-0 loss in which he recorded eight assists and three putouts. Per his SABR Bio Project entry, Altrock purported to take two things seriously in life, clowning and golf.
David Laurila grew up in Michigan's Upper Peninsula and now writes about baseball from his home in Cambridge, Mass. He authored the Prospectus Q&A series at Baseball Prospectus from December 2006-May 2011 before being claimed off waivers by FanGraphs. He can be followed on Twitter @DavidLaurilaQA.