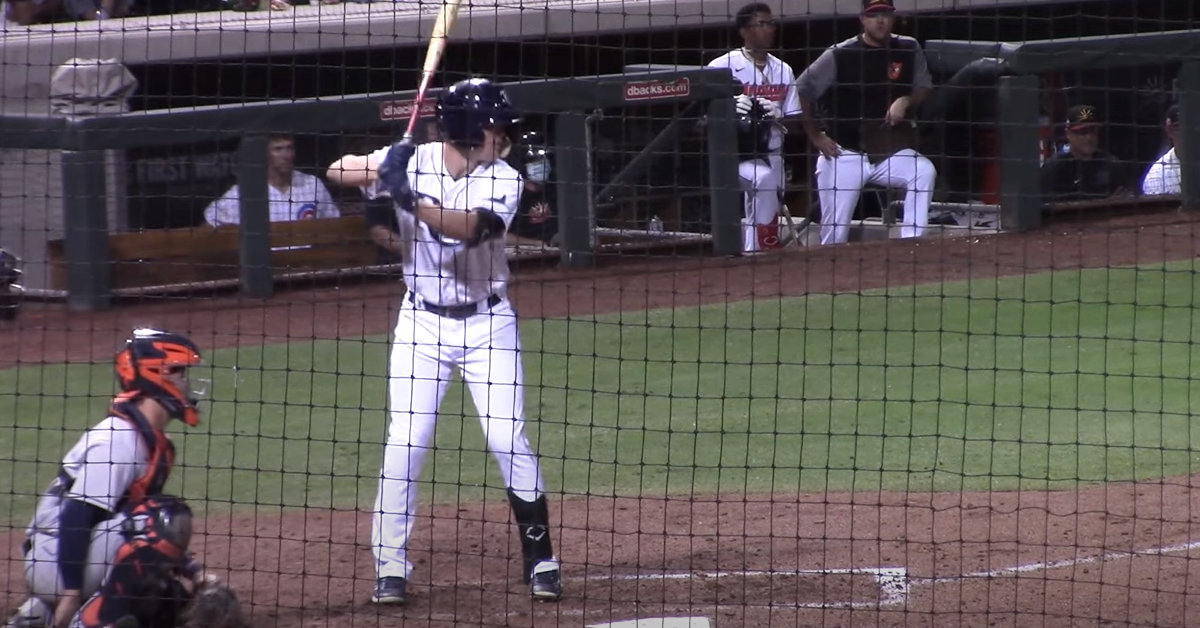 Top Prospects Series
Below is an analysis of the prospects in the farm system of the Tampa Bay Rays. Scouting reports were compiled with information provided by industry sources as well as my own observations. This is the third year we're delineating between two anticipated relief roles, the abbreviations for which you'll see in the "position" column below: MIRP for multi-inning relief pitchers, and SIRP for single-inning relief pitchers. The ETAs listed generally correspond to the year a player has to be added to the 40-man roster to avoid being made eligible for the Rule 5 draft. Manual adjustments are made where they seem appropriate, but I use that as a rule of thumb.
A quick overview of what FV (Future Value) means can be found here. A much deeper overview can be found here.
All of the ranked prospects below also appear on The Board, a resource the site offers featuring sortable scouting information for every organization. It has more details (and updated TrackMan data from various sources) than this article and integrates every team's list so readers can compare prospects across farm systems. It can be found here.
Reading Options
Position Filter
All
All
1B
2B
SS
3B
LF
CF
RF
SP
SIRP
MIRP
55 FV Prospects
50 FV Prospects
45+ FV Prospects
45 FV Prospects
40+ FV Prospects
40 FV Prospects
35+ FV Prospects
Other Prospects of Note
Grouped by type and listed in order of preference within each category.
Toolsy Youngsters
Angel Mateo, CF
Santiago Suarez, SP
Juanfel Peguero, SS
Jhonny Piron, CF
Nicandro Aybar, 3B
Mateo, who turns 18 in a couple of weeks, had a huge 2022 in the DSL, bringing a well-composed frame and power/speed combination to the table. His swing is quite long. Suarez, who came over from Miami in the Xavier Edwards trade, is an 18-year-old righty with starter traits. He enjoyed a two-tick fastball bump in 2022 and now sits 90-94 mph with feel for a firm, mid-80s changeup and a true 76-79 mph curveball. At a softer-bodied 6-foot-1, he lacks frame-based physical projection. Peguero, 18, was the best shortstop defender in the Rays DSL group last year, and he has pretty good feel to hit. He came to Rays camp at about 140 pounds and needs to get stronger. The 18-year-old Piron, who signed for $1.8 million, has a speedy extra outfielder's skill set but didn't hit in 2022. Aybar is a switch-hitting infielder of medium build who made a ton of contact in the 2022 DSL.
Fallen Friends
Hunter Barnhart, SP
Sandy Gaston, SIRP
Brendan McKay, SP
Barnhart, 20, is a recent over-slot high school pick who had Tommy John in 2021 and was out until the very end of '22, when he sat 90-92 mph in his lone rehab outing. He also has a pretty curveball. Gaston was a big-name amateur who signed for just over $2.5 million. He's still throwing hard (94-97 mph in the AFL) and will show you a plus slider, but his command causes everything to play down, closer to average. I've lost count of McKay's injuries at this point. He deserved better.
Southpaw Funk and Junk
John Doxakis, SP
Patrick Wicklander, SP
Keyshawn Askew, SP
Joe LaSorsa, RP
Jacob Lopez, RP
Aside from Wicklander, this entire group has east/west fastball movement created by a lower slot, a very popular archetype in this system. Doxakis has five pitches that all play a little worse than big league average. He might yet be a depth option. Wicklander paved over Low-A like you'd expect an SEC arm to. His uphill 91-94 mph fastball punches above its weight and he throws lots of strikes with it, though that's not true of his slider or changeup. Askew, who has a great name for a low-slot lefty, was acquired from the Mets for Brooks Raley. The Clemson alum has a big, sweeping slider and may develop versatile fastball utility. He carved Low-A but, again, as a large-conference prospect, he should have. LaSorsa sits 84-86 but commands the hell out of a plus slider and is nice LOOGY depth. Lopez is another funky lefty with a huge sweeper who has missed time recovering from TJ.
Young Velocity
Over Galue, MIRP
Jose Urbina, SP
Junior William, RP
Galue (pronounced like it is in Joey "Galloway," not like "glue") is a 21-year-old who sits 93-95 mph and has two really hard secondaries in his slider and changeup, both of which flash above average but are undermined by Galue's control. Urbina, who signed on January 15 for $210,000, has been throwing harder of late and was bumping 97 not long before list publication. If he can sustain that through the year, he'll move onto the main section of the list. His two-plane breaker has lovely natural sweep. William is a big-bodied 22-year-old righty with a max-effort delivery that generates a 94-97 mph fastball.
Bench Depth
Blake Hunt, C
Tanner Murray, 2B
Diego Infante, RF
Matt Dyer, C
Dru Baker, OF
Ruben Cardenas, OF
Shane Sasaki, LF
This whole group could conceivably play a low-end bench role. Hunt still has a plus arm, but I overreacted to his new swing in the fall of 2020 and he doesn't seem likely to hit enough to stick on a 40-man in perpetuity. Murray has a plus hit tool. His aggro approach and lack of power mean his OBP and SLG are going to be well below average, and as a 2B/3B fit on defense, you wish he had one of those other ingredients in addition to the contact piece. Infante is a corner outfielder with a 40 bat and 55 power. Dyer is a gangly catcher with a plus arm and a deuce bat. Baker, Cardenas, and Sasaki are all hovering in the Quad-A outfielder range, with Cardenas the closest of that group to the big leagues and Baker the one most likely to out-hit this ranking.
System Overview
The Rays had one of the best farm systems in baseball throughout the 2022 season, per our valuations. The graduation of four Top 100 prospects (if you're wondering, Jonathan Aranda and Shane Baz both lost rookie eligibility — they'd otherwise be 50s), along with the reevaluation of Heriberto Hernandez and Greg Jones and uncertainty surrounding many of the high-profile pitchers due to injury, has delivered a bit of a body blow to the system. This group is still likely to be in the top 10 based on its fantastic depth, probably close to seventh in baseball give or take a couple of spots.
The Rays' 2022 amateur draft was interesting. The industry (and your friendly neighborhood prospect writer) thought they reached for first rounder Xavier Isaac, and second rounder Brock Jones generates mixed opinions. But they also collected as many interesting prospects (above the prospect list threshold, anyway) as any franchise in baseball. If the 2022 class turns out to be anything like the '21 group, they'll all shoot up this list over the next year. Seven of the Rays' 2021 picks are on the list, with five occupying an impact FV tier (Manzardo, Carson Williams, Montgomery, Auer and Kinney).
As always, the pro scouting department is heavily involved in building the farm, much more than is typical for a team that tends to operate on the buyer/contender end of the spectrum at the big league level. The Rays are extremely transactional. They trade established, lower-impact big leaguers once they lose roster flexibility or put pressure on the payroll, swapping them for minor league prospects (usually more than one to mitigate risk). Fourteen of the prospects here were originally drafted or signed by a different team, and if we include the Honorable Mention guys and the dudes who barely graduated, it's 20 players. Continued success in this area is key to the Rays sustaining their recent competitive run.
Eric Longenhagen is from Catasauqua, PA and currently lives in Tempe, AZ. He spent four years working for the Phillies Triple-A affiliate, two with Baseball Info Solutions and two contributing to prospect coverage at ESPN.com. Previous work can also be found at Sports On Earth, CrashburnAlley and Prospect Insider.