A few days after the Minnesota Twins further emptied what was already a depleted bin of free agent starting pitcher options, one of the most pitching-starved teams in baseball opted to improve themselves behind the plate. ESPN's Jeff Passan reported late Thursday that the Los Angeles Angels had reached an agreement with former Twins and Astros catcher Jason Castro, signing him to a one-year deal.
Catcher Jason Castro and the Los Angeles Angels are in agreement on a one-year, $6.85M deal, pending physical, sources tell ESPN. Castro rounds out an Angels lineup that added Anthony Rendon and should have top outfield prospect Jo Adell in the big leagues early this season.

— Jeff Passan (@JeffPassan) January 3, 2020
Castro will slot in as the starting catcher in Los Angeles, delivering a boon to a team that had the fourth-worst group of catchers in the majors last season in terms of WAR. Five backstops combined for -0.6 WAR, and the only one to finish the season above replacement level — Dustin Garneau — signed a minor league deal with the Astros this winter. Max Stassi, the presumptive starter behind the plate before the Castro signing, offers some of the best framing skills in baseball, but his wRC+ of 5 — not a typo — was the third-worst in the majors out of all players with at least 100 PAs last season. Stassi was league-average with the stick in 2018, so there is some hope he can bounce back in that area as a backup, but asking him to catch 100 games was never going to be a wise strategy for the Angels.
Castro, meanwhile, carries a nice combination of high floor and relatively high ceiling as he takes over the job. He's been above average on defense throughout his career, and he continued to be a decent pitch framer in 2019, finishing in the 63rd percentile in Statcast's framing metric. He's also been fairly durable as far as catchers go. Since 2013, he's been on the DL just four times, with three of those occasions lasting no more than a couple of weeks. His most recent injury was also his most serious, a meniscus tear in his right knee that cost him all but 19 games of the 2018 season and ended a five-year streak of 2-WAR seasons. But Castro managed to bounce back last season and play injury-free, catching 79 games as the counterpart to breakout star Mitch Garver. In those 79 games, he hit .232/.332/.435 with a 103 wRC+ and 1.6 WAR. Before his knee injury, Castro compiled 13.5 WAR between 2013-17, the seventh-most of any catcher in that span.
Castro's glove and durability make him one of the safer bets on the catching market, even if they aren't necessarily exciting. But if you're an Angels fan looking for reasons to dream big on the team's newest addition, a good place to start is the way he opened the 2019 season with the bat. He entered last year with a career wRC+ of 93 — about average for a catcher, but not much to brag about. But as the venerable Sung Min Kim wrote about at the start of June, Castro started last season crushing the ball at a rate matched by few other hitters in the game. He'd suddenly become very efficient at barreling pitches up, driving the ball in the air, and maximizing his overall contact. There are ways to get hot at the plate that can be misleading about one's actual skill level, but things like exit velocities and barrels are difficult to fake. Castro had 151 batted balls in 2019, and he hit them an average of three miles per hour harder than he'd ever hit them before.
It was an intriguing revelation for Castro, and as Kim noted, one could speculate that some mechanical tweaks may be behind it. Unfortunately, however, they didn't stand up for the entire season. Castro's exit velocities tapered gradually as the campaign went on, while his expected slugging numbers nosedived.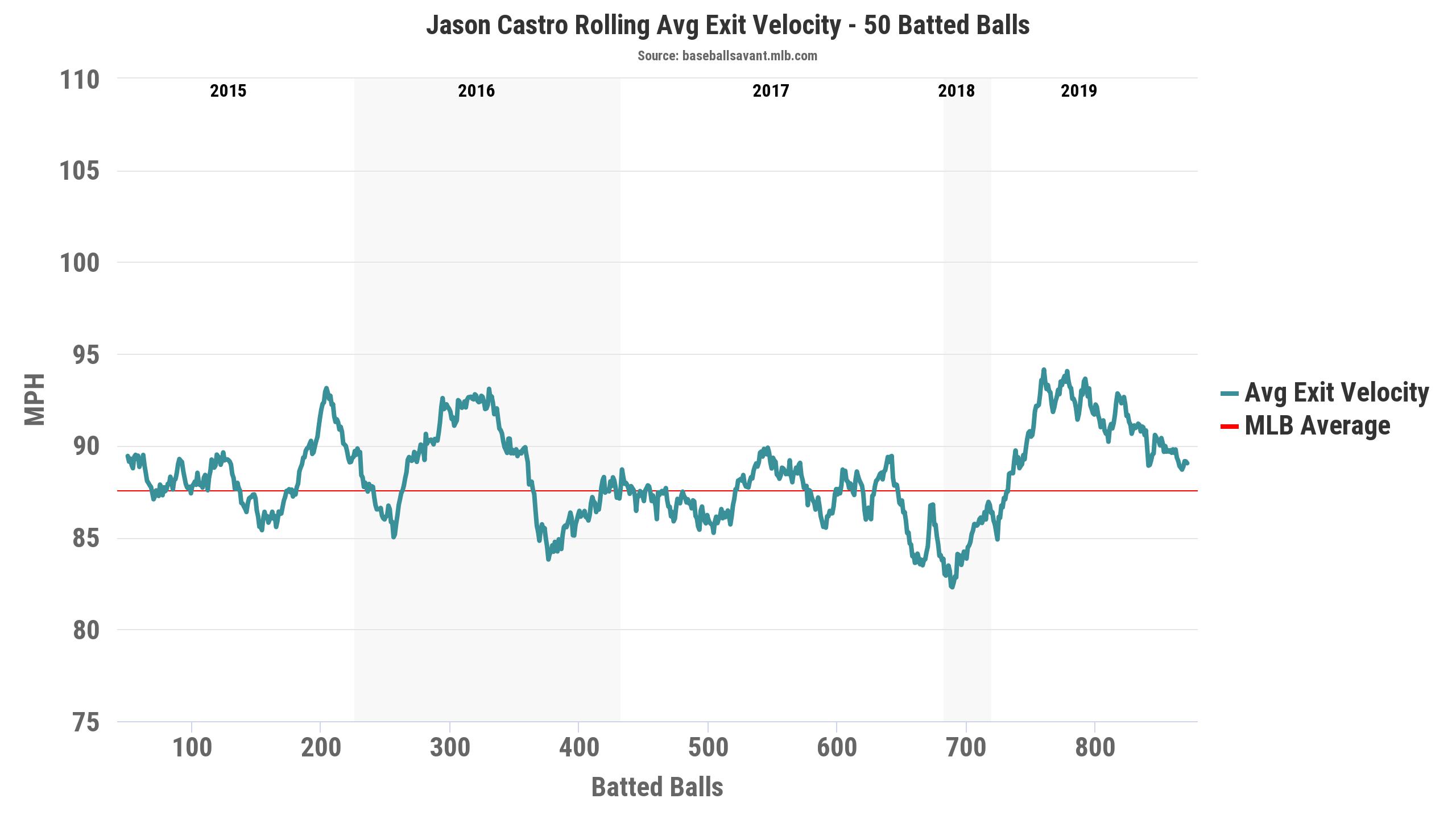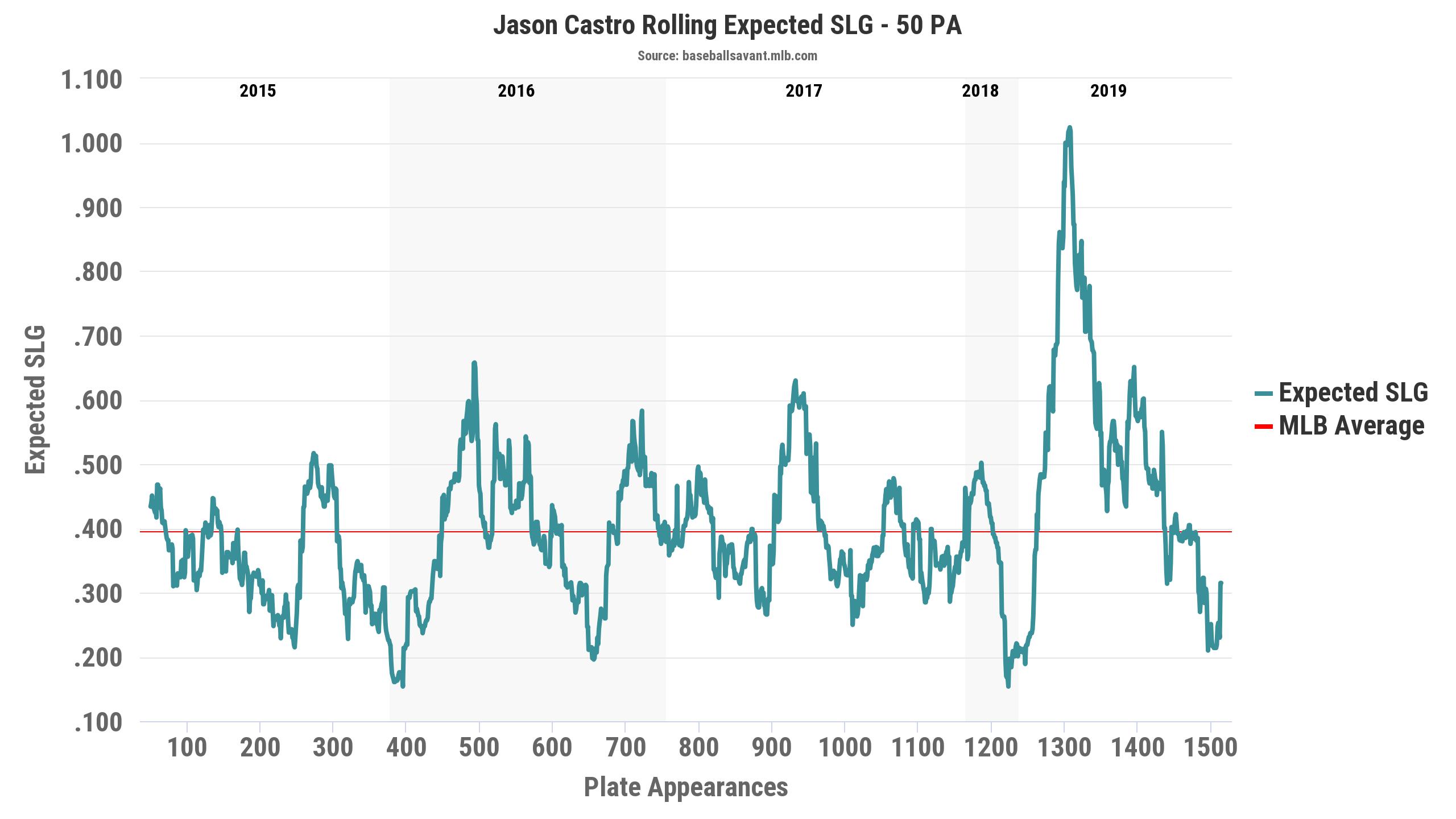 It seemed unlikely at the time that Castro had suddenly turned into Gary Sanchez overnight, and in the months that followed, that turned out to be just as far-fetched as it sounded. But Castro did seem to make some kind of improvements at the plate in 2019, and if the Angels can get him to harness that offense for an extended period of time, it would make their lineup even more dynamic than it already appears to be. Take that little piece of upside alongside his career numbers, and it's a bit surprising Castro couldn't secure a multi-year offer similar to what a few of his peers received.
Top FA Contracts Given To Catchers
With Castro off the market, the catching options are pretty bleak for contenders looking to improve behind the plate, and there are a few such teams. The Reds, A's, and Rangers all project to finish in the bottom six in baseball in catcher WAR in 2020, according to our Depth Charts, and each of those clubs is expecting to enter next season in win-now mode. One catcher remains from our Top 50 Free Agents list in Robinson Chirinos, but the former Ranger and Astro is entering his age-36 season, and therefore carries some significant risk. Russell Martin is another option, but he is risky for the same reason — he'll be 37 this year. Castro was clearly the best available backstop on the market, and the Angels not only used him to fill a hole on their own team, but also ensured that their division rivals' gaps would remain.
On one hand, it's difficult to see three solid pitching options sign in one week — reliever Will Harris also signed with the Nationals on Thursday — and have none of them land with the Angels, who are as desperate for arms as anyone. But a weakness is a weakness, and the Angels might very well believe Castro makes them two wins better, period. Los Angeles entered the winter on a mission to rebuild its pitching staff and instead has come away with one of the scariest lineups around. There are worse detours to take.
Tony is a contributor for FanGraphs. He began writing for Red Reporter in 2016, and has also covered prep sports for the Times West Virginian and college sports for Ohio University's The Post. He can be found on Twitter at @_TonyWolfe_.