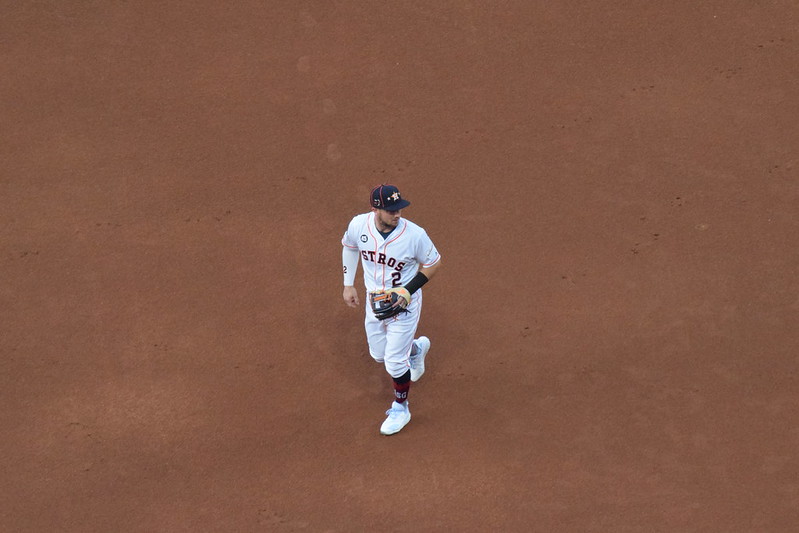 "Clunk! Clang!" – Anonymous Garbage Can
In terms of winning baseball games, the Astros executed a model rebuild. When Jeff Luhnow took over after the 2011 season, Houston was a craggy mess. The team hired Ed Wade after the 2007 season to help transition from the Killer B's era squads, but Wade's drafts didn't bear fruit for a long time, and at the major league level, his imagination appeared to find its limit at signing a lot of declining veterans. Luhnow's task was to tear the team down to the foundation, and then build it back up into something that looked like a modern roster led by a modern front office. That task, he accomplished.
The Setup
Flags fly forever, and Houston secured their first World Series victory in 2017. That 2017 World Series was one of the more entertaining ones in recent memory, the perfect topper to the second 100-win season in team history. As importantly, the Astros were determined not to fall into the complacency trap that tends to snare the champs. Once a team wins baseball's biggest prize, the natural impulse seems to be towards conservatism, to simply keep the band together and try to crank out albums identical to its prior hits.
But the post-2018 offseason was defined by a big move. Houston acquired Gerrit Cole from the Pittsburgh Pirates for a package led by Joe Musgrove and Michael Feliz. And it paid off wonderfully as Cole, no longer fettered by Pittsburgh's increasingly dated philosophy of inducing grounders with his hard stuff, flourished in an environment that encouraged him to attack batters directly. Cole went from striking out 23% of batters faced to 35%, an improvement much greater than can be explained away by the overall increase in strikeouts around baseball. Houston's other big pitcher pickup, Justin Verlander, continued to dominate in his post-Tigers career; the Astros had two Cy Young contenders on the roster that they did not have in July 2017.
Unlike most teams that experience such a significant jump in their record — the Astros added 17 wins from 2016 to 2017 — there was no disappointing regression. Indeed, the team actually added wins, finishing 103-59. A World Series repeat was not in the cards as Houston got bounced from the American League Championship Series in five games when the pitching proved unable to stop the Red Sox offense.
Last winter didn't feature any trade fireworks, and like most of baseball, the Astros had a rather boring offseason. They weren't completely silent — see Boston for a team that did just about nothing — first adding a more offensively-minded catcher in Robinson Chirinos, and then snagging Michael Brantley with a team-friendly two-year, $32 million contract. Also added was Wade Miley, one of 2018's biggest surprises, who allowed a 2.57 ERA and a 3.59 FIP in 16 starts for the Brewers after his disastrous stint with the Orioles.
The Projection
ZiPS projected 97 wins for the Astros, but that was hardly a disappointing projection given that teams rarely win 100 games with average luck. The biggest concern was the rotation depth. It's quite difficult to have an actually lousy rotation when you have Cole and Verlander up top, but the team lost a lot of depth in the offseason. Even assuming Miley was going to be as effective as he was in Milwaukee, the team needed to replace three-fifths of its starters after the losses of Charlie Morton (the Rays), Dallas Keuchel (eventually the Braves), and Lance McCullers Jr. (surgery). The computer saw the rotation as Houston's vulnerability if they rolled snake eyes on a couple of their key pitchers.
There was no corresponding concern with the offense. Carlos Correa was an injury risk, but that wasn't a new source of risk for the team. Alex Bregman's 2018 wasn't seen by ZiPS as a fluke, and he was projected to continue to be the best player in the lineup, finally taking over that mantle from José Altuve. Neither Kyle Tucker nor Yordan Alvarez even had an obvious role coming into the season, but they already had OPS+ projections above 100. ZiPS was less excited about Josh Reddick and Yuli Gurriel, but the team had alternatives at their positions if they disappointed.
ZiPS saw the Astros as the clear favorites, but not invincible. The A's were projected at 86 wins, close enough that there were scenarios in which they could once again give Houston a fright.
The Results
There was no such fright in 2019, and though Houston didn't have possession of first place in the AL West for all 162 games, the terror never advanced past the realm of slight anxiety. Houston's start was on the rough side, dropping three of four to the Rays and two of three to the Rangers, but they went on a 10-game winning streak to effectively reset the season. By the end of April, Houston stood atop the division and never gave up that position again. Oakland's 12-3 run in July made things a little tighter, but even at the race's closest point in mid-July, our playoff odds still gave the Astros a 98% chance of winning the division.
As in their 2017 run, the Astros made a huge move at the deadline to bolster the rotation. This time, the veteran pitcher added was Zack Greinke, with Seth Beer, Corbin Martin, J.B. Bukauskas, and Josh Rojas heading to Arizona in the exchange. In a modern game with hard stuff thrown anywhere in the zone, Greinke is a throwback pitcher, a crafty lefty in the body of a right-handed pitcher. With curves ranging from loopy to eephus and a fastball that pitch classification algorithms occasionally mislabel as a changeup, Greinke was having his best season since his Cy Young runner-up campaign in 2015.
Yordan Alvarez was called up in June and crushed the ball so thoroughly that he easily won the Rookie of the Year award despite playing in only 87 games. Miley collapsed down the stretch, devolving from a pitcher with a ERA under three to not even making the post-ALDS playoff roster in just six weeks, and Aaron Sanchez was only healthy enough to make four middling starts, but by this point of the season, Houston was looking ahead to the postseason. Jose Urquidy became a name to know in the season's final weeks and had a wonderful October, which included an über-clutch start in Game 4 of the World Series, but the team's starting pitching generally wasn't sharp against the Nationals, and Houston lost in seven games.
But the story of the season cannot be told without touching on the not-so-good things that transpired off the field. Verlander's heat with Detroit Free Press writer Anthony Fenech led to a pointless brouhaha that gave little advantage to the Astros. Then, when the team's focus should have been celebrating a huge victory in the American League Championship Series, assistant general manager Brandon Taubman thought it appropriate to taunt a group of female reporters about the acquisition and success of Roberto Osuna, who had been suspended for 75 games in 2018 for violating Major League Baseball's Joint Domestic Violence, Sexual Assault and Child Abuse policy. And after the World Series, Mike Fiers spoke out about the Astros having electronically stolen signs during the 2017 season and relaying those signs to batters using a trash can, something MLB can hardly overlook, even given the sport's rich history of electronic chicanery.
When making baseball moves, mistakes are inevitable. Even a well-run team like the Astros can miss on a Mark Appel or have a Ramón Laureano trade come back to bite them. But this kind of stuff is inexcusable. I sadly expect players like Osuna to get jobs so long as their abilities positively affect the bottom line and the win-loss record. That doesn't mean the team should pretend there aren't bigger, more important stakes in play, or try to wait out the news cycle when a senior executive behaves toward credentialed media as he might at a frat party.
What Comes Next?
Houston does face significant baseball challenges in the coming years. The team has traded away quite a lot of the depth in the farm system, to the extent that in the final 2019 ranking by Eric Longenhagen and Kiley McDaniel, they were down to just a single Top 100 prospect in Forrest Whitley, the only prospect on the team with a future value grade above 45. That's not to say that Houston shouldn't have traded off good prospects in an attempt to win a second World Series, but simply that as with the Cubs, there are consequences to face in return for the benefit.
The team will be helped by having Zack Greinke and Yordan Alvarez for a full-season, and Kyle Tucker will have plenty of opportunities in the near future. But losing Gerrit Cole is a real loss for the Astros. A front-four of Verlander, Greinke, Urquidy, McCullers, and Urquidy ought to be very good, but it's not a question-free group, and the rotation thins out quickly after the Standard Brad Peacock Fallback Position.
Further down the line, Houston will have to grapple with a lot of key talent reaching free agency. Brantley and Springer hit the market next winter, and after 2021, the Astros have Verlander, Greinke, Correa, and McCullers all reaching free agency. Keeping that group together past 2021 will cost a lot more than it does now, which might be a problem with the team's luxury tax number shooting past $230 million without Gerrit Cole on the roster.
Bregman and Altuve are signed long-term, but it looks a lot to me as if Houston is headed towards a rebuild after the 2021 season. At that point, Bregman, with three years and $74 million on his contract, could become a prime trade candidate if the team's heading into a down period. The 2022 Houston Astros may look very different from the 2019 team, unless they are able to pull a bunch of rabbits out of hats.
Complicating the magic show is the unknown penalty for whatever it is we call L'affaire Trash Can (please not Trashgate). While social media has naturally endorsed penalties that seem unrealistic — I've seen demands for MLB to ban the entire front office for life and others saying that the entire Astros should be made free agents — it seems likely that the punishment will be severe. I have little doubt that the Astros aren't the only team that has pushed sign-stealing into the verboten realm, but it's hard to complain about the crumbs elsewhere when it's your hand caught in the cookie jar. Penalties that include the loss of draft picks or revenue-sharing funds could have a real effect on those post-2021 Astros rosters. But we'll have to wait to find out.
ZiPS Projection – Yordan Alvarez
Alvarez's seemingly effortless power, when combined with the totally-normal-MLB-swears baseball turned out to be a more potent combination than tomato soup and grilled cheese, cookies and milk, or aging Gen-Xers and 90s Simpsons quotes. An interesting-yet-raw slugger picked up from the Dodgers for one of the Joshes Fields, Alvarez hit .343/.443/.742 in Triple-A, one of those lines so bonkers that someone might think you're reciting OBP/SLG/OPS until they realize the numbers don't add right. In just over a half-season in the majors, Alvarez added 27 bombs to the 23 he hit for Round Rock.
While there will be some regression, and there's always the chance that a significant change in the ball affects his game, Alvarez proved to be a fairly polished offensive talent with a surprising amount of patience and contact ability for a young slugger. He's never going to have much value with the glove and even less running the bases, but even if he doesn't match 2019, I think he's done enough to establish himself as a real offensive force.
ZiPS Projection – Yordan Alvarez
| Year | BA | OBP | SLG | AB | R | H | 2B | 3B | HR | RBI | BB | SO | SB | OPS+ | DR | WAR |
| --- | --- | --- | --- | --- | --- | --- | --- | --- | --- | --- | --- | --- | --- | --- | --- | --- |
| 2020 | .287 | .370 | .564 | 495 | 85 | 142 | 30 | 1 | 35 | 107 | 66 | 139 | 4 | 148 | 0 | 3.8 |
| 2021 | .287 | .370 | .564 | 495 | 85 | 142 | 30 | 1 | 35 | 107 | 66 | 139 | 4 | 148 | 0 | 3.7 |
| 2022 | .284 | .372 | .567 | 483 | 84 | 137 | 30 | 1 | 35 | 105 | 69 | 140 | 4 | 149 | 0 | 3.8 |
| 2023 | .282 | .373 | .560 | 482 | 84 | 136 | 30 | 1 | 34 | 104 | 71 | 142 | 4 | 148 | 0 | 3.7 |
| 2024 | .278 | .373 | .564 | 475 | 84 | 132 | 29 | 1 | 35 | 104 | 73 | 144 | 4 | 149 | 0 | 3.8 |
ZiPS see Alvarez as basically in a plateau, though obviously, his year-to-year variation is going to be wider than five years of mean projections indicate. While the WAR numbers may feel slightly low compared to his 2019 debut, ZiPS is hedging its bets on his playing time given his short professional career, and only one season in which he's played 100 games. ZiPS sees Alvarez's basic story, that of a young, All-Star slugger who can maintain a fairly high BABIP, as non-fiction.
Dan Szymborski is a senior writer for FanGraphs and the developer of the ZiPS projection system. He was a writer for ESPN.com from 2010-2018, a regular guest on a number of radio shows and podcasts, and a voting BBWAA member. He also maintains a terrible Twitter account at @DSzymborski.