On this date one year ago, the baseball season was in the midst of its brief halt for the All-Star Game in Washington, D.C. For the Oakland Athletics, it felt as if the season was just getting started. Through the end of May, the team had merely been average, at least by the most traditional statistic: win-loss record. On May 31, the A's were 29-28. But a 68-37 record (a 105-win pace) over their final 105 games turned a decent season into an excellent one. The A's finished 97-65, the franchise's best record since 2002, en route to capturing the second AL Wild Card spot.
In 2019, the Athletics are writing the script to a sequel. On May 31, the team was again 29-28, but since that time, their 26-13 record is the second-best in the American League and the fourth-best in baseball overall. During this stretch, their pitching has been remarkable:
Best Pitching Staffs Since June 1
| Team | Innings | ERA | FIP | xFIP | K% | BB% | WAR |
| --- | --- | --- | --- | --- | --- | --- | --- |
| Nationals | 331.0 | 3.43 | 3.67 | 4.07 | 24.9% | 7.0% | 6.8 |
| Athletics | 351.2 | 3.63 | 3.93 | 4.58 | 19.9% | 6.5% | 6.5 |
| Dodgers | 358.1 | 3.09 | 3.67 | 3.68 | 26.2% | 6.2% | 5.9 |
| Rays | 379.2 | 4.08 | 3.85 | 3.82 | 25.8% | 7.2% | 5.6 |
| Indians | 331.0 | 3.70 | 4.10 | 4.09 | 26.6% | 7.6% | 5.2 |
At the front of this charge is Mike Fiers. He has been the Athletics' most valuable pitcher over the last six weeks, leading a rotation that includes Chris Bassitt (3.95 FIP since June 1), Brett Anderson (4.55), Daniel Mengden (4.77), and the recently-acquired Homer Bailey. Based on name value alone, that's clearly not the most sterling group of arms, but they are currently getting the job done.
For the pitching staff, regression seems likely, and the team's depth is thin. The Athletics are already down two starting pitchers. Sean Manaea has not pitched this season and is still working his way back from shoulder surgery. Frankie Montas was suspended 80 games after testing positive for a PED on June 21. With this in mind, they might need to acquire more starting pitching to continue this run. After trading for Bailey, A's general manager David Forst told Martin Gallegos of MLB.com that the front office will "keep an eye on starters, but we have a lot of conversations going on for relievers right now." (For what it is worth, Oakland's bullpen has produced 4.5 WAR, second to only the Yankees.)
The offense has also looked impressive during this time, and I'd argue that there are fewer remaining question marks here. Since June 1, the unit has produced the sixth-highest wRC+ in baseball. This seems more sustainable than their recent pitching performance:
Athletics' Offense Since June 1, Underlying Stats
| Team | Hard% | Rank | LD% + FB% | Rank | xwOBA | Rank | xwOBACON | Rank |
| --- | --- | --- | --- | --- | --- | --- | --- | --- |
| Athletics | 41.5% | 5th | 59.7% | 6th | 0.336 | 5th | 0.387 | 7th |
Third baseman Matt Chapman, who is one of the game's most underrated players, has been the Athletics' best position player this season. And since the beginning of June, he has hit .295/.380/.561 with a 148 wRC+ over 159 plate appearances, all while playing elite defense. He has been almost as valuable as Cody Bellinger.
But the A's are receiving production from more than just Chapman. Ramón Laureano, who started the year quite cold, is on a tear. He's hit .297/.353/.645 during this time, and his 13 home runs tie him for sixth-most in the majors. One player Laureano is tied with is fellow-Athletic Matt Olson, who has quietly hit 20 home runs in 263 PA. If it weren't for an early-season hand injury, he'd be on a 49-homer pace (over 650 PA). Marcus Semien has also been excellent this entire year, and that has remained the case in the past month-and-a-half.
That's a very brief summary of the Athletics' recent run. What we should consider now is what this may mean for the rest of the season. To no surprise, since the start of June, no team in the American League has increased their odds of making the postseason by as much as the Athletics, who now have a 26.8% chance to at least secure a Wild Card spot. That figure is up 16.6 points: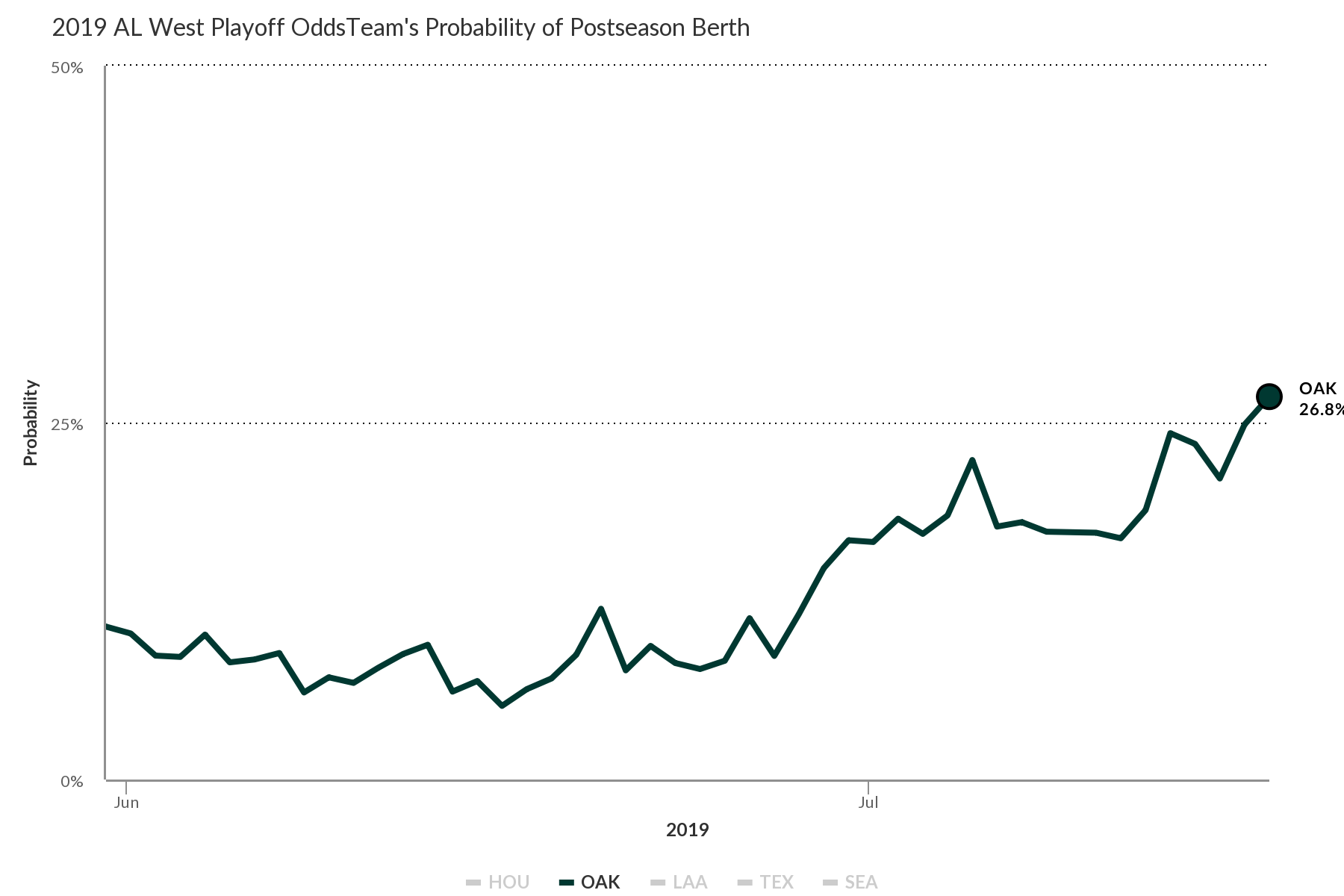 Similarly, the A's are now projected to win 88.5 games. That's a 5.9-game improvement, also tops in the AL in that stretch. By our projections, Oakland is still well behind Houston (100.6 wins) in the AL West race, but just as the gap has closed in the standings, the separation has also waned in their projected wins. The Athletics are now 7.8 games closer to the Astros than they were at the beginning of June. As of this writing, the Athletics have a better run differential (+98) than the Astros (+95), too. And, lastly, watching this team is pretty fun; by Craig Edwards' Exhilaration Index, the A's were the ninth-most exciting team in the first half.
All of this information might suggest that the AL West race could become closer in the coming weeks. Billy Beane would agree. As he told MLB.com's Mike Lupica on Wednesday, "What we've done again is play well enough to play our way into the conversation."
With some excellent play over the last six weeks, the Athletics are right in the thick of the pennant race. As it stands right now, they probably aren't World Series contenders, but they certainly deserve your attention as the second half gets into full swing.
Devan Fink is a Contributor at FanGraphs. You can follow him on Twitter @DevanFink.