Another year, another Oakland surprise.
In July, I wrote about how the Athletics deserved your attention, again. After starting the season 29-28 through the end of May, the A's got hot. The team is 62-33 since, tied with Houston for the best record in the American League in this stretch. As the team racked up wins, their playoff odds grew, increasing from 10% on June 1 to 96% today. This is a trend you like to see if you're an A's fan: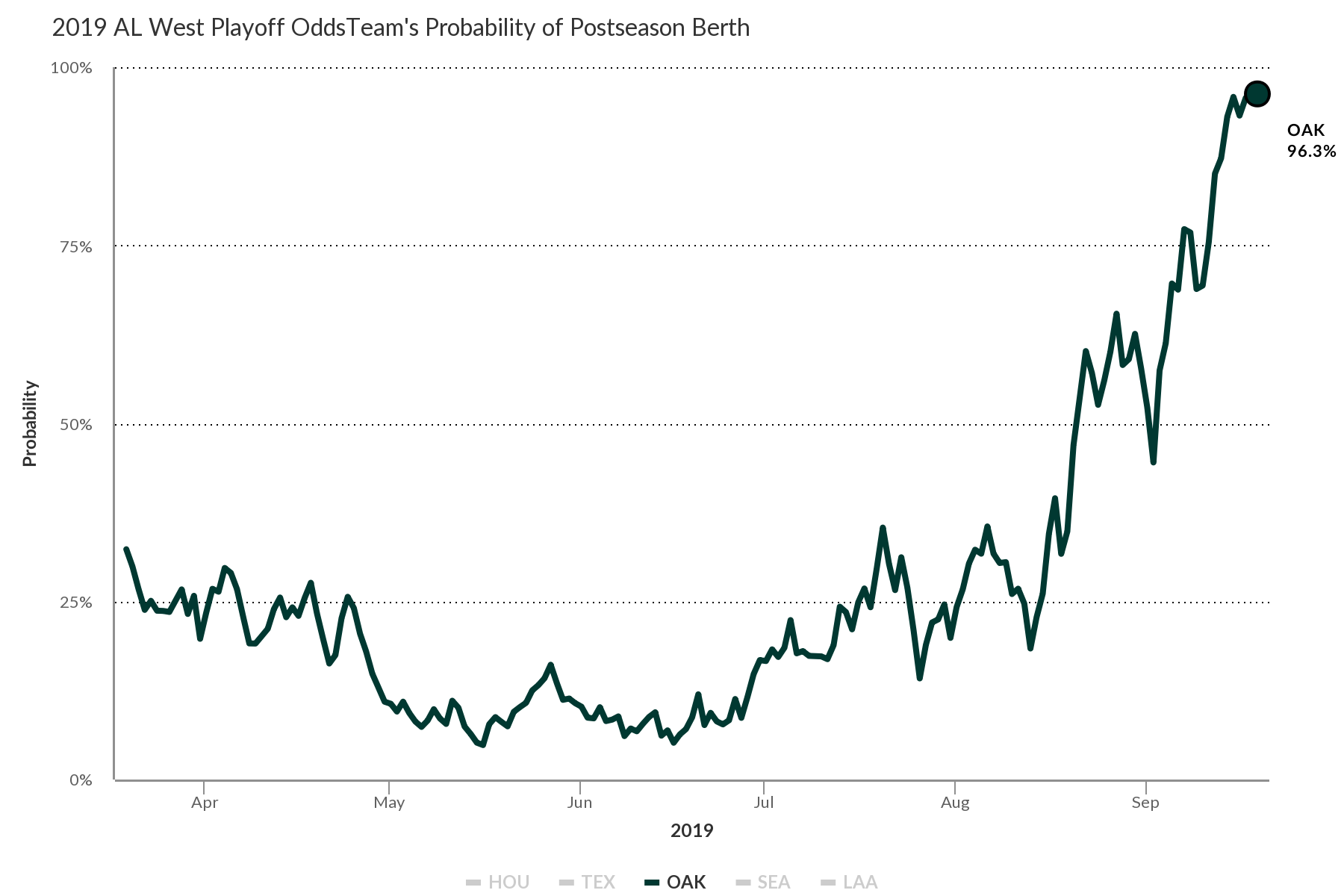 Oakland is still not quite a lock to make the playoffs, but with a two-game lead over the Rays for the first Wild Card spot and a two-and-a-half game lead over the Indians for a playoff spot overall, you have to like their chances.
Incredibly, the 2019 A's are behaving almost exactly like the 2018 A's. As I mentioned in my July piece, coming into games on June 1, both the 2019 and 2018 squads were 29-28. After a scorching 68-37 finish, the 2018 team ended their campaign with 97 wins, the exact pace the 2019 A's are on now.
Earlier this week, I wrote about Kolby Allard being the best pitcher traded at the trade deadline by WAR. Today, though, I want to talk about the team that has added the most post-August pitching value via July trades. It's hard to think that Oakland would be in this position today without the contributions of three July additions.
For most of this season, the A's needed pitching help, even despite generally positive results from the group of arms they rostered on Opening Day. Frankie Montas was suspended 80 games after testing positive for a PED in June, Sean Manaea spent the majority of the year on the Injured List recovering from shoulder surgery, and top pitching prospects Jesus Luzardo and A.J. Puk weren't promoted to the majors until fairly recently. (They're both in bullpen roles, partially out of necessity and partially because the rotation upgrades have been solid.) As a result, the A's made three trades for pitchers in July: a deal with the Royals for Homer Bailey, another, separate deal with KC for Jake Diekman, and a deal with the Reds for Tanner Roark.
Here's how those three pitchers have performed since coming to Oakland:
The Athletics' July Pitching Acquisitions
| Name | IP | ERA | K% | BB% | K-BB% | FIP | xFIP | WAR |
| --- | --- | --- | --- | --- | --- | --- | --- | --- |
| Homer Bailey | 68.1 | 4.21 | 22.8% | 5.3% | 17.5% | 3.77 | 4.04 | 1.5 |
| Tanner Roark | 47.0 | 3.83 | 22.1% | 5.0% | 17.1% | 4.72 | 4.44 | 0.5 |
| Jake Diekman | 18.2 | 5.79 | 20.2% | 15.7% | 4.5% | 4.18 | 5.24 | 0.2 |
Stats through games on September 18.
Homer Bailey
Bailey has been the most valuable of the three new arms. Yesterday afternoon, he turned in his best start in years: seven innings, no runs, three hits, one walk, and 11 strikeouts. The start was only the third time in his 242-start career that Bailey recorded 11 or more strikeouts and his first time doing so since August of 2016. By Game Score Version 2.0, Bailey's Wednesday performance was his sixth-best start ever. I don't know the last time we could have reasonably called Homer Bailey electric, but he certainly was on Wednesday. Better yet, this performance came against his former team, the Royals (whose own quality may help to account for some of Bailey's).
Bailey's success with Oakland has come on the back of two pitches: his splitter and his four-seam fastball. The splitter generated 11 of Bailey's 20 whiffs on Wednesday, a career-high. In fact, Bailey has generated seven or more whiffs with the splitter only nine times since 2017; six of those starts have been while a member of the A's. (He's only made 12 starts for the club in total.) This is what the nasty pitch looks like:
As Eno Sarris reported in The Athletic in late-August, "The splitter was absolutely part of the reason the team was interested in Bailey." It has also potentially allowed his fastball to play up. The pitch, which hasn't been a net positive since 2013, has been worth +4.9 runs above-average in his short stint with Oakland.
Tanner Roark
Roark hasn't experienced the same uptick in performance since joining the A's as Bailey has, but he's still been a quite reliable option every fifth day. His ERA- has been better since leaving Cincinnati (94 to 86), though his FIP- (92 to 106) hasn't seen the same improvement. Part of this is due to his propensity to give up the long ball, a problem that has only gotten worse since leaving one of the most hitter-happy environments in favor for a pitcher's paradise. He has, however, cleaned up the walks a bit.
It's hard to know whether the homer-prone version of Roark will persist going forward, or if this is just a blip. He's dealt with some weird home run per fly ball luck this season…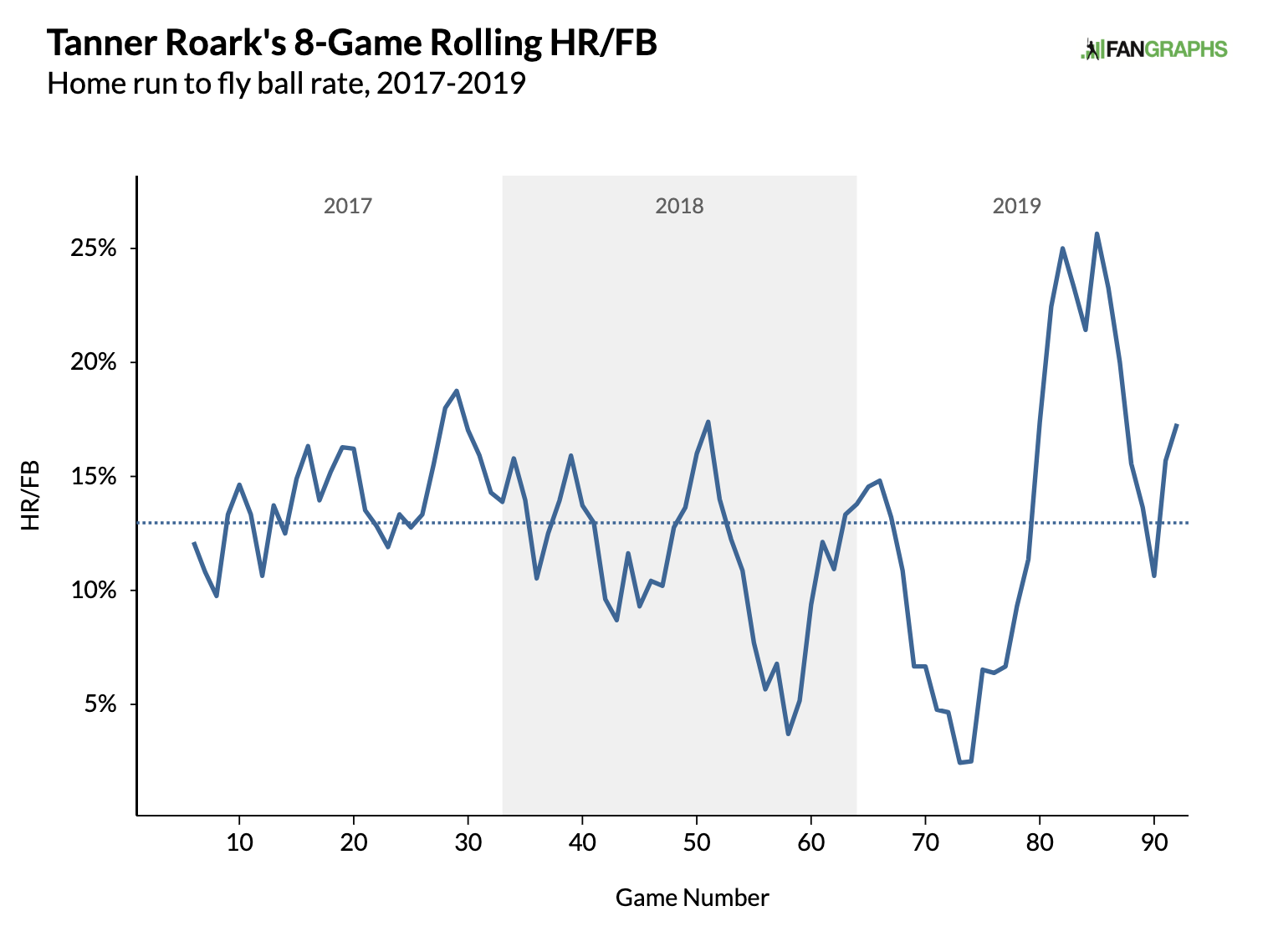 …but it's not really happening against one particular pitch. His groundball rate has dropped by nearly four full points since 2018, and while it has recovered slightly since joining Oakland, that might be the main culprit. At one point in his career, Roark survived through consistently inducing groundballs; in 2016, for example, Roark posted the best GB%+ of his career, at 108. It's fallen in every year since, as hitters have (rightfully) become obsessed with launch angles in this juiced ball era.
It's not as if Roark hasn't been productive in his time with Oakland. He has. It's just that he hasn't really experienced any significant improvement since changing teams. Simply, he's the same guy. But for a team who needed guys, that's ok. A league-average starter can be a quality addition if you need a league-average starter. The A's did, and Roark has filled that role well.
Jake Diekman
This leaves us with Diekman, the Athletics' lone reliever addition. Eric Longenhagen liked the deal at the time, and much of what he said remains true now:
Diekman is throwing harder now than he has since 2015, the year he was included in the Cole Hamels trade from Philly to Texas. His fastball is averaging 95.7 mph, which puts it among the hardest left-handed fastballs in big league bullpens, ranking fifth among lefty relievers with at least 20 innings pitched this year (only Felipe Vazquez, Aroldis Chapman, Jose Alvarado, and A.J. Minter throw harder). And Diekman's stuff is especially tough on lefties because his cross-bodied, low-slot delivery creates such a unique angle on his pitches. So bizarre is Diekman's release point that it barely fits on our scatterplot grid. He's built to get lefties out.
For a bullpen in dire need of lefties, Diekman was the natural fit. Luzardo and Puk — both lefties — have since joined him as part of the relief corps, with Ryan Buchter the holdover. Diekman's Oakland results have been odd, however. He's been worse, way worse. The strikeouts are down, the walks are up, the ERA still high. Hitters aren't whiffing at his fastball anymore. After generating a whiff on 44% of swings against the pitch in July, his whiff rate has steadily decreased since: it dropped to 14.3% in August before setting at a putrid 7.7% here in September.
Oakland does have Luzardo and Puk in the bullpen, and likely will have both in the playoffs. But neither of them have the same big league experience as Diekman, who has been getting lefties out for eight seasons. Oakland will need pre-trade Diekman back if they want to go deep into October.
Not every trade is an automatic win. But if we look at the Athletics' moves in greater context — now knowing that Manaea is back and pitching well, that Puk and Luzardo have stepped up in the bullpen (thus far), and that the offense has remained a juggernaut — they look pretty savvy. The A's made three ordinary moves and have been rewarded with over two wins of value. In a tight postseason race, that's exactly what you want from your midseason additions. The trade deadline might not save your season, but it definitely can put the finishing touches on it.
Devan Fink is a Contributor at FanGraphs. You can follow him on Twitter @DevanFink.