The list of players who have struck out 15 batters without allowing a walk in a shutout is a small one. So small that I can list them here in chronological order: Van Mungo, Luis Tiant, Dwight Gooden, Roger Clemens (twice), Kerry Wood, Randy Johnson, Pedro Martinez (twice), Erik Bedard, Clayton Kershaw, Max Scherzer, Vince Velasquez, Jon Gray, and Shane Bieber. The Cleveland right-hander became the first pitcher since 2016 to accomplish the feat when he struck out 15 Orioles over the weekend. Perhaps the effort comes with a caveat because it was Baltimore, although the club's 24% strikeout rate is middle of the pack and there are five teams with a wRC+ lower than the 83 currently sported by the Orioles. Bieber surprised with a strong performance last season and he looks even better this year thanks to some changes he's made to miss more bats.
Bieber came into the league as a command artist. He doesn't have a great fastball, but he locates it well and has a very good slider. This is what Eric Longenhagen had to say about Bieber heading into last year:
Bieber works away from righties, using his fastball and slider in sequence very effectively. He locates his slider in a spot that is equal parts enticing and unhittable, and this trait runs through a lot of the pitchers who exceed scouting expectations and make a big-league impact with just solid stuff. It's an above-average pitch on its own but garnered an elite swinging-strike rate last year. The stuff, alone, projects to the back of a rotation, but Bieber's ability to locate gives him a chance to be a mid-rotation arm. It's possible he has elite command and becomes something more.
Last season, after walking seven batters in 13 minor league starts, Bieber came to the majors and continued his stingy ways by walking only 23 batters in 114.2 innings. His 3.23 FIP was great, but a .356 BABIP meant his ERA was considerably higher at 4.55 and probably raised concerns that his fastball was a bit too hittable despite good command. Nine of his 13 homers came against the fastball, and batters had a 146 wRC+ against the pitch a season ago while he threw it nearly 60% of the time. Bieber paired that fastball with a nasty slider and solid curve. He threw an occasional changeup, but it wasn't a very good pitch.
Command carried Bieber to a solid debut last year, but having only a decent fastball with a good slider and decent curve meant he had trouble the more times batters saw him. Bieber worked on his change in the offseason, and it is now a much different pitch than it was a year ago. This is what the change looked like at the end of the last season.
There's just not a ton of movement there. Here's what it looks like this year.
The pitch isn't as straight as it was a year ago, adding more movement downward and away from the batter. The location of the pitch has gotten much better as well, with Bieber catching a lot less of the middle of the strike zone, as the images below show.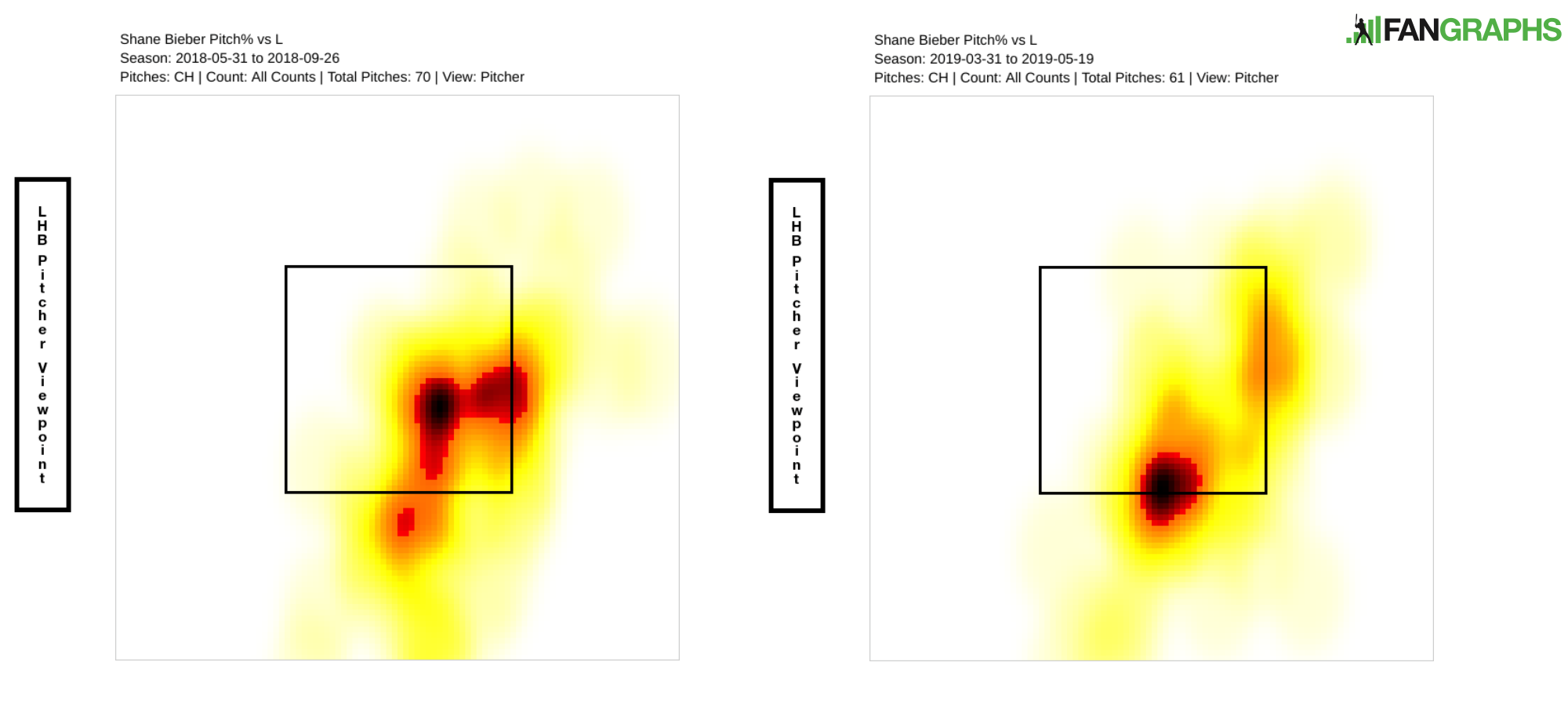 The combined result is a pitch batters actually try to swing at out of the zone and one where they have more difficulty doing damage when the pitch is in the strike zone.
Shane Bieber's New Change
| | xMOV | zMOV | Usage | O-Swing% | SwStrk% |
| --- | --- | --- | --- | --- | --- |
| 2018 | -6.6 | 6.8 | 3.7% | 8.3% | 7.5% |
| 2019 | -9.1 | 3.7 | 9.2% | 43.1% | 12.1% |
He's now throwing the pitch 15% of the time to lefties, which is an actual offering instead of just a change of pace for show. He's been dinger-prone this season, particularly on the fastball, just like he was a year ago, and that's holding up his improvement. Overall, Bieber's FIP of 3.72 is worse than he showed in 2017. He's given up 10 homers already, but if we believe that the homers will drop and even out some as the season wears on, we should see a better pitcher than the one we saw last year. The heatmap below shows where Bieber generally locates his fastballs to right-handers.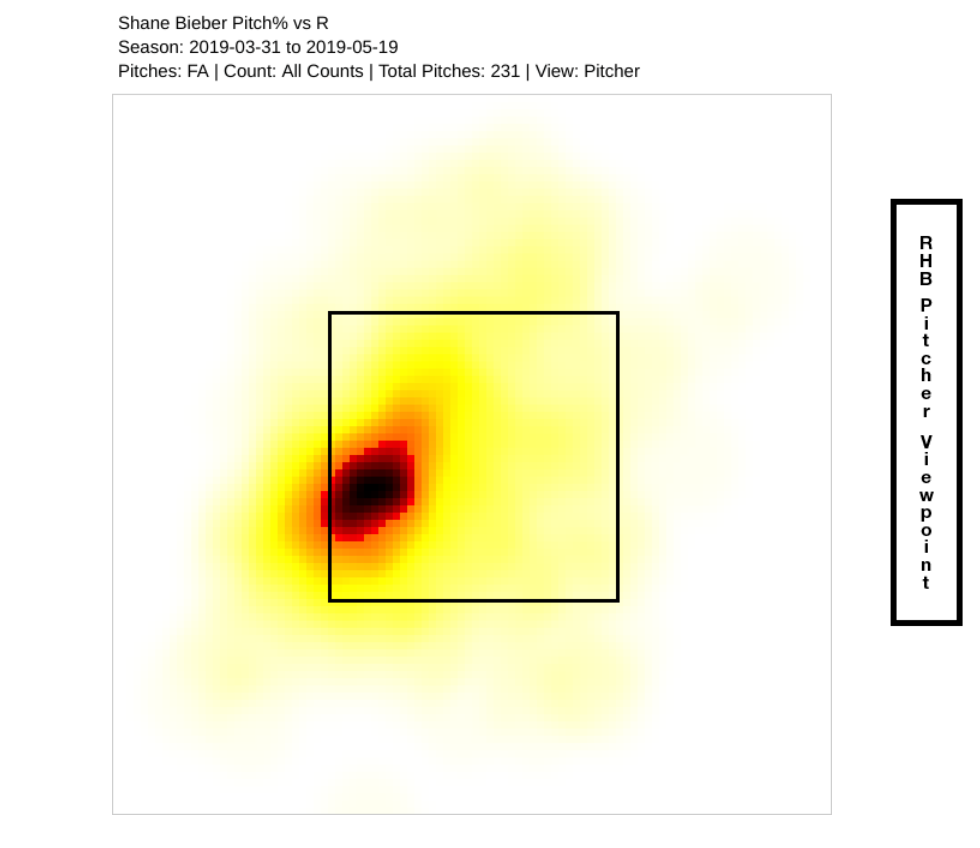 That's what good command looks like with a high concentration of fastballs away on the outside corner. When he misses locations, he tends to be punished. The heatmap below shows ISO against right-handers on the fastball. Notice the spots where Bieber usually pitches on the outside corner compared to when he goes to the middle of the plate, inside, or up in the zone.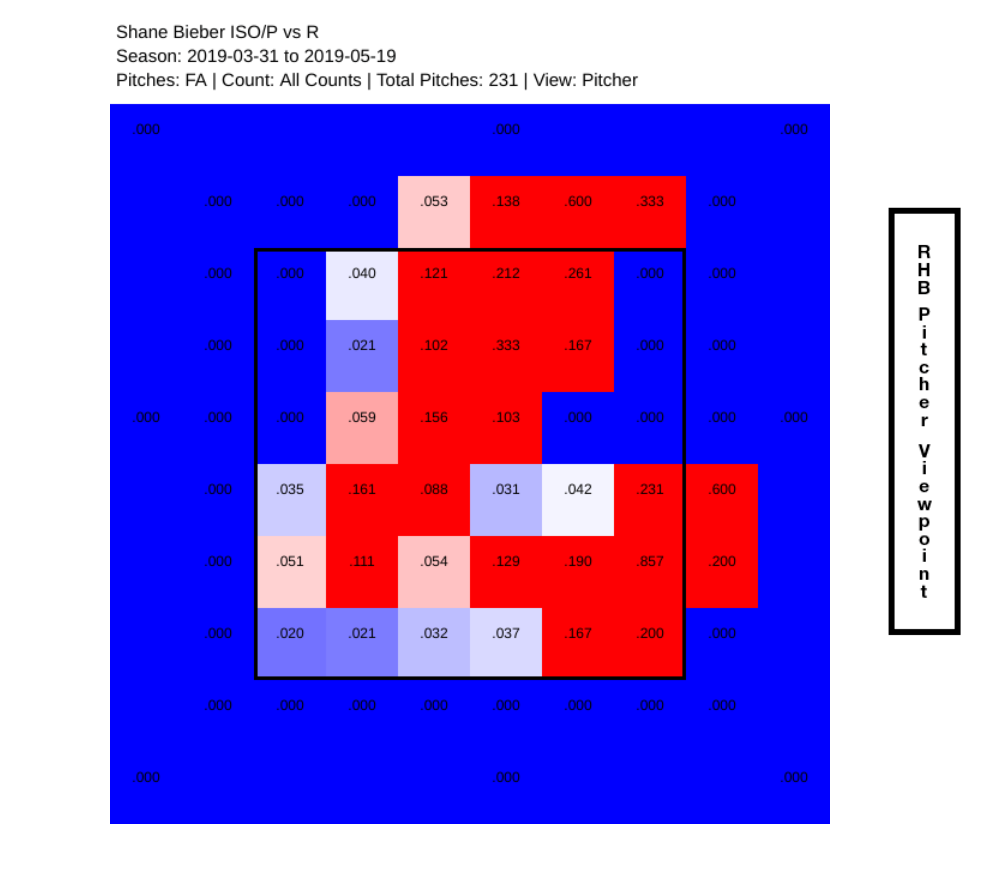 Bieber should be able to combat these problems through good command and not challenging hitters, as well as using his fastball less often. So far this season, he's actually dropped the number of pitches in the zone by nine percentage points, and most of that drop can be attributed to throwing his fastball just 47% of the time when he threw it 57% of the time last season. That drop has been spread equally to the change and the slider. The change and slider both tend to run outside the zone, but Bieber's command makes those pitches look hittable. Here's a good slider to Carlos Correa from earlier in the season.
That's a pitch that might look to be a meaty fastball on the inside part of the plate, but it dips out of the zone for the whiff. Bieber does the same thing by moving the pitch further away from righties, and for his career, he's gotten a 26% whiff rate on the pitch. It also works to both righties and lefties. Michael Brantley, Bieber's former teammate, rarely strikes out, including just 8% of his plate appearances against righties since the beginning of last year. Here he is against Bieber.
Bieber's 15 strikeouts against the Orioles is what draws attention to his season. Coming into the game, his FIP was average due to giving up nearly two homers per nine innings. His strikeout rate was up, but so was his walk rate. He looked like a pitcher who might be improving and might have had some bad luck on the long ball. After a great outing, Bieber's FIP is creeping closer to last season, and his high BABIP a year ago seems much more likely the result of bad luck than anything he was doing. We don't yet know if homers are just going to be part of Bieber's game or if he has another level to reach. We saw a glimpse of that level against the Orioles, and his improved changeup should help him going forward. If he can just keep his fastball away from hitters, even if it costs him a few walks, we might be looking at Cleveland's next great starting pitcher.
Craig Edwards can be found on twitter @craigjedwards.