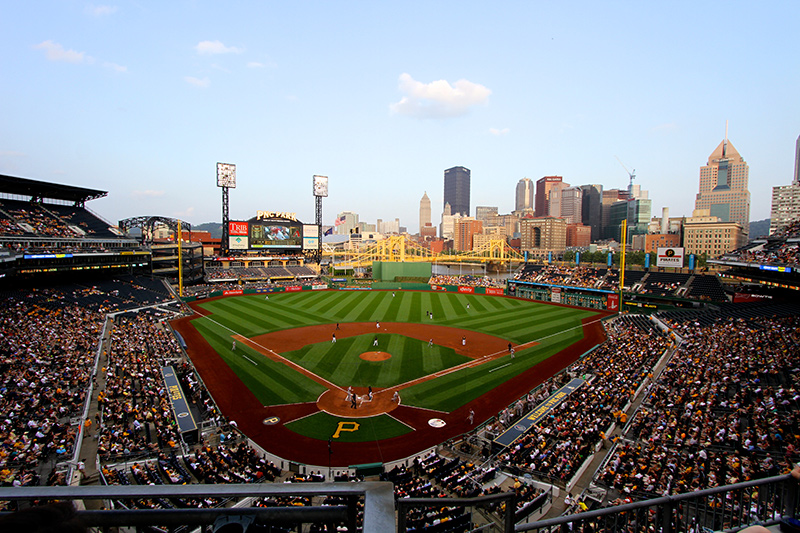 "Life is like a sewer; what you get out of it depends on what you put into it." – Tom Lehrer
Coming off of three consecutive NL East titles from 1990 to '92, the Pirates lost Bobby Bonilla and Barry Bonds in back-to-back offseasons and quickly descended into the divisional basement. Unlike Chuck Cunningham in Happy Days, the Pirates didn't just take the stairs and disappear forever. Vanishing from history would probably have been more merciful than what actually happened; the Pirates became the justified butt of baseball jokes. Run by Cam Bonifay and Dave Littlefield for the 15 years that followed, Pittsburgh filled out the entire Bingo Card of Incompetence. They drafted poorly, and gave bizarre contracts to players like Pat Meares and Kevin Young, who couldn't even be called tertiary talent, and appeared to be on a mad quest to trade any developed star for as little as possible.
Unlike many organizations, which have one single, horrific move worth mocking, it's difficult to decide which situation was the most embarrassing for the Pirates. Was it the time they signed Meares to a one-year contract after he was non-tendered, then gave him a four-year deal after a week of a .508 OPS? Was it trading Aramis Ramirez and not getting a single real prospect in return? Was it picking up Matt Morris and his contract for no particular reason? Or was it paying Derek Bell $4.5 million to live on his boat? I'd be hard-pressed to choose when the Pirates were the most de-pantsed.
Overcoming 15 years of haplessness was the challenge set to Frank Coonelly and Neal Huntington when they took over the Pirates' day-to-day operations in September 2007. They cleaned the Augean stables, remaking the organization from top-to-bottom and turning it into one that looked like its more modern contemporaries. They brought in analysts, integrated contemporary sabermetric approaches, and found a pitching coach in Ray Searage who could help them turn straw into gold. And for a while, it worked. Blowing through the .500 threshold, the Pirates won 94, 88, and 98 games, making three consecutive postseasons for only the second team in the team's history.
Then the wheels came off. As Coonelly and Huntington embarked on their labors, I believed that when the team became competitive, ownership would invest in the roster to push it over the top. After all, they would theoretically have the money they didn't spend during a very inexpensive rebuild to put to use. That belief turned out to be optimistic, bordering on naïve, and when the time was right to dip into the coffers and make moves to keep the team among baseball's elite, no investment was forthcoming. The team's payroll never passed the $100 million mark; holes went unfilled, and the Pirates lost their status as meaningful contenders.
The Setup
By the latter stages of the 2018 season, it was obvious there was no grand bounce-back coming for Pittsburgh. Gerrit Cole finally had his monster breakout season, but it came in Houston. The early-season surge that had pushed the Pirates into first place as late as mid-May receded quickly, and the team spent the rest of the season shuffling between being a few games above and below .500. In a shocking late-season move, the Pirates took a surprising risk when they added the struggling Chris Archer from the Tampa Bay Rays in return for Tyler Glasnow, Austin Meadows, and Shane Baz.
It was a hefty price to pay for Archer considering that the "ace" tag hadn't really applied to him since 2015. But as a durable No. 2 or 3 starter who was still young enough to have upside, the Pirates felt that Archer was worth a pitcher they couldn't figure out how to fix (Glasnow), an oft-injured outfielder who had struggled in 2017 and 2018 (Meadows), and a top pitching prospect who, as a high-schooler in rookie ball, was years away (Baz).
I was not a fan of the trade, but at the time, I believed it had a chance of working under a specific set of requirements: that the Pirates go all-in on 2019-2020 by being aggressive in free agency and having a specific plan to fix what ailed Archer. If they could squeeze a couple more 90-win seasons out of their roster before another full rebuild, the sting of losing three significant future pieces would be lessened considerably.
But the plan to fix Archer appears to have been half-baked. During their salad days, the Pirates did very well acquiring and developing pitchers who threw a lot of fastballs and sinkers and induced a lot of groundballs. They got a lot of use from pitchers in that mould who had been previously left-for-dead by the league, like A.J. Burnett and Francisco Liriano. But by 2018, there were signs that, along with increased home runs, baseball had largely moved on from this kind of thinking. As Matt Provenzano noted in an excellent piece at Beyond the Box Score, the Pirates were trending in the opposite direction of the rest of league. When Archer came in, the old playbook applied. He started throwing his two-seamer/sinker, a pitch he had largely abandoned in favor of his signature slider. At least in 2018, it didn't restore him No. 1 starter status.
The more significant problem, however, was that the Pirates apparently did not consider the Archer trade as the first in a series of focused "win now" moves. During an offseason when baseball continued to show an overabundance of thrift, the Pirates seized very few opportunities, only spending $7 million in free agency. Not per year. Total. Nor did they make meaningful trades to bolster the team's strength in 2019; the club's most significant move was sending Ivan Nova to the White Sox for a low-level prospect (Yordi Rosario) and some slot money.
The club's lackadaisical approach to the winter meant that even if the Archer trade had worked out in isolation, it still wouldn't have necessarily been enough to justify what the Pirates gave up to acquire him.
The Projection
Coming into 2019, ZiPS projected a 78-84 record for the Pirates, even with a fairly optimistic projection for Archer. That was enough for a last-place finish, behind the Cincinnati Reds, but wasn't completely hopeless; the Bucs had an 8% shot of making the playoffs. ZiPS saw a concerning lack of star power in the offense and predicted an overabundance of hitting talent in the one-to-two win range. ZiPS projected a solid one-two in Archer and Jameson Taillon, and roughly league-average performances from Joe Musgrove and Trevor Williams. One red flag in the pitching projections, however, was the lack of depth; if something went wrong with an arm or two, the quality of the reinforcements left much to be desired.
The Results
Naturally, ZiPS had some misses, though completely underrating Josh Bell was perhaps the most colossal miscalculation. On a fundamental level, however, the storyline for the team wasn't all that different from what the projections had figured. The Pirates had an ample supply of decent performances but little in the way of star power that could hope to match prime Andrew McCutchen, and inadequate depth, which revealed itself when bad things started happening.
Archer's career second wind blew foully as hitters slugged .815 off his two-seamer/sinker, leading him to abandon the pitch entirely in June. Taillon only made seven starts before Tommy John surgery, and shoulder problems ruined Gregory Polanco's year. ZiPS projected eight wins from those three players coming into the season. A big year for Bryan Reynolds — he likely just missed many Rookie of the Year ballots — helped make up for some of these losses, but the rest of the starting pitching collapsed in an ineffective heap. The rotation's 5.40 ERA was the worst mark by a Pirates rotation in modern baseball history, and possibly ever (we don't have splits for the 1894 Pirates or the 1890 Alleghenys).
To add a bit of humiliation into the mix, the players traded to Tampa Bay flourished in their new organization. The Rays got Glasnow to use the whole strike zone and go after batters aggressively, and the walks disappeared. Tampa made room to play Meadows every day, and he responded with a .291/.364/.558, 4.0 WAR season, earning a trip to the All-Star Game. Baz's move out of rookie ball went off without a hitch; he's moved up to being baseball's No. 64 prospect on THE BOARD.
Despite all of these setbacks, the Pirates stood 2 1/2 games out of first place at the All-Star break thanks to a thoroughly disappointing Central. But any dreams of making a division run dissipated quickly, as the team made no additions after the break, and went 25-48 the rest of the season, the second-worst record in the National League. The front office survived the second-half, but the coaching staff did not, as Searage, Clint Hurdle, and Tom Prince received their walking papers after the season.
What Comes Next?
It's hard to see the current franchise core being competitive in the near future. Taillon's already out for the 2020 season, and clearing the contracts of Francisco Cervelli and Corey Dickerson will likely only be enough to pay for the large number of contributors entering arbitration this offseason. It's hard to see free agency being a panacea; if the organization refused to add much payroll that way when the team was winning, I doubt they'd do so now, when their roster is bad enough that even luring Cole back wouldn't make them a contender. It appears that Pittsburgh is headed towards another rebuild, and while the team has a front office that proved more than capable of executing one the last time, it still leaves the team with the same problem when they're good someday: will ownership invest in the roster this time? I'm not optimistic.
One of the more interesting offseason decisions they face is what to do about Archer. His $9 million option comes with a $1.75 million buyout, effectively making the choice one of whether the team should offer Archer a one-year, $7.25 million contract. If you'd asked me back in May, I'd have said "not a chance," but after ditching the two-seamer, he pitched better in the second half, bumping his strikeout rate by two batters a game and putting up a 3.29 FIP. What's more damaging to the pride: paying $7 million for a pitcher acquired in one of the worst trades in team history, or risk someone like the Astros picking up Archer and suddenly turning him back into a Cy Young candidate? After all, watching ex-Pirates Cole, Glasnow, and Charlie Morton in the playoffs might have been enough to get a Pirates fan to turn off the TV in disgust.
The Absitively, Posilutely, Way-Too-Early ZiPS Projection – Josh Bell
One of my biggest concerns about Bell while he was a prospect was the lack of power. There have been first basemen who have succeeded in the majors without hitting for power, but it's a relatively narrow path, and I was concerned that Bell didn't have the secondary skillset necessary to be a Mark Grace-type. Bell hit 26 homers in his first full season in the majors but dropped to 12 in 2018. I was quite worried about Bell's future, but he climbed up the exit velocity/launch angle charts in 2019, finishing 13th in baseball in average exit velocity at 92.3 mph. Even in his 26-homer 2017, that number was only 87.7, so this season represented a real change at the plate for Bell. He did slump after the All-Star break, only hitting .233/.351/.429 with 10 homers in the second half. Those results unfortunately reflected a drop-off in exit velocity, from 93.3 mph to 90.5 mph, so it can hardly be called a fluke.
If there's a silver lining, it's that ZiPS doesn't see Bell's full decline to a second-half BABIP of .241 as being reflected by his hit data. So while the drop in home runs was very real, Bell ought to at least improve on his .233 second-half batting average. Whether the Pirates enter a rebuild or figure out some a scheme to actually get back in contention, Bell demonstrating he can continue to hit 35-40 homers a year is crucial to either path
Josh Bell
| Year | BA | OBP | SLG | AB | R | H | 2B | 3B | HR | RBI | BB | SO | SB | OPS+ | DR | WAR |
| --- | --- | --- | --- | --- | --- | --- | --- | --- | --- | --- | --- | --- | --- | --- | --- | --- |
| 2020 | .269 | .359 | .497 | 525 | 83 | 141 | 31 | 4 | 27 | 98 | 74 | 116 | 1 | 125 | -3 | 2.9 |
| 2021 | .268 | .361 | .508 | 504 | 82 | 135 | 32 | 4 | 27 | 97 | 74 | 114 | 1 | 128 | -4 | 2.9 |
| 2022 | .264 | .358 | .496 | 492 | 79 | 130 | 31 | 4 | 25 | 92 | 73 | 110 | 1 | 124 | -4 | 2.6 |
ZiPS doesn't project Bell's power to stay at 2019 levels, but then again, it's also projecting a moderate drop in league offense. The lack of insight into what kind of baseball MLB will use in 2020 creates all kinds of uncertainty. ZiPS has historically used weighted league averages to peg future league offense, but all that goes out the window when we're not seeing normal year-to-year variance. There's a serious equipment question that baseball seems determined to address in the least transparent way possible. My frustrations aside, ZiPS projects Bell as an above-average first baseman, but not as a star for the team to build around.
Dan Szymborski is a senior writer for FanGraphs and the developer of the ZiPS projection system. He was a writer for ESPN.com from 2010-2018, a regular guest on a number of radio shows and podcasts, and a voting BBWAA member. He also maintains a terrible Twitter account at @DSzymborski.