On Monday, no other team non-tendered more players than the Brewers. In addition to the 10 free agents lost from their roster, the five players let go earlier this week add to the mass exodus from Milwaukee. Those 15 players accounted for 14 WAR in 2019. More than a third of those wins were accumulated by Yasmani Grandal, their All-Star catcher. The Brewers failed to bring him back on a long-term deal after he signed a four-year pact with the White Sox worth $73 million.
With plenty of holes on their roster and division-rivals gearing up for next year, the Brewers entered this offseason with plenty of work to do. Trading for Luis Urías and Eric Lauer was the first step towards rebuilding their roster. Now they have their replacement for Grandal in hand. Early Thursday morning, Ken Rosenthal reported that the Mariners had struck an agreement to trade Omar Narváez to the Brewers. Greg Johns later reported the return from Milwaukee: RHP Adam Hill and the Brewers' Competitive Balance draft pick (currently slotted in at 71 overall).
With the catching market rife with buyers and few quality catchers to be had, a number of teams moved quickly to secure a deal with a new backstop. Grandal, Travis d'Arnaud, Tyler Flowers, Yan Gomes, and Stephen Vogt all signed new deals or re-signed with their previous club in November, leaving the free agent market rather bare. With the Mariners basically telegraphing their intent to move Narváez this offseason, the only question was which contender would partner up.
Narváez was likely the only available catcher who could come close to replicating Grandal's performance beside the plate. Among all catchers with at least 300 plate appearances in 2019, Narváez's 119 wRC+ ranked fourth, two points behind Grandal. This offensive outburst didn't necessarily come out of nowhere. He did post a 122 wRC+ in 2018 while splitting time behind the dish for the White Sox. But this season, Narváez's power output truly exploded. He launched 22 home runs in 2019, more than doubling his previous combined professional total.
Some significant changes to his batted ball profile fueled his power breakout. He put over two-thirds of his balls in play in the air last year, a huge jump over his previous career norms. His fly-ball rate increased to over 40% and he continued to hit line drives. But despite all those lofted balls, his Statcast peripherals paint a curious picture. His average exit velocity sits in the 15th percentile and his hard hit rate is even lower. But despite his lack of hard contact, he managed to post a BABIP over .300. Like I showed with Luis Arráez earlier this year, Narváez has optimized his launch angle to make the most of his contact.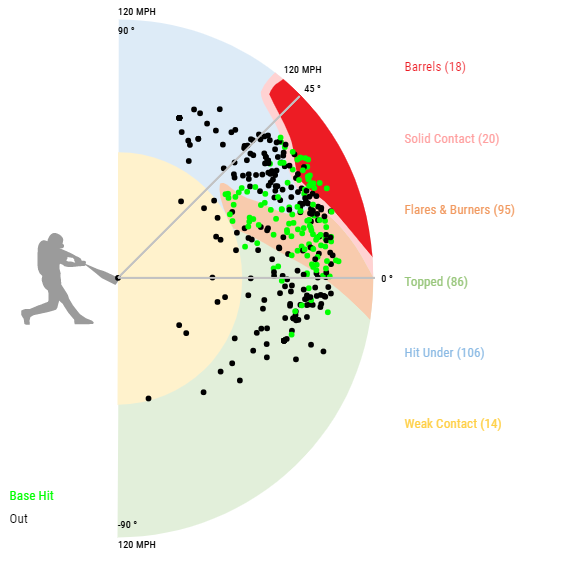 Flares hit between 70 mph and 80 mph have an expected wOBA around .672. If you don't have much power in your swing, these are the types of batted balls that will maximize the contact you make. Narváez thrives by hitting tons of flares that drop in the middle of no man's land between the infield and the outfielders.
That explains how he's been able to post a batting average right around .275 for three years straight. But all those extra fly balls — along with the dragless ball — helped him maximize his home run per fly ball rate. Among all batters who hit at least 10 home runs in 2019, his average launch angle on his home runs sat in the 93rd percentile. When he lofted his fly balls with a little bit of oomph, they carried far enough to fly over the wall in right field.
With a good eye at the plate and the discipline to lay off bad pitches, his offensive profile has a strong foundation even if there's some risk that his power regresses if the ball changes again. An offensively competent catcher is a rarity, particularly nowadays. The reason why the return for Narváez seems so light is related to his struggles behind the plate. He was rated one of the worst pitch framers in the majors last year and his ability to control the running game is below average. Going from one of the best pitch framers in the game in Grandal to one of the worst in Narváez will definitely have an effect on the Brewers pitching staff.
Catcher Framing Runs, 2019
| Player | FG Framing Runs | Statcast Framing Runs | BP Framing Runs |
| --- | --- | --- | --- |
| Yasmani Grandal | 17.0 | 13.0 | 19.4 |
| Omar Narváez | -10.4 | -5.0 | -8.2 |
No matter which framing metric you prefer, going from Grandal to Narváez could cost the Brewers between 20-30 runs. Framing is a skill that can be taught, and the Mariners worked with Narváez to develop his receiving. But the improvements weren't enough to make him even an average receiver. Now the Brewers take up that mantle, hoping to continue his development behind the plate.
For the Mariners, an offensively minded catcher was a luxury that didn't fit their rebuilding plan. A poor receiver behind the plate was a liability for a young pitching staff that needs all the help they can get. With Tom Murphy and Austin Nola on the roster and Cal Raleigh quickly moving through the minors, the Mariners cashed in on Narváez's bat to add more talent to an improving system.
In Hill, the Mariners get a former fourth-round pick who has been traded twice in the past year. The 6-foot-6 righty ranked 15th in the Brewers organization. Here's Eric Longenhagen's scouting report:
Hill is 88-91 touch 93 from a lower slot, so the fastball has a lot of tailing action. He's got some mechanical funk and it takes hitters a bit to get comfortable the first time they see him. His changeup is his best secondary, it has late diving action and is used against left and right-handed hitters. The slider is closer to average but doesn't always play like a viable pitch because Hill doesn't locate it consistently. He's a below-average athlete with a softer build, he's mechanically inconsistent and his command wavers. I don't think he's a traditional starter, but because of the repertoire depth and unique mechanical look he should be a suitable reliever, possibly one who can get more than three outs at a time.
While Hill is an interesting project for the Mariners player development team, the draft pick could be more valuable. This year's draft class appears to be rather deep and the Competitive Balance picks come with a slot value around $1 million. There is some risk since the draft pick isn't an actualized player that can be projected, but the flexibility it gives the Mariners to choose the player they want to add to their system and the addition to their bonus pool makes up for that.
Jake Mailhot is a contributor to FanGraphs. A long-suffering Mariners fan, he also writes about them for Lookout Landing. Follow him on Twitter @jakemailhot.