As we're reminded every time they face the Yankees and give up homers by the half-dozen, the Orioles are a very bad baseball team. At 39-82, they're 41 1/2 games out of first place, and on pace for 52 wins, which means they could lose more than two-thirds of their games for the second season in a row. They're just nine homers away from breaking the single-season record for dingers allowed (258). And yet they're not even the majors' worst team. Neither are the Marlins, who through the first 41 games of the season slipped below the Throneberry Line by losing 31 games.
That so much attention has been paid to those bad ballclubs might be chalked up to yet another instance of East Coast Bias, because tucked away in the more wholesome Midwest are the Detroit Tigers, who are doing things (and not doing things) to rekindle memories of their 2003 squad, which gave Throneberry's 1962 Mets a run for their money by losing 119 games. At 36-81, these Tigers are on pace to go 50-112, but a slight slippage could send them past last year's 115-loss Orioles. In the words of James Brown, "People, it's bad."
This — what's the opposite of web gem? — might be the 2019 squad's signature play (h/t @suss2hyphens):
The Tigers were a competitive concern as recently as 2016, when they went 86-75 but slid out of a Wild Card spot in late September. That was the last gasp of the core that won four straight AL Central titles from 2011-14, and one that probably should have begun scattering to the four winds earlier. As it was, general manager Al Avila — who replaced Dave Dombrowski in late 2015 — traded Alex Avila (his own son!), J.D. Martinez, Justin Upton, Justin Verlander, and Justin Wilson in a six-week span in mid-2017, as the team was en route to 98 losses.
The Tigers are rebuilding, but their rebuild has been hampered by a farm system weakened by years of bad drafts and repeated mining to keep their competitive window open. One has to dial back to 2011 to find a year in which the Tigers' top draft pick (James McCann, who was a second-rounder) ever suited up for the team in the regular season, and 2012 (Jake Thompson) for one who even played in the majors. Baseball America's annual organizational rankings placed their system between 26th and 30th annually from 2014-17. That's a lousy platform from which to launch a rebuild, and it's shown. Last year's Tigers lost 98 games under new manager Ron Gardenhire, and this year's crop is worse. Much, much worse.
How bad? Where to begin… Let's start with the offense, and note that unless indicated, none of the stats here reflect Wednesday night's victory over the Mariners. One win isn't changing the arc of their season, and I can only stare into the heart of statistical darkness for so long without filing a workman's compensation claim.
This Tigers team's average of 3.67 runs per game is nearly half a run lower than the next-lowest AL team (the White Sox at 4.10), and just 0.03 runs per game ahead of the Marlins for the majors' worst. Their .236 batting average and .295 on-base percentage both rank dead last in the majors, and the latter is in danger of surpassing the .292 mark of the 2011 Mariners and 2014 Padres for the dubious title of the lowest since the 1994 players' strike. Their .387 slugging percentage and 78 wRC+ are both last in the AL, ahead of the NL-worst Marlins (.37 and 77, respectively); the post-strike low for wRC+ is 74, by the 2004 Diamondbacks. Their 110 homers is last in the AL, 15 fewer than the 14th-ranked Royals. Their 25.9% strikeout rate trails only this year's Padres (26.1%) and last year's White Sox (26.3%) for the era's highest, while their 3.65 strikeout-to-walk ratio trails only this year's White Sox and Marlins (4.08 and 3.85, respectively) and last year's White Sox (3.75). Got all of that? Sorry, I should have warned you, it's an awful lot of awful baseball to digest in one sitting.
In terms of individual players, through Tuesday the Tigers had given more than 50 plate appearances to just one player who has a wRC+ of 100 or higher, namely Nicholas Castellanos, who was traded to the Cubs on July 31. A 100 wRC+ might still be attainable for Brandon Dixon (99 in 308 PA), Niko Goodrum (96 in 449 PA), Miguel Cabrera (96 in 426 PA), and JaCoby Jones (92 in 333 PA), but of that quartet, only Cabrera projects to do so (more on him below). Meanwhile, the team has given at least 100 PA — a cutoff I've chosen to clear out at least some small-sample noise — to 11 players with a wRC+ below 90; that's 11 out of 160 such players in the entire majors, which is to say that they've got far more than their share. Those players have account for a major league-high 50.2% of the Tiger's plate appearances.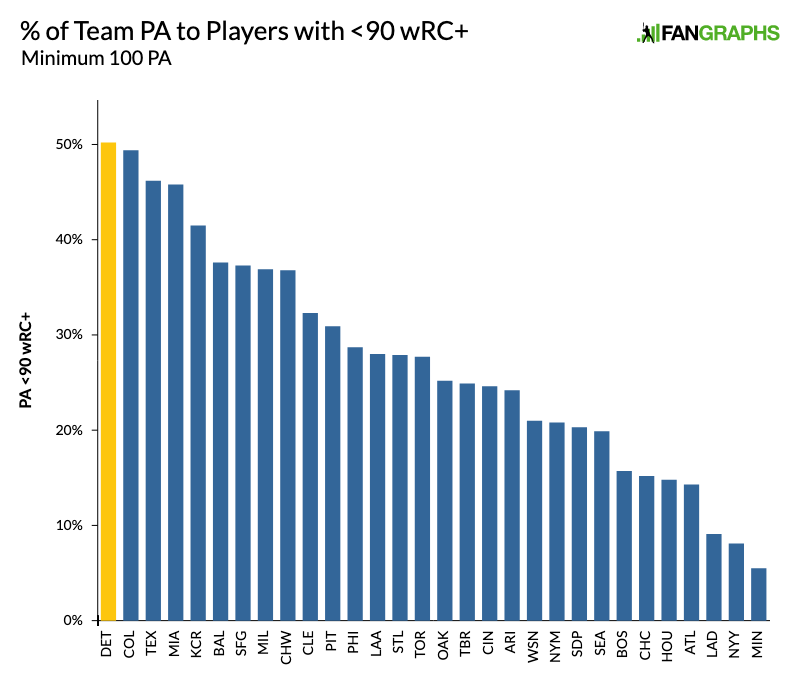 Six of those 11 players (Jeimer Candelario, Grayson Greiner, Josh Harrison, John Hicks, Dawel Lugo, and Ronny Rodríguez) have a wRC+ below 70. It's grim. Meanwhile, Dixon is the only Tiger with more than 11 homers (he has 14); the Marlins only have one such player, Brian Anderson, but he's already reached 20 homers. Cabrera (.347) is the only Tiger with more than 50 PA and an on-base percentage of at least .330, while Dixon (.470) and Castellanos (.462) are the only ones with a slugging percentages of at least .435 — and again, the latter is no longer in uniform. He earned his escape.
By and large, these are not glove men playing, either. The Tigers entered Wednesday tied for 27th in the majors in defensive efficiency (.671), one point out of the bottom spot, and they owned sole possession of 27th place in terms of both UZR (-22.1) and DRS (-54). Jones owns the majors' lowest UZR among center fielders (-12.6), and he's been flanked by Christin Stewart in left (-5.9) and Castellanos in right (-4.2); as you can see from the above home run clip, Dixon and Goodrum might not be ready for prime time, either. When he's been healthy enough to play — not that often, given that he's missed 10 weeks due to a recurrent right quad strain — Jordy Mercer has been lousy at shortstop (-4.0 UZR, which prorates to -13.5 per 160 games, and let's not even think too hard about his -9 DRS).
WAR-wise, only Goodrum (2.0) and Castellanos (0.9) have accumulated more than 0.3 WAR, while six players have -0.6 or less (two of them in fewer than 50 PA apiece), "led" by Hicks, who leads the team with 63 starts at catcher. The team's total WAR is the second-lowest of the post-strike era:
Lowest Position Player WAR since 1996
| RK | Season | Team | Bat | Base Run | Field | WAR |
| --- | --- | --- | --- | --- | --- | --- |
| 1 | 1998 | Twins | -136.4 | -1.2 | -107.0 | -4.5 |
| 2 | 2019 | Tigers | -125.5 | -3.7 | -31.1 | -1.5 |
| 3 | 2003 | Tigers | -155.8 | -6.5 | -43.9 | -1.2 |
| 4 | 2002 | Tigers | -134.1 | -9.4 | -53.5 | -1.0 |
| 5 | 2004 | Diamondbacks | -204.5 | -7.7 | -33.7 | -0.4 |
| 6 | 1996 | Tigers | -124.1 | -6.5 | -78.0 | 0.2 |
| 7 | 2004 | Royals | -143.6 | -9.3 | -32.9 | 1.0 |
| 8 | 2001 | Expos | -169.8 | -2.2 | -48.0 | 1.0 |
| 9 | 1999 | Rockies | -140.8 | -5.3 | -87.0 | 1.3 |
| 10 | 1999 | Twins | -175.9 | -3.5 | -8.0 | 1.3 |
Sweet fancy Moses, when the Tigers have been bad, they've been reaaaally bad, but none of their other squads of ignominious infamy — or is that infamous ignominy? — are directly connected to this one. Still, it seems quite possible that this will stand as the worst collection of position player performances in this millennium.
On the pitching side, the Tigers' 5.68 runs allowed per game is the majors' fourth-worst mark; they're way ahead of the Orioles (6.40) and slightly ahead of the Rockies (5.88) and Mariners (5.80). The rotation is 26th in ERA (5.28) but tied for 16th in FIP (4.65), and 14th in WAR –that's downright respectable. Staff ace Matthew Boyd has been pretty good (4.38 ERA, 4.10 FIP, 2.9 WAR) amid the rubble of the lineup, and Spencer Turnbull (3.68 ERA, 4.05 FIP, 2.0 WAR) has been far better than his 3-10 won-loss record indicates. Likewise, albeit to a lesser degree, has Daniel Norris (4.98 ERA, 4.67 FIP, 1.5 WAR) despite a 3-10 record of his own. His numbers translate to a 108 ERA- and 100 FIP-; he's been sorta-league average. Norris and Boyd, incidentally, came to the Tigers via the July 30, 2015 trade that sent David Price to the Blue Jays; a day later, they netted Michael Fulmer (and Luis Cessa) by trading Yoenis Cespedes to the Mets. Had Fulmer not gone down with Tommy John surgery in March, the rotation would be that much stronger. As it is, the unit has featured the now-injured likes of Jordan Zimmermann (7.13 ERA, 4.80 FIP, 0.9 WAR), Tyson Ross (6.11 ERA, 5.99 FIP, 0.0 WAR) and Matt Moore (10 innings, 0.5 WAR), 25-year-old rookie lefty Tyler Alexander (recently moved to the bullpen) and Edwin Jackson, the last of whom has made two very good starts (including Wednesday night against the Mariners) after being pummeled for a 9.35 ERA in 28.1 innings with the Blue Jays.
The bullpen has been closer to what you'd expect for a team this bad, ranking 27th in ERA (5.19), 29th in FIP (5.16), and 24th in WAR (0.3). The unit has the majors' lowest strikeout rate (20.4%), and second-lowest strikeout-to-walk differential (10.3%) as well as the fourth-highest home run rate (1.58 per nine). Closer Shane Greene far outpitched his peripherals (1.18 ERA, 3.69 FIP) before being traded to the Braves for lefty Joey Wentz and outfielder Travis Demeritte on July 31; the latter, a 35+ FV prospect, has hit .283/.370/.457 (118 wRC+) in 54 PA since the deal. Buck Farmer has been pretty solid (3.66 ERA, 3.36 FIP, 0.8 WAR), but no other reliever has more than 0.3 WAR, and Joe Jiménez, who's been lit for a 5.59 ERA since making last year's All-Star team, has the team's only two saves (one on Wednesday) since Greene left town.
In short, this is a pretty ghastly squad that's gotten almost nothing positive from anybody making more than $4 million (Greene's salary). The 36-year-old Cabrera, who's hitting a thin .285/.347/.392 with eight homers, is making $30 million this year and is owed another $132 million through 2023 (!). Future Hall of Famer though he may be, he's a shell of his former self after playing just 38 games last year due to a hamstring strain and a ruptured biceps tendon. The 33-year-old Zimmermann, who's making $25 million this year and is owed the same amount for next season, has delivered just 4.5 WAR over 468.2 innings in four seasons while missing time due to neck, shoulder, and elbow injuries; he missed nearly eight weeks from late April to late June due to a UCL sprain and is currently on the IL due to neck spasms. Ross ($5.75 million) made just seven starts before being felled by ulnar neuritis, and Mercer ($5.25 million) has been just a hair better than replacement level.
The good news is that aside from the millstones of the Cabrera and Zimmermann contracts, the team has no money committed towards next year's roster, and they still have three years of control apiece for Boyd and Fulmer, two for Norris, and five for Turnbull. The minor league system ranks 12th in our valuations, and 13th on Baseball America's just-released org rankings as well. They've got some quality pitching on the way, with righties Casey Mize and Matt Manning, and lefty Tarik Skubal all pitching well at Double-A Erie. Mize, the first overall pick in the 2018 draft, is now our number nine prospect overall; he's dominated at Double-A Erie despite missing time due to shoulder inflammation. Manning, their 2016 first-round pick who's now 33rd on our list, has also been strong thanks to an improved changeup, and Skubal, a ninth-round pick last year, is pitching his way into the picture as well. Right fielder Riley Greene (this year's first-round pick) and third baseman Isaac Paredes (a 2015 July 2 signing acquired from the Cubs in the Wilson trade) rank 79th and 96th on our list, respectively. On the other hand, 2015 supplemental first-round pick Daz Cameron, a center fielder, and 2016 fourth-rounder Kyle Funkhouser, a righty, have both scuffled in their second go-rounds at Triple-A.
You can't win 'em all, and perhaps I've belabored that point by digging in on a team that's really tanking, and is right now in line for the number one draft pick for the second year out of three. At least the Orioles have turned to a new regime with links to successful turnarounds in Houston (where GM Mike Elias was amateur scouting director and assistant GM) and Chicago (where manager Brandon Hyde was a bench and first base coach for the Cubs). Gardenhire piloted the Twins to six postseason appearances in his first nine years in Minnesota (2002-10) but earned a reputation as an old school type, and was a conservative choice to head down this rocky road. Avila, who's been with the Tigers since 2002, has drawn criticism for his lack of creativity and the team's belated embrace of analytics. The extension he received in early July, before his trade deadline performance could be evaluated, raised some eyebrows, as did the team's decision to hold onto Fulmer until he got hurt instead of dealing him last summer or winter; they now run the same risk with Boyd. Still, the team's pitching inventory suggests the long-term situation isn't as grim as what's on display at Comerica Park. But right now, the Tigers are tough to watch.
Brooklyn-based Jay Jaffe is a senior writer for FanGraphs, the author of The Cooperstown Casebook (Thomas Dunne Books, 2017) and the creator of the JAWS (Jaffe WAR Score) metric for Hall of Fame analysis. He founded the Futility Infielder website (2001), was a columnist for Baseball Prospectus (2005-2012) and a contributing writer for Sports Illustrated (2012-2018). He has been a recurring guest on MLB Network and a member of the BBWAA since 2011. Follow him on Twitter @jay_jaffe.