I confess that I haven't watched many Marlins games this year. The team is projected to have the third worst record in baseball, potentially losing 100 or more games for just the third time in organization history. They average fewer than 10,000 fans per home game, the lowest in the league in 2019, which would be an all-time low, surpassing the 2018 season. It's been a bumpy ride for Don Mattingly's rebuilding Miami club.
But the Marlins do have some interesting players who are capable of doing interesting things not many other players are capable of doing. After Caleb Smith's solid outing this past weekend, I spent some time perusing Statcast and discovered that, among left-handed pitchers who have thrown a minimum of 50 four-seam fastballs in 2019, Smith's has the third most horizontal movement in the game. Right behind him is his teammate, Adam Conley. One spot ahead of him is Chris Sale. And one spot ahead of Sale, leading all 113 lefties in this sample in horizontal movement, is Smith and Conley's teammate Jarlin Garcia.
Three of the top four left-handed big leaguers in four-seam horizontal movement all pitch for the Marlins.
That piqued my interest. In 2018, Garcia was one of the worst pitchers in baseball, carrying a -1.3 WAR and 6.37 FIP in 66 innings pitched. His xwOBA-against and xSLG-against were both in the first percentile in the league. In 2019, Garcia's strikeout rate is up, his walk rate is down, and as of this writing, he has contributed 0.4 WAR and has a 3.79 FIP. What seems to be the likeliest cause of this improvement? His fastball's horizontal movement was still 98% better than league-average last year, but its value was -1.57 wFB/C. This year it is 110% better than league average and its value has been 0.86 wFB/C. What changed more than his fastball movement, however, was his slider movement and usage:
Jarlin Garcia Slider Movement and Usage
| Year | Movement/Usage |
| --- | --- |
| 2018 Slider Horizontal Movement | 3.6 inches |
| 2019 Slider Horizontal Movement | 6.6 inches |
| 2018 Slider Usage | 22.4% |
| 2019 Slider Usage | 41.7% |
The results have followed:
Jarlin Garcia 2018 vs. 2019 Performance
| Year | xwOBA-against | Barrell %-against | K % |
| --- | --- | --- | --- |
| 2018 | .378 | 11.0% | 14.4% |
| 2019 | .293 | 5.7% | 20.7% |
Naturally, I hypothesized that other pitchers with similar fastball characteristics to Garcia could, conceivably, follow suit and perhaps also see an improvement in performance with an increase in slider movement. I took a look at the list of left-handed pitchers who throw a four-seam fastball as their primary fastball and possess one that is at or above the 90th percentile in horizontal movement league-wide. There are 11 in total, and eight of those 11 throw a slider:
2019 Offspeed Pitches Thrown By LHPs with >90% Percentile Horizontal-Movement Fastballs
In 2018, Garcia threw a fastball with 14.5 inches of average horizontal break to the arm-side and a slider with 3.6 inches of average horizontal break to the glove-side, yielding a total separation between the two pitches of 18.1 inches. In 2019, that difference has increased to 22.5 inches. I posited that this increase in movement separation that resulted in better performance wasn't an anomaly just for Garcia, but was a trait that was likely a trend in similar pitchers:
2019 Performance By Fastball-Slider Movement Difference
| Name | Difference in FB and SL Movement (inches) | Overall xwOBA-against |
| --- | --- | --- |
| Chris Sale | -28.8 | .283 |
| Jarlin Garcia | -22.5 | .293 |
| Jake Diekman | -19.4 | .305 |
| Matt Strahm | -17 | .333 |
| Caleb Smith | -16.7 | .315 |
| Hector Santiago | -16 | .365 |
| Adam Conley | -15.7 | .340 |
| Cole Irvin | -13.9 | .369 |
In 2019, above list of pitchers have had over 1,600 batted ball events against them and when comparing the difference in movement between their fastball and slider to their overall xwOBA-against, r = 0.852.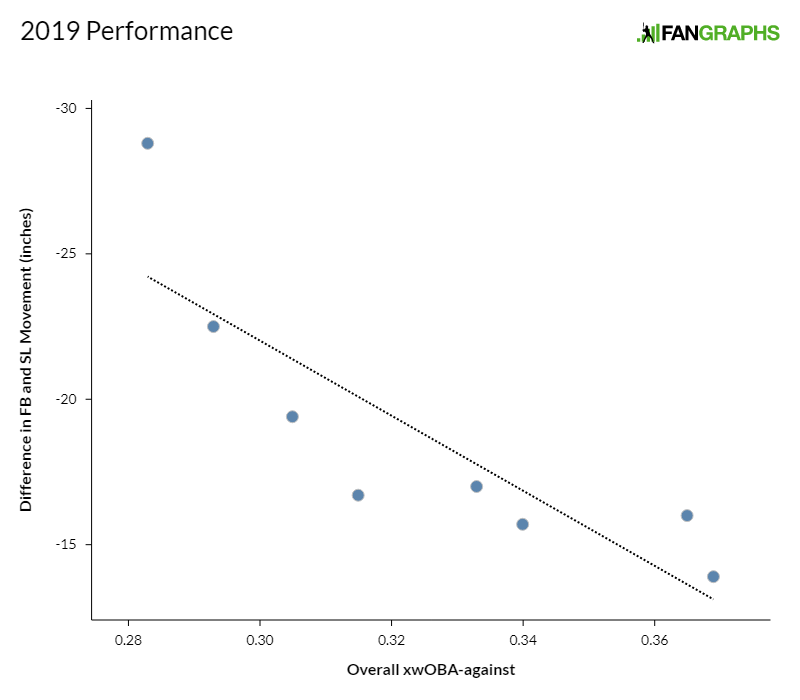 What does this mean? Well, nothing definitive, of course. Every pitcher is different. But, we can say with some confidence that if a left-handed pitcher possesses a fastball with elite horizontal movement, there is a good chance that his arsenal would be more effective with a corresponding breaking ball that has a lot of horizontal movement in the other direction.
In the case of the Marlins' trio of lefties, perhaps Garcia was a trendsetter for his teammates. Smith, whose fastball is in the 85th percentile in spin rate, has had a respectable campaign in 2019, striking out 28.4% of opponents and yielding 1.2 WAR in 133.2 innings pitched. His slider, a pitch he throws nearly 31% of the time, is in just the eighth percentile league-wide in horizontal movement. Conley, long an intriguing prospect, has been frustrating for the Marlins in his second full year as a reliever, pitching to a 5.08 FIP and –0.3 WAR. The fastball qualities – 84th percentile in velocity and 65th in spin rate – are still there, but his slider is in the 23rd percentile in horizontal movement league-wide and the xwOBA against his curveball, a pitch added this year, is .422. His slider whiff rate is a career low this year.
One cannot simply snap his or her fingers and improve a pitch, but I cannot imagine a situation in which the Marlins' three lefties are not being asked about in trades this offseason or remain integral parts of the club's rebuild moving forward. Garcia and Smith are eligible for free agency in 2024 and Conley is eligible in 2023. In an age where pitch design has become more than just a catch phrase, Garcia has already improved his slider, and Smith and Conley are well-positioned to make the same sort of attempt to maximize the value of their unique skills. These three Miami lefties aren't a three-headed monster by any means, but they have a shared ability to make the ball move in ways nearly no one else does.
Josh Herzenberg has served as an area scout and a minor league coach for the Dodgers. He can be found on Twitter @JoshHerzenberg.