Tyler Glasnow has a plus fastball — a somewhat-unique plus fastball — and he relies on it heavily. The Tampa Bay Rays righty is throwing it 66% of the time, the fourth-highest rate among qualified pitchers. A four-seamer delivered from Glasnow's towering 6-foot-8 frame, the offering has an average velocity of 96.6 mph. It's the pitch you're going to read about here.
When I approached him on Saturday, I'd actually been thinking about his changeup. While it's a pitch Glasnow throws infrequently, the always-insightful Daniel Russell wrote about it recently at Drays Bay, and I was intrigued. When I'd spoken to Glasnow last August, we talked primary breaking balls; his seldom-used change-of-pace wasn't even mentioned.
Glasnow threw me a changeup on Saturday. When I suggested it as a topic, he said we should talk about his fastball instead, for the aforementioned reason: he rarely throws his changeup.
The following day, Glasnow threw nine of them in a dominating performance against the Red Sox at Fenway Park. That's as many changeups as he'd thrown in his first five starts combined; hence his subterfuge. It was part of the plan going in.
Is it also his plan going forward? I asked that question following the game.
"It depends, really" responded the erstwhile Pittsburgh Pirate. "We'll game-plan before. If I need to mix it in — if it's a good matchup for some of the hitters — for sure. I think it was especially effective today, because I didn't throw it at all against them last week."
More changeups than usual didn't mean fewer fastballs. Of the 101 pitches Glasnow delivered in Sunday's outing, 70 were of the four-seam variety — more specifically, a four-seamer with cutting action that he's learned to embrace.
———
Tyler Glasnow: "I'm a power pitcher. My emphasis is on velo, spin rate, spin efficiency, carry — just efficiency of the fastball in general. I have a different fastball grip. My fingers are curved, and I cut the ball. I've always had a pretty wide grip on my fastball, and that's kind of been the reason I cut it.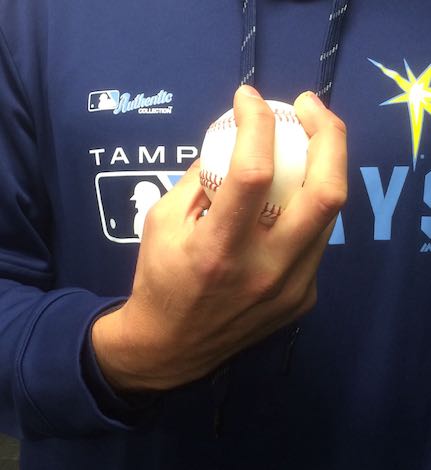 "When I was younger — when I was in the minor leagues — I tried to eliminate that cut. That's because I walked guys. It was, 'OK, I need to start from the bottom; how can I reset and get guys out in the zone?' The cut was hard to control — this is when I wasn't as in control of my body — so I thought it should go. I have more control over my delivery now. I've got to a point where the confidence is there to put any pitch in the strike zone if I throw it with conviction. Now I embrace the cut.
"It's not a cutter. Sometimes it will cut more, and sometimes it won't, but generally … I mean, if you get the Edgertronic camera behind it, I'm not a true, 100%-efficiency guy. By that, I mean right behind it; I'm on the side of it a little bit. And because the cut is natural, it can be a little different. Some days it acts more like a true cutter, while other days it's more like a sweeping cutter.
"I can still get carry. Certain fastballs are different. If I'm going arm side, it doesn't cut as much, and there's a lot more carry. So I'm trying to … in a way, I have two different fastballs. If I want it to spin straight, I can make it spin straight. My carry can increase a little bit. [Pitching coach] Kyle [Snyder] and I worked on carry a lot this past offseason. We worked on what you really need to do to have optimal efficiency, optimal carry. But again, my glove-side fastballs will generally have more cut.
"That said, I do have control over it. Like I said, if I want the ball to go straight — straight with carry — I can make it go straight. If I'm out there just competing, it's going have the natural cut. But if I want to throw an up-in-the-zone heater — something with carry to play off my curveball — I can make it go straight. That goes for glove-side, as well.
"It's a matter of — and I'm so happy that I learned this over the offseason — thinking about it in terms of efficiency, and where my hand is placed behind the ball. I didn't change anything mechanically, or through my delivery. If I want it to go straight, I'm more directly behind it. If I just want to throw a normal fastball — for me, a fastball that cuts — I just don't think about it all, I'm just with my natural more-on-the-side of the ball. Basically, it's all about how the ball is coming off my fingers. That's all it really is."
David Laurila grew up in Michigan's Upper Peninsula and now writes about baseball from his home in Cambridge, Mass. He authored the Prospectus Q&A series at Baseball Prospectus from December 2006-May 2011 before being claimed off waivers by FanGraphs. He can be followed on Twitter @DavidLaurilaQA.