Two months after extending Luis Robert, and less than a year after doing the same with Eloy Jiménez, the White Sox have locked in a contract for another young star, reportedly signing 26-year-old groundball specialist Aaron Bummer to a five-year extension worth a minimum of $16 million. The deal also includes options for Bummer's 2025 and 2026 seasons, for $7.25 and $7.5 million, respectively, with $1.25 million buyouts in each year. If Bummer receives certain awards considerations, the final option year could be worth up to $10 million.
All told, the White Sox have guaranteed themselves a minimum of five and a maximum of seven years of Bummer's services at a maximum cost of $32 million. Bummer has guaranteed himself $16 million. I suspect both parties will leave this deal feeling satisfied. As Bob Nightengale noted this is the largest extension given to a non-closer who has yet to qualify for arbitration in major league history. While the breakdown in the traditional closer role and the rise of elite sixth- and seventh-inning relievers makes that distinction somewhat less notable than it might have been a few years ago, this is still a major deal.
You may have already read Devan Fink's detailed analysis of Bummer's sinker earlier this month, but if you didn't, here are the numbers that likely prompted the White Sox to put guaranteed money on the table: Bummer's groundball rate in 2019 was 72.1% (second in the majors), he generated 14 runs on his sinker alone (also second), and he generated barrels on only 2.3% of batted ball events (third). Those numbers look a lot like those of another star reliever of recent vintage, Zack Britton, and it is indeed Britton who Bummer trailed in the first two categories.
Over the last two years, in fact, Bummer has produced 2.0 WAR to Britton's 1.0, a 3.09 FIP to Britton's 3.93, and an xFIP of 3.28 to Britton's 3.65. If you compare Bummer's last two seasons to Britton's best two consecutive seasons (2015 and 2016) instead, which is probably more apt when making such heady comparisons, Britton is clearly the better of the two, but the profiles still look similar:
Bummer and Britton
| | IP | xFIP | GB% | K% | BB% |
| --- | --- | --- | --- | --- | --- |
| Bummer '18-'19 | 99.1 | 3.28 | 68.1% | 23.4% | 8.4% |
| Britton '15-'16 | 132.2 | 1.92 | 79.6% | 30.2% | 6.3% |
And there's no reason not to think that Bummer has a few years of improvement ahead of him. Again paraphrasing from Devan's longer analysis, which I recommend: Bummer found another gear in sinker velocity in 2019 (up to 95.8 mph from 93.6 mph the year before), and simultaneously took a tick off the cut fastball he'd added in 2018. The combination of those two pitches — which he threw 85% of the time in 2019, up from 65% in 2018 — led to a four point jump in swing rate against him in 2020 (and a seven point jump inside the zone), thereby prompting the 10-point jump in groundball rate that got him to the elite mark of 72%.
Moreover, as Devan noted, the combination of increased vertical movement and decreased horizontal movement made Bummer's sinker especially effective at generating groundballs (the chart below is originally from his piece):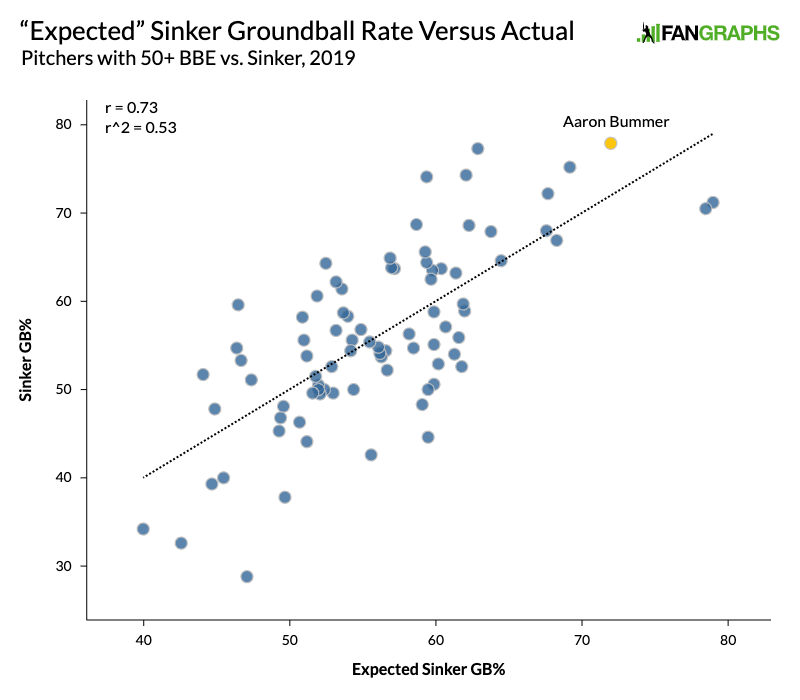 If you're looking for notes of concern, you might note that Bummer has carried two straight years of below-average HR/FB% rates, including an extremely low 6.3% in 2018. As Ben Clemens has recently re-confirmed, pitchers don't have much control over home run rate, so you might expect that to come up a little bit and make his ERA (2.13 last year) look a bit more like his xFIP (3.49). I'm not too worried about that, though. Bummer succeeded last year with a 13.8% HR/FB, so he has some room to get a bit unlucky and still put up solid numbers.
Given Bummer's age (26) and trajectory (he's improved in each of his three big league seasons), I can see why the White Sox would want to lock him in for his arbitration years, and gain control of up to three free agent years besides. Of the South Siders' top eight relievers by projected innings pitched in 2020, the White Sox now have all but one (Alex Colomé) under contract or team option for 2021. Five — Bummer, Evan Marshall, Jace Fry, Jimmy Cordero, and Carson Fulmer — are under team control through at least 2023.
It's no coincidence that the team signed this deal a year before Colomé, who finished most of Chicago's games in 2019, is due to depart, and two years before Kelvin Herrera's deal expires (if the Sox exercise his 2021 option). As the White Sox enter a season in which they're projected to win 82 games and have ample reason to dream of more in the years to come, given their youth and talent, retaining Bummer for the foreseeable future gives them a stable foundation to build their bullpen around in the years ahead. I'd expect Bummer to keep pitching in the sixth, seventh, and eighth innings this year, for the most part, but to finish 2020 with somewhat more than the one save he notched in 2019.
Rian Watt is a contributor to FanGraphs based in Seattle. His work has appeared at Vice, Baseball Prospectus, The Athletic, FiveThirtyEight, and some other places too. By day, he works with communities around the world to end homelessness.