Zack Greinke shouldn't still be this good. His fastball velocity has ticked down yet again; per Pitch Info, his four-seamer is averaging under 90 mph for the first time in his career. This isn't a new phenomenon — his velocity has been in slow decline since his masterful 2015 season, when he posted a 1.66 ERA and finished second in Cy Young voting. These days, Greinke makes the news for shunning no-hitters and hitting like a position player more than he does for his pitching. Quietly, though, he's having another superlative season, defying the slow ravages of time to amass a vintage stat line. His ERA and FIP are both lower than his career averages, which must be gratifying for someone who cares about his FIP more than perhaps any other active pitcher.
The way Greinke has adapted to aging is particularly interesting when compared to his former teammate, Clayton Kershaw, whose adaptations Ben Lindbergh recently chronicled. Kershaw was a singular marvel at his peak, and he remains so today. He's always been predictable, and it hasn't seemed to matter. When he was all-caps KERSHAW, he basically never threw a curveball when he was behind in the count. Hitters knew it, and it didn't matter. Now, he's throwing more pitches in the zone than ever on 0-0 before throwing fewer than ever in the zone after that. He's still predictable, only in different ways.
Greinke, by contrast, was never as dogmatic as Kershaw. He's thrown 62.5% fastballs when down in the count for his career, compared to Kershaw's 72.8%. His first-pitch zone percentage this year, 52.3%, is actually below his career average, whereas Kershaw's 61.3% rate is the highest of his career. Greinke has also always erred on the side of more pitches rather than fewer, throwing most of his pitches in any count and any location. Despite this difference in mindset, though, Greinke and Kershaw's 2019s share two major themes: fewer fastballs, and using the count (and base/out state) to their advantage.
If Kershaw's 2019 is the most visible example of a pitcher leaning into secondary offerings to counter aging, Greinke was the early adopter who blazed the trail Kershaw followed. Starting pitchers are throwing fewer fastballs today than ever before, but Greinke was doing it before it was cool. Take a look at his fastball percentage, as well as the league average among starters, since he came up to the majors in 2004: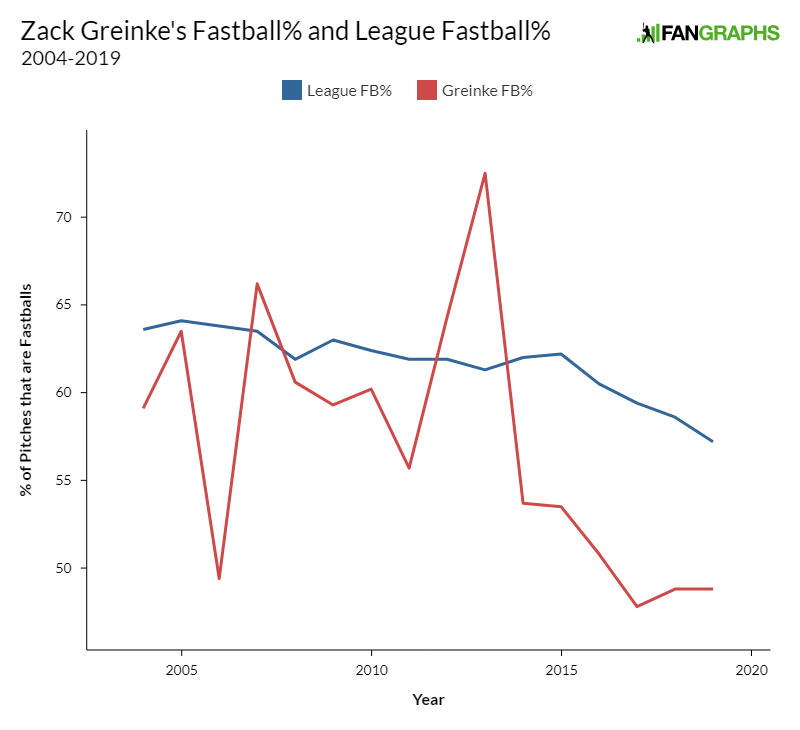 While Greinke may have thrown more fastballs early in his career, he hasn't been a primarily fastball pitcher for a long time. Even as a minor leaguer, he was known for throwing pitches at every imaginable speed, and he and Felix Hernandez pioneered narrow fastball/changeup velocity gaps designed to create weak contact through deception and similarity, rather than using huge gaps to create whiffs. Still, he's taken it to a new level in 2019. In 2015, he had a 3.5 mph difference between his average changeup and average fastball. This year, that gap has dipped to 2.6 mph.
Combine a tiny average velocity gap with Greinke's penchant for varying speeds on the same pitch type, and you get some weird outliers. He's already thrown 15 fastballs slower than his average changeup velocity this year, bottoming out at 85.5 mph in March. In a memorable sequence in his first start of the year, he threw an 87.9 mph changeup to A.J. Pollack (who walked on a full count), then followed it up with an 87.7 mph fastball to Cody Bellinger, a sequence that raises etymological questions about the word "changeup."
In the past few games, though, Greinke has taken his junkballing act to a new level. On June 19, he threw only 37 fastballs, or 42.5% of his pitches. In his next start, on June 24, he stuck to the plan, throwing 42 fastballs (44.2%). Even as his velocity has ticked back up (June is the first month his average four-seam velocity has eclipsed 90 mph), the decreased fastballs have mostly been a matter of self-preservation. Greinke got only two swings and misses on fastballs in each of his past two starts, and he hasn't gotten more than five whiffs on his fastball in any start this year. Luckily, Greinke is well-equipped to adapt to a fastball with diminished effectiveness. He has a bag full of secondary pitches, three of which Eric Longenhagen captured in breathtaking slow motion on Monday night:

Monday's turn was a microcosm of Greinke's season. He started the game off reasonably fastball-heavy, and it didn't work immediately — 14 pitches and eight fastballs into the game, he was down 1-0 with runners on second and third and only one out. He responded by throwing eight straight breaking balls (groundout, double, groundout) to end the inning. From there on out, he had a new plan: avoid fastballs at all costs.
Of the 34 fastballs he threw for the remainder of the game, 10 started at-bats, and six were to Clayton Kershaw. Twenty-six fastballs were thrown when no one was on base (some of these overlapped). Of the eight fastballs Greinke threw with runners on base, six were out of the zone, either waste pitches when up in the count or attempts to expand the zone. The two he threw in the zone? First pitches to Kershaw and to Austin Barnes, the latter of whom is one of the most passive hitters in baseball.
The sixth inning, Greinke's last full frame of the night, showed how effective his all-secondary attack can be. After Bellinger singled (on a fastball out of the zone low) and Max Muncy reached on a fielder's choice, Greinke went to work. He struck out Chris Taylor on five pitches, Enrique Hernandez on three, and Matt Beaty on five to escape the jam. Of those 13 pitches, none were fastballs, and 10 missed the strike zone. We're not talking little misses, either — five of the 10 pitches hit the dirt.
This extreme fastball and zone avoidance has become routine for Greinke. He has thrown only 39% fastballs with runners on base this year, in the eighth percentile among starters (Masahiro Tanaka and Kershaw are the two pitchers who shun fastballs most with runners aboard). His zone rate with runners aboard is also in the eighth percentile. Despite his reluctance to challenge them, batters are simply swinging too much — his runners-on swing rate of 49.3% is above average, and his 35% chase rate in these situations is sixth in baseball. Couple a ton of out-of-zone pitches with a high chase rate, and you get a lot of bad at-bats, and a lot of batters looking like Hernandez:
Despite his avoidance of the zone, however, Greinke is running the lowest walk rate of his career. Why? He completely alters his game with no one on base. With the bases empty, only Hyun-Jin Ryu runs a lower walk rate than Greinke does. His fastball rate jumps from eighth percentile to 30th. His zone rate goes up from eighth to 22nd. That's a brilliant stroke of game design from Greinke — walks are at their most damaging relative to extra-base hits with the bases empty, and Greinke leans into that by being significantly more aggressive when it suits him. With the bases empty and the hitter ahead in the count, Greinke is particularly likely to pour one in — he hits the strike zone 60.8% of the time, in the 75th percentile league-wide.
This high-wire act can only go on so long. Even with his admirable chase rate, he's not getting swinging strikes like he used to — as Al Melchior noted, his contact rates have gone way up. Turn a few of those out-of-zone swings into takes, and the whole tapestry starts to unravel. At the moment, though, Greinke is a delight to watch. He uses a changeup as a fastball for huge swaths of the game. Pitch Info has logged eight unique pitch types for him this year, including four splitters, three of which he threw in one at-bat against Jacob deGrom (in fairness, these may have been mis-classified low-effort fastballs). He's maybe the best-hitting pitcher in baseball, and unquestionably one of the best interviews in baseball.
When batters adjust, as they inevitably will, we can only hope that Greinke has another adjustment available. As Mike Fast suggested in a landmark study, however, pitchers who lose velocity in their 30s have a tough time remaining effective. If this is Greinke's last stand, his final year or two of effectiveness, it's a fitting encore to his sterling career. For as long as he's played, Zack Greinke has been exceptional, in every sense of the word. It stands to reason that even in his twilight years, Greinke would succeed his own way, avoiding the strike zone like the plague one minute and daring hitters to beat him the next. Zack Greinke is the kind of pitcher I'll tell my kids about one day, and 2019 looks like another excellent chapter in that story.
This article was edited to add slow-motion footage of Greinke's pitch mix.
Ben is a contributor to FanGraphs. A lifelong Cardinals fan, he got his start writing for Viva El Birdos. He can be found on Twitter @_Ben_Clemens.