After he signed with the Yankees, Adam Ottavino became the ninth reliever on our Top 50 Free Agent list to get a contract for next season. The Yankees taking Ottavino off the board meant there were just two relievers to go. One is Craig Kimbrel, who has been one of the better relievers in baseball over the last half-dozen seasons. The other is Cody Allen, who was one of the better relievers in baseball in 2015, solid in 2016 and 2017, and not very good last year. His poor 2018 season showing plunged him down our rankings and left him as one of the less desirable proven-reliever types available this offseason. His track record did mean something, though, and per Ken Rosenthal, he's landed a one-year, $8.5 million deal with the Angels that has the chance of being worth $11 million based on games finished.
Allen, picked in the 23rd round of the 2010 draft, moved quickly through the Cleveland system as a reliever, reaching Double-A a year after he was drafted and hitting the majors one year later. He was a good reliever in 2013 and 2014, with sub-3.00 FIPs and ERAs better than that. He took over the closer role in 2014 and had his best season the following year, striking out 35% of batters, walking 9% and giving up just two home runs all season, to go along with a 15% infield fly rate. When Cleveland acquired Andrew Miller in 2015, the club could afford to put the lefty in high leverage situations in the middle of games without worrying about the ninth because Allen was closing. He didn't give up a run during their playoff run to the World Series and struck out 24 of the 55 batters he faced.
Allen had another solid season in 2017, though not as good as his 2015 peak due to a slight decline in strikeouts and an increase in homers. In 2018, Allen started off the first two months of the season pitching much like he had his prior two years. His strikeout rate had dipped to 25%, but his walk rate was good and he only gave up two homers on his way to a 3.54 FIP and 3.00 ERA. He wasn't great, but he was getting the job done. From June to the end of the season, his strikeout rate was up at 29%, but his walk rate went up to 13% and his home run rate more than doubled. He had a 5.14 FIP and 5.65 ERA the last four months of the season, leading to an overall replacement-level campaign. In the playoffs, he faced nine batters and retired just three of them.
Diagnosing Allen's struggles isn't incredibly difficult. Allen uses just two pitches, a fourseam fastball and a curve. We can see the velocity by game from last season in the graph below.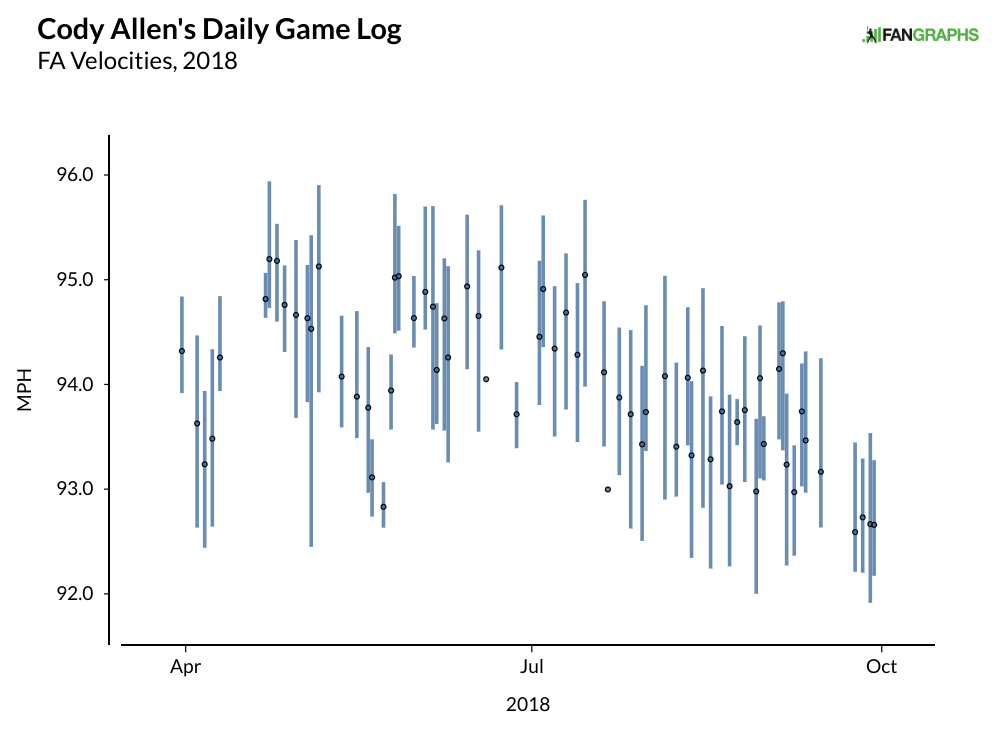 Allen nibbled at the strike zone more, getting fewer first pitch strikes and fewer swings outside the zone. When Allen did induce swings outside of the strike zone, hitters made more contact. The dip in velocity Allen experienced in 2018 wasn't new for him, but it was a bit more severe than previous seasons. See Allen's FIP and fastball velocity by season below.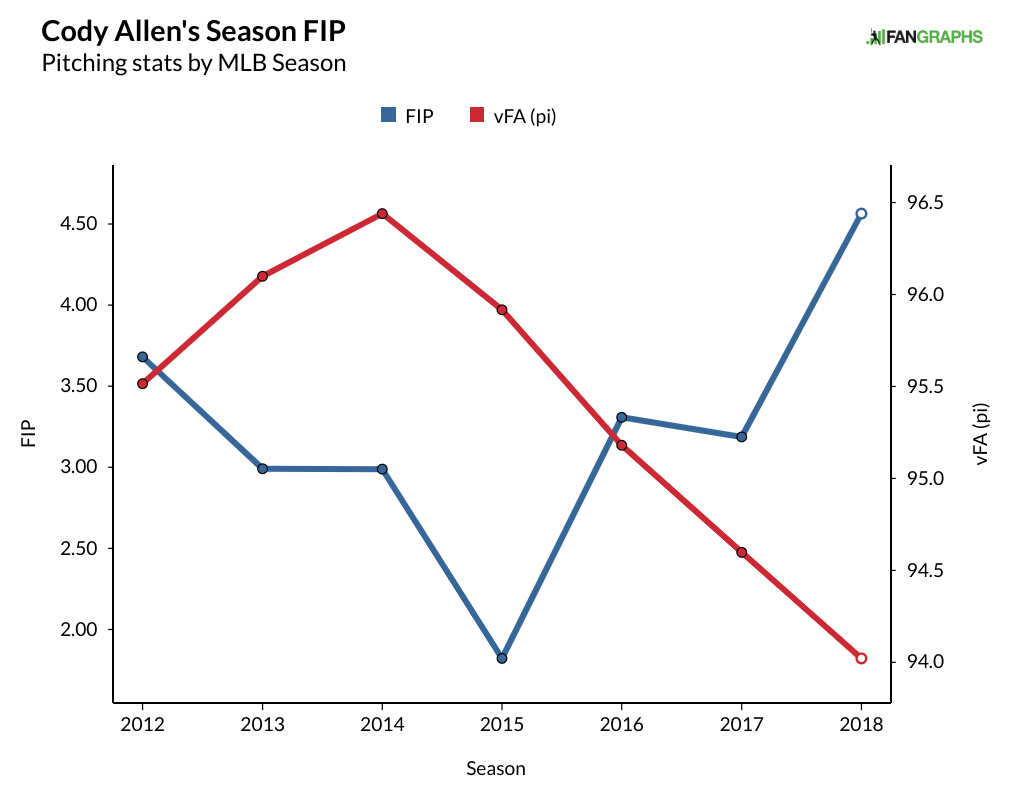 Allen isn't old and will spend all of next season at 30 years of age, but the velocity trend is troubling. Allen had Tommy John surgery in college, but has had no significant injuries since. He's the only reliever in baseball with at least 65 innings in each of the last six seasons. If Allen can get his velocity back, he's pretty likely to be a good reliever again. If the velocity stays where it is, it's possible he might learn to pitch with a few fewer ticks on his fastball. If the fastball is thrown any slower, it's hard to see how Allen will be an effective reliever.
The Angels seem to have surveyed the field and decided they were unwilling to pay what Craig Kimbrel would cost. There are a number of relievers out there, including Brad Brach, Greg Holland, Bud Norris, Justin Wilson, Tony Sipp, and Shawn Kelley, who are all veteran options with a likely lower cost than Allen's. After looking at the alternatives, the Angels decided it was worth a few million extra dollars for a player who was good as recently as May of last year, and elite within the past few seasons. It's not clear the team bought any more certainty given Allen's 2018 season, but they might be paying a little bit more for upside.
Los Angeles only had one good, reliable reliever all of last season (Jose Alvarez), and they already traded him to Philadelphia for righty Luis Garcia. The team will hope that the flashes they saw from Ty Buttrey and Hansel Robles will carryover into 2019, and that whatever went wrong for Allen and Cam Bedrosian rights itself by April. Luis Garcia had an absurd gulf between his FIP and ERA last year, but if he can collapse that gap and replicate his FIP, it could improve the pen. Maybe Justin Anderson will get his walk rate down. The bullpen doesn't look great on paper, but the addition of Allen does provide the potential to be better than the projections.
Allen continues the Angels' offseason theme of making small, one-year additions, having already brought in Matt Harvey, Trevor Cahill, Justin Bour (two years of arbitation left), and Jonathan Lucroy. The team has two more seasons of Mike Trout before he becomes a free agent. Los Angeles is set up to possibly contend this year, but if the pitching falls apart like it did in 2018, the team could have another disappointing season. Trout gives the club a massive head start on every other team in baseball. Hopefully his tenure in Anaheim isn't wasted with a supporting cast that couldn't quite get the job done.
Craig Edwards can be found on twitter @craigjedwards.