Strong pitching — aided, perhaps, by a less lively baseball — has been the predominant story of this postseason, and given the pair of rotations lined up for the the World Series, it may well continue to be. The Nationals' Max Scherzer and the Astros' Justin Verlander and Zack Greinke own five Cy Young awards between them, and all are likely bound for the Hall of Fame someday. If Verlander doesn't win this year's AL Cy Young award, teammate Gerrit Cole quite likely will, and both Scherzer and his teammate Stephen Strasburg are contenders for the NL award (though they may take a back seat to Jacob deGrom). Oh, and if that's not enough talent, the Nationals' Patrick Corbin, who signed last winter's largest free agent contract, and Aníbal Sánchez, who took a no-hitter into the eighth inning of the NLCS opener against the Cardinals, are here as well. As Craig Edwards wrote, this is one of the greatest pairings of rotations for the Fall Classic since at least 1947.
With that out of the way, a few additional thoughts about pitching, starting and otherwise, as Game 1 approaches.
Breaking Stuff Could Be the Key
As with the ALCS against the Yankees, the Astros appear to have an edge on the Nationals when it comes to matching up against certain pitch types. In terms of pitchers' wOBAs allowed, the two teams are actually very close except for one pitch type:
Pitcher wOBA Allowed by Pitch Type
| Pitch | FF | FF 95+ | FT/SI | CU | SL | CH |
| --- | --- | --- | --- | --- | --- | --- |
| Astros | .346 | .298 | .343 | .257 | .221 | .252 |
| Nationals | .349 | .295 | .374 | .267 | .237 | .241 |
| MLB Avg | .359 | .324 | .361 | .281 | .278 | .290 |
SOURCE: Baseball Savant
This will be a series of hellacious sliders, given that the Astros and Nationals ranked first and second in terms of lowest wOBAs allowed on the pitch; good luck hitting those of Verlander (.164, the majors' lowest mark), Scherzer (.169, second-lowest), Corbin (.202, sixth-lowest), or Cole (.224, 13th-lowest). Likewise, the Nationals had the majors' second-lowest mark and the Astros the fourth-lowest on changeups, with Strasburg (an MLB-low .190), Greinke (.224, fifth-lowest), Sánchez (.271, 23rd-lowest), and Scherzer (.286, 28th-lowest) the ones to watch out for. Greinke was the majors' best when it came to curves (.179), with Strasburg (.202, fifth) and Verlander (.222, sixth) near the head of the class.
The biggest difference here is on two-seamers and sinkers, which Baseball Savant tracks separately; I've grouped them, as Pitch Info does. Corbin (.338) and Strasburg (.342) were still better than average with the offering; the former throws his nearly 35% of the time, the latter about half that, and Sánchez (.387) just under 10%. Greinke, the only Astros starter who ever throws the pitch with any real frequency, did so just 6.5% of the time (including his work with the Diamondbacks), and it got tattooed (.458 wOBA), though it's a key offering from relievers Joe Smith (32.3%) and Brad Peacock (30.7%).
Turning to the hitters:
Hitter wOBA Against by Pitch Type
| Hit | FF | FF 95+ | FT/SI | CU | SL | CH |
| --- | --- | --- | --- | --- | --- | --- |
| Astros | .389 | .326 | .382 | .325 | .343 | .307 |
| Nationals | .358 | .332 | .419 | .274 | .273 | .312 |
| MLB Avg | .359 | .324 | .361 | .281 | .278 | .290 |
SOURCE: Baseball Savant
The Nationals punished the aforementioned sinkers at the majors' most proficient clip, so if Greinke keeps that pitch in his pocket, that advantage will be neutralized. Astros hitters were the majors' second-best against four-seam fastballs, while the Nationals ranked just 17th in that category, though on the ones that registered 95 mph or higher — most notably the province of Scherzer (.187 against on such pitches), Strasburg (.220), Verlander (.253), Cole (.257), and relievers Sean Doolittle (.190), Roberto Osuna (.302), Hector Rondon (.329), Daniel Hudson (.333), Ryan Pressly (.334), and Josh James (.334) — Washington was slightly better. It appears they're likely to face more of them, particularly in the late innings. That said, Astros hitters George Springer (.558), Alex Bregman (.478), and Jose Altuve (.411) were all better at the high-velo stuff than any Nationals regular, with Juan Soto (.392), Howie Kendrick (.373), and Anthony Rendon (.370) leading the team.
The big difference, and I think one of the major keys to the series, is that the Nationals just don't match up very well when it comes to the breaking stuff, ranking 17th against sliders (the Astros were first) and 19th against curves (the Astros were third). As noted, the Astros can offer some of the majors' elites in that area, and very few Nationals hit well against such pitches:
Nationals Hitters Against Breaking Pitches
SOURCE: Baseball Savant
Some of the Nationals did at least do well against curves, but some are particularly vulnerable. By comparison, most of the Astros are at least competent on sliders, and some of them feast. Likewise on curves:
Astros Hitters Against Breaking Pitches
SOURCE: Baseball Savant
This is definitely something to watch as the series progresses.
Starting Pitching Is Back in Style
By multiple measures, this has been the best postseason for starting pitching in several years, reversing a few recent trends. Let's start with ERA and FIP: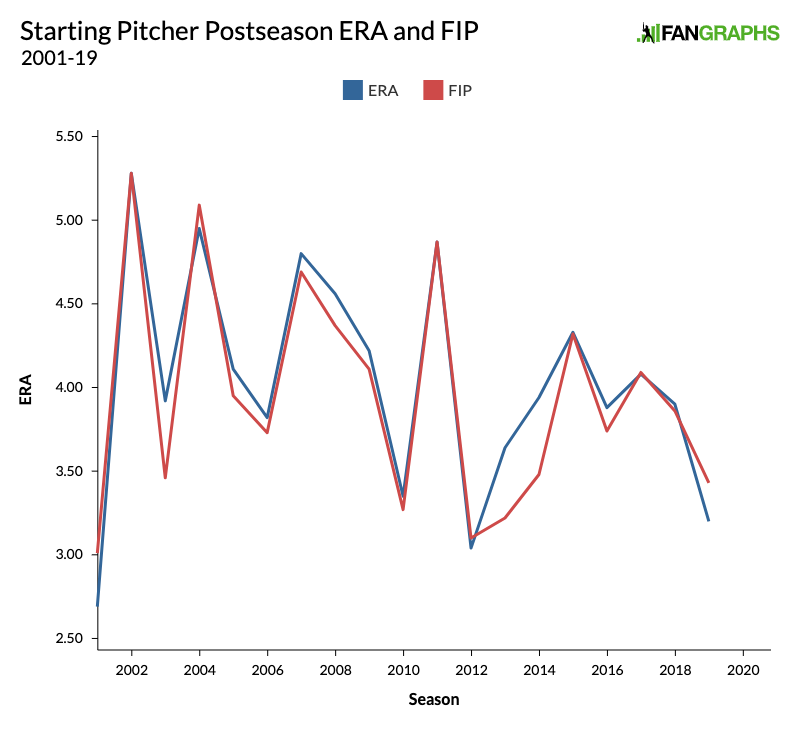 By ERA, the starters' 3.20 mark is the lowest since 2012, the year that a Tigers rotation featuring Verlander, Scherzer, and Sanchez reached the World Series; postseason starters as a group posted a 3.04 ERA that year, the lowest mark since 2001. That aforementioned trio and Doug Fister combined for a 1.30 ERA in the Division Series against the A's and then an 0.66 mark (two runs in 27.1 innings) against the Yankees in the ALCS. In the World Series, they ran into a very good Madison Bumgarner-led rotation Giants rotation, which delivered a 1.42 ERA across a four-game sweep.
By FIP (using postseason-specific constants that are generally around 3.00, a bit lower than the regular-season ones), this year's starters' 3.43 mark is the lowest since 2013, which also featured the aforementioned Tigers (Verlander allowed one run in 23 innings while striking out 31 and walking just three, for a 1.32 FIP to go alongside his 0.39 ERA) as well as Greinke (1.86 FIP) with the Dodgers.
Those dueling bullpens in ALCS Game 6, which gave us the Yankees' Chad Green (one inning) and the Astros' Peacock (1.2 innings) as the first pitchers out of the gate, pushed the average start length from 5.11 innings — right where it was in 2016, the last time it was above 5.0 — to 4.97 in one night. That's still up from the 4.7ish averages of the past two Octobers, and given the aforementioned frontliners, we should see that number get above 5.0 again.
Meanwhile, the share of innings thrown by starters thus far is 56.0%, down from 59.0% through Division Series Game 3 and about two points below the regular season average of 59.9%, the first time it had ever dipped below 60%. As with the aforementioned innings per start stat, it's still as high as it's been since 2016 (56.8%), and it's not hard to imagine it getting an additional boost over the next four-to-seven games.
As for the two participating teams and their small-sample performances, the Nationals' rotation owns the postseason's lowest team ERA and FIP (2.04 and 2.57, respectively) as well as the highest average innings per start (6.17); the first two figures don't include those pitchers' work in relief, which has generally been stellar save for Corbin's six-run debacle in NLDS Game 3. The Astros' rotation has delivered a 3.33 ERA and 3.79 FIP while averaging 5.7 innings per start; home runs (11 in 62.2 innings, 1.6 per nine) have been a problem, particularly for Verlander and Greinke, who have allowed five apiece. Cole (0.40 ERA, 1.78 FIP), Sanchez (0.71 ERA, 2.50 FIP), and Strasburg (1.89 EA, 1.45 FIP) have put up the most stellar stats; Scherzer (1.89 ERA, 3.76 FIP) and Verlander (3.70 ERA, 4.25 FIP) have certainly had their moments but have hit the occasional bump, and Greinke (6.43 ERA, 6.40 FIP while averaging just 4.67 innings per start) has been shaky.
Oh, and if you're wondering about the count of seven-inning starts, which was just nine last year — the lowest total since 2007 — it's already at 14, the highest since 2015 (16). The Astros (three from Cole, one from Verlander) and Nationals (two from Scherzer, one apiece from Strasburg and Sanchez) have each tallied four, with three of Washington's coming in the NLCS. The Cardinals' Adam Wainwright is the only pitcher besides Scherzer and Cole to throw multiple starts of seven innings thus far; each came opposite another seven-inning start (the Braves' Mike Soroka in NLDS Game 3 and Scherzer in NLCS Game 2). Teams are 10-4 in those games, with Wainwright's pair accounting for two of those losses.
The Bullpens, They Have Been (Mostly) Bad
While rotations have largely delivered the goods in the postseason, bullpens have been shakier. Their collective 4.08 ERA is higher than in any postseason since 2011; that's just the second time it's been above 4.0 since 2004. Their 3.77 FIP has been exceeded three times since then, however.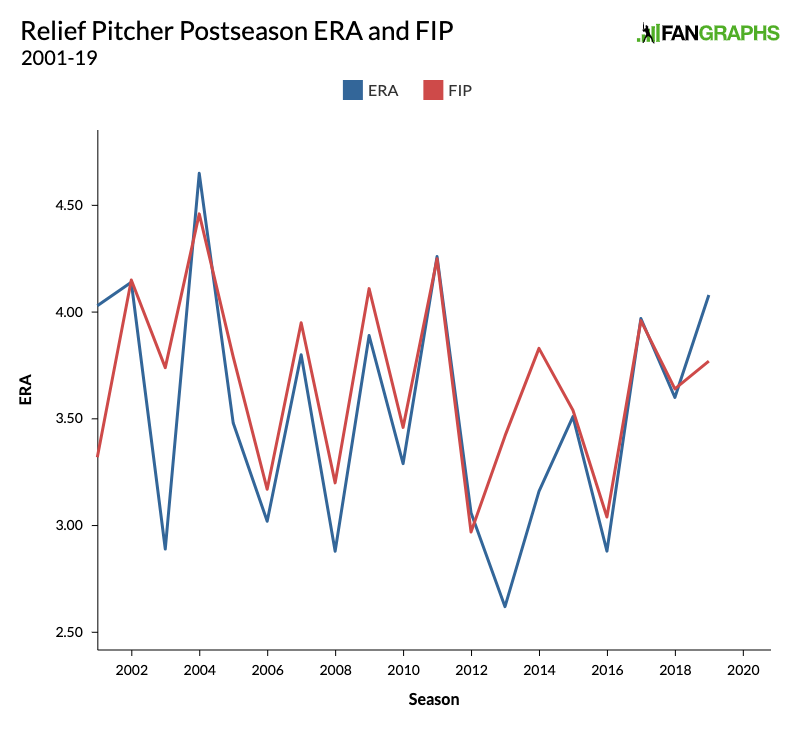 That FIP reflects a delicate balance between two trends that have dominated recent regular seasons, namely high home run and strikeout rates. Their current 1.27 homers per nine is the third-highest of the millennium, trailing the 2017 (1.32) and 2004 (1.29) postseasons; recall that this year's regular season home run record broke that of 2017. Meanwhile, this year's reliever strikeout rate (26.4%) trails only last year's (27.2%).
The bullpens of both the Astros (4.08 ERA, 4.14 FIP) and Nationals (4.76 ERA, 3.86 FIP) have had their ups and downs, though to be fair, the latter's marks are distorted by the aforementioned NLDS Game 3, when they yielded nine of their 15 runs in just four innings; in their other eight games, they've delivered a 2.22 ERA and 3.34 FIP. The Astros' bullpen has allowed four runs in a game twice (ALDS 3 and ALCS 1), but Wade Miley, who yielded three of the four in the former game, isn't on the World Series roster.
An undeniable bounty of good pitching awaits, starting with Cole and Scherzer for Game 1 and then Verlander and Strasburg for Game 2.
Brooklyn-based Jay Jaffe is a senior writer for FanGraphs, the author of The Cooperstown Casebook (Thomas Dunne Books, 2017) and the creator of the JAWS (Jaffe WAR Score) metric for Hall of Fame analysis. He founded the Futility Infielder website (2001), was a columnist for Baseball Prospectus (2005-2012) and a contributing writer for Sports Illustrated (2012-2018). He has been a recurring guest on MLB Network and a member of the BBWAA since 2011. Follow him on Twitter @jay_jaffe.